Many people have their own home cleaning supplies list to get their home squeaky clean. Even so, you may want to review and update your list of cleaning supplies from time to time. Getting some new ideas about more efficient supplies to clean the house can be useful, while saving precious time.
There are many different home cleaning supplies lists out there, so don't discount others. However, not everyone takes a scientific-based approach to cleaning their house.
Over the years (and years) of cleaning the places we've lived in, I have curated a very specific list of home cleaning supplies as my go-to. I definitely add to it if I find something spectacular to help me clean better, faster, stronger.
For the time being, this is the definitive home cleaning supplies list you need.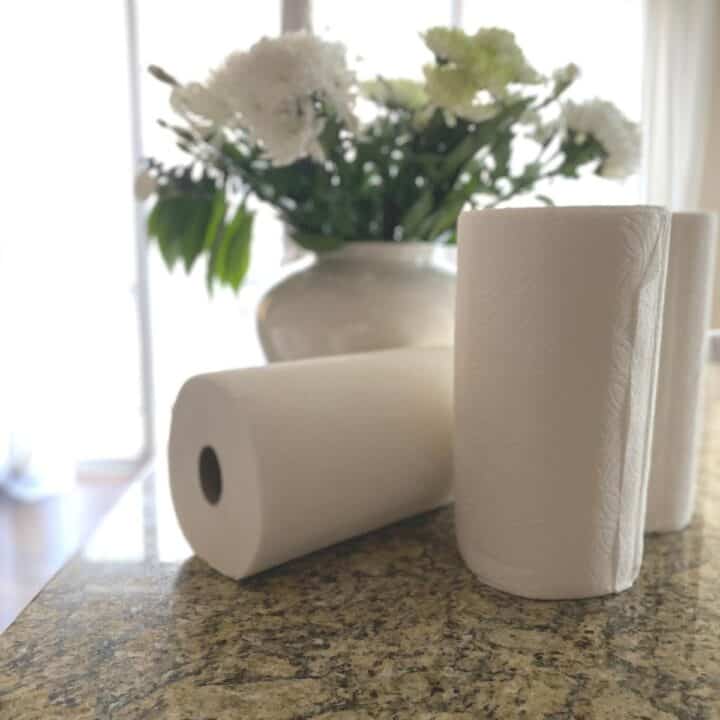 Cleaning Supplies List
The best home cleaning supplies list will enable you to easily clean from room to room. Moreover, the supplies you use should not be expensive, difficult to find or, generally, bad for the environment. These are the goals at our home, at least.
To make it easier to find household cleaning supplies, I have included links to items. While I do not get any sort of commission yet, I hope one day in the near future to fund this blog through affiliates and other such links. For now, I hope you find these items as useful as I have.
Cleaning Caddy
If you don't have a cleaning caddy, this is probably the most useful cleaning tool on this list. Before I bought a cleaning caddy, I carried items from room to room, which was a pain. Then, I found a metal caddy at Target in the dollar spot (thank you, Target!) and it changed how I clean our house.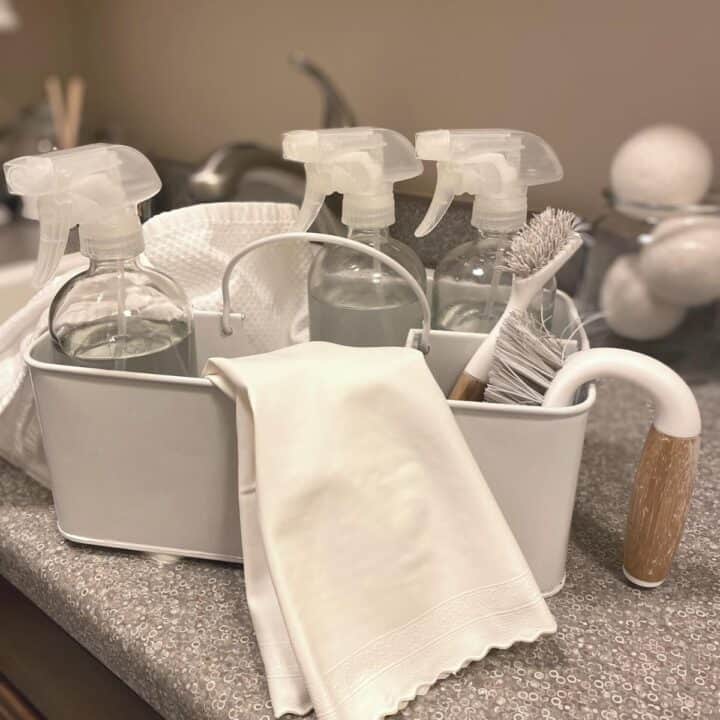 The caddy makes it so much easier to carry cleaning supplies around the house.
Tip: To make cleaning even easier, buy multiple caddies, one for each area or floor of your home, or for each zone (i.e., bathrooms, laundry room, bedrooms).
Caddys come in many different colors and materials, but I like a metal caddy. With metal, you have to take better care to make sure the supplies are not wet when you put them back in the caddy, but I like that it's not plastic, as I'm not a big fan of plastic. I also try to find aesthetic cleaning supplies whenever possible, usually in the neutral white color family, and there are plenty of neutral color cleaning caddies on the market.
Below are a few cleaning caddies you might want to check out:
Here are a couple tips to help you find the right caddy.
First, read the dimensions carefully, since many cleaning caddies on the market are quite small and won't necessarily fit all of your cleaning supplies.
Second, I highly recommend a caddy that has compartments and a middle divider. At the very least, compartments are a must. Compartments help keep cleaning supplies organized, instead of sliding around.
Lastly, make sure the cleaning caddy is made out of a material that can easily be wiped down. You may see a beautiful linen fabric-clad caddy, but it would be a nightmare to keep that surface clean.
Reusable Cleaning Gloves
Save your hands from cleaning products or mishaps by wearing reusable cleaning gloves. Cleaning gloves are a must-have cleaning supply for me and they should be for you too.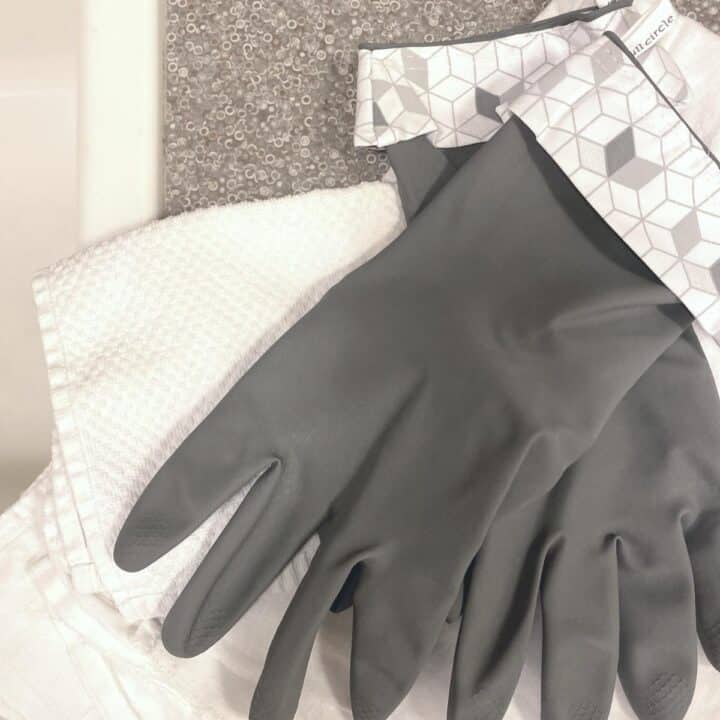 There are many reasons to use gloves when you clean your home, including
Protect your hands from cleaning products, even natural cleaning products like baking soda or vinegar
Reduce the chance of hurting yourself or breaking skin whilst cleaning
Cover your hands if you clean with unusually hot or cold water
Honestly, wearing cleaning gloves whenever possible is the best advice I can give you. Washing dishes with gloves on will help stave off premature aging, reduce dry hands and protect your hands from sharp edges on some cookware or utensils.
Reusable natural latex and cotton cleaning gloves from Full Circle are great, though I wish they came in white.
If you can avoid it, don't buy gloves made out of PVC, phlathates, BPA or other toxic chemicals.
Target carries latex free Colorox Ultra Comfort Gloves in white. The manufacturer claims they do not contain phlathates or BPA.
Glass Spray Bottles for Home Cleaning
As I mentioned earlier, I try to avoid buying any kind of plastic whenever possible. That includes condiments, pantry staples and more. Basically, if there is a glass alternative that meets my needs, I will buy it even if it costs a little more. Glass is recyclable multiple times over, beautiful to look at and non-toxic.
When it comes to a comprehensive home cleaning supplies list, glass spray bottles are at the top. Maybe you also believe that organization is interior design and want your cleaning supplies to look just as good as the rest of your home.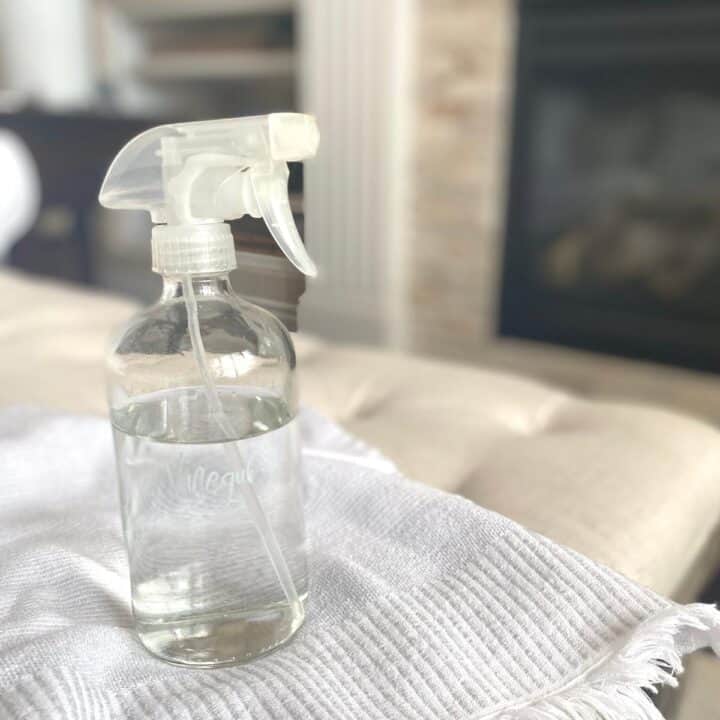 Since some of my home cleaning products are natural or homemade, I own quite a few glass spray bottles. (They are also very photogenic, don't you think?)
You can read up on ways to clean your home with vinegar or cleaning with baking soda, for more details on how to incorporate natural cleaning solutions in your home cleaning routine.
The glass spray bottles I buy are from the Sally's Organics storefront on Amazon. The plastic components are BPA free. The bottles come in white or black nozzles and clear or amber glass. I have clear bottles. That said, if you use hydrogen peroxide in your cleaning routine, buy the amber glass bottles to preserve the peroxide solution.
Glass Jar or Container
Depending on the cleaning solutions you use in your home, you may want to include a glass jar or container on your cleaning supplies list.
Glass containers are a great option when you need to mix up a homemade cleaning solution, such as a shower cleaner. Any glass container will work, but one with a lid will allow you to shake the solution.
To save money, reuse a glass pasta sauce jar or other similar jar you have in your pantry.
Tip: Want to know an easy way to remove a label? There are three quick ways to remove product labels. Make sure you know whether it's safe to use the solution on the specific material you are removing the label from.
Hair dryer method - Grab a hair dryer. Put the dryer on the hot setting and hold it over the label for a few minutes. With larger labels, move it back and forth over the label for a few minutes. Test if the label seems like it will come off easily. If so, go for it. If not, repeat the process and try again.
Cooking oil method - A second easy way to remove labels is to soak the label in some kind of oil. Olive oil should work. Liberally apply the oil directly to the label until it's soaked in the oil. Let it stand for 30-60 seconds and try scraping it off.
Rubbing alcohol method - Similar to oil, rubbing alcohol breaks down sticker residue. Apply rubbing alcohol directly to the label, soaking it in the solution. Try scraping it off.
Cleaning Scrub Brush
A home cleaning supplies list is not complete without one or two types of brushes to clean deep into crevices.
A nylon scrub brush is a heavy duty cleaning brush you can use on sinks, bathtubs and tile.
Once again, Full Circle has a beautiful all-purpose scrub brush that I use to clean all around our house.
Grout/Detail brush
While you may not need it, a grout or detail brush is a specialty cleaning tool that is used on shower grout, bathtub grout or all manner of grout.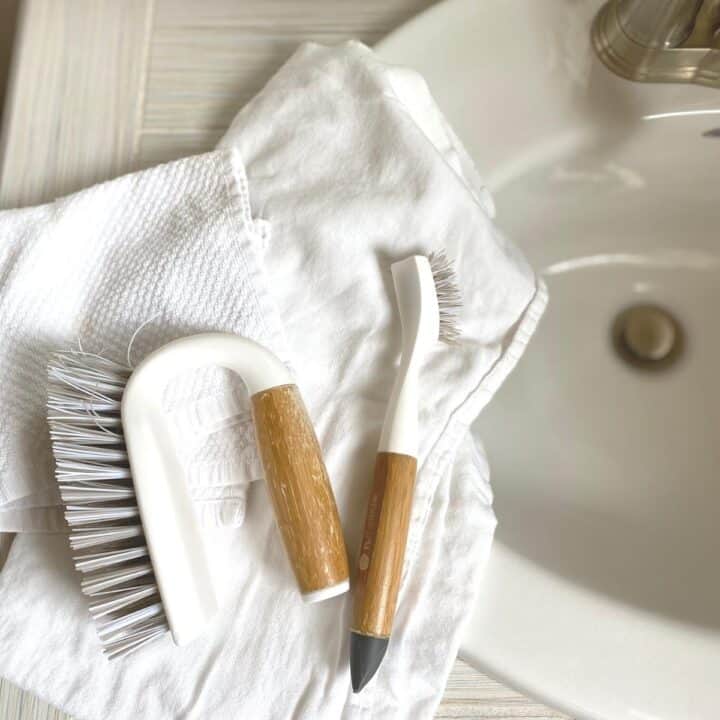 A sister product to the Full Circle scrub brush is their grout brush. It has a brush on one end and a rubber crevice cleaning tool on the other end to clean around faucets.
Not only is this grout brush aesthetically pleasing, with proper care it should last you a very long time.
Shower Squeegee
Ah, shower stalls. Unless you have a glassless shower, a frameless shower or no shower at all, cleaning the shower is the worst.
Our shower is very difficult to maintain, since it is none of the above. For ease of maintenance (and convenience), we keep a shower squeegee in the shower at all times, suctioned to the shower wall. After each and every shower, we squeegee the walls, the glass and the bottom pan.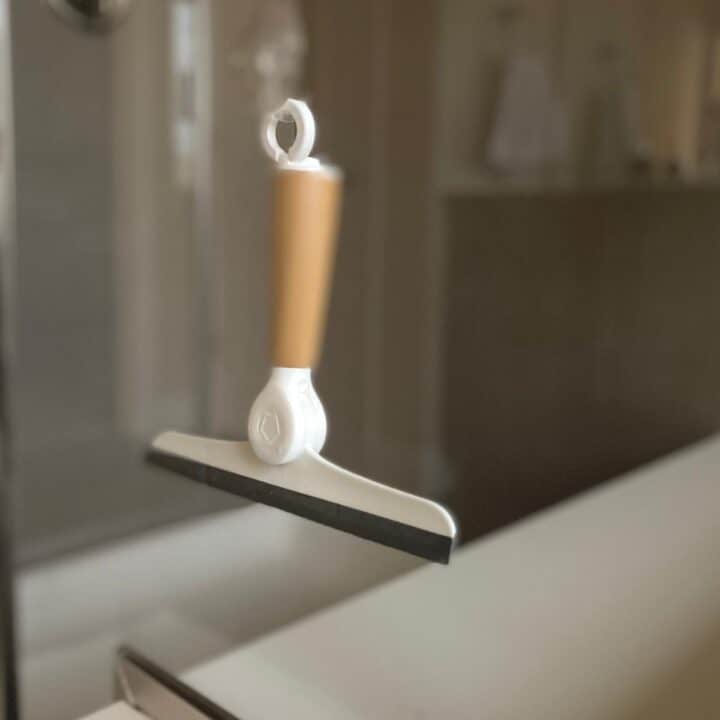 I have dreams of having a gorgeous frameless shower (or no glass at all) one day. Alas, that time is not now.
Realistically, though, the shower squeegee is another must-have for your cleaning supplies list. Deep cleaning the shower will still have to occur regularly, but daily maintenance is a breeze with a squeegee.
Use the shower squeegee after each shower and you'll notice a difference.
Cotton Cleaning Cloths
Reusable cotton cleaning cloths come in handy across a wide array of home cleaning jobs as well as helping you with other household uses.
Who said you can't use cotton cloths to clean up spills instead of paper towels? No one. Moreover, don't be afraid to purchase white cotton cloths. You can easily bleach/whiten them when needed.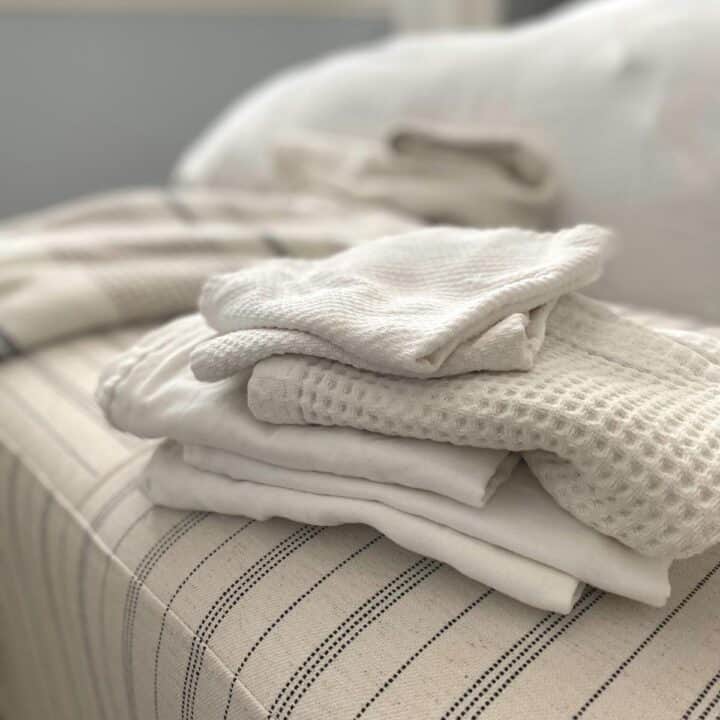 A word of advice. Be sure to buy lint free cotton cleaning cloths for your cleaning supplies list. Also, if you can help it, don't buy microfiber. You can read my Quick Ways to Go Green at Home post for more details on why you should avoid microfiber. Instead, try flour sack towels or other lint free cotton cloth.
Tip: To clean laptop screens, iPhone screens or other tech device screens, I use these natural chamois suede cleaning cloths from Amazon. They are marketed for eyeglasses, but that just means they are soft enough to use on glass.
Wool Duster
Normally, dusting around our house involves a spray bottle filled with vinegar or water, and a cleaning cloth. Now, I use my beautiful wool duster. I know what you're thinking. How can a duster be beautiful? Well, just look at it.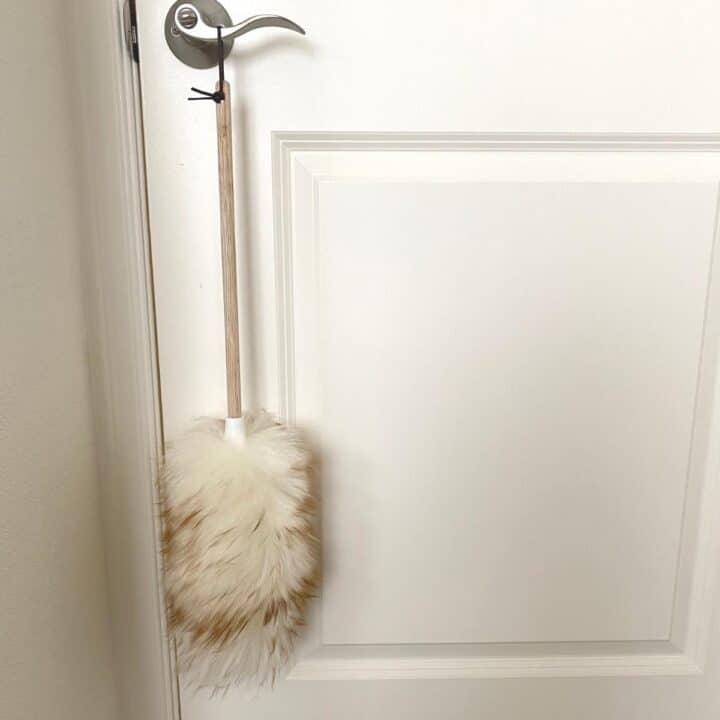 Wool dusters are actually another handy tool to have on your home cleaning supplies list. Originally, I thought wool and feather dusters were a pain to maintain and clean. I was very wrong. Now, I can't live without it.
Do you have hard to reach areas where dust accumulates? Think about light fixtures, the tops of cabinets or around delicate decor pieces. Some of these areas seem to attract dust at an alarming rate. Then again, it makes sense why that is. The areas of your home where you spend most of your time should contain more dust. You know, given the makeup of dust (ewe).
A quick swipe with the wool duster is all it takes for a quick dusting.
Don't forget that wool is naturally antimicrobial, anti-dust mite and environmentally friendly. When it's time to clean your wool duster, wash with a mild soap in tepid water, rinse in cold water, recondition the wool fibers with a little glycerin, hang to dry, and fluff it out after it's fully dry. That's it!
All in all, wool dusters are pretty simple to maintain all the whilte being aesthetically pleasing at the same time.
Vacuum Cleaner
Technically, a vacuum cleaner should probably be at the top of your cleaning supplies list. Vacuums are a ubiquitous necessity for most homeowners/renters.
Your vacuum cleaner does not have to be fancy, have twenty attachments or cost $1,200 (don't ask). Hopefully, the vacuum you buy will last you quite a number of years while requiring little to no heavy maintenance.
From bagless vacuums to stick vacuums—just like everything today—options abound.
How do you choose the best vacuum? How do you know which vacuum will last for years? Unfortunately, I can't answer those questions. While I have had great success with our vacuums, everyone has their own experience.
To pick the right vacuum cleaner for your home, I suggest answering the following questions:
Do you have more than one floor of your home that you will need to vacuum?
If you answered yes to question one, will you carry the vacuum up/down the stairs?
If yes to question two, how much weight are you willing and able to carry from floor to floor?
Are there different materials of flooring that you will be vacuuming (i.e., hardwood, laminate, tile, carpet)?
Do you want to vacuum wet or dry or both?
What is your preference for a cordless or corded vacuum?
Do you want a bagless vacuum or a vacuum that requires bags?
Based on how you answer the aforementioned questions, you should be able to narrow down the type of vacuum that meets your needs in your budget.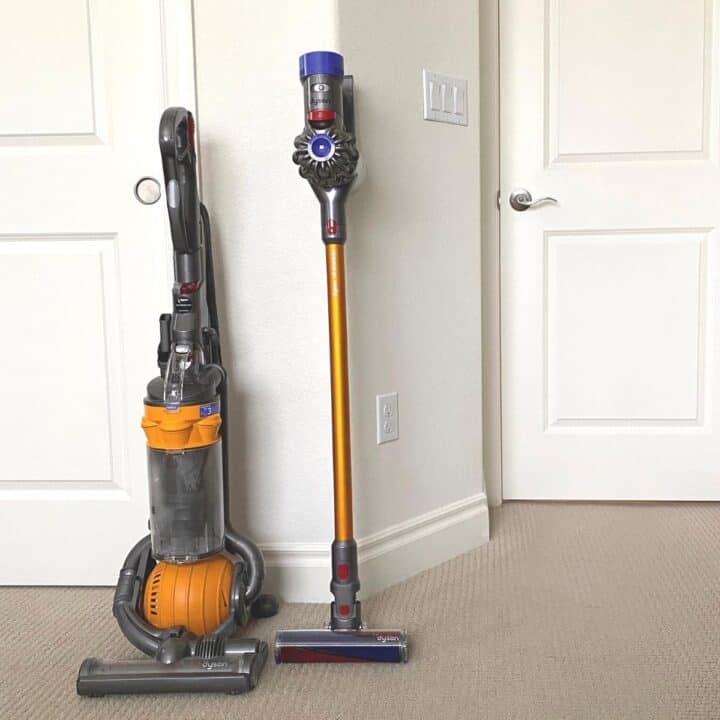 We have had our Dyson cinetic big ball upright vacuum for about 15 years. It was one of the most expensive things we owned when we bought it at Costco all those years ago, but I am glad we did.
Today, it works just as well as when we bought it.
In the last few years, we bought a Dyson V8 absolute cordless stick vacuum and I love it just as much, if not more. In fact, I use the stick vacuum more frequently because of how lightweight it is. My goal was to be able to quickly vacuum our dark hardwood floors on the main level that tend to show dust immediately. Thanks to an unbelievable Dyson Christmas sale, it cost as much as other well-known brand name vacuums at the time.
Vacuum cleaner options have come a long way. Whatever you choose should suit your lifestyle.
Wet/Dry Mop and Broom
Similar to a vacuum, a wet/dry mop is another staple for your cleaning supplies list.
I admit, it was challenging to find the right mop for our home. At first, I couldn't find a mop that looked nice. I wanted something cute and neutral in color, but I couldn't find any. So, I bought a red mop and then a green mop after the red mop one died.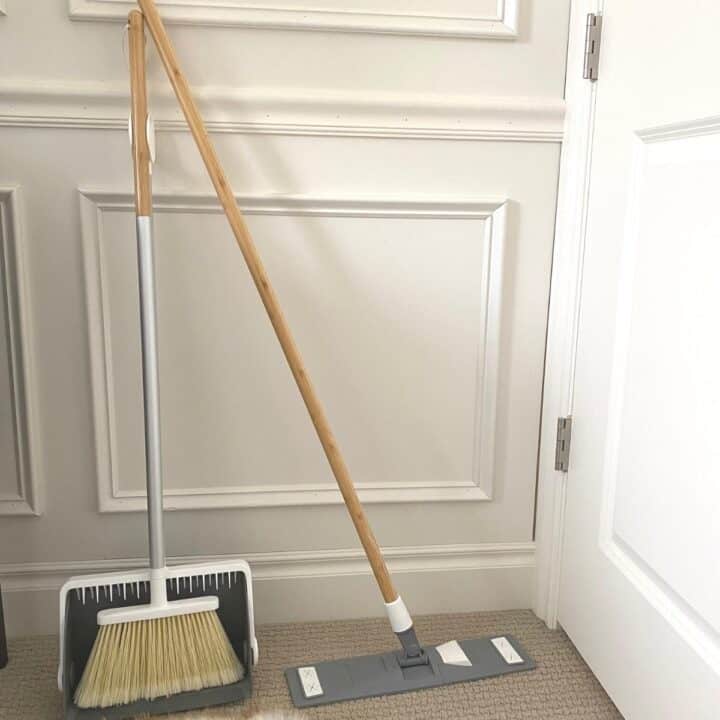 Finally, I found the Mighty Mop. Of course, the mop is from Full Circle. No, this is not a sponsored post. (But I'm completely open to sponsors.) It's a neutral, effective, lightweight wet/dry mop that I have been using for around five years now.
The mop comes with a microfiber cloth, but I use reusable cotton mop pads from Amazon. Again, trying to eliminate using microfiber when possible.
The best mop is one that will work across all types of flooring, including hardwood, laminate and tile. Choose a mop that works with your flooring material.
Steamer
Before we owned our home, I did not own a steamer. After all, what would it be useful for? Well, since owning, I bought a portable steamer for all sorts of cleaning projects around the house. Namely, curtains get very, very wrinkly after washing. A small, portable steamer makes it easy to smooth out the wrinkles while the curtains are hung.
A portable steamer you can take from room to room is going to be more useful than a stationary steamer.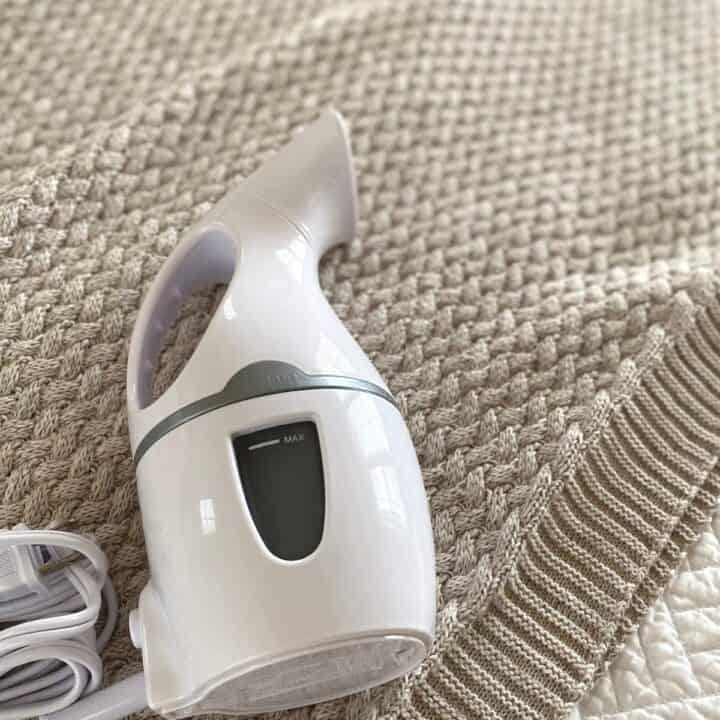 Beyond curtains, you can steam bed linens, bed skirts, clothing, upholstered furniture, and more. Check the material you plan to steam to ensure it's safe.
Safety Goggles or Eyewear
Whenever you clean anything, protect your eyes by wearing some sort of safety goggles or safety eyewear.
Between potential splashes of cleaning products or the occasional flying debris, safety eyewear helps to ensure you won't end up with an eyepatch instead.
Your local hardware store should carry sufficient safety eyewear in various sizes.
Paper Towels
Cleaning with reusable cotton cloths is a great way to go green while saving money. However, some areas around the home are not well suited for reusable cloths.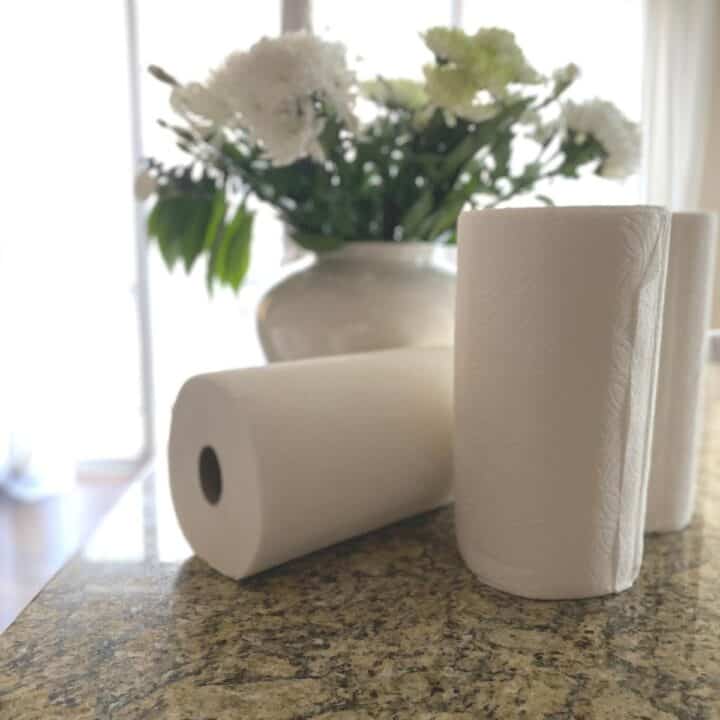 Have paper towels on hand for cleaning around toilets as well as other areas where reusable cloths are not practical. You can use reusable cloths for these areas if you want, but that is up to you.
With this comprehensive cleaning supplies list, you'll be all set to clean any area of your home. Be sure to wear comfortable shoes, since you'll be on your feet for a while. Put on some music and you're ready to get cleaning.