Ushering in a calming, refreshed feeling, these bathroom closet organization ideas will help you get creative in your own home. Organizing your bathroom closet takes a little effort, but you'll be rewarded with a newfound perspective of your once disorganized bathroom closet. Dare I say, life changing?
Organizing your home can truly make your life easier. Small changes, such as the act of decluttering and organizing a bathroom linen closet, has the potential to positively alter your daily life.
Here are the best bathroom closet storage organization ideas you need in your life.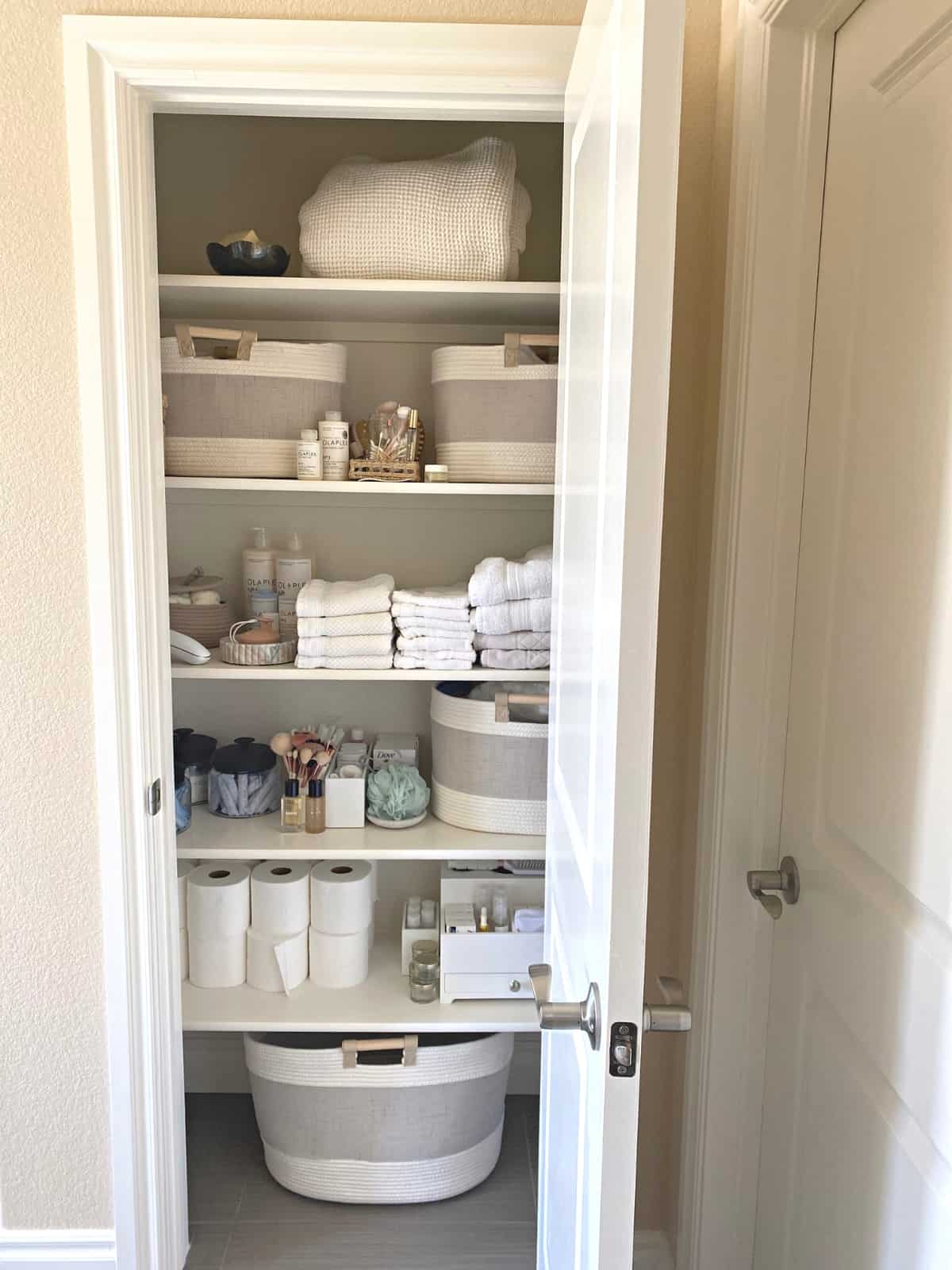 You may have found this blog, because you were searching for bathroom closet organization inspiration.
Tip:
Before doing anything, I highly recommend conducting a quick Google search to get ideas on how you want your bathroom closet to look in the end. (If this post is your inspiration, yay me!) Take into account what color scheme you prefer—or that matches the color palette of your home—as well as have a general sense of what material you want storage solutions to be made from (i.e., natural, plastic, fabric).
How to Organize a Bathroom Linen Closet
When starting any home organization project, there is an order of operations you should follow to achieve the best outcome possible. Organizing a bathroom closet is no exception.
This is a quick guide for how to organize a bathroom closet.
1. Sort and Edit Contents in the Closet
Closets are notorious for becoming a messy mishmash of random items that need to be stored somewhere. Between toiletries and towels, your bathroom closet probably contains extra bedding, travel necessities and first aid products.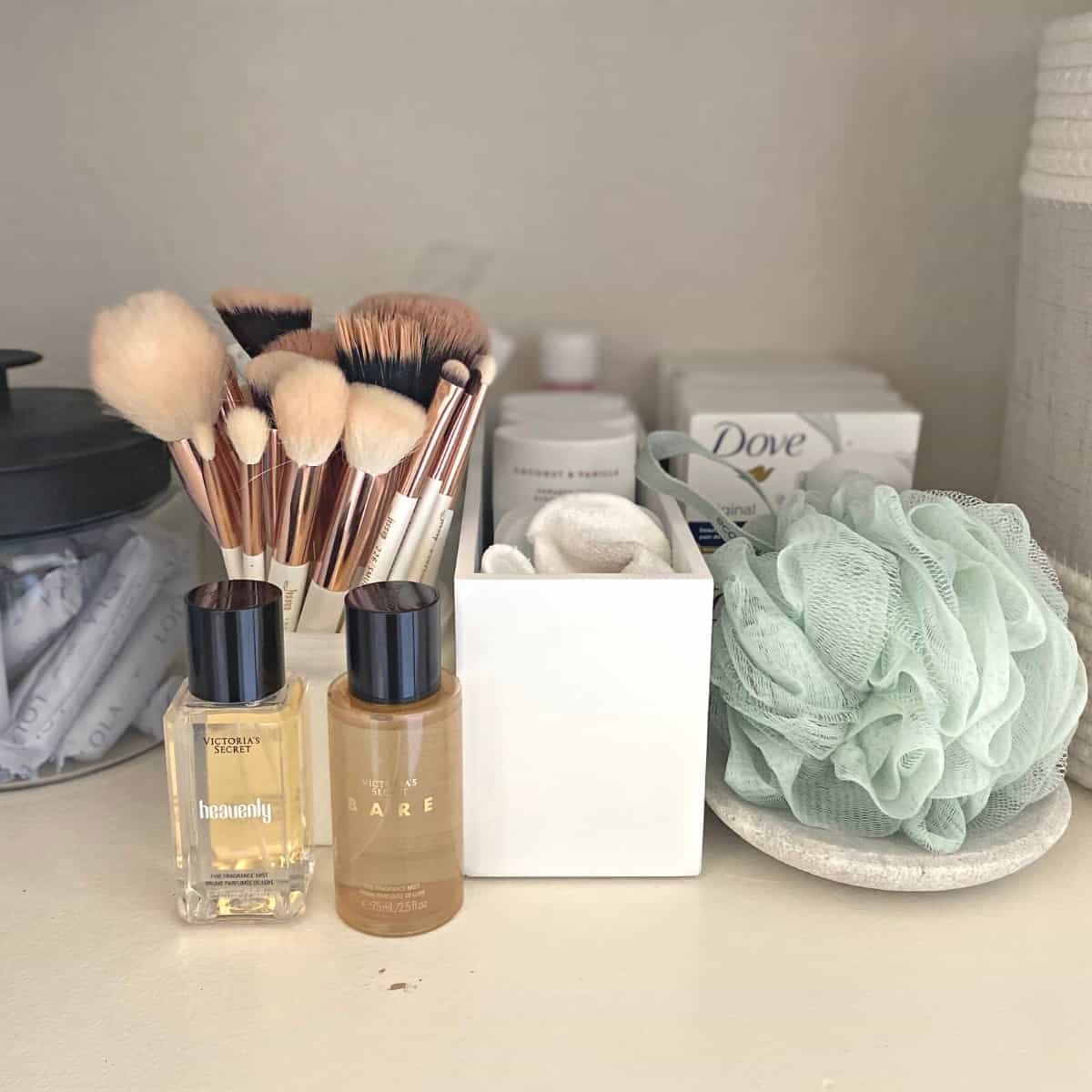 The first step is to remove everything from the closet and sort it into piles labeled "keep," "donate" or "trash."
If you want to keep something, but it doesn't ultimately match the look you're going for, you could have a fourth pile for DIY items. I finished a DIY mirror frame makeover and was really happy with how it turned out.
That said, if you will never get to the DIY project, take that into consideration before you decide to keep it.
2. Categorize Bathroom Items to be Stored
Once you've arrived at what items will be stored in the closet, the next step is to categorize the items that need to be organized.
Do not skip this step. Categorizing items into groups of like items gives you a really good sense of what you need to find a home for, including
Quantities when fully stocked - If you buy in bulk or multiples of toiletries, tissues or linens, you may need more than one of the same or similar style storage container. When everything is fully stocked, keep in mind how many items you need to store at once.
Size of items - From oversized bed linens and bath towels to tiny body care items, such as cotton swabs, chances are you will need an assortment of different size storage containers. Knowing this ahead of time ensures you buy the right containers and the items will fit into the appropriate size container.
Type of storage needed - Depending on the items stored in your bathroom linen closet, the type of storage also matters. Liquids, for example, are easier to store in glass containers or baskets with a rigid bottom and sides. Linens can be stored in larger baskets or bins.
Not taking the time to categorize what is actually in your closet will make it significantly more difficult to choose the proper storage solution and infinitely more difficult to organize everything. Yes, this step does take a little time, but, if your goal is a calm, organized home, this step is crucial for this project to be successful.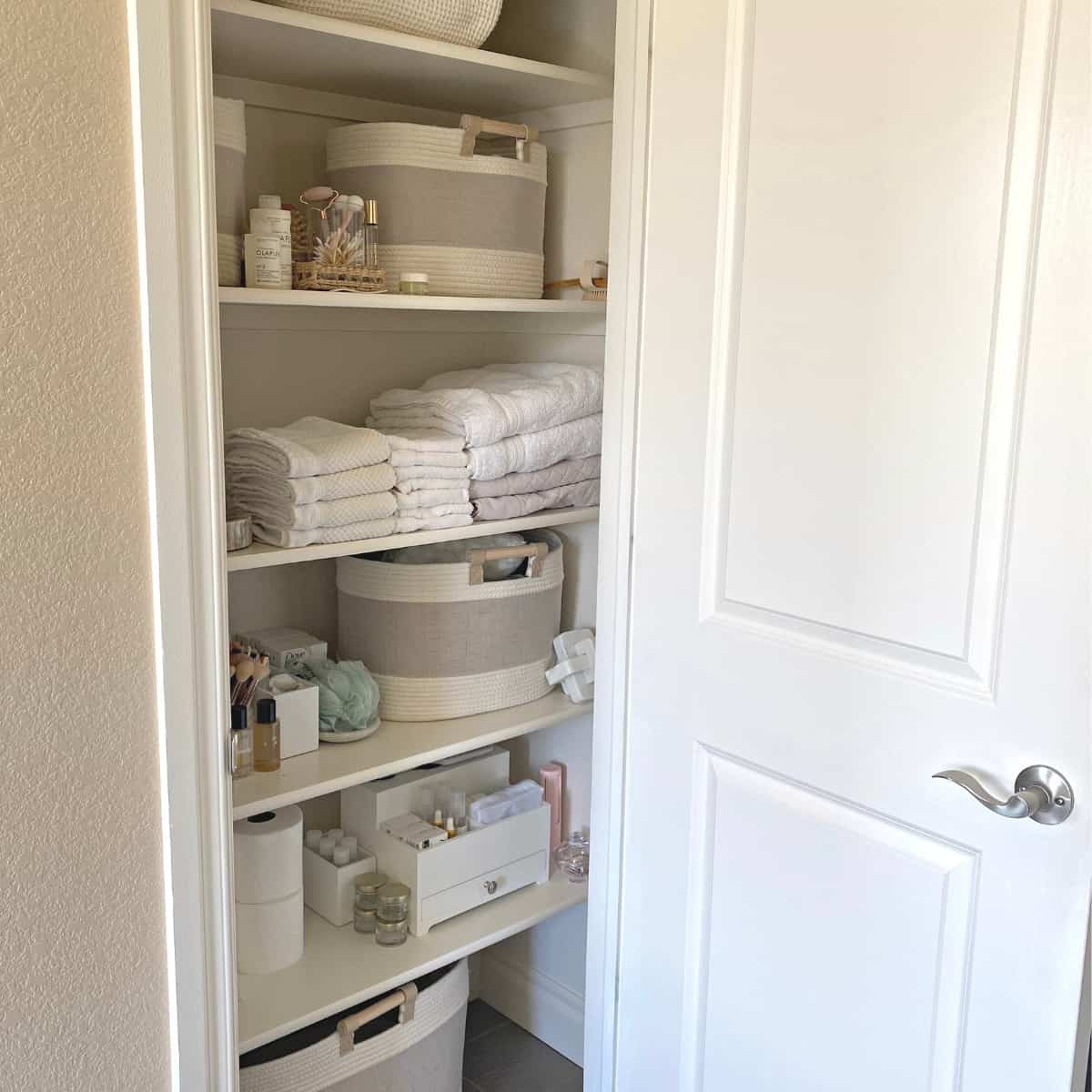 In general, the categories of closet items to be stored and organized may include:
Toiletries - Anything you use to care for your skin, hair or body may be put in this category, such as makeup, skin care, body care and hair care.
First aid and medicine - Some people store medicine and first aid products in their bathroom closet. If that is the case for you, this should be its own category.
Towels - This category consists of washcloths, hand towels, bath towels and bath mats.
Bed Linens - Any type of bedding belongs in this category, from blankets to sheets and pillow cases. Specialty bed linens should also be here.
Miscellaneous - Facial tissues, cotton swabs, toilet paper, hair styling tools, travel items and cotton balls.
Of course, your list may differ based on whether you have children, as well as what you tend to store in your bathroom closet versus elsewhere in your home.
For example, I store bathroom cleaning supplies in our laundry room, while many people probably store them in the bathroom itself. If that is the case for you, cleaning supplies should be its own category.
3. Types of Bathroom Storage Ideas
Today, storage containers come in many different styles, colors and materials.
For instance, if you want to be able to visually see what toiletries you have, clear glass or plastic storage containers will be important. Or, maybe you only want to use natural materials (no plastic of any kind), in which case baskets or bins made of rattan, wood and jute should be on your list.
Tip:
Don't forget about design and style. The interior of a closet can be decorated and styled just like any other area of your home.
Consider adding decor pieces along with functional storage to elevate your closet organization. Don't be afraid to style with artwork. You may be the only one to see it, but it may make you happy every time you open that door.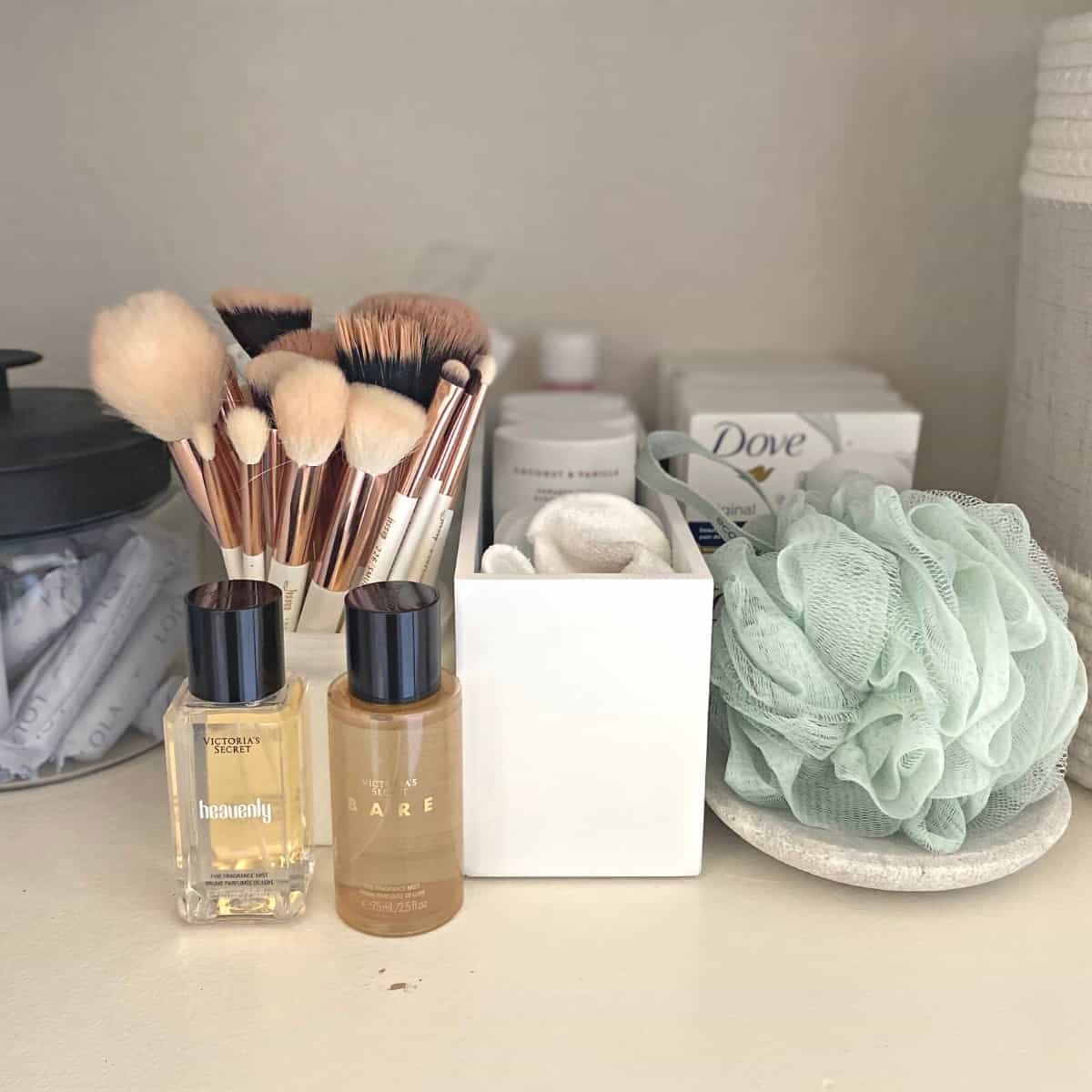 At this stage, you should have a good sense of both the color palette and materials you plan to organize your bathroom linen closet with. The next step is deciding what type of storage to look for.
When researching or shopping for closet storage ideas, keep the following types of storage containers in mind:
Baskets - One of the most popular and readily available types of storage are baskets. If you like the look of fabric, rattan, jute or other natural and woven materials, baskets are a great way to store bulky items, such as linens and paper goods. Many baskets come in sets, though I usually prefer to purchase two to three of the same size, as it looks better when the same basket is placed next to one another on a shelf or in the same space.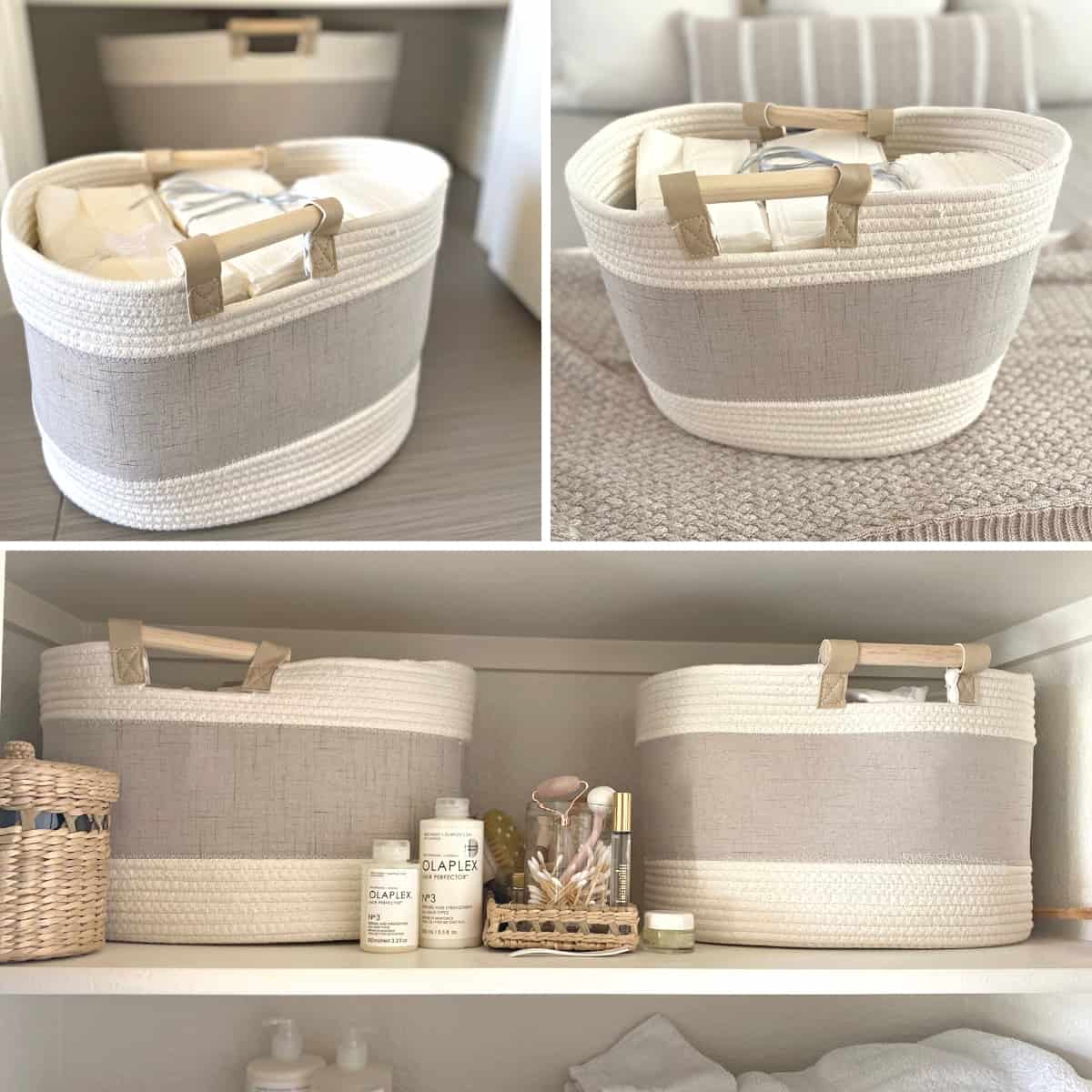 Tip:
To keep a consistent look in such a small space, choose one color for all of the baskets you buy. They do not have to be the same style, but keeping the color consistent helps your eye move through the closet easier.
I found some fabric rope baskets by RGI at our local HomeGoods store. They are deep and wide, so they hold a lot of random bathroom necessities. I only wish I had purchased a few more for other areas in our home.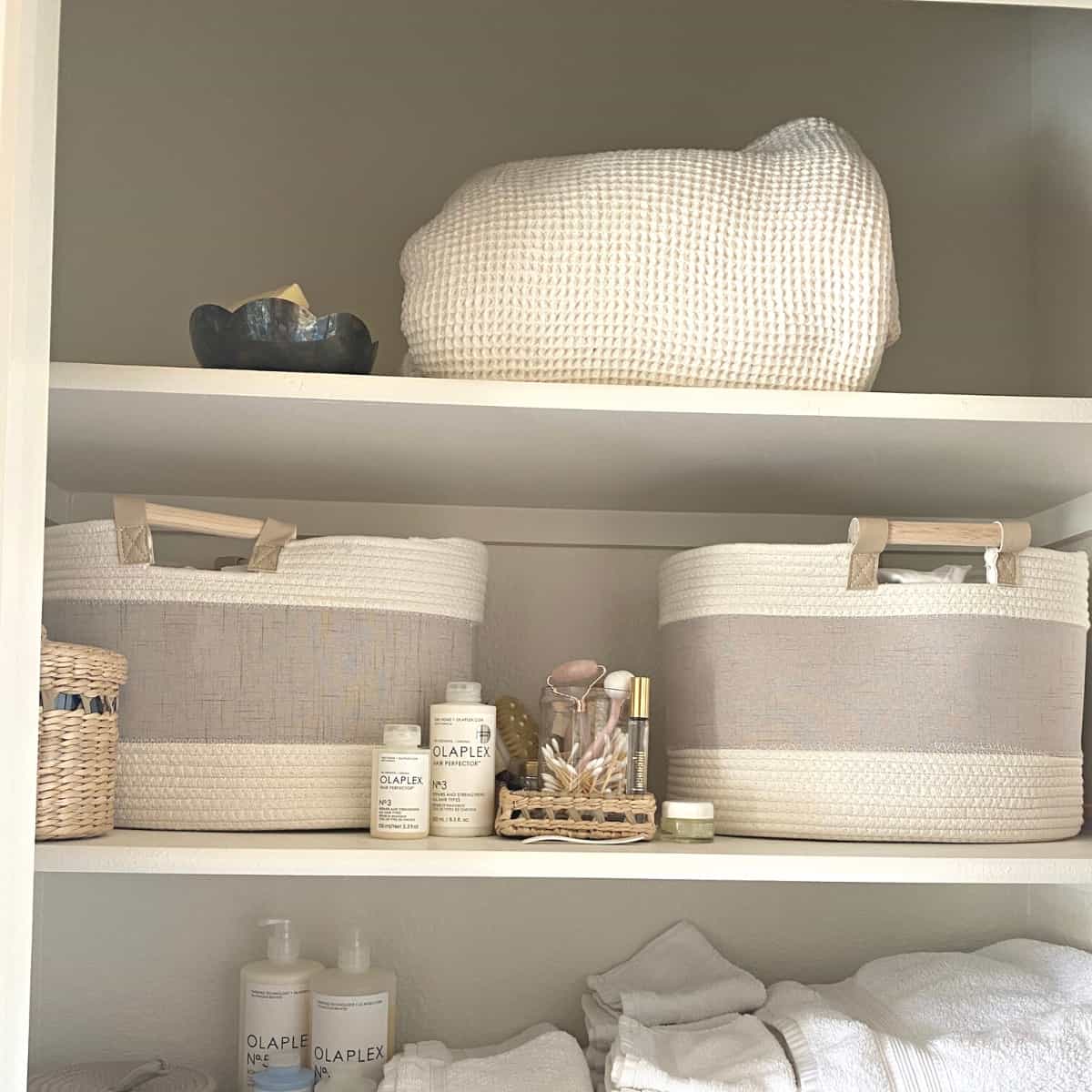 These slightly smaller cotton rope baskets are similar and they come in many different colors. The Container Store carries a large cotton open bin, too.
Stackable organizers - Utilize vertical space in your closet with stackable organizers. Usually made of plastic, and oftentimes clear, stackable organizers are best for toiletries and any little items you have multiples of. You can mostly hide them away, while remaining organized at the same time.
Canisters and Jars - Decant liquids or items you have in multiples into canisters or jars. Not only does removing original packaging elevate any space, it can reinforce your color palette.

It's up to you whether you use clear glass jars, glass canisters with wood lids, ceramic canisters or a woven material container.

Below, lidded glass canisters hold feminine products while looking more stylish than the original cardboard packaging.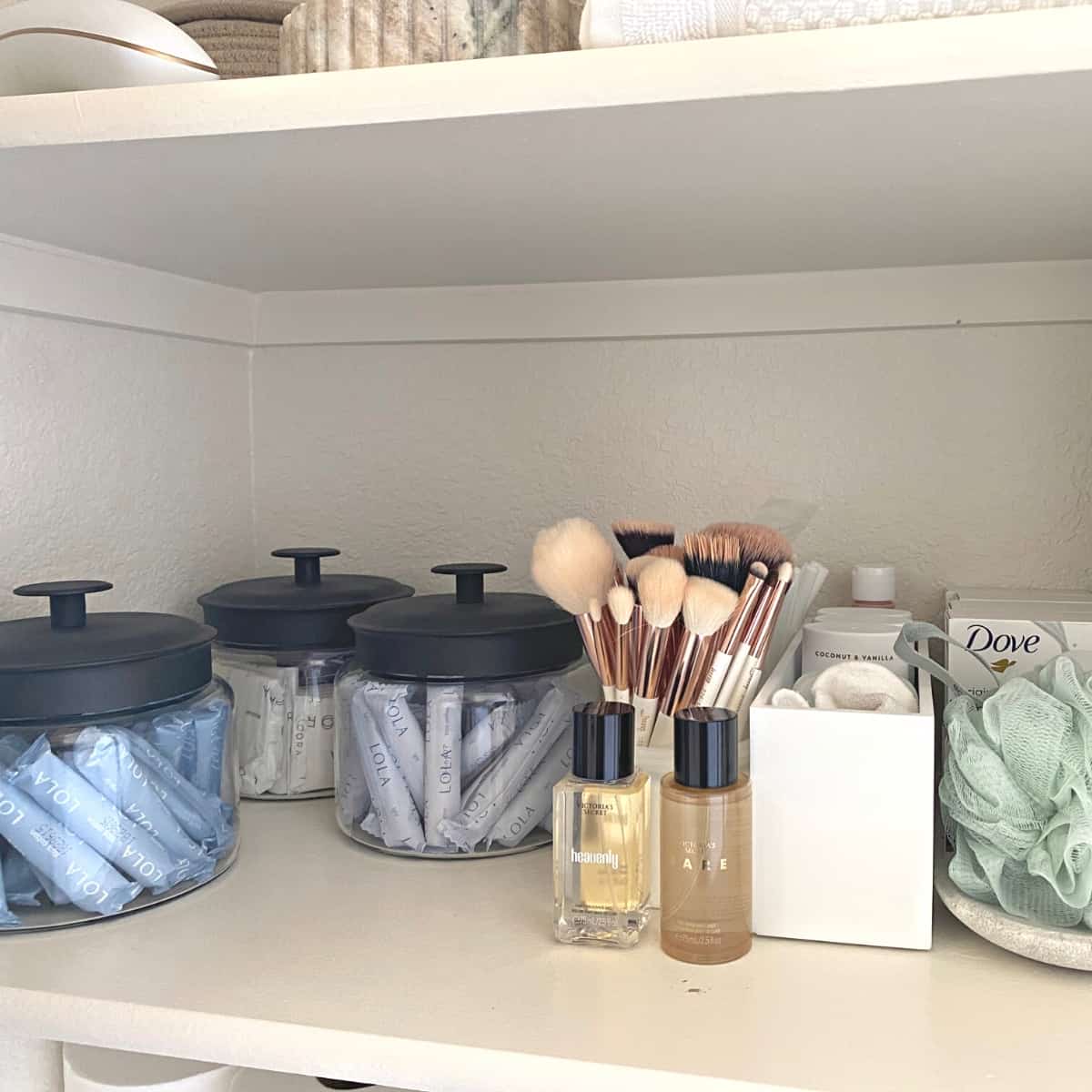 To efficiently store hair ties, I use this cute woven canister.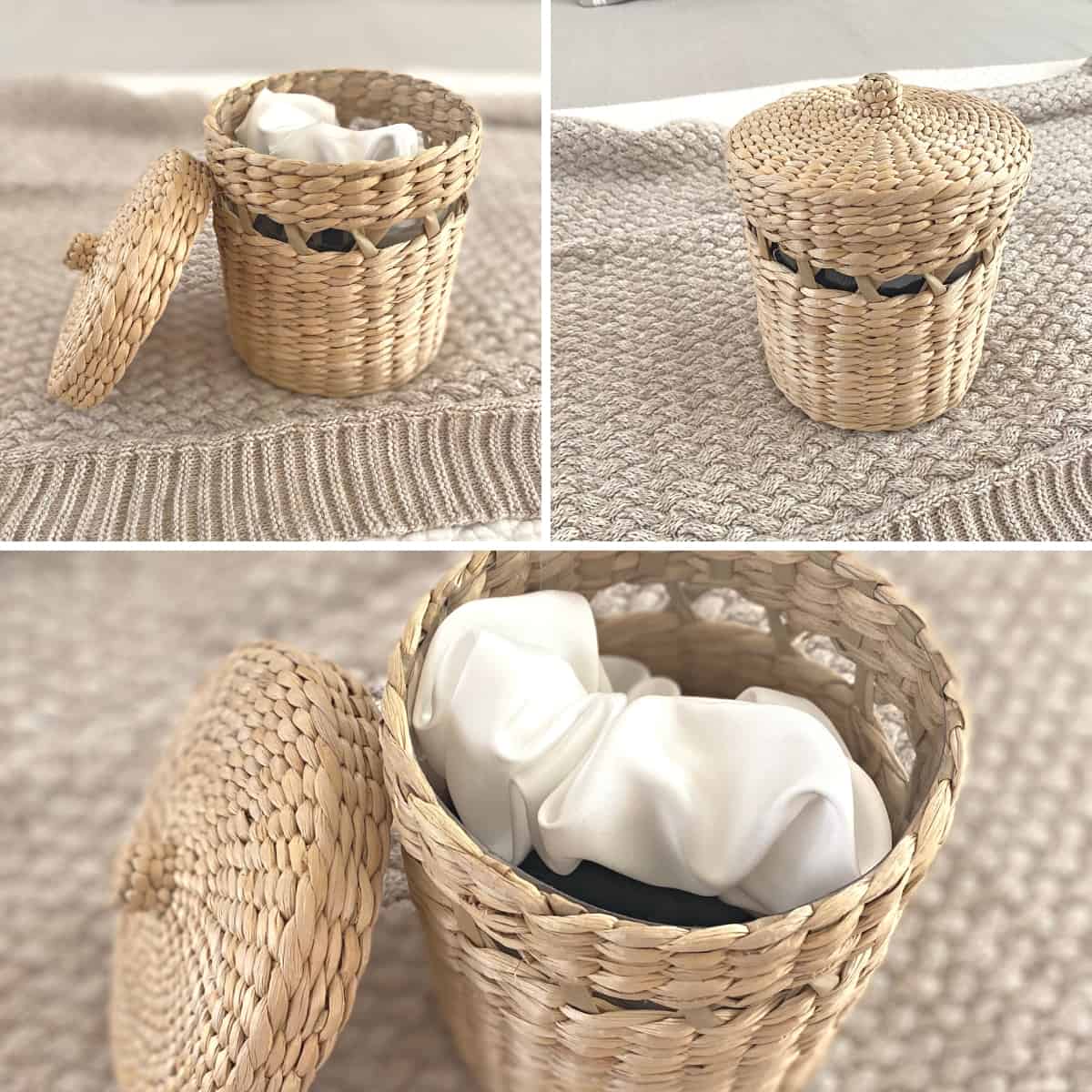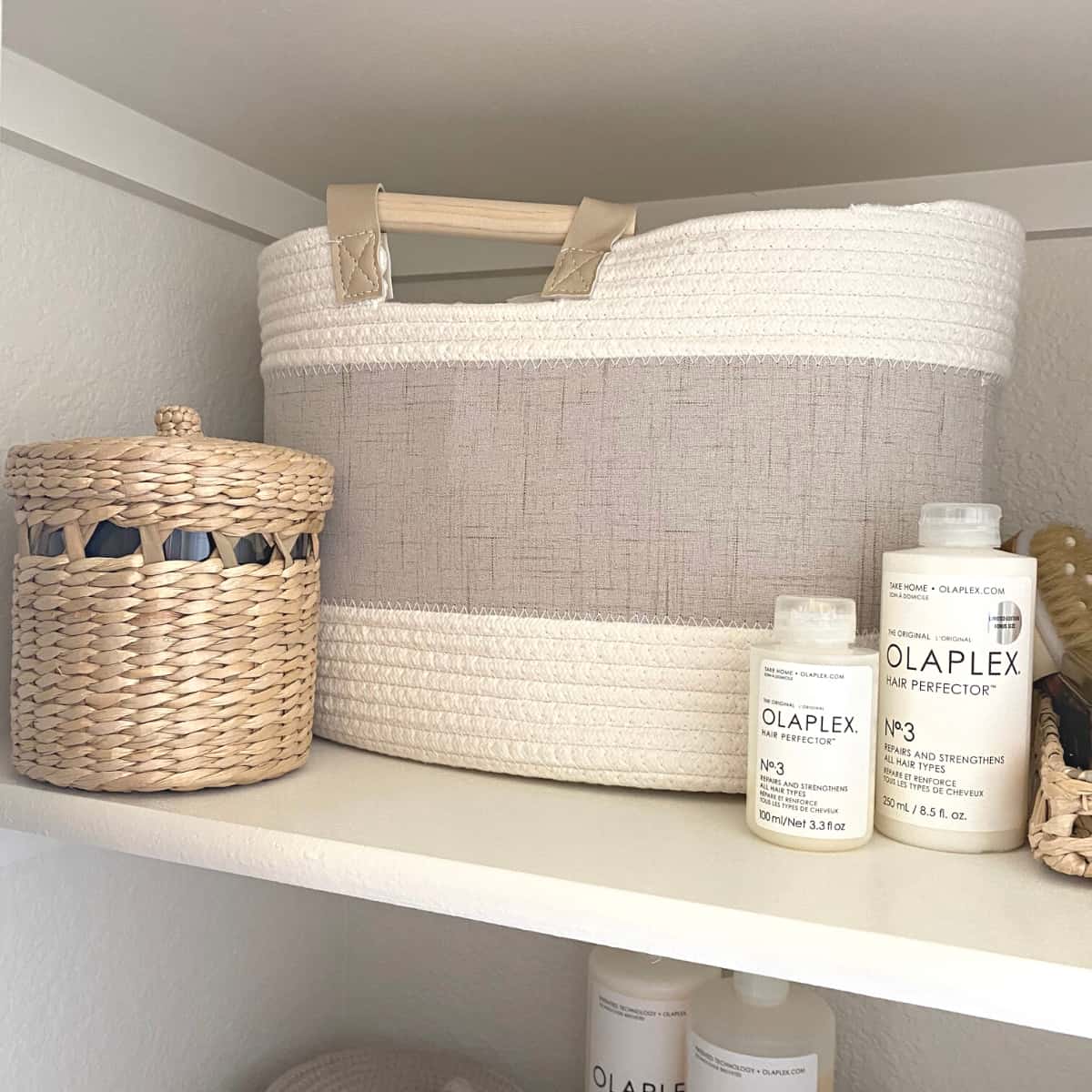 Shelf risers and tiered shelves - Add a shelf riser to utilize what may otherwise be wasted vertical space. I recommend using shelf risers that are a solid shelf, as opposed to slatted, in order to keep items steady. A solid top also allows you to create stacks or rows of items on top if need be.

West Elm has a solid maple shelf riser. You'll also find this wood and white shelf riser on Amazon. If a tiered shelf works better for your closet, this affordable bamboo tiered spice rack works wonders at increasing functional vertical space.
Trays and catchalls - Corral perfumes, body care tools or other bathroom necessities together on a pretty tray.

Don't you just love a beautiful tray or catchall? Maybe you have bottles of perfume that you want to be able to see, but also want them to look good. A pretty tray organizes closet contents in a decorative way while being functional. (This goes back to my aforementioned tip about decorating and styling inside a closet to elevate a mundane but necessary space.)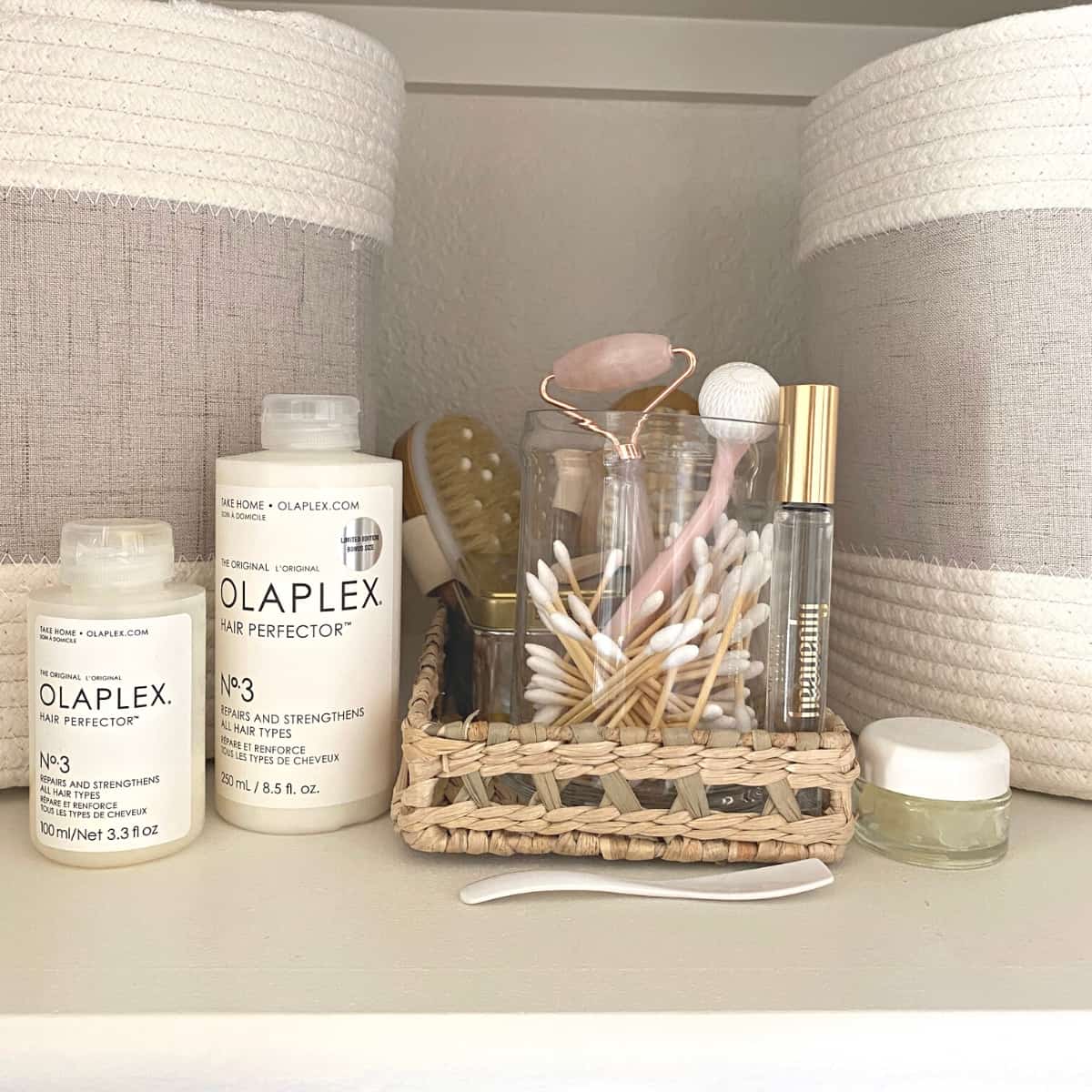 In our bathroom closet, I use a pretty woven tray to organize body care tools and a jar of cotton swabs. I also use this marble soap dish under a new loofah as well as this gorgeous marble dish from the Studio McGee Target line to hold a scalp massager.
It's these little decorative touches that make me happy whenever I open the closet door.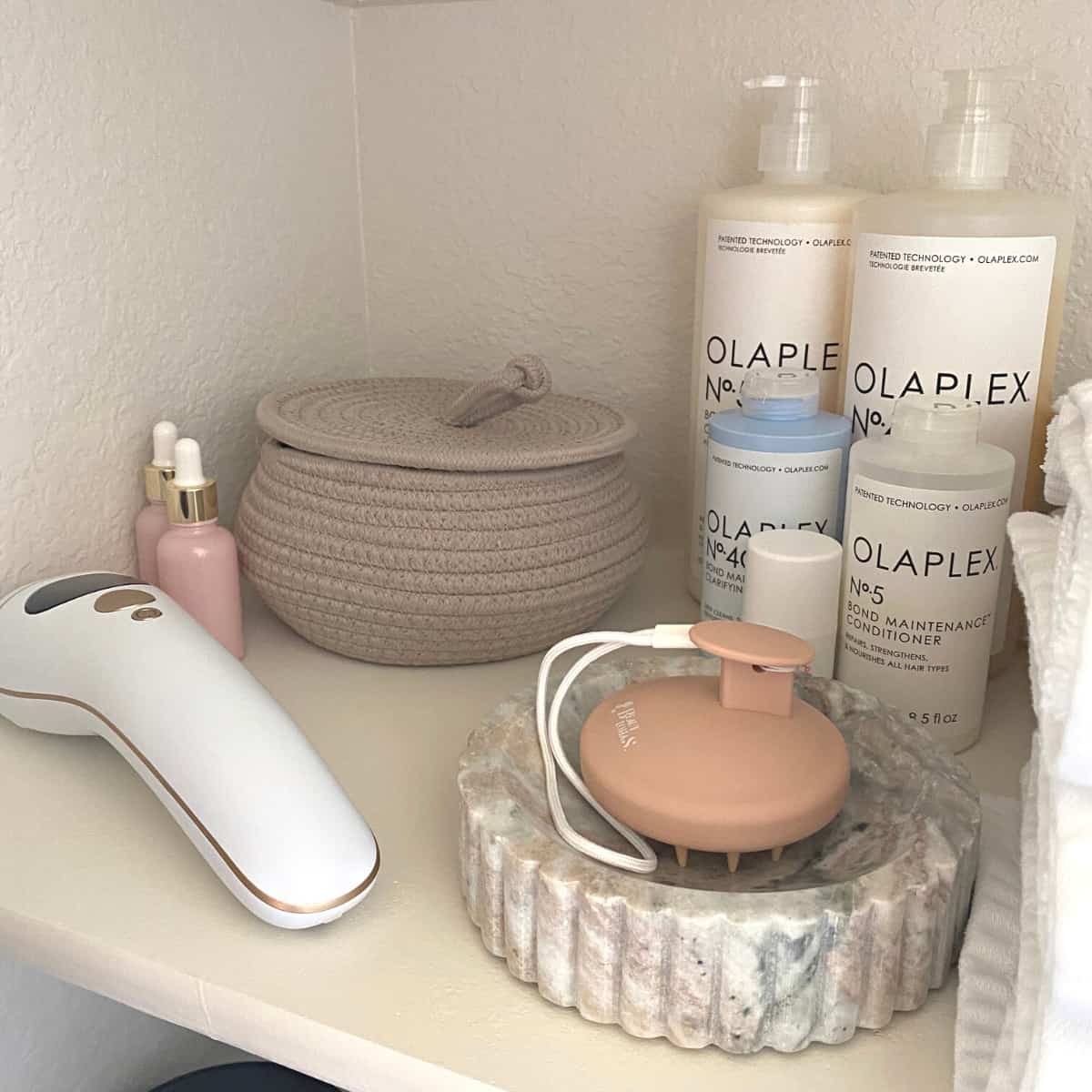 Want to shop the image above? This is not sponsored, nor are these commissionable links, but if you are wondering where something is from in the picture, here are the links: Olaplex hair products, Kenzzi IPL Pro, silicone scalp massager and the pink dropper bottles are from LaVieBohemeJewels, a cute little shop on Etsy.
Back of the door storage - If your closet opening is deep enough, you could hang an organizer on the inside of the door.
Shelf dividers - While I do not use shelf dividers in our bathroom linen closet, you may find them useful for organizing linens or towels. Acrylic shelf dividers are popular, but you can also find metal shelf dividers.
Specialty organizers - Specialty organizers for things like hair styling tools, makeup and toiletries are an option if you're looking for something very specific.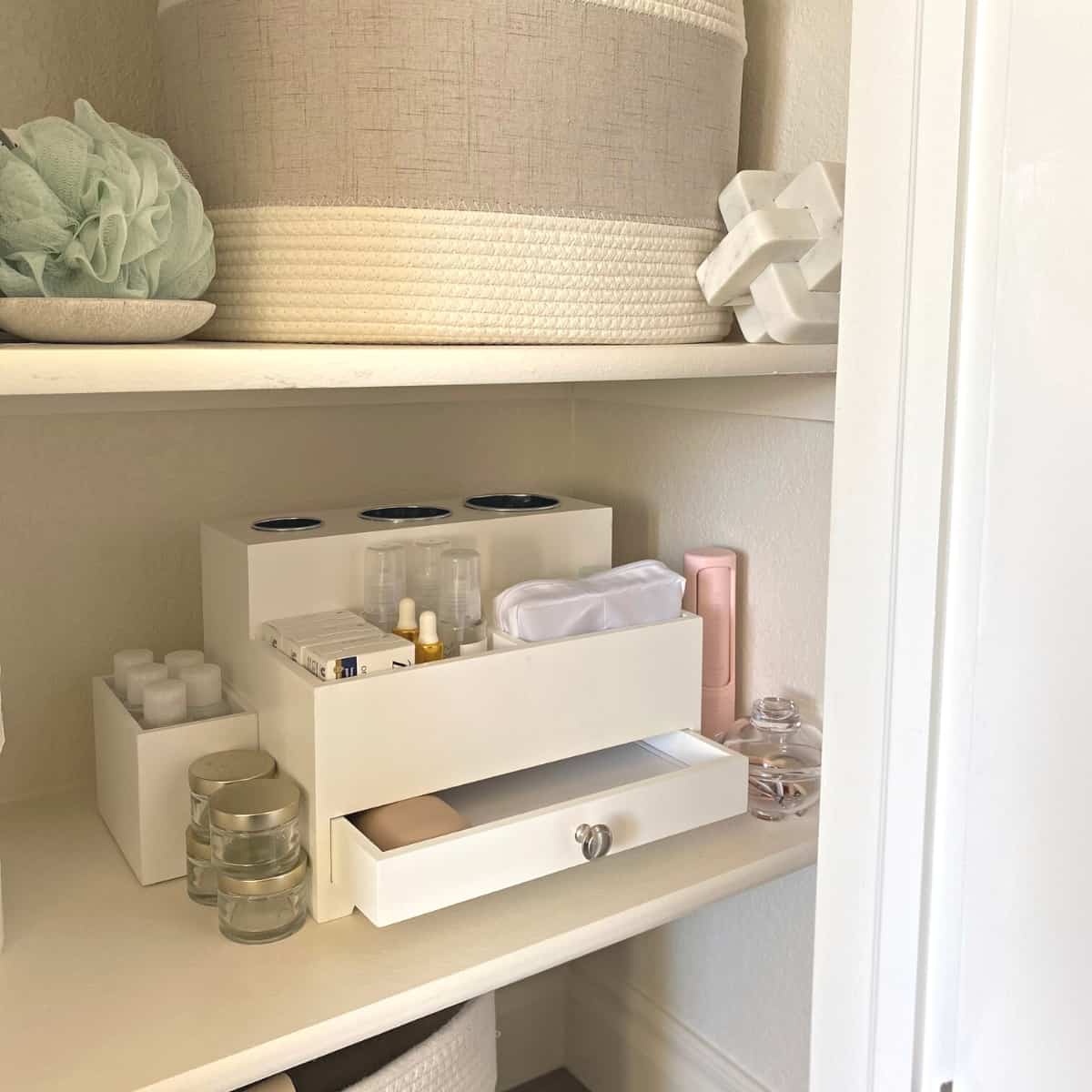 For instance, I have a white painted wood hair styling tool organizer where I organize and store hair tools, travel items and various toiletries. It has a convenient drawer where I store a travel mirror and makeup brush holder.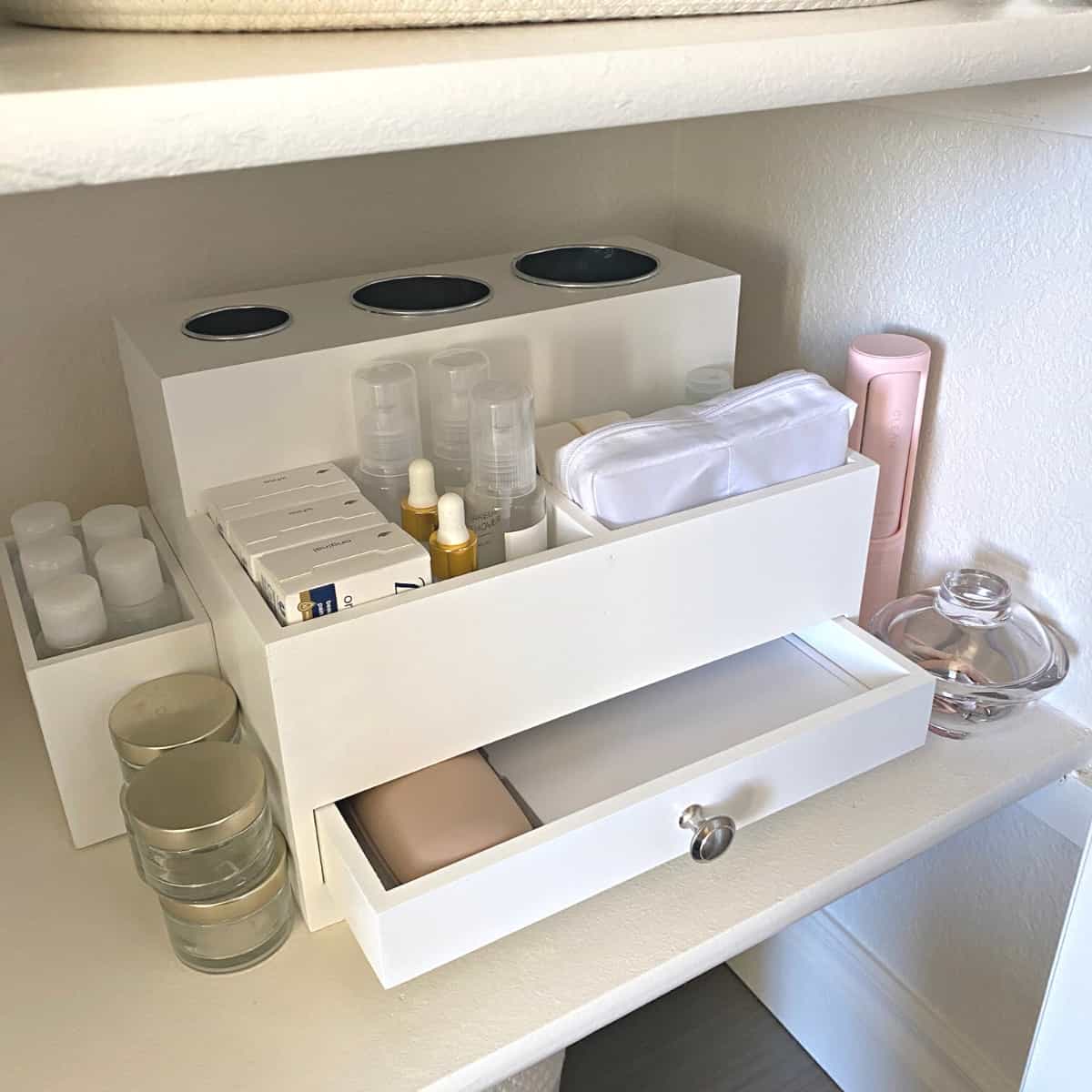 Some people like to label their storage containers. Though I completely understand why you would want to label things, I am not one of those people. I prefer the clean aesthetic of no labels.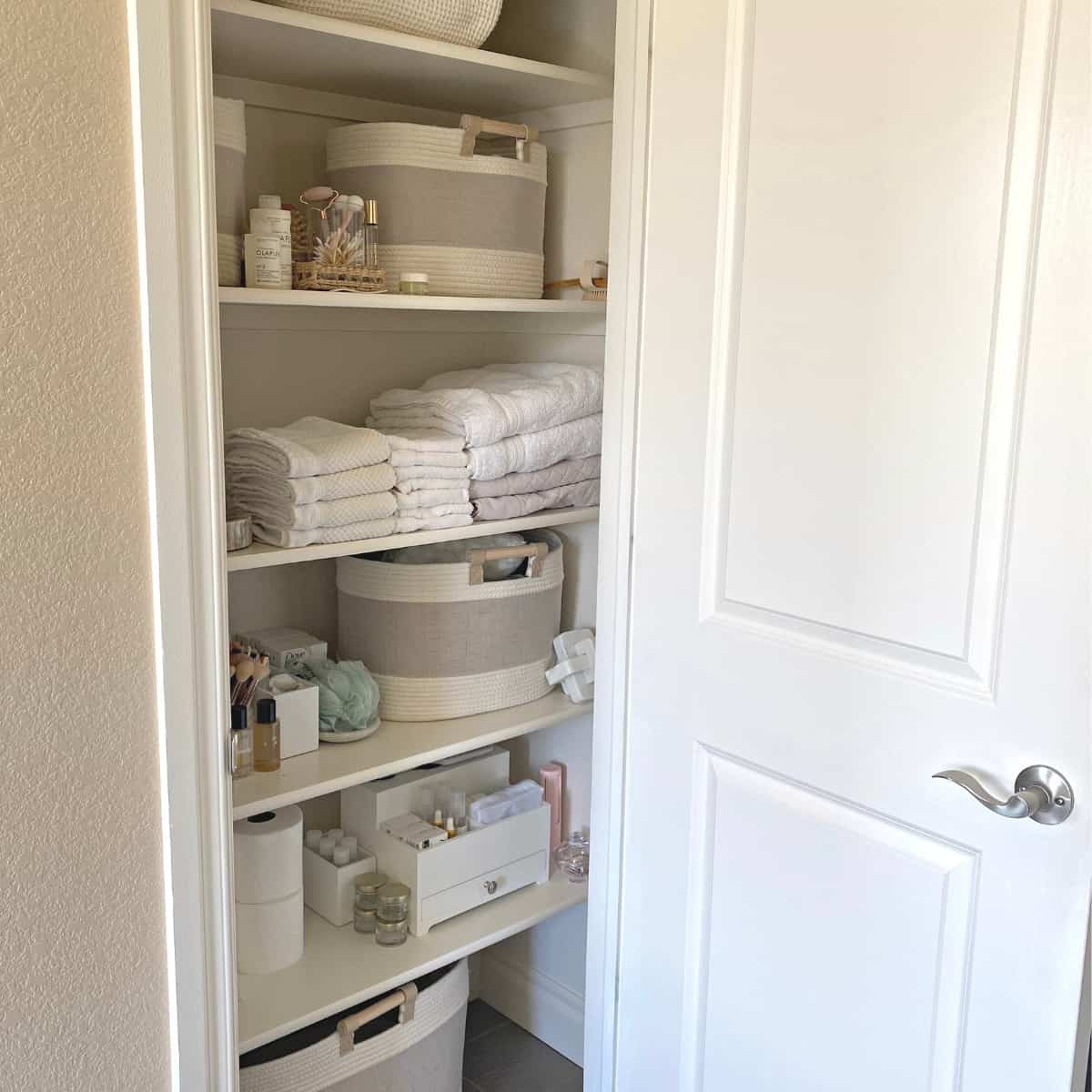 4. Map out Storage Container Placement
After you've purchased the closet storage containers you need, the last step is to map out or decide on the placement of the containers.
I find it useful to first place the containers empty where I think they should be on the shelves. Empty containers are much easier to move around if you don't like the look or if a container isn't as accessible as it could be for whatever reason.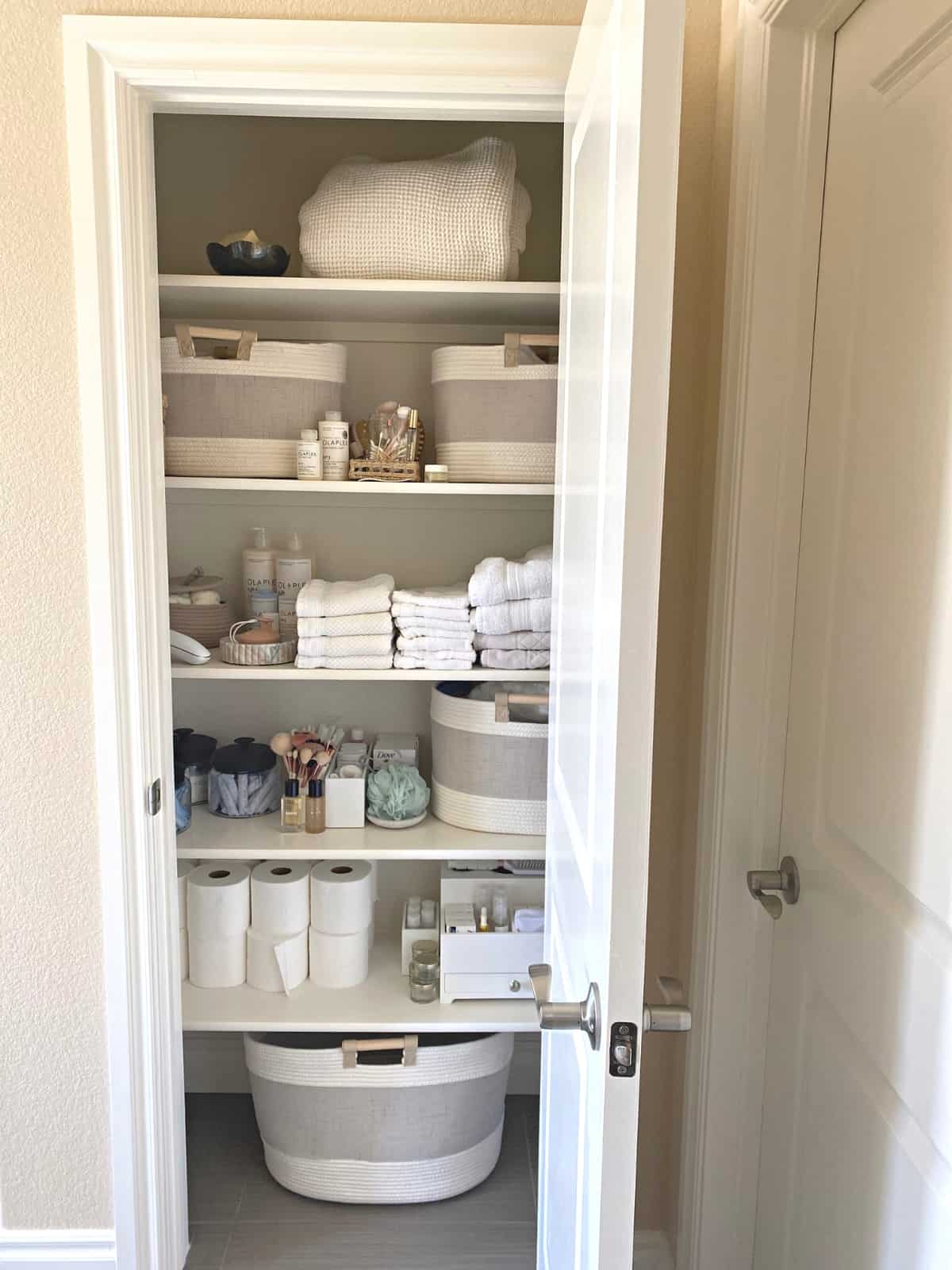 This step is all about trial and error.
Here are a few ideas for how to organize your bathroom closet storage containers:
Try lining up three of the exact same basket on a shelf
Place two baskets on a shelf with a tray in the middle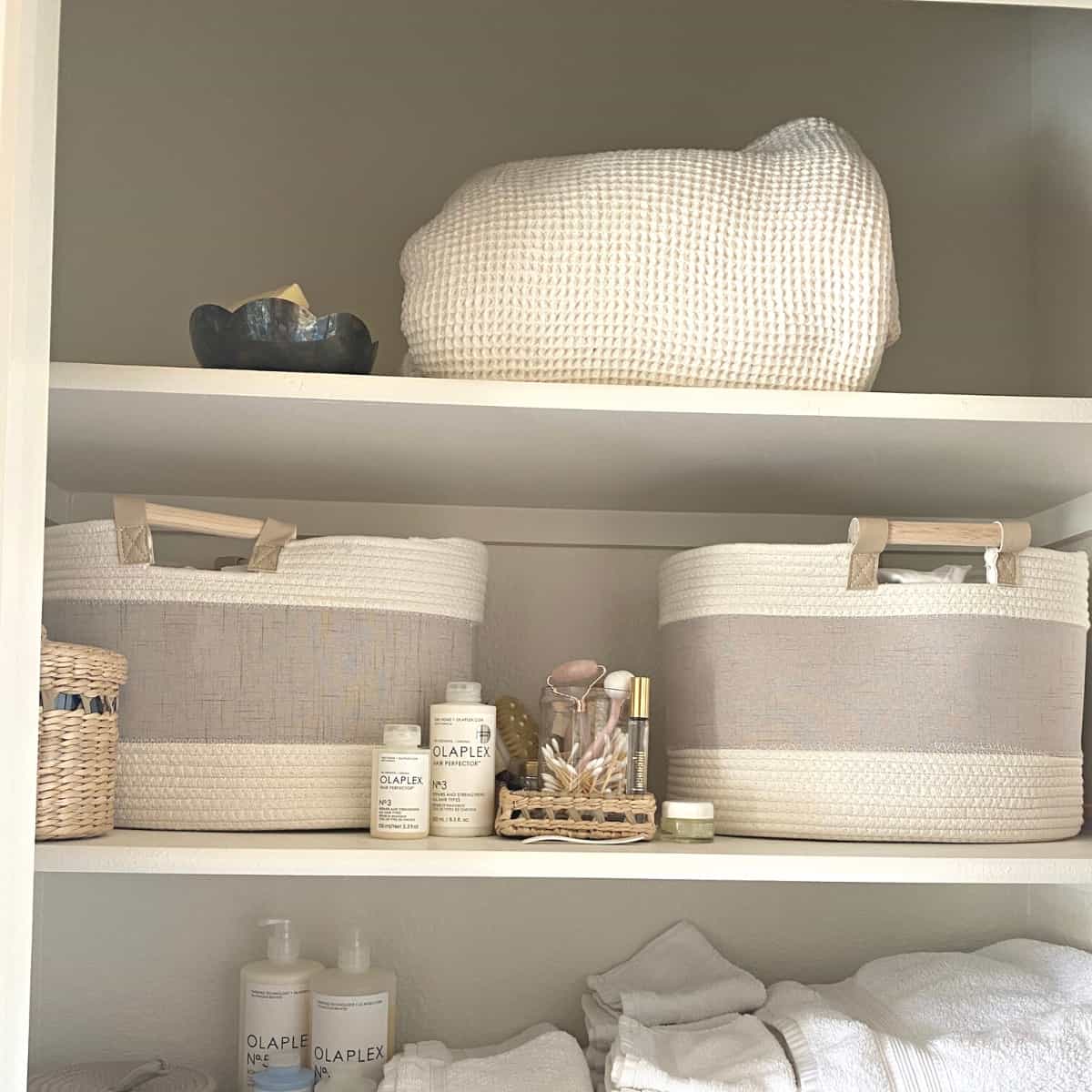 Neatly fold towels in rows and style everyday items next to them on the shelf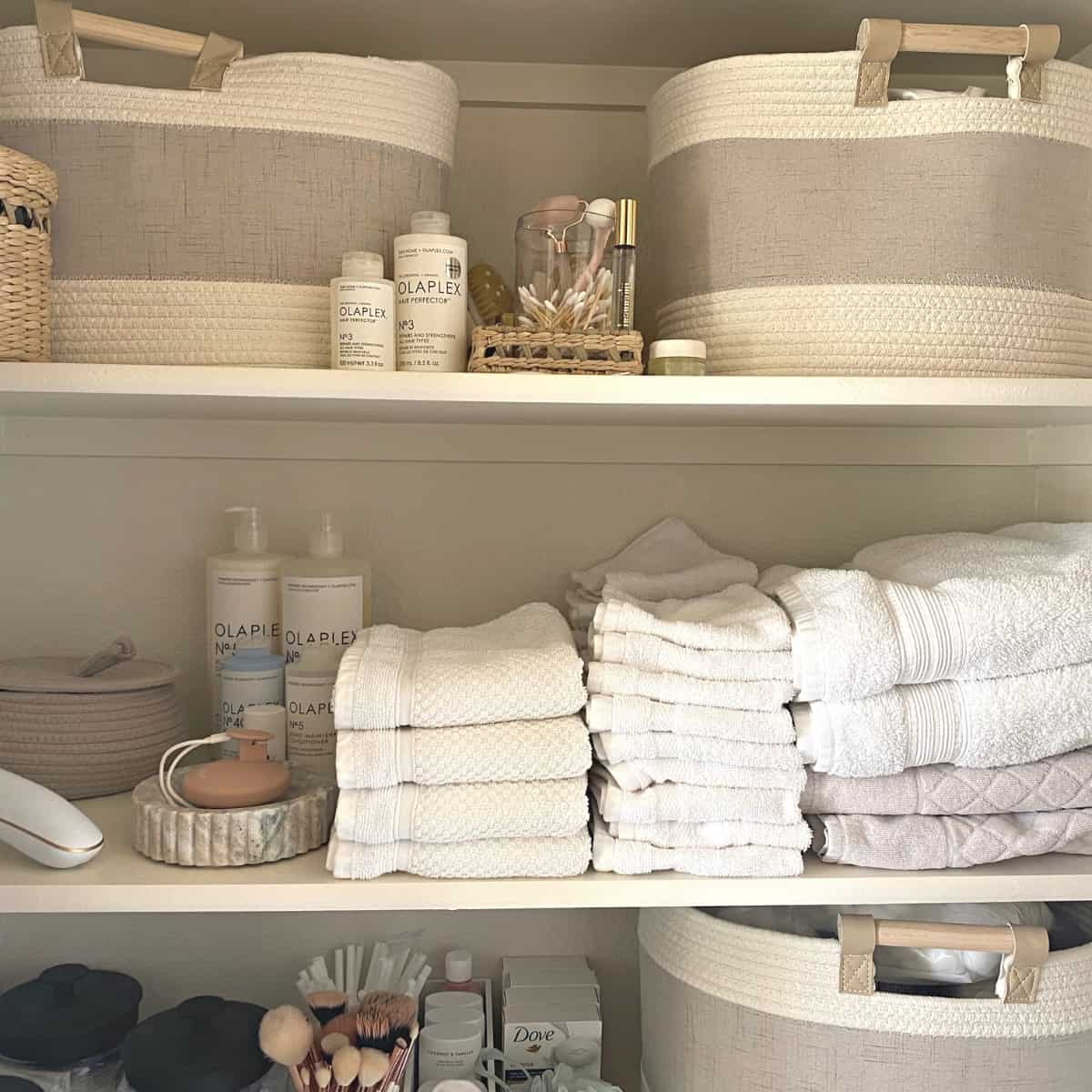 Place one large, statement making basket on the floor to hold bulkier items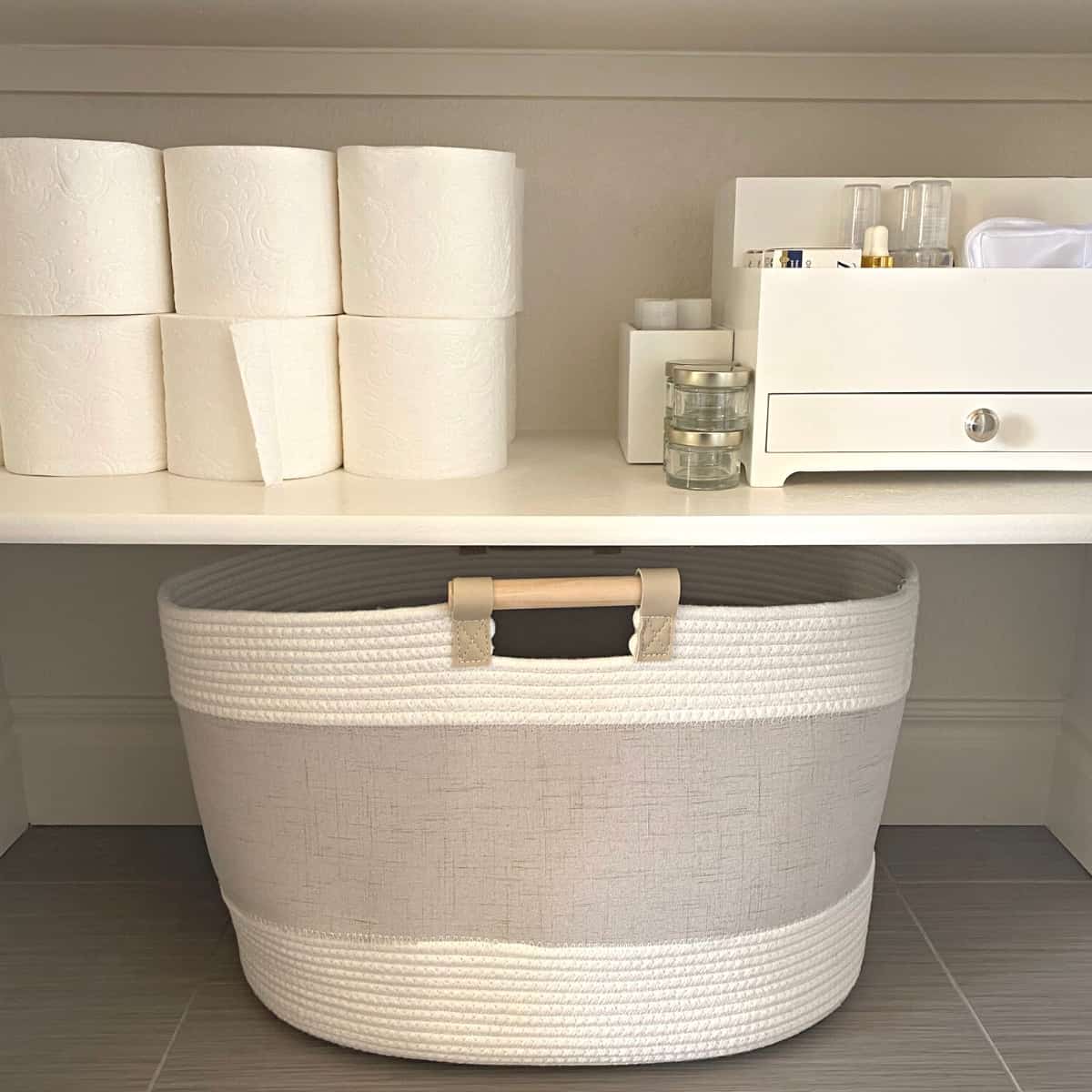 Use the less accessible top shelf to store seasonal linens
Group canisters together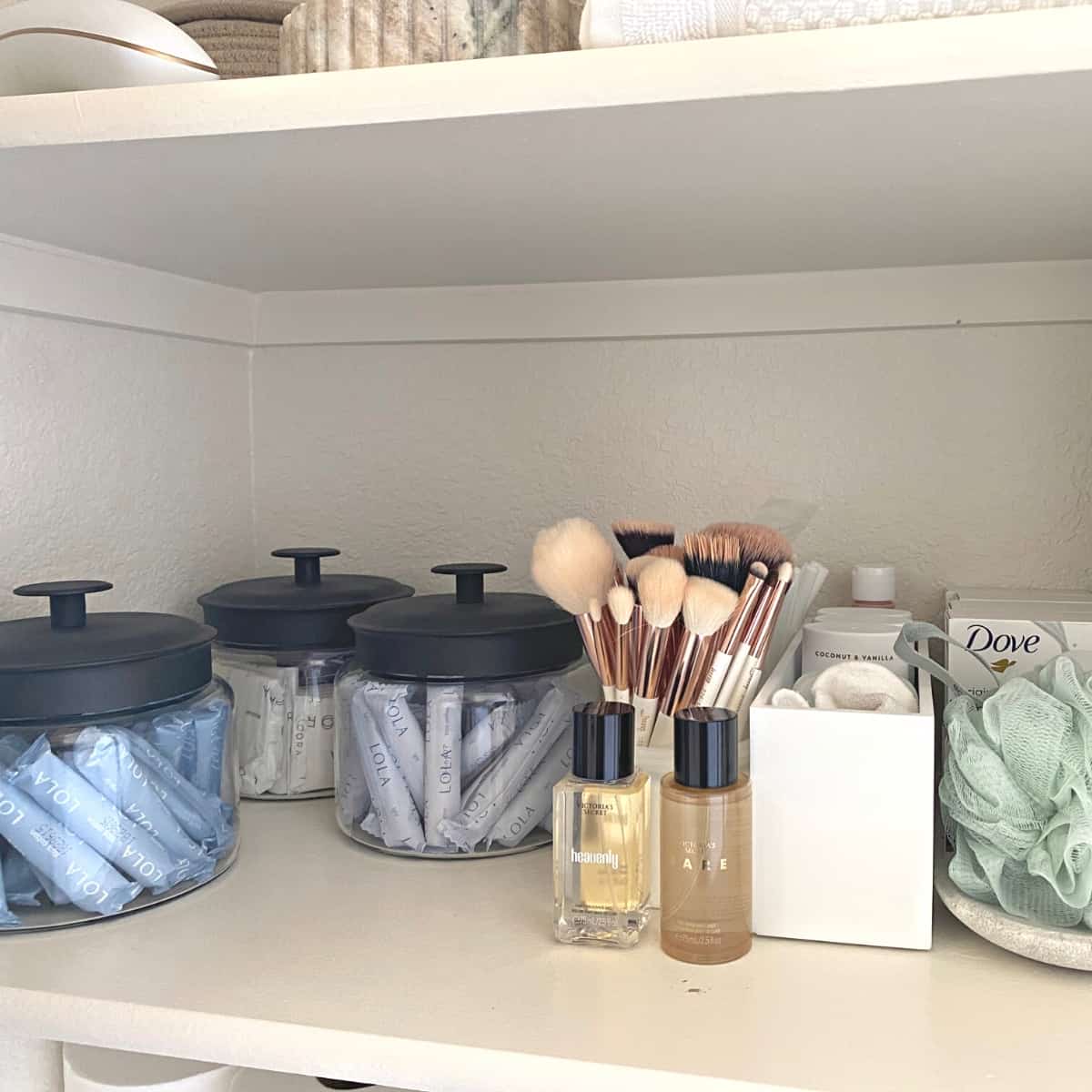 Style more random items together intentionally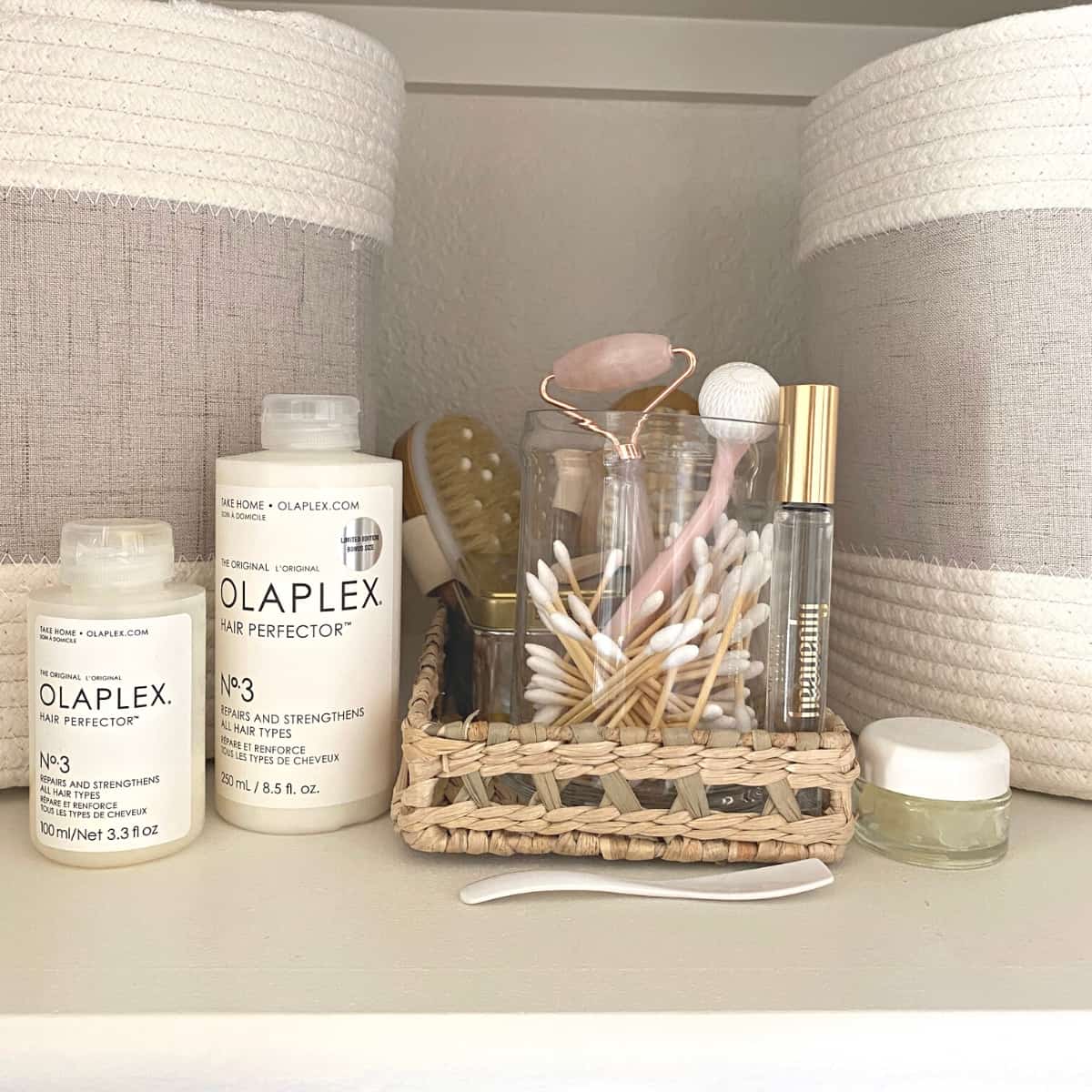 Eventually, you will arrive at the configuration you want. Style a few decor pieces throughout the closet to elevate your design, as I did with a decorative marble object.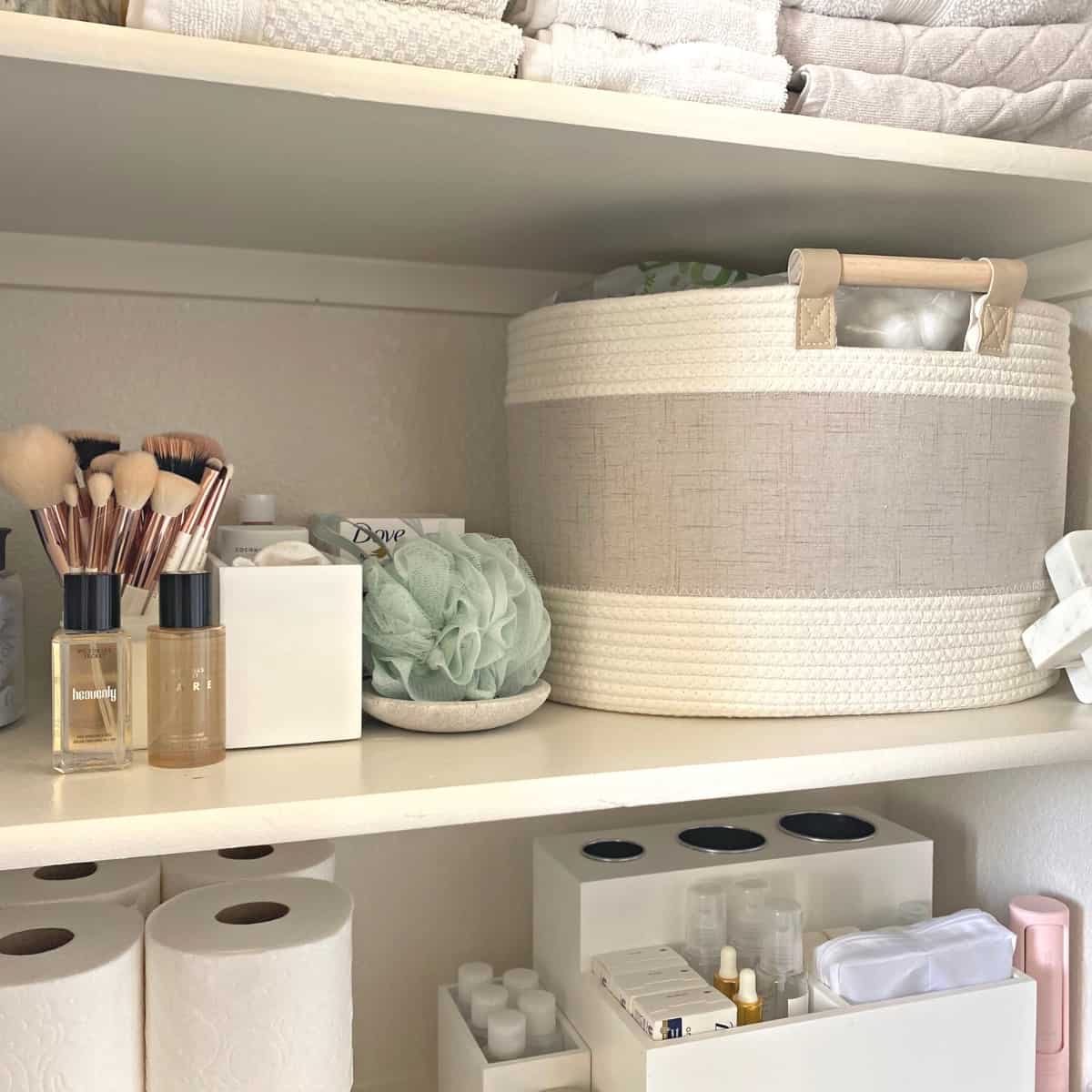 I hope you found these bathroom closet organization ideas helpful for your own home. Leave a comment and tell me how you organized your bathroom closet.
---
Frequently Asked Questions
What is the best way to organize your bathroom closet?
The best way to effectively organize your bathroom closet is to follow a simple four-step process. 

First, sort and edit the contents of the closet. Determine what can be donated, trashed or kept. 

Second, categorize items so you know the quantity, size and types of items that will need to be organized. 

Third, decide what types of storage you will use to organize all the things (i.e., baskets, bins, stackable organizers, trays). 

Fourth, and final, map out how the storage containers will be arranged in the closet. Do this part with empty storage containers, as they are much easier to move around.
What should I put in my bathroom closet?
You can store just about anything in your bathroom closet. Typically, extra towels, bed linens and toiletries are stored in a bathroom closet, but that shouldn't stop you from storing whatever it is you need to. Kids toys? Put them in a pretty basket in the closet. Extra boxes of tissues? Find a stackable bin and store it in the closet.

Keep in mind, you can decorate and style the inside of your bathroom closet just like any other area of your home. Add a small piece of artwork or decorative object that will make you smile every time you open the door.
How do you store extra bathroom items?
Baskets and stackable organizers to trays, shelf risers and glass canisters, help you effectively store extra bathroom items. Storage containers of all shapes, sizes and materials can be used to organize your bathroom closet.
How do I maximize space in my small linen closet?
Here are a few quick tips to maximize space in a small linen closet:
- Make sure you utilize vertical space effectively, by using stackable organizers and bins. 
- Consider adding a back of the door hanging organizer. 
- Take products out of their original packaging when possible, as original packaging tends to take up more space.
- Fold linens and towels and place them into baskets or bins.