Knowing how to serve potato chips at a party can be a dilemma. Entertaining with an appetizer of messy looking assorted potato chips is not the best look. In actuality, it's really fun to serve potato chips through an extra special (and pretty) presentation.
There is so much texture, color and, oftentimes, seasonings on potato chips that lend variation to entertaining food.
Picture serving potato chips in a deep pan with tongs or a scoop for self-serve. You can even provide guests small bowls accompanied by spoons to avoid eating with their hands. See, no messes involved.
This is how to create a self-serve potato chip bar for your next holiday, wedding or purely for entertaining a party.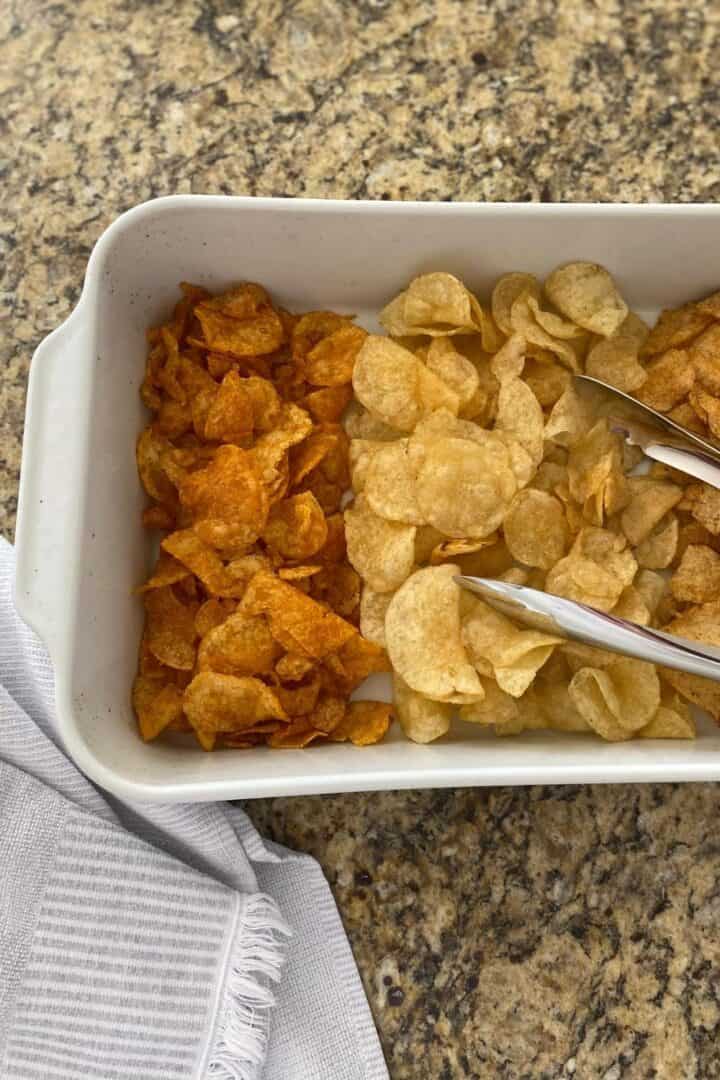 How to Serve Potato Chips at a Party or Wedding
Just the words potato chips conjure up feelings of backyard barbeques. Usually, that's not exactly a picture of refined entertaining, such as at a wedding or a fancy holiday party. What do you do if you want to serve potato chips at a fancier, more sophisticated get-together?
Change your mindset, first.
Like all other foods served at a fancy party, it's the presentation that elicits the response. It's the presentation that overwhelmingly influences the level of sophistication. If gastropubs have anything to say about it, presentation matters.
You can easily take a $3 cut of steak and make it look like a $42 cut that has been aged to perfection, given the right presentation.
How to serve potato chips at a party or a wedding:
Serve potato chips on a platter - A platter with chips simply dumped on the platter directly from the bag is not an appetizing sight at a fancy party. And chip crumbs? You want to hold those back. Arrange the chips neatly on a platter, sometimes taking chips a few at a time and laying them out.
Divide potato chips into serving bowls - You could serve potato chips in individual serving bowls, labeling each bowl with the chip flavor.
Use a divided serving tray - Divided serving trays provide a relatively easy way to serve potato chips. It also makes cleanup easy.
Create a potato chip bar - Marrying form, function and beauty, creating a self-serve potato chip bar allows you to style the food, while making it easy for guests to consume.
When deciding how to serve potato chips at a party, think about different methods of presentation.
When entertaining, I like simple, white and effortless. So, I opt for a large rectangular casserole or lasagna pan for a nicer looking potato chip presentation. We have a large rectangular roasting pan by Pillivuyt from Williams Sonoma that I highly recommend.
This presentation falls into my great Memorial Day food ideas.
Start by selecting your assortment of chip flavors.
Here, I used Kettle Brand Country Style Barbecue (organic) potato chips, Kettle Brand Sea Salt (organic) potato chips and Whole Foods Market 365 Organic Barbecue potato chips.
You can find larger volume family size bags of Kettle Brand chips at Costco.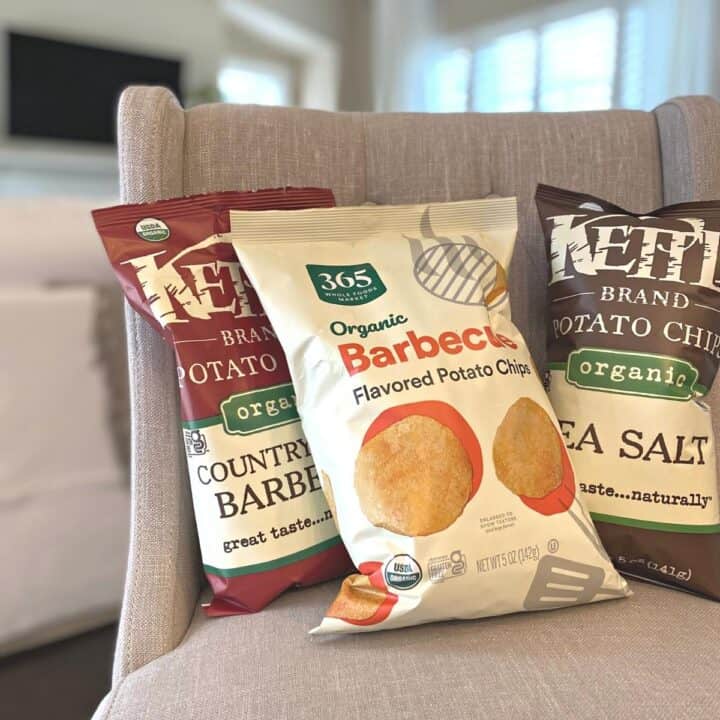 This assortment has variations of color as well as texture that makes for an eye-catching appetizer.
The key is to arrange the chips in rows, alternating flavors and, ultimately, colors as well.
Tip: Think about the pan in thirds, fourths or fifths, depending on how many chip flavors or rows you want. For instance, if you have three flavors, chips will be in three seperate rows. Four flavors for four rows, and so on.
That said, you can also alternate the same flavor two or three times between a different flavor. So, row one and three would be the same flavor, and row two would be some other flavor.
To arrange the chips in the pan, you can either pour some in a bowl to help you more easily pick chips out of the bowl to then arrange in the pan, or you can take a few chips directly from the bag.
I find that pouring some chips in a bowl and placing small handfuls into the correct row in the pan is the most effective method to keep the rows tidy.
Here is your guide for how to serve potato chips at a party.
After selecting which chips you want, open one bag to begin with. Arrange that flavor of chips in the first row.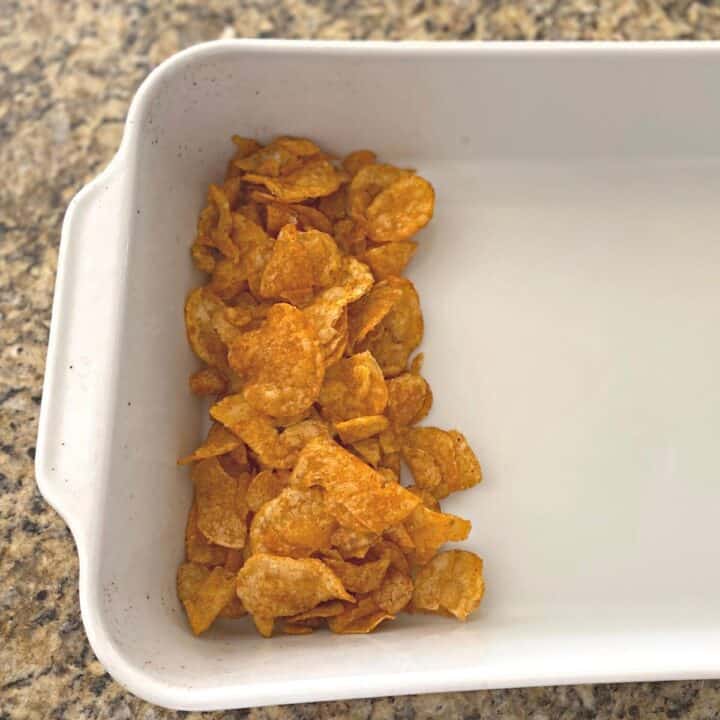 Once you have arranged the first row of chips to your liking, open the second bag and create a second row of chips.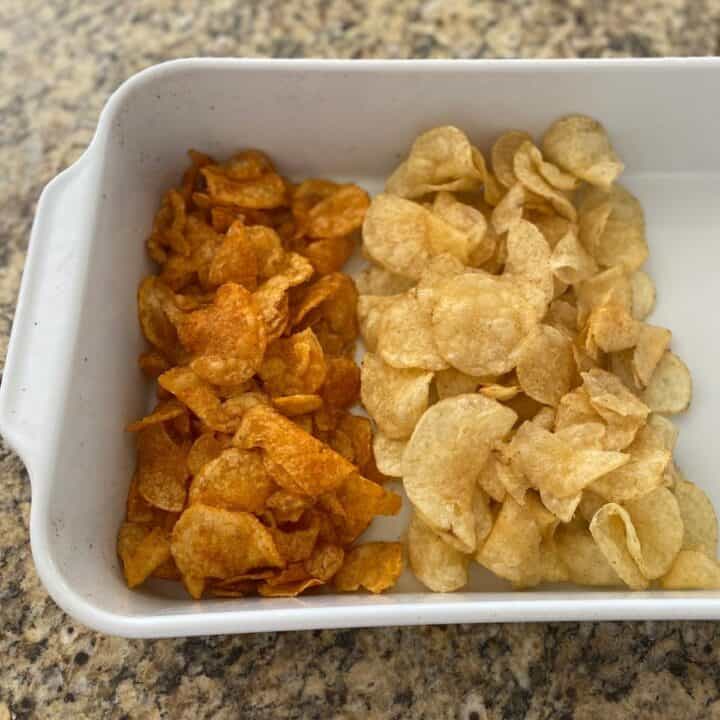 Just look at the variation in color and texture starting to take shape.
Repeat the process for row three of the chips.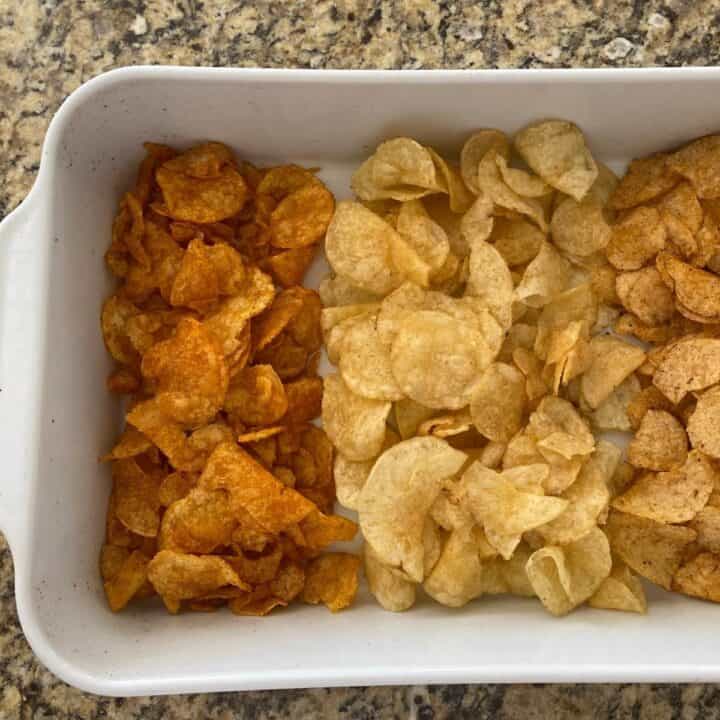 I stopped at three rows, but if you have additional chip rows, continue until you are done.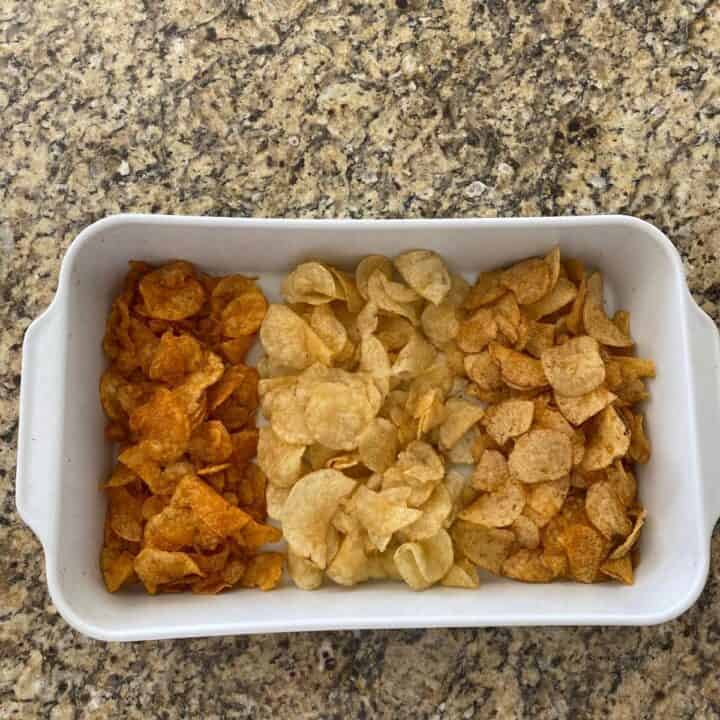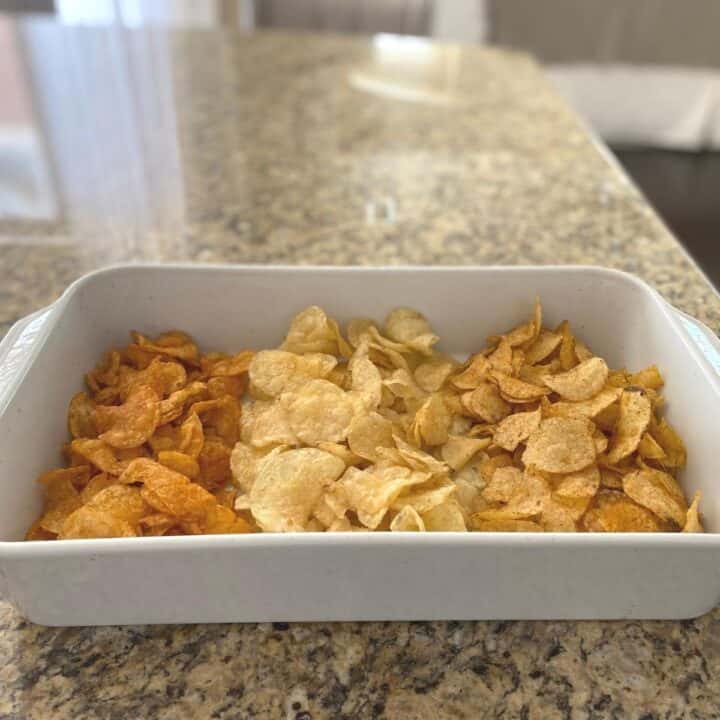 To make it easier as well as more sanitary for guests to self-serve the chips, place tongs or a scooper next to the dish.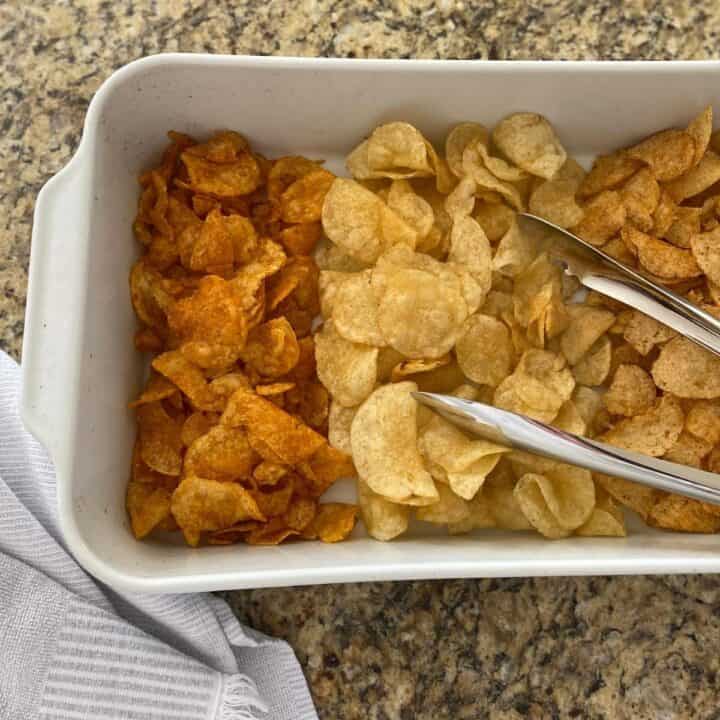 Lastly, some of your guests, or even you, may enjoy a nice dip with your potato chips. In this case, place a small dip bowl in the middle of the chips.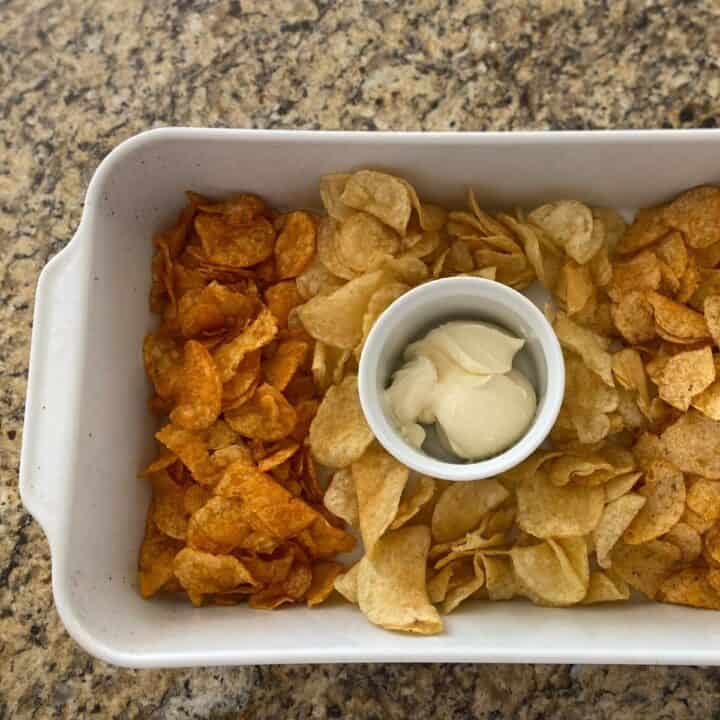 That's it! Now you have a guide to how to serve potato chips for your next party.
How to Create a Potato Chip Bar for Entertaining Parties
Technically, a potato chip bar can be any presentation of your choosing.
Maybe you want to go full-on catering style, with tiered trays, black linens and divided chafing dishes.
Or, maybe you prefer a simple white casserole pan-turned serving tray to contain the chips, while still looking presentable.
I am in the latter group. Food looks next-level appetizing in white serveware and dinnerware.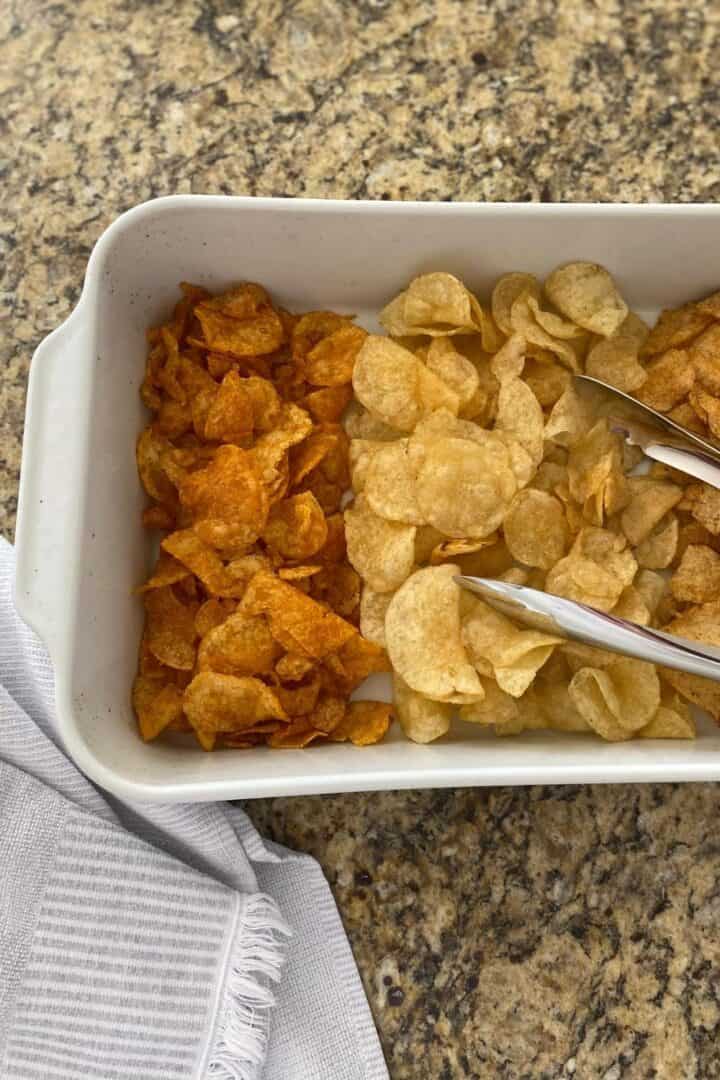 For your next fancier party, try this method to serve potato chips at your own home.