Cleaning your home with white vinegar is one of the easiest, effective and most inexpensive ways to keep your home clean. It's also a natural, non-toxic cleaning solution that makes it great for cleaning many different surfaces in your home. From using vinegar to clean your washing machine to bathroom mirrors, this staple cleaner is a must-have for any home.
There are many things in your home that can be cleaned with vinegar, but, as mentioned in this post, there are a few things you should never, ever (like, ever) clean with vinegar.
I have been cleaning our home with vinegar for more than 15 years, saving money (and our health) in the process. Read on for four tips on how to clean your home with vinegar.
Tip #1: Clean Bathroom Tile Floors and Sinks with Vinegar
Cleaning bathroom tile floors is a breeze with a vinegar-water solution or just straight vinegar. The disinfecting nature of acidic vinegar removes stains, while cleaning the surface in little time.
I fill a glass spray bottle with three parts water to one-part vinegar, making for an easy application to a large surface area like floors. With a spray bottle, it's also easier to clean the interior of bathroom sinks with vinegar.
Typically, you can clean non-porous tile with vinegar, but each material reacts differently. So, be sure to determine if vinegar is safe to use on the tile you have.
However, do not clean ANY natural stone, such as marble, granite, or quartzite with vinegar. As vinegar is an acid, it will etch the natural stone over time. I know some people use vinegar on wood surfaces, but there is too much conflicting information for me to feel safe doing that.
If you are leery of using vinegar on grout lines between tiles, renowned home expert Bob Vila has an entire article on how to clean grout.
Tip #2: Use Vinegar to Clean Mirrors and Glass
Especially in high-humidity, soap-scum laden environments like showers, glass surfaces get coated in grime fairly quickly. Vinegar is a great solution to clean glass shower doors and mirrors.
Did you know vinegar actually helps mirrors and glass from fogging up? At least, I read that somewhere a very long time ago, though I haven't tested it in a scientific manner to confirm the validity.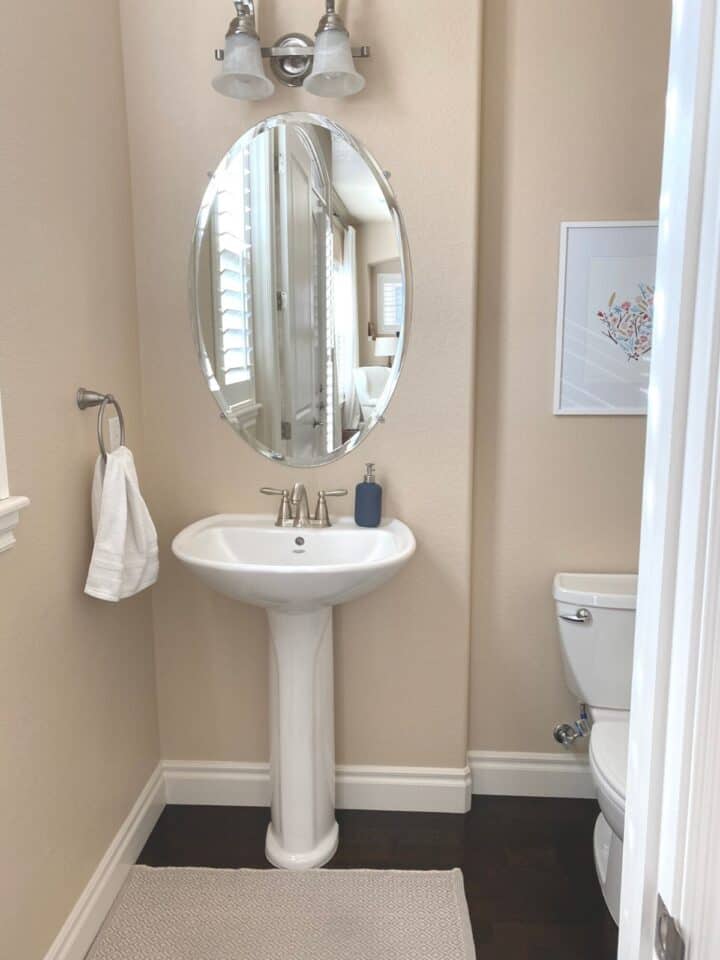 When I do my weekly cleaning routine, I generously spray the glass shower doors and glass shower walls, let it sit a few minutes and then wipe it clean with a soft cloth. Make sure the cloth you use doesn't shed or your mirror/glass will be covered in lint. That said, I no longer use microfiber cloths, because of the environmental impact (read more from Patagonia, Wellness Mama and The New York Times Wirecutter. Flour sack towels are a good alternative.
Vinegar cuts through soap scum and grime, all the while disinfecting the surface. Though, I believe you need to leave the vinegar solution on the area for 15-20 minutes to truly disinfect.
Tip #3: Clean a Washing Machine with Vinegar
You may think your washing machine is self-cleaning, but, sadly, it's not. Much like a shower builds up with soap scum, laundry soap builds up over time, leaving behind a residue or film.
Some machines, especially front-loading washing machines, have been known to develop an unpleasant odor that can be partially attributed to soap residue. You can mitigate this by leaving the door and detergent bin/reservoir open until they dry out post-washing.
I think it also depends on the climate you live in. I live in Colorado–a high-desert climate–where moisture is in relatively short supply. Whereas, I expect high-humidity regions, such as parts of the South and Mid-Atlantic states, may experience this phenomena with greater frequency.
White vinegar can be used to clean some washing machines. I say some washing machines because I have read conflicting information about the safety of using vinegar for clean washing machines.
The LG set we own specifically states in the user manual white vinegar can safely be used to clean our machine. Before you use vinegar in your machine, read the owner's manual to confirm if it's safe to do so.
Tip #4: Vinegar as Home Made Drain Cleaner
Whether it's a shower drain or a kitchen sink drain, once in a while a foul odor creeps up the pipe. It could be caused by a dry trap or soap scum build-up.
I can tell when our laundry drain has gotten stinky, as the smell takes over the room. Vinegar is a natural, home made drain cleaner. At the first whiff of the odor, I pour vinegar right on the source. In the case of our shower drain, I pour an electric kettle carafe full of boiling water and two to three cups of vinegar down the drain.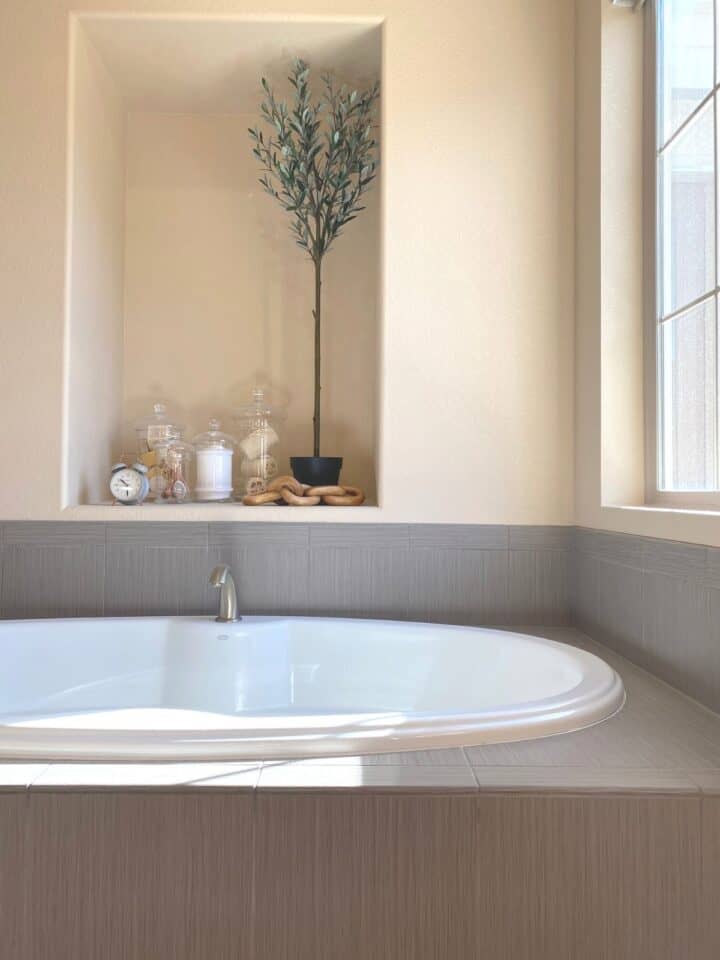 I follow-up by adding one cup of baking soda for the foaming action before I run water from the shower head to finally clear out the drain.
Cleaning your home with vinegar is quick and easy, with no mess and no toxic chemicals. Did I mention how inexpensive a gallon of white vinegar is? At the time of this post, Amazon's Whole Foods sells a gallon of white vinegar for under $6, while Target's Good & Gather white vinegar is $1.99 for a half gallon. Costco also has a great deal on vinegar: a two gallon pack for around $8.00.