When answering is organic cotton bedding or sheets worth it, there are a number of considerations. If you want to get right to it, the simple answer is, yes. Yes, organic cotton bedding is worth it.
From what is organic bedding and the difference between organic cotton and conventionally grown cotton, to what to look for in organic sheets and where to buy organic bedding, this post answers all your questions in one place.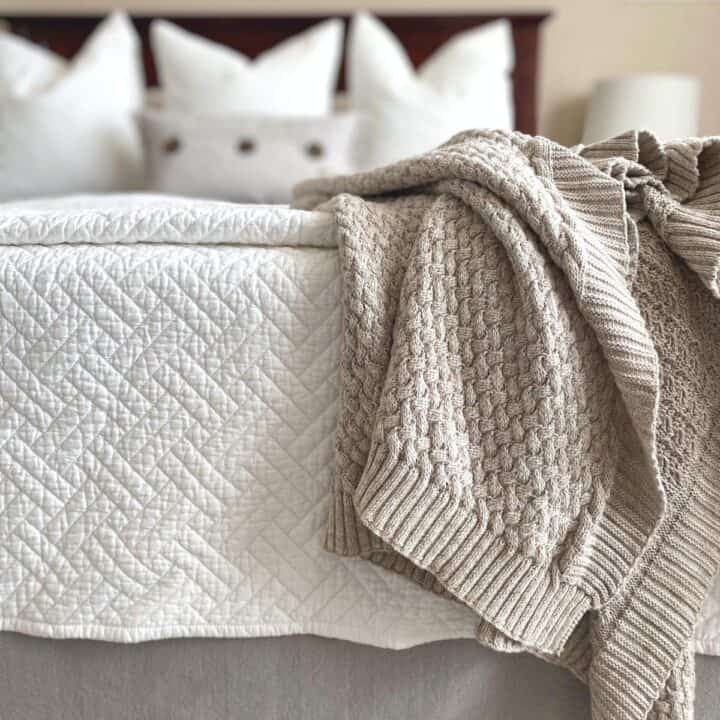 What is the Difference Between Organic Cotton and Cotton?
The difference between organic cotton and conventional cotton is vast. In a nutshell, it comes down to the method of how the cotton is cultivated, grown, harvested, and processed.
Similar to how organic food crops are managed, the ground itself is an integral piece of the process.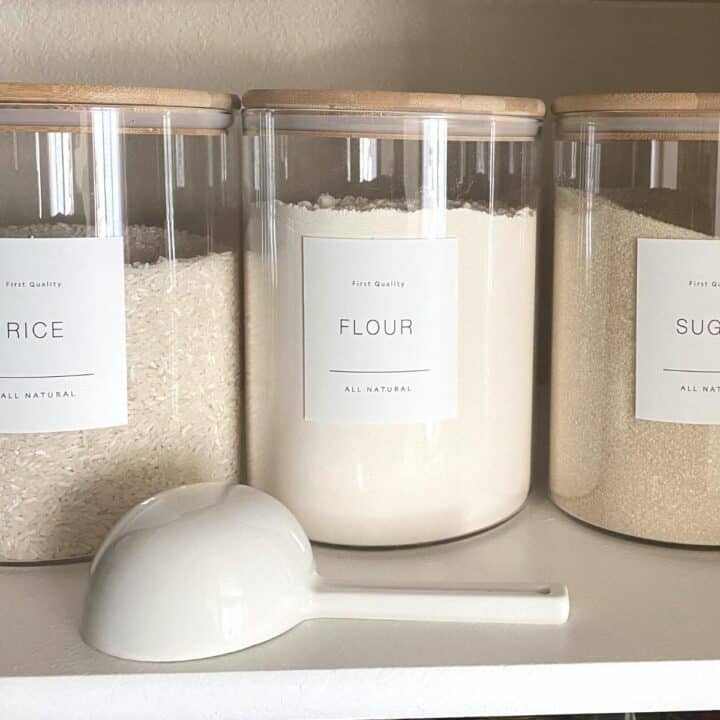 In the case of organic food production, land that was used for conventional crops may have to lay fallow (unused) for three (or more) years before it can be used in the cultivation of organic food crops, according to USDA standards.
To produce organic cotton, is to adhere to stringent regulations from seed to product. Even the land has to be cultivated and maintained in a certain way.
Just like organic food crops, organic cotton crops are made with non-GMO (genetically modified organisms) seeds. To grow organic cotton limits or outright bans the use of specific pesticides, herbicides and other related chemicals, as the USDA Organic 101 article states.
Regular cotton crops are widely regarded as the most heavily pesticide crops. Many refer to conventionally grown cotton as "the world's dirtiest crop."
Did you know a well-known fast food burger chain used to use cottonseed oil in their food? They may have changed out which oil they use, but I still won't eat there.
What is Organic Cotton Bedding and Why is it Better?
Organic cotton sheets and bedding is bedding that is made out of 100% organic cotton.
Why organic cotton bedding is better comes down to what I consider to be four important considerations:
Cotton Origin: India by far produces the greatest amount of organic cotton. Turkey, Portugal and the U.S. also produce considerable quantities of organic cotton.

Certifications: The gold standard organic cotton certifications are the Global Organic Textile Standards or GOTS certification and Textile Exchange Organic Content Standard (OCS). Together, they cover from dirt to seed to finished product, all along the supply chain. The Organic Trade Association (OTA) is a wonderful resource for additional information on the organic cotton industry.

Health: This is not a health care website and I will not give any health advice. I will simply state that the science regarding the health implications of pesticides, herbicides and other chemicals on living beings is out there. This is not just in reference to the cultivation, harvesting and processing of conventional cotton, but the residue and how it affects contact with human skin.

Environment: As the dirtiest crop, conventional cotton is terrible for the environment—soil, air and water. When you buy organic cotton, you help the Earth.
Why Should You Not Buy Polyester or Synthetic Sheets and Bedding?
The realization that I needed to change our bedding came in the wee hours one night.
I couldn't sleep. I kept tossing and turning, because I couldn't cool down. For reference, we keep our bedroom around 66 degrees at night. The cooler range is better for humans to sleep. The best temperature for sleep has been studied.
Anyway, it was obvious the temperature of the room was not the issue.
Inspecting our bedding, I found the coverlet was made of (cue the screams) polyester!
If you don't know, polyester is basically plastic. Unlike cotton, polyester is not breathable. It holds sweat against you, making you even hotter. Polyester can also cause a rash or itching in some people who are sensitive to the synthetic material.
When you're sleeping, you don't want to be overheating or itching like crazy. Getting a good night of uninterrupted sleep is much too important to not try to make it better.
Polyester or synthetic sheets and bedding are the worst for sleeping, in my experience. Additionally, the production of synthetic materials is much harder on the environment.
You may want to try 100% cotton or 100% organic cotton sheets to see if you sleep better.
What to Look for in Organic Cotton Sheets and Bedding?
Be a discerning consumer when buying organic cotton sheets and bedding. Do not necessarily just buy the first organic cotton sheets you find.
This is what to look for in organic cotton sheets and bedding: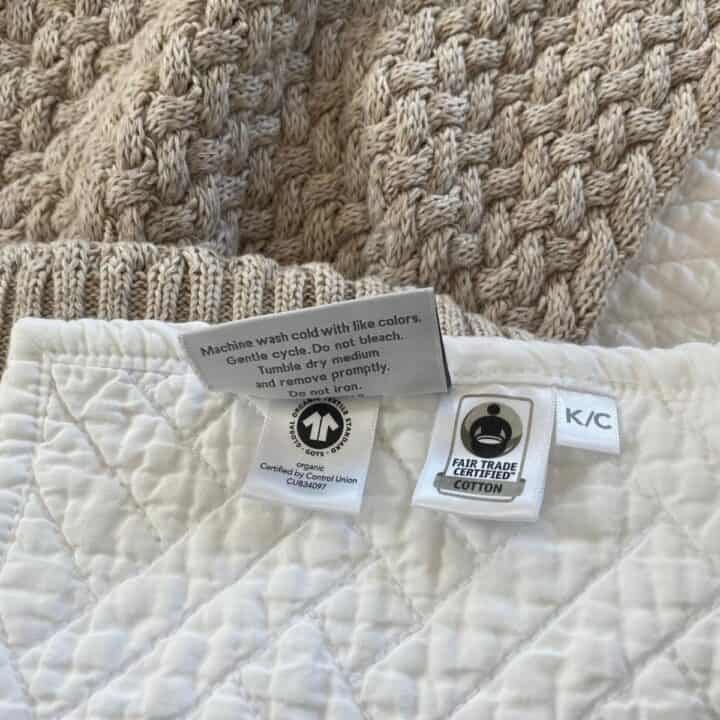 Look for the GOTS certified seal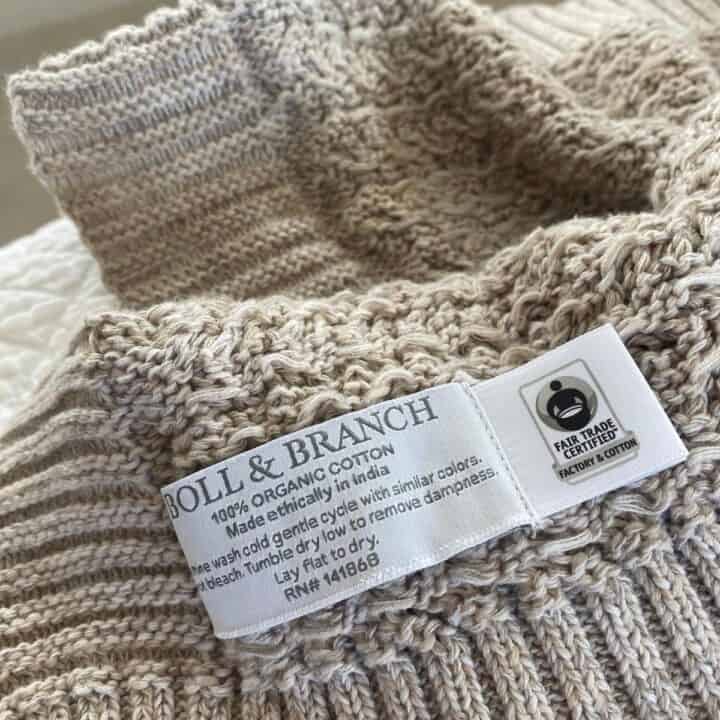 Find the country of origin on the label
Feel the material to determine if you prefer percale over sateen or another fabric style
Consider buying white vs colors that require the application of dyes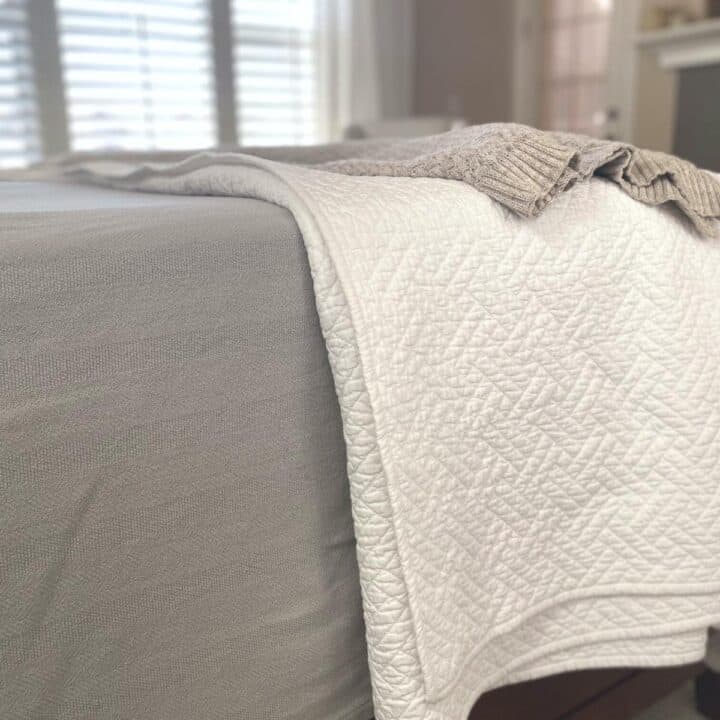 It can be difficult to identify reputable organic cotton from among the options on store shelves. You may have to go with your gut feeling or ask a store associate if they can provide more information.
Where to Buy Organic Cotton Sheets and Bedding?
When I went down the rabbit hole to find the best 100% organic cotton sheets and bedding to solve our issue, I researched for what seemed like weeks. The good news for you is that you get to benefit from that research.
Here are a few reputable retailers that sell organic cotton sheets and bedding:
Boll & Branch - Strictly 100% organic cotton, Boll & Branch carries the widest assortment of patterns, textures, styles, and colors that I found in my research, including stunning coverlets, cable knit throw blankets and duvet covers. I recommend reading more about Boll & Branch and their mission.
The company also offers bath towels, mattresses and decor. Soft, timeless and long-lasting, our current bedding is from Boll & Branch.
Pottery Barn - One of my favorite retailers, I purchased Pottery Barn organic cotton sheets for years before I switched to Boll & Branch. The price point at Pottery Barn is more reasonable and, given my experience, the general quality does not differ from Boll & Branch.
We still use Pottery Barn organic cotton white sheets and duvet in our guest bedroom, as shown below.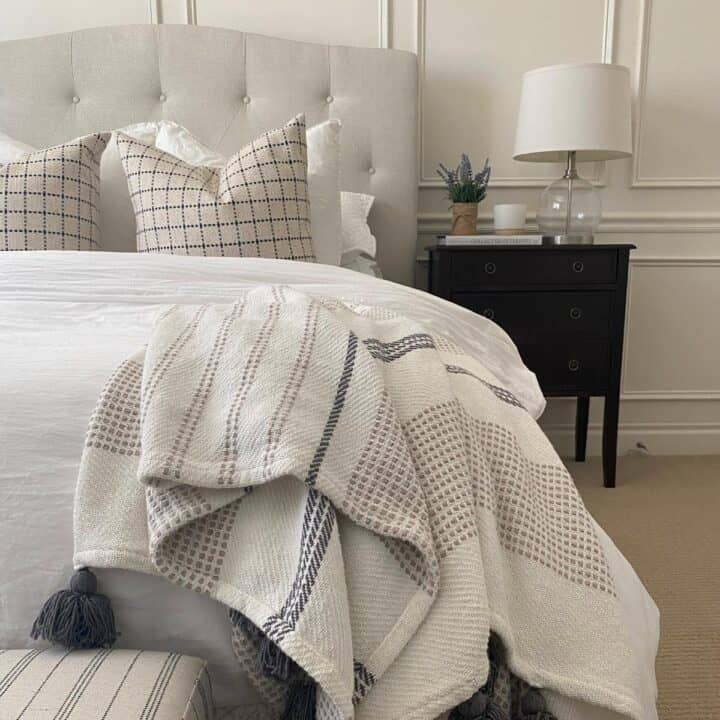 Avocado Mattress Company - Known for their eco-friendly, "green" mattresses, Avocado also carries an entire assortment of organic bedding, and not just organic cotton. From duvet covers to sheets, Avocado Mattress is on a mission to make eco-friendly products that help people and the environment.
Parachute - Parachute is a home decor retailer that exudes a modern transitional feel. Alongside furniture and home decor, Parachute has an expanding line of organic cotton bedding and bath products.
While more limited in choices, the Parachute bedding line looks like it would be very soft to get a restful night's sleep.
Target - If you love Target as much as I do, you have probably noticed how Target has leveled-up their home decor over the past several years. Specifically, the Target Threshold bedding line is ever-expanding and includes organic cotton sheets and duvets. Both GOTS and OEKO-TEX certified, Target organic cotton bedding is easier on the wallet and more readily available.
Being an advocate for the environment, we can help in small ways to make the Earth a better place while still being able to live our lives. If you want to learn more about how you can make small changes that have a huge impact on helping the environment, read quick ways to go green at home (and save money).
Do you prefer cotton sheets? Going a step further to 100% organic cotton bedding has been a journey I would gladly take again. You can also do it, with the tips shared here that I hope you found useful.
---
Frequently Asked Questions
Is organic cotton bedding necessary?
Organic cotton bedding is not necessary, but it not only helps the environment, organic bedding may help the health of you and your family to get a better night's sleep. To me, it is a safer alternative to synthetic fabrics laden with pesticides, herbicides and other chemicals.
Is organic cotton bedding important?
Organic bedding is a personal preference. Given climate change, and the effects of systemic pesticides, organic bedding is a movement you can help push forward by voting with your wallet. As more consumers demand safe, chemical-free organic cotton bedding, the industry will respond with supply. It may take time, but it is possible.
Are organic cotton sheets better?
If you are going to buy cotton sheets, organic cotton is better for you and the environment. The price difference between conventional cotton sheets and organic cotton sheets at a big box retailer like Target, is marginal. Organic cotton sheets and bedding should perform the same, as well as last just as long as conventional cotton sheets.