One of the best things about giving gifts is being creative with your gift wrapping ideas. When you think outside the box of wrapping paper for a specific occasion, you are bound to come up with beautiful gift wrap ideas.
Look at gift giving as an opportunity to try out new ideas for gift wrapping. Do you incorporate gift toppers on your presents? Now is the time to try out a sprig of greenery or layering ribbons.
This post will help inspire you with beautiful gift wrapping ideas to make your next gift stand out from the crowd.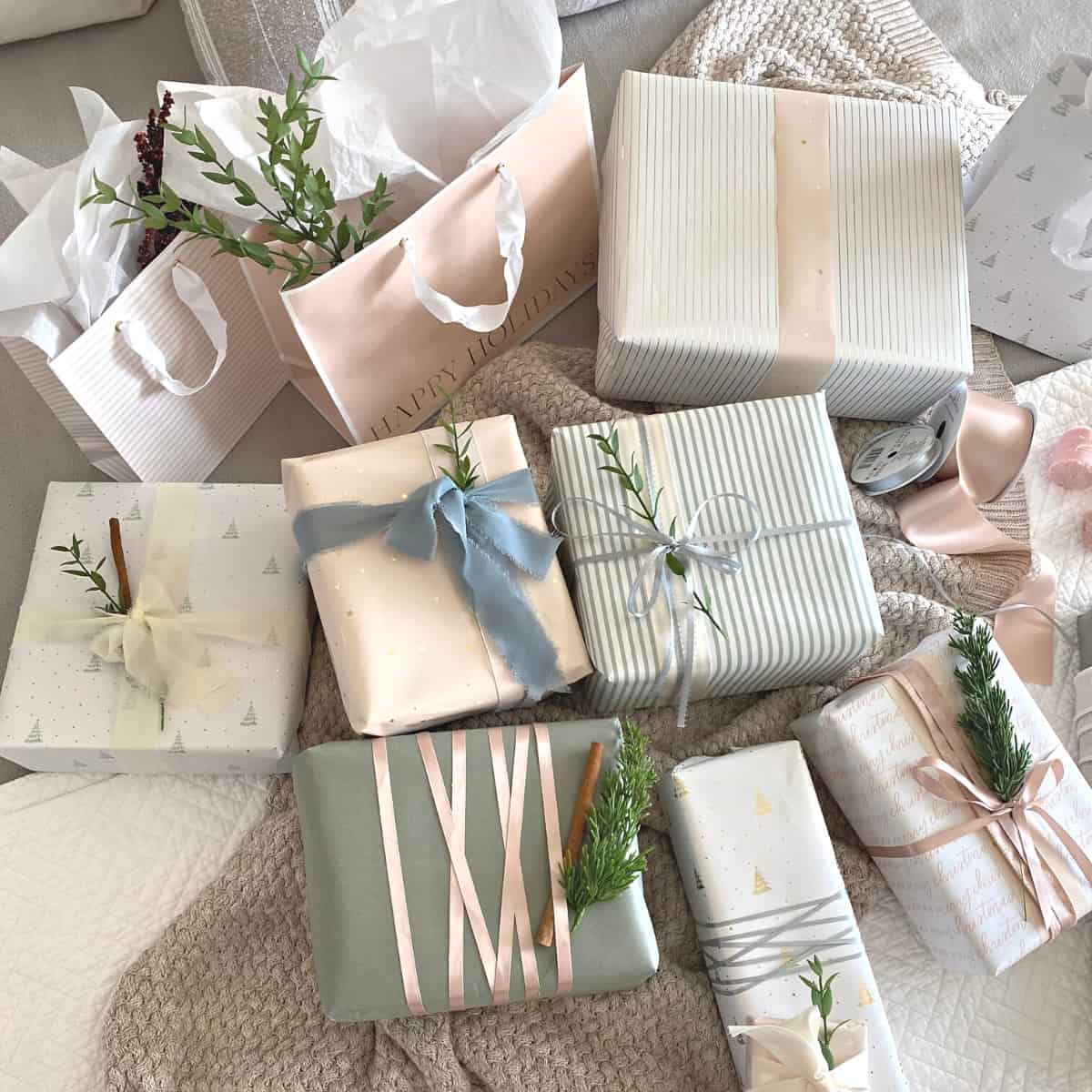 Giving a present is one of the ultimate joys in life. It's exciting to watch in anticipation and see the look of wonderment on their face as they decipher what the gift could be.
Then, the slow reveal, as the paper is peeled away. I think I like giving gifts more than receiving them. (You know, that whole attention on you thing is not my thing.)
Looking for more? Check out the post on How to Wrap Presents for a quick step-by-step guide to help you wrap gifts like a pro.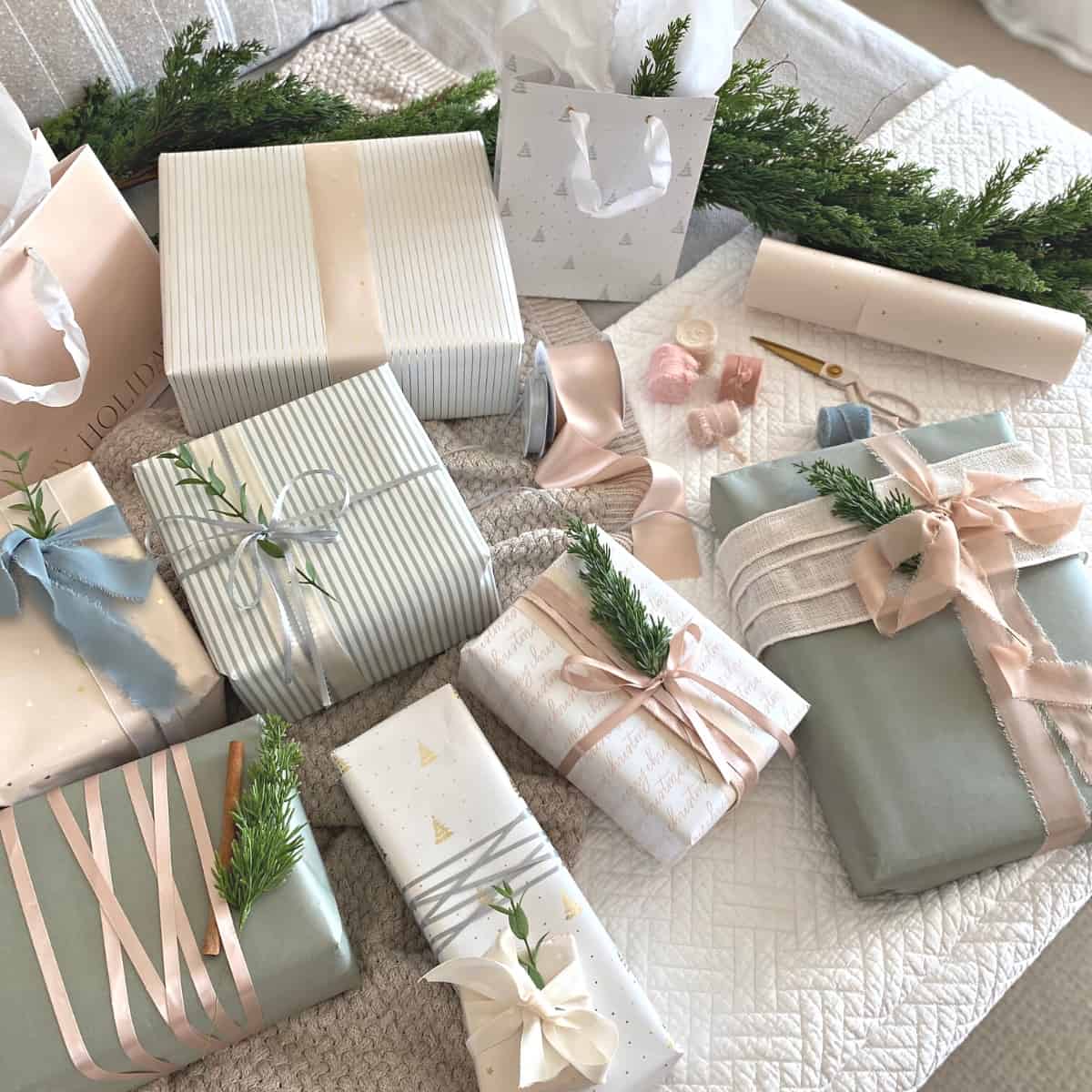 Choose a Wrapping Paper Color Palette
These gift wrap ideas start with choosing a color palette. It may take a few more minutes (or, in my case, weeks) to pick out wrapping paper, but I assure you, it is worth it. That is to say, your gifts do not have to be matchy-matchy.
Instead, create a color palette of wrapping paper in coordinating colors.
For instance, this Christmas I decided to go full neutral in terms of both decorating and gifting. Most of the gift wrap I chose is from the same paper goods company—my all-time favorite—Sugar Paper. 
They also have a beautiful exclusive line Sugar Paper  x Target Threshold.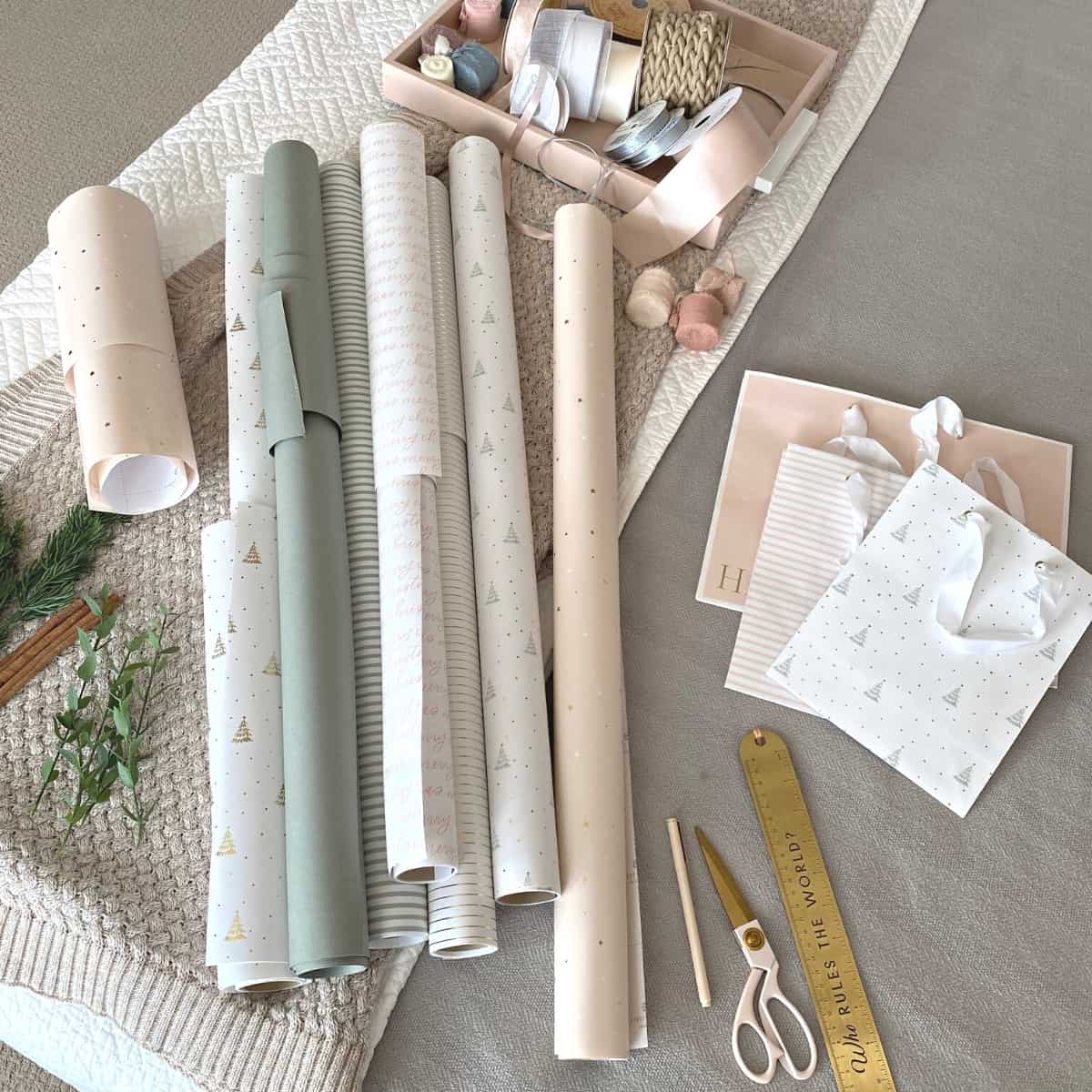 To bring in a solid color, I added in a beautiful soft, matte gray wrapping paper to give the eye a break when scanning the gifts. You can see how the wrapping paper complements the other patterns and colors so well.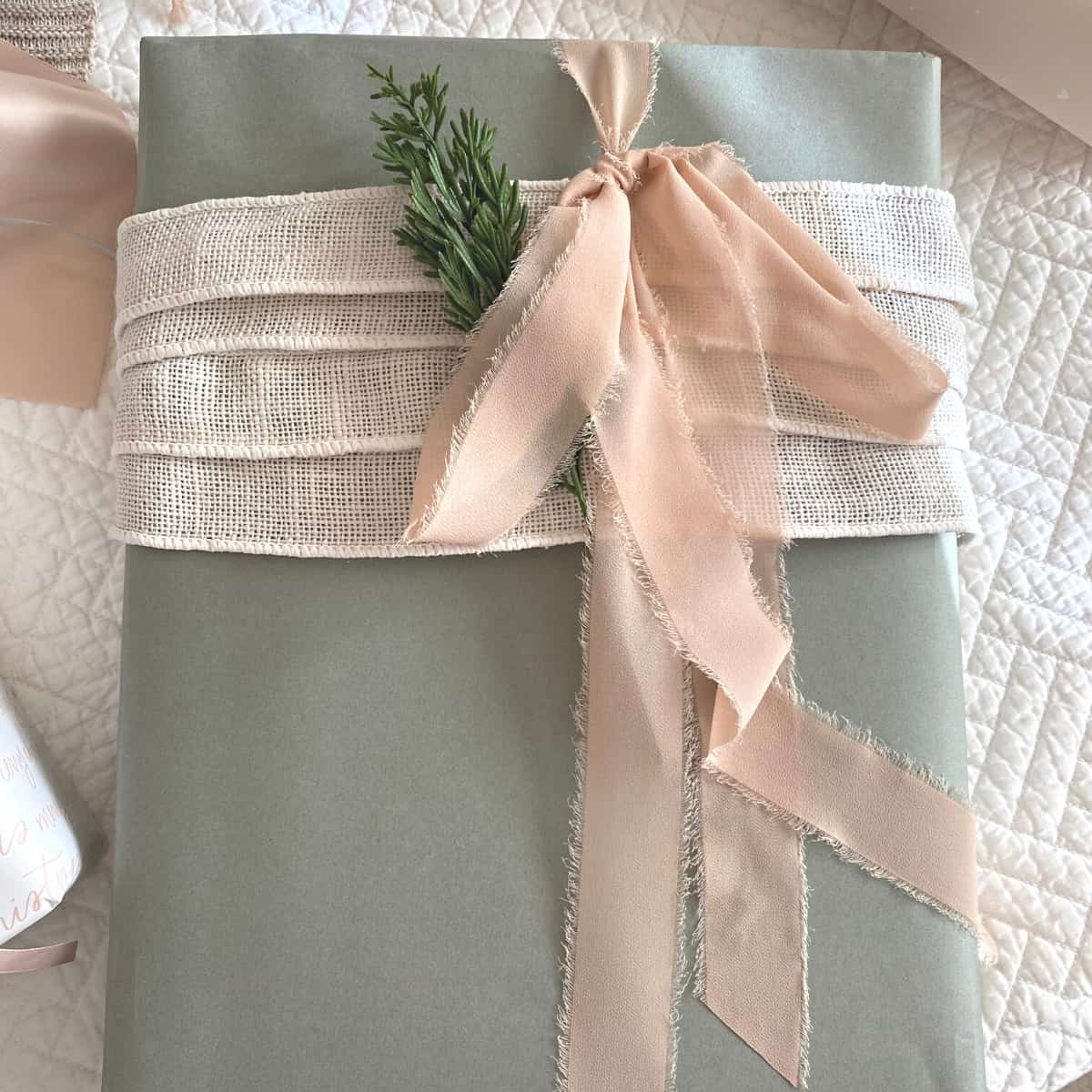 Gift Toppers, Ribbons and Bows (Oh, My)
Making presents look pretty is my favorite part of the process. So many ideas for gift wrapping come from playing with beautiful ribbon as well as the oft-forgotten gift toppers.
Have you ever tried layering different textures of ribbon (i.e., chiffon, satin, velvet)? What about adding a sprig of greenery?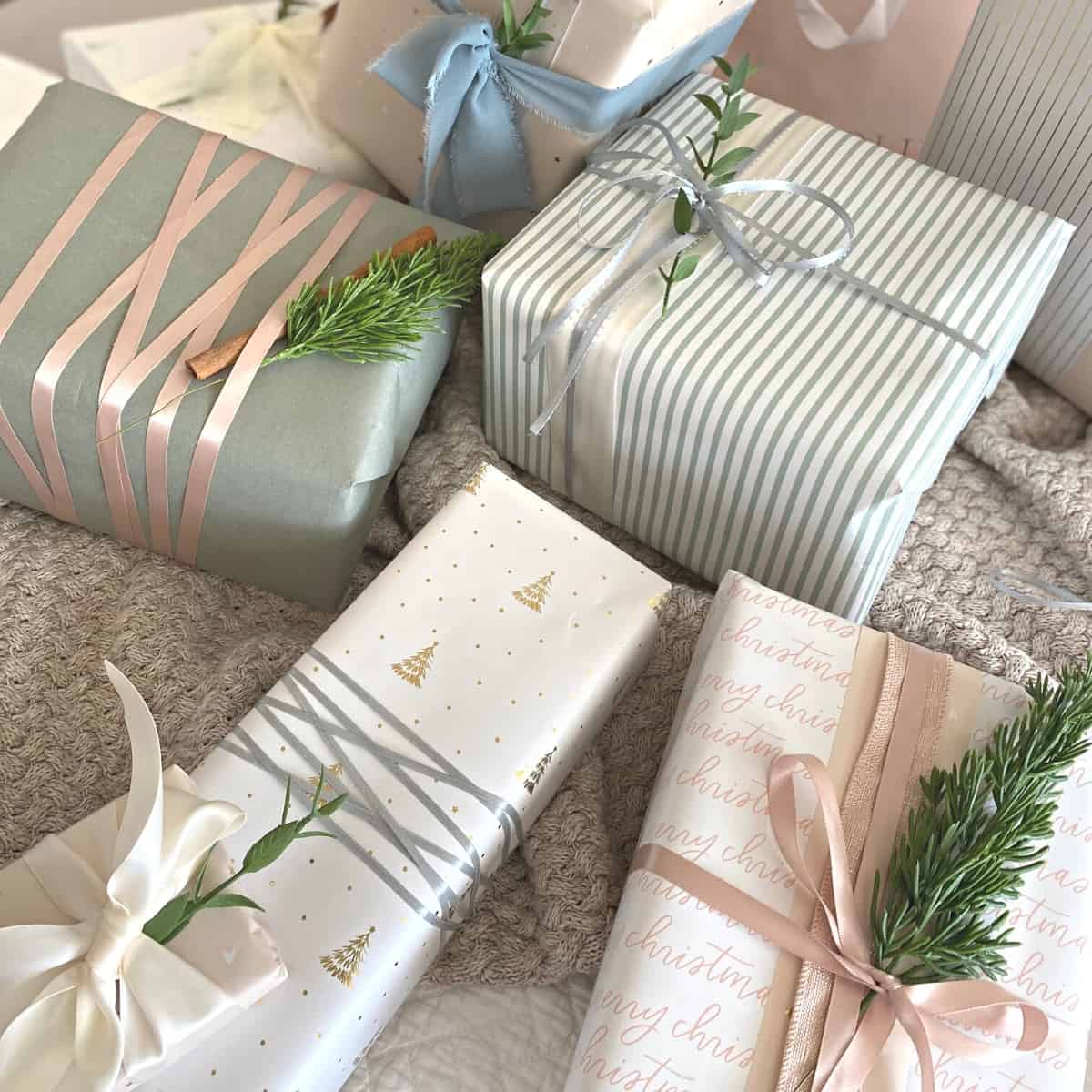 When I went looking for inspiration myself, I came across a few unique gift wrap ideas that I hadn't thought of.
Wrapping Inspiration from Tuft & Trim
Over on Tuft & Trim, they used scraps of wrapping paper as an accent. You could use this method, as I did, across the middle or third, horizontal or vertical, section of the present.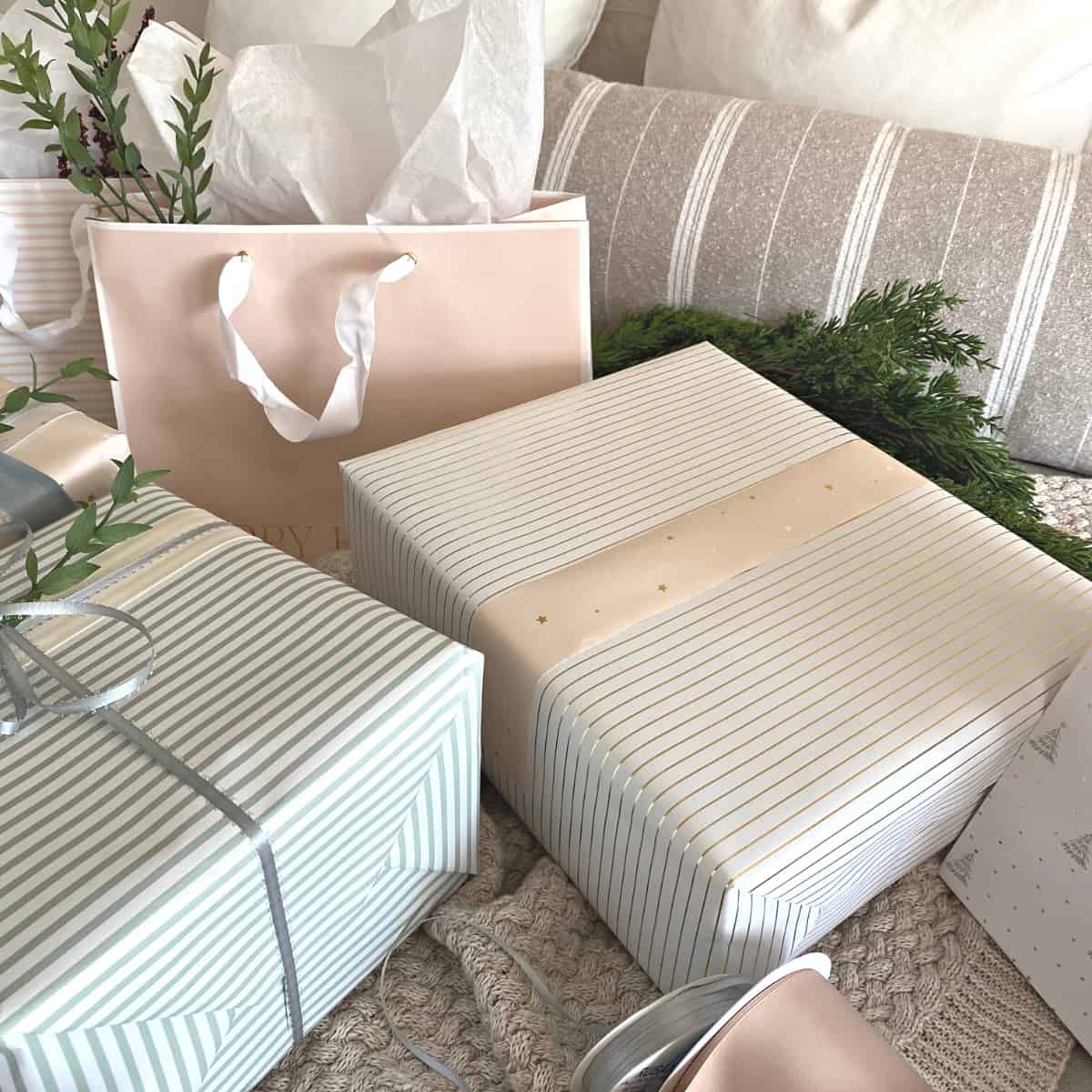 You can also layer two different types of ribbon over a section of scrap wrapping paper on the gifts. A mix of textures lends an understatedly gorgeous layering effect.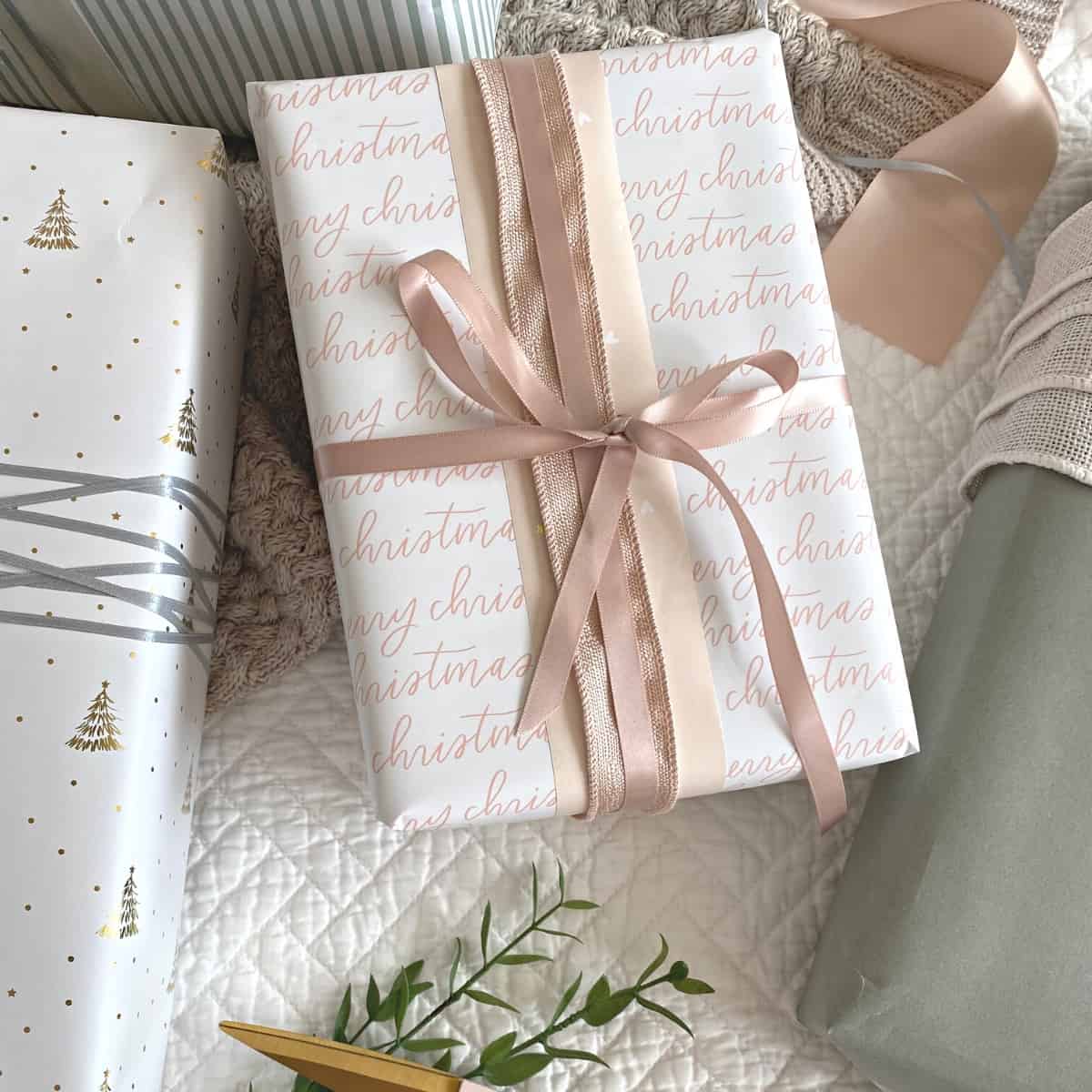 Gift Tag Idea from Sanctuary Home Decor
Growing up, we used to make gift tags out of the wrapping paper. It was simple enough and inexpensive. 
It had been so long that I didn't remember we used to use the wrapping paper as a gift tag until I came across the Sanctuary Home Decor post about gift wrapping, and it was the cutest thing ever! She runs a must-follow interior design and decorating account. (Her French farmhouse kitchen is the stuff dreams are made of.)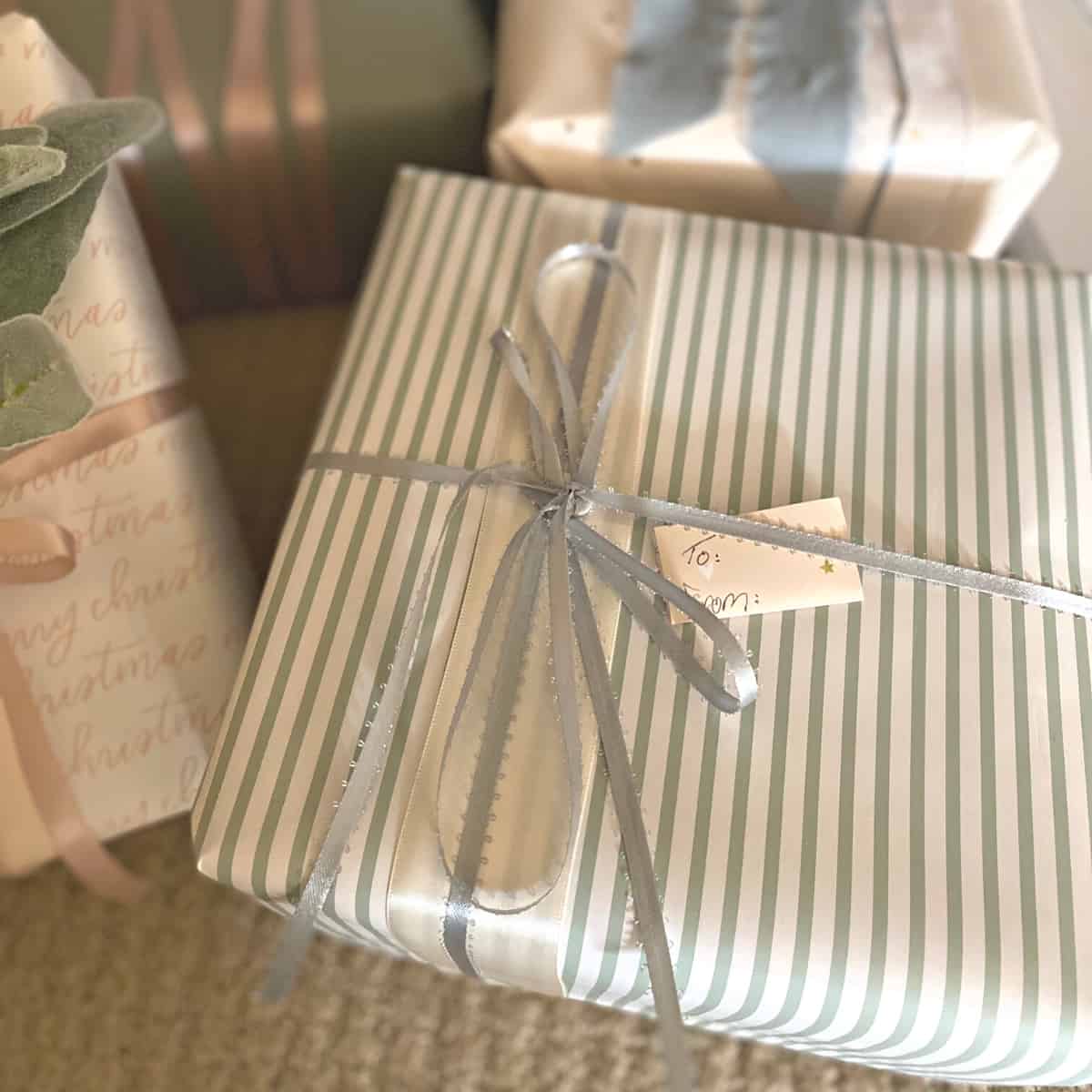 To make your gift look curated, use different wrapping paper for the gift tag than the gift itself is wrapped in. This adds a whimsical touch to the present.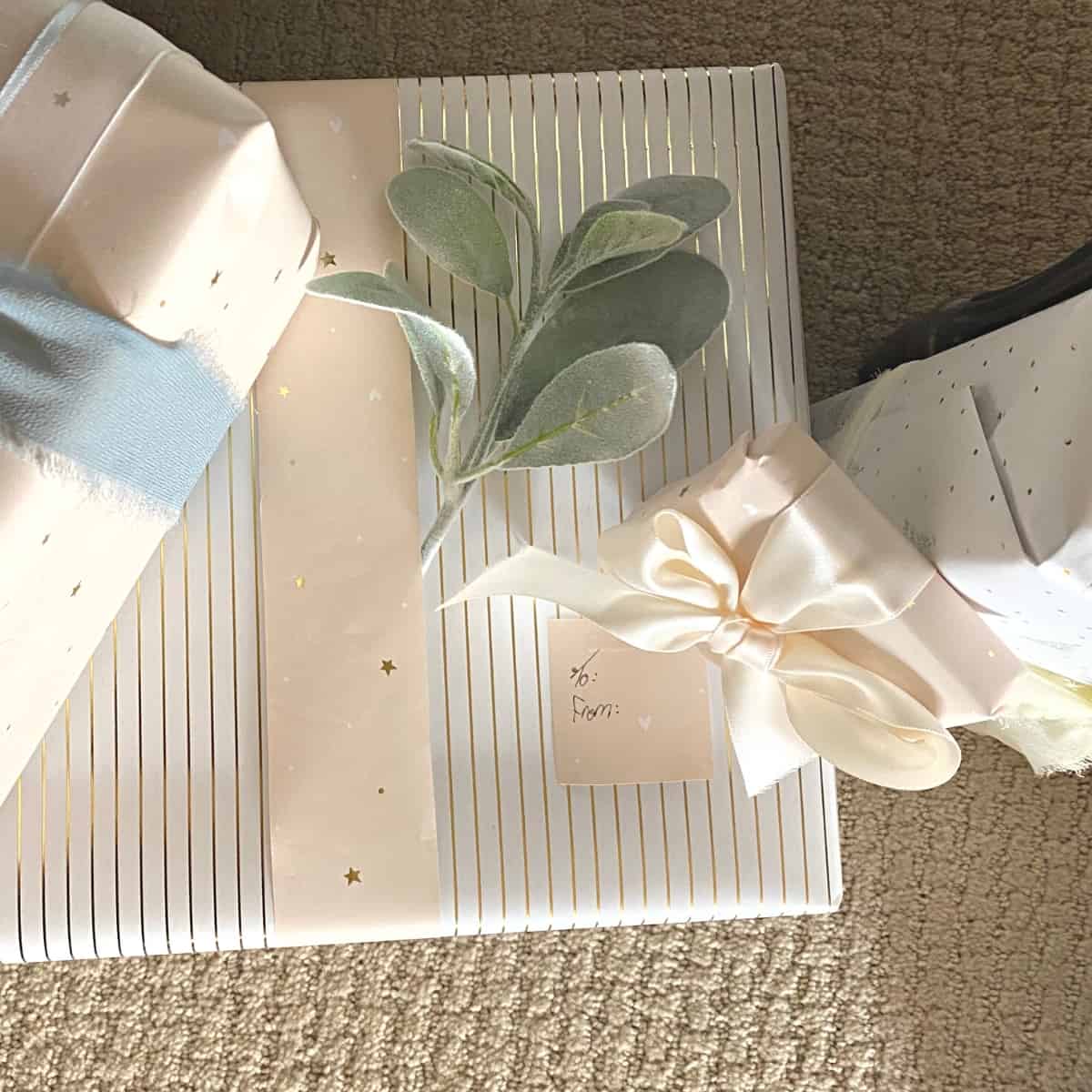 Pretty Gift Wrap Ideas
Neutral wrapping paper simply elevates the look and feel of presents.
For instance, at Christmas this year, I toned down the color palette, both in our decorations as well as the wrapping paper for the gifts. Gone were the over stimulating reds, replaced with shades of muted blush, sage green and brassy gold.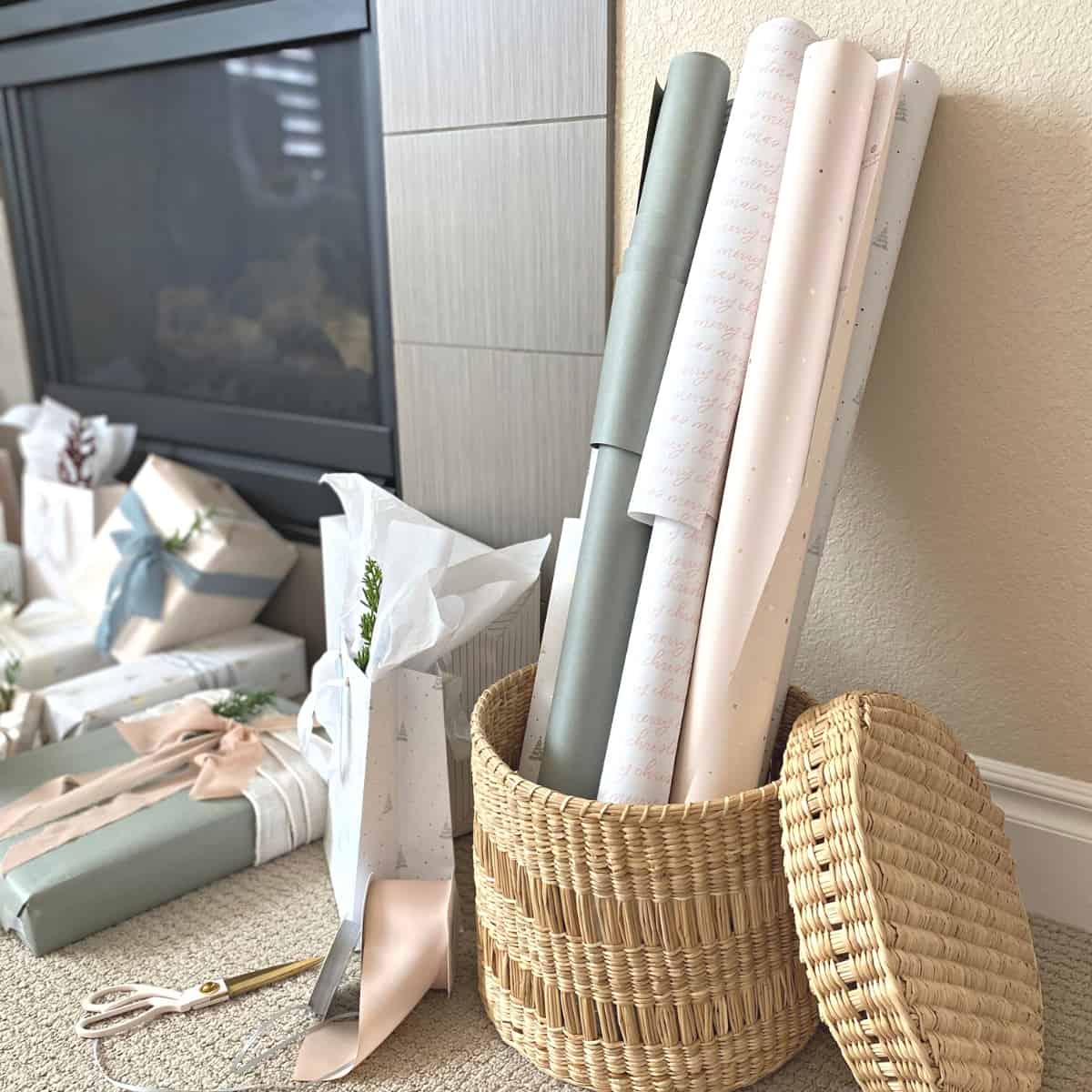 From the wrapping paper to the gift toppers, here are a few gift wrapping ideas for inspiration on your next project.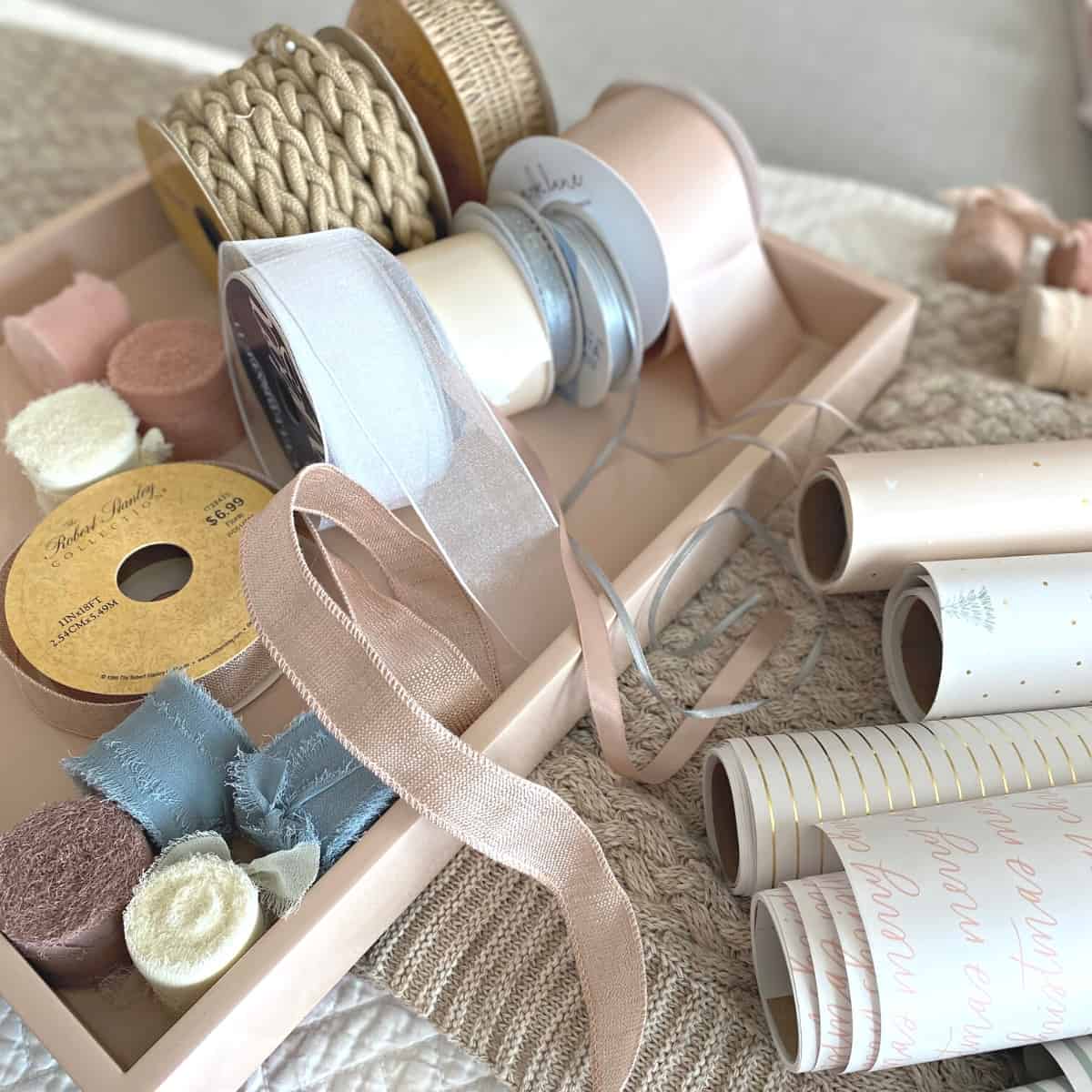 Layers of Different Ribbon Styles
Try layering raffia wired ribbon under/over chiffon of a different color. For an added effect, wrap the ribbon around the gift a few times, as shown below.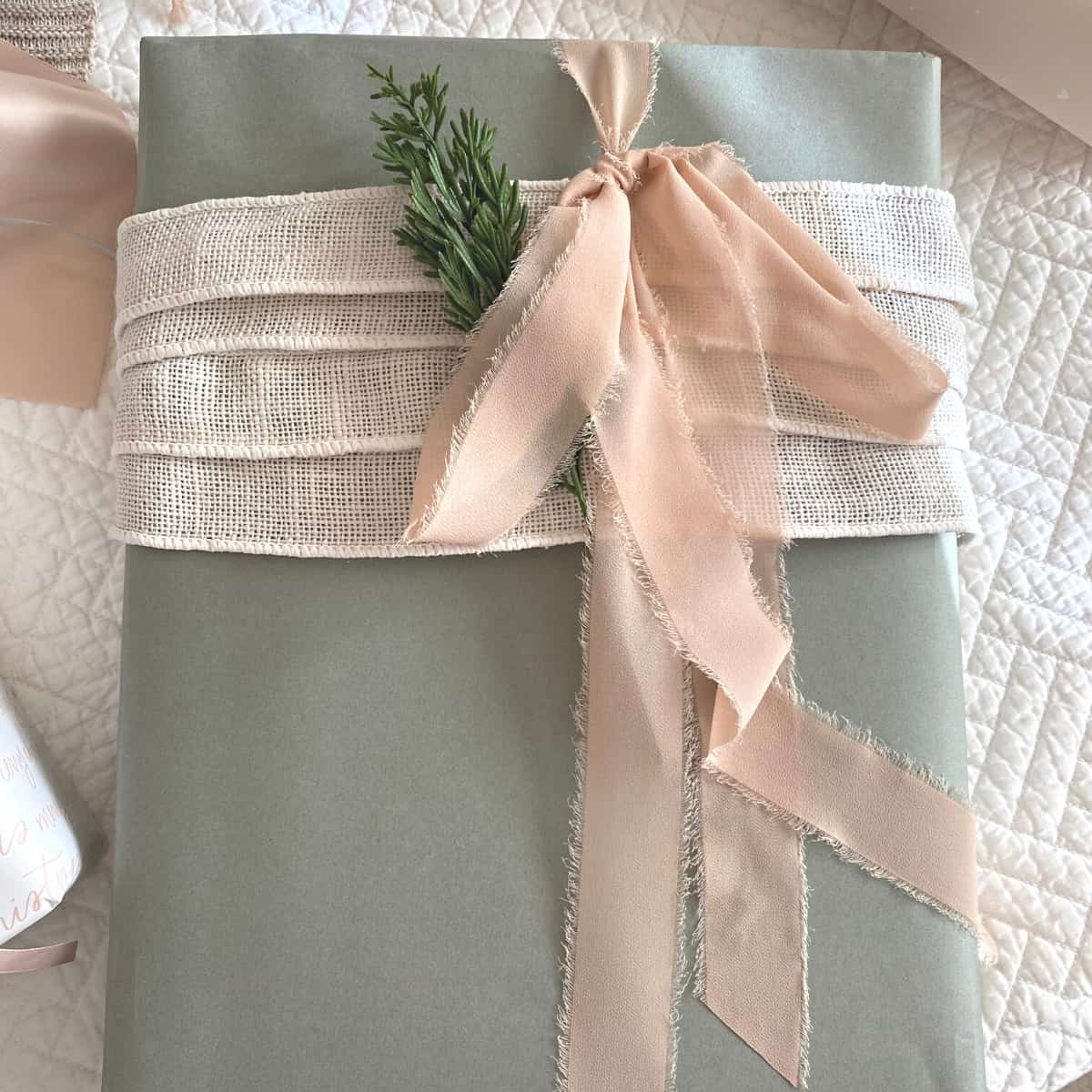 You could also layer a solid color satin ribbon over a wider ribbon in a coordinating color.
Here, I right-aligned a 1 ½ inch sheer white wired ribbon under a ⅛ inch thin blue satin ribbon. A darker blue chiffon off-centered bow completes the look.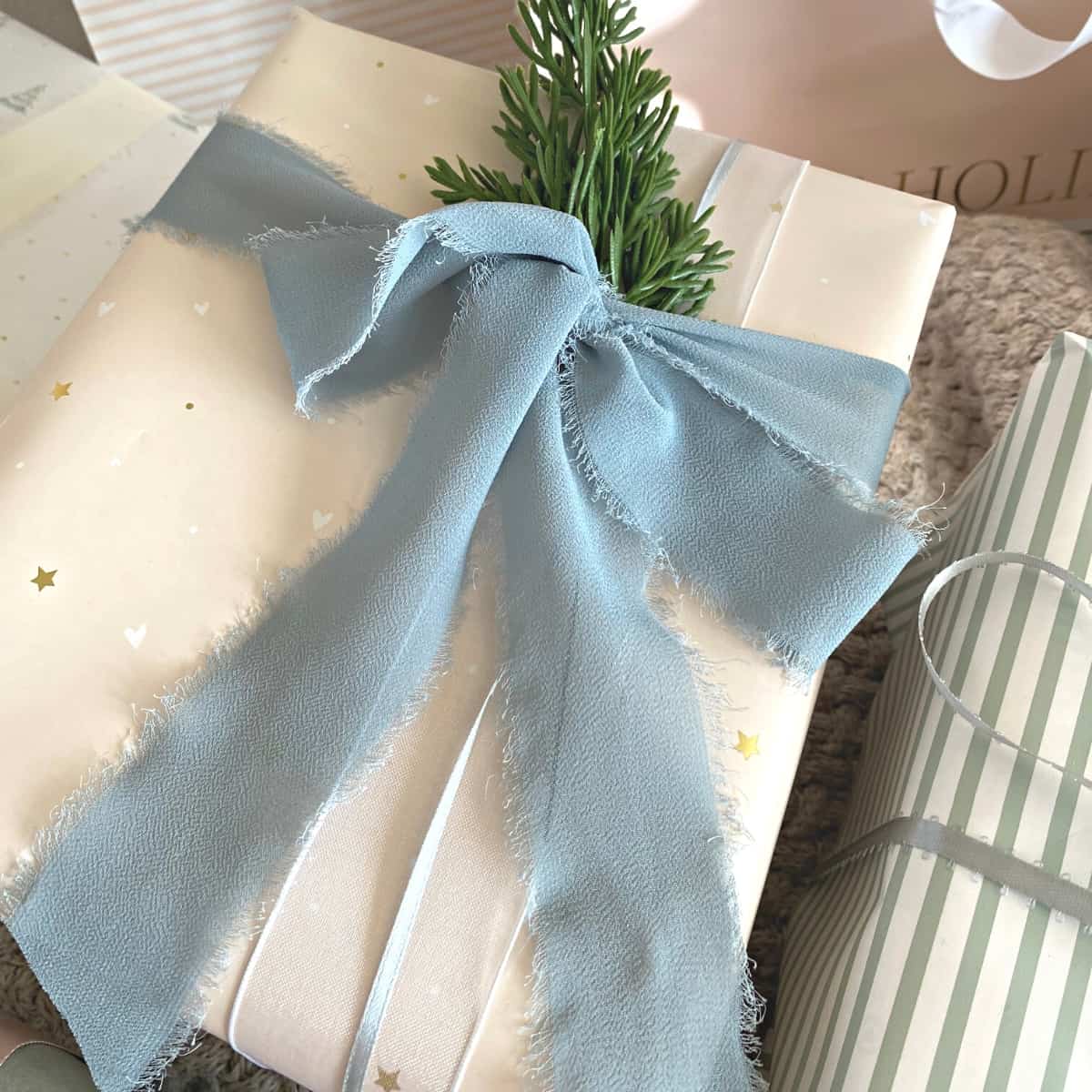 Shades of pink steal the show with this next gift wrapping idea.
Start with a scrap of wrapping paper that is a different color/style than the gift itself is wrapped in. This becomes the first layer. Run the paper in one line/direction, such as horizontal or vertical.
Add a shade of 1 inch pink wired ribbon over the scrap paper. With a ⅜ inch satin ribbon in a shade of blush pink, make a cross and create a bow at the center. Voila!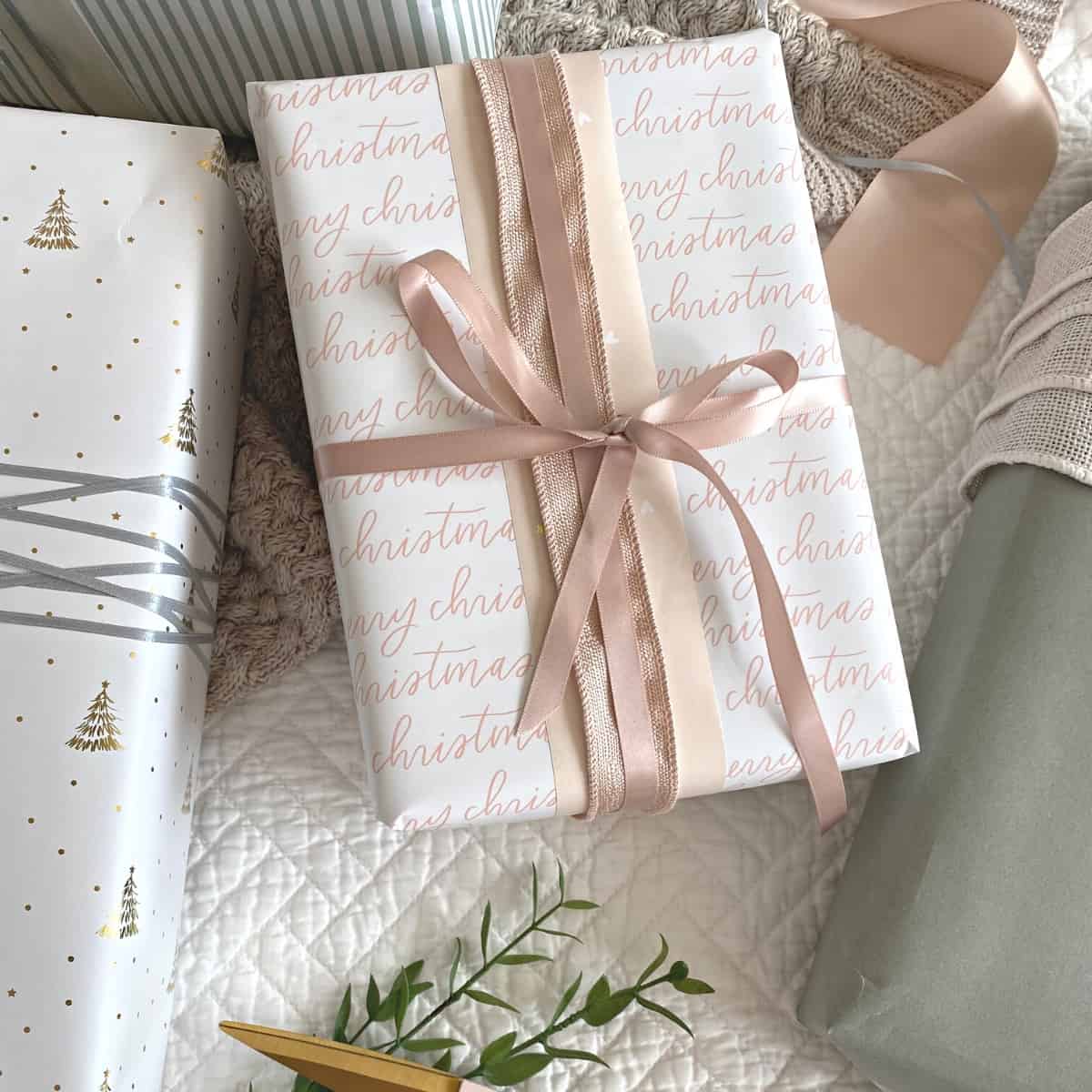 Sprigs of Greenery for Gift Toppers
Top off your gifts with sprigs of faux (or real) greenery, including
Lambs ear stems
Boxwood sprigs or those cute-as-button tiny wreaths
Evergreen stems for holiday gifts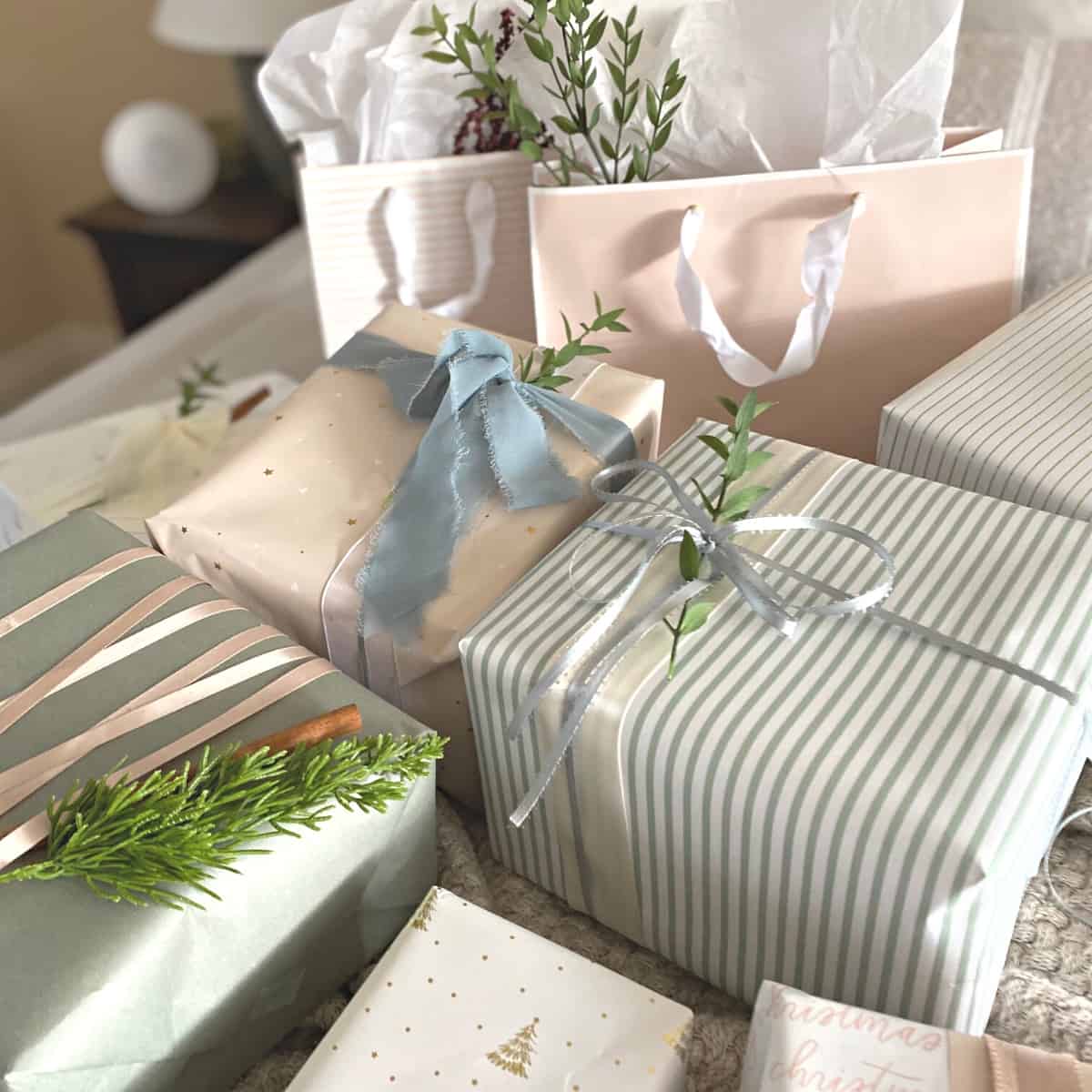 At the end of the day, you can use anything you'd like as a gift topper. Other gift topper ideas include:
Cinnamon sticks or ornaments around the holidays
White berries for wedding gifts
Small toys on kids presents