In an effort to go green at home, reduce personal waste and be more eco-friendly, going green at home does not have to be difficult or expensive. In fact, there are many ways to go green at home that will actually save you money over both the near term as well as the long term.
There is a misconception that reducing your carbon footprint or go green is time consuming, which is simply not true. You just need to know where to start.
I'm here to help dispel the myths with three tips on how you can quickly (and easily) go green at home... without going crazy in the process.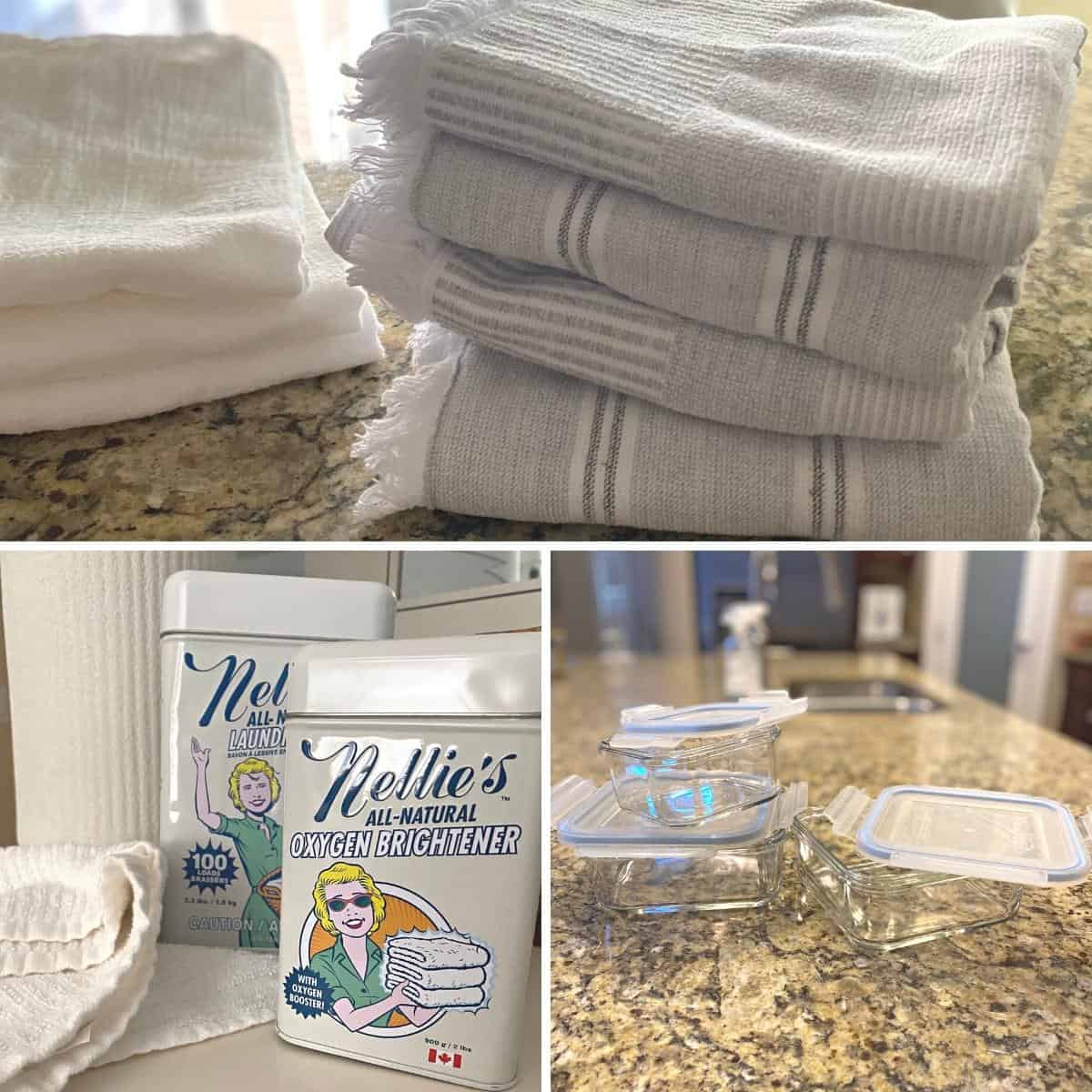 Stop Using Disposable Kitchen Dish Sponges
When I began trying to find ways we could go green with more environmentally friendly products in our own home, I identified simple, quick-wins. (You know, because that's how my tech marketing startup brain approaches problems.)
We only used kitchen sponges in college. Those big-bulk stores had multi-packs, so it was inexpensive to buy a month's supply.
I find sponges to be disgusting to my overly clean freak nature. Trying to get baked cheese off of a plate with a scratchy sponge doesn't work well. I would add an image here, but there is no reason to subject you to that.
Given my tendency to throw the sponge away after a week (or even fewer days, because, gross), it was having an impact on our one-and-only Earth. Aside from the environmental impact, kitchen dish sponges are laden with bacteria that can lead to illness.
Growing up, we used cotton dishcloths to wash dishes and flour sack towels to dry the dishes. It was time to go back to my roots.
I researched organic cotton kitchen linens and bought six sets of two Sur La Table organic cotton dishcloths, as well as kitchen towels, and Breadtopia organic cotton flour sack towels.
To keep things sanitary, I change the dishcloth daily and the kitchen towels at least twice a week.
While not organic cotton, I purchased these GORGEOUS 100% Turkish cotton kitchen towels at HomeGoods.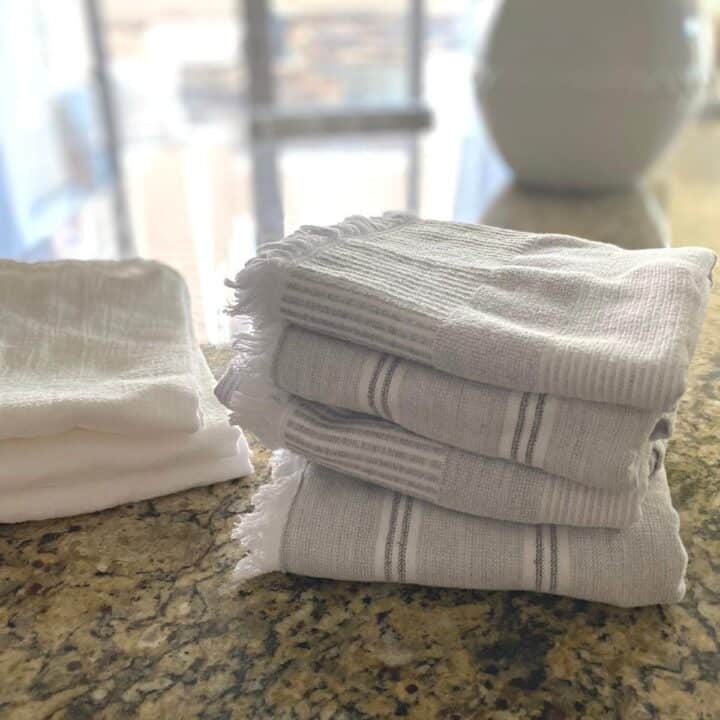 You may be thinking that using washable linens means you will increase your water consumption. If you are washing on the largest load setting, which is recommended for washing machine efficiency, your water usage will most likely not increase.
I also know that you're probably thinking how in the world you could possibly use white linens to clean dirty pots, pans and dinnerware. However, it really is the easiest color to keep clean.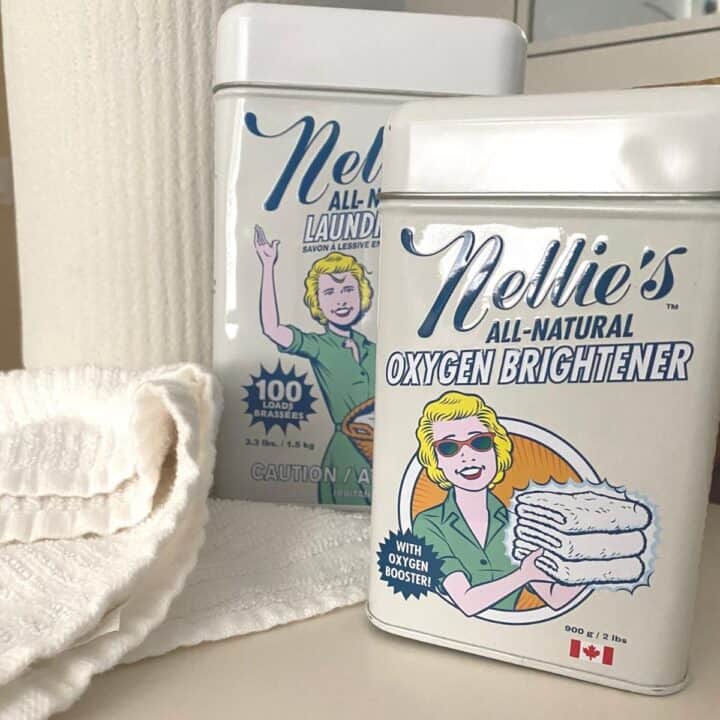 You can buy natural, eco-friendly bleach or whitening powders that work wonders.
Otherwise, The Spruce has a wonderful DIY laundry whitener recipe.
Personally, I haven't had any issues with my white kitchen linens. They last me for years before needing to be replaced. When it is time to replace them, it's just cotton, which can easily be recycled and turned into something else.
Reduce or Replace Single-Use Plastic (and Paper) Products
Reducing, replacing or eliminating single-use plastics whenever possible is one of the best ways to go green and help the environment. I would go a step further and say to avoid buying plastics in general.
Derived from fossil fuels, plastic is toxic to both the environment and to humans. According to the NRDC, of the 300 million tons of plastic that is created annually, half is single-use plastic.
It is easy to swap out plastic food storage containers with glass containers like these glass and bamboo storage containers from Ikea or these glass storage containers from Amazon. Costco also carries glass Snapware. These neutral, white lidded glass containers from Williams Sonoma are also nice.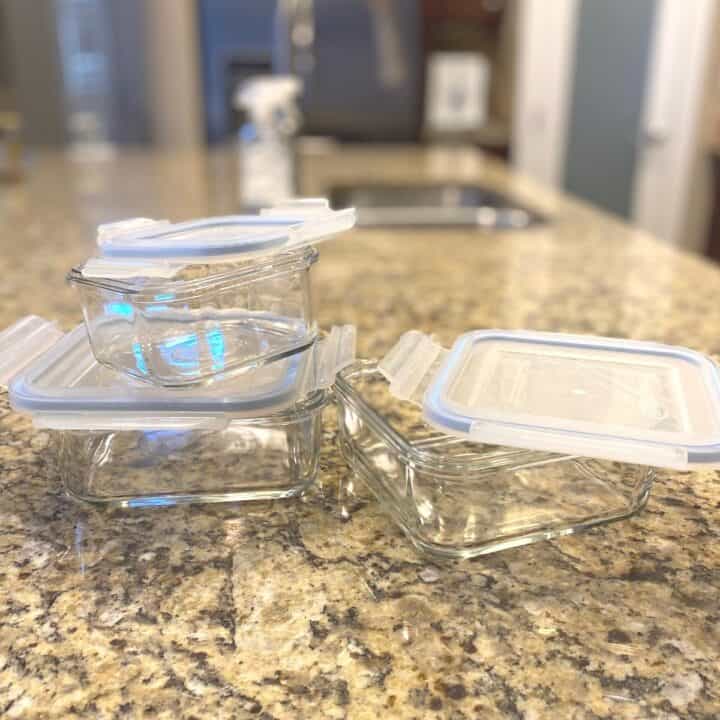 You can often find glass and bamboo storage containers at Home Goods. Glass ensures you avoid BPA, as long as you make sure the lids state they are BPA free.
Do you use plastic wrap? I know it's unavoidable sometimes. Luckily, you can switch it out for reusable food wrap made out of beeswax. You can also buy plant-based compostable storage bags by a brand called Matter.
While you go green at home, paper towels are another purchase to reconsider. Depending on your paper towel consumption, you could save hundreds of dollars a year while saving trees at the same time.
Similar to the aforementioned cotton kitchen linens, consider reusable cleaning cloths instead.
Buy Vintage or Used Home Decor, Rugs, Furniture and More
Vintage, even antique for that matter, does not have to be expensive. In the case of furniture, antique or vintage is typically of much higher quality, because of a combination of the materials used--usually solid wood--and the craftsmanship.
Mass produced furniture is not necessarily meant to stand the test of heavy use over time.
Additionally, buying vintage means you can find one-of-a-kind, unique pieces that bring your home to life!
To find antiques, try scouring second-hand stores, including Goodwill, Arc, Salvation Army and antique malls or shops to find great pieces at affordable prices.
I found a STUNNING antique serpentine Dixie dresser at a local antique mall for around $250. Made of solid wood with a beautiful mahogany overlay, it's rare to find such a piece in great condition.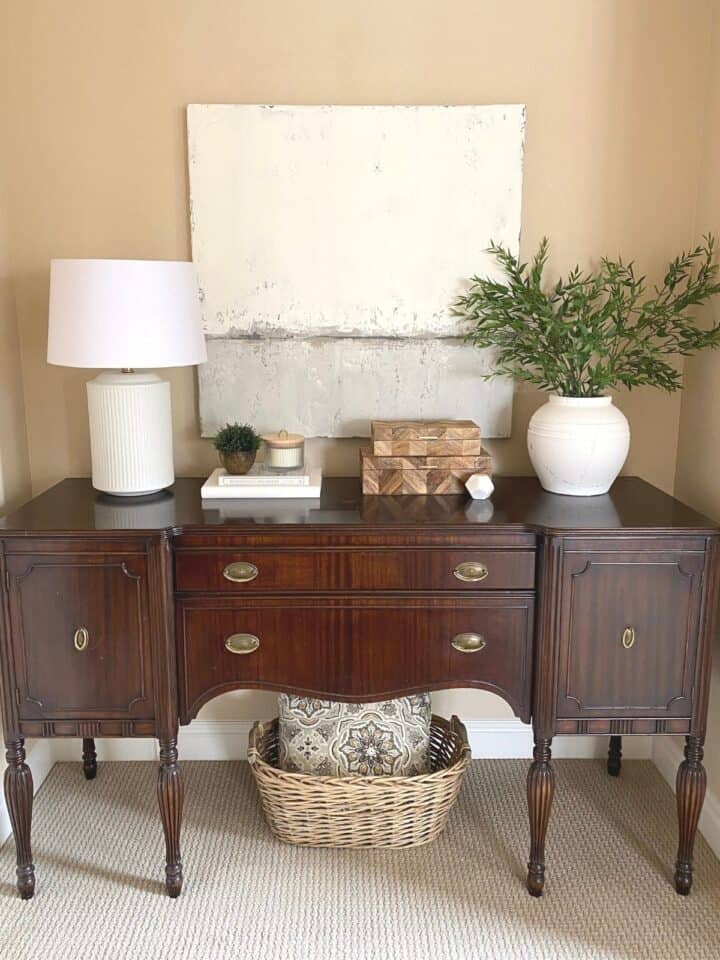 My buffet table, which I use as a console table, is also vintage. I found it at a vintage market for $150.
If you need inspiration, learn how to style a console table like a pro.
You might feel a little out of place if you haven't shopped at antique stores or thrifted before, but don't let it dissuade you. The feeling will quickly become natural. I know, because I've been there. Now, I relish in the hunt for gorgeous furnishings to beautify our home!
To go green at home may seem daunting at first. I suggest you start with just one of these three easy, quick ways to go green at home. To go green doesn't happen overnight.
Over time, you'll start to naturally go green with the products you consume. Every little bit counts.