It is easier than ever to find home decor on a budget. Budget decor retailers are quickly adding locations across the country, as demand heats up.
Typically big-budget decor, like furniture, can now be found to fit smaller budgets without sacrificing too much in the way of quality.
When we bought our home, we had very little decor or furniture to come anywhere close to appropriately filling each room. Our guest bedroom was near empty for quite a few months, while the media loft space was completely empty.
I didn't want to rush the process. At the same time, I didn't want to overspend.
After renting and moving around the country for our careers, we were ready to buy high quality furnishings that would last. After all, this is our dream home, so we are not moving again. Ever.
Follow these five tips to find decor on a budget.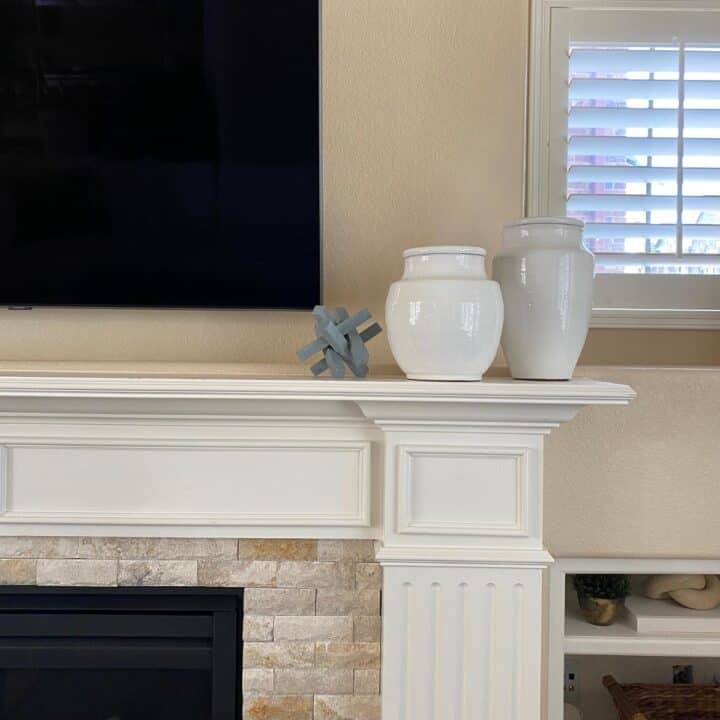 Shop Discount Retailers for Decor on a Budget
Discount retailers are one of my all-time tips to get home decor on a budget. Don't look at discount retailers as cheap decor. There are a few well-known home decor stores that carry an ever-changing assortment of budget decor that will elevate your home interior.
The T.J.Maxx family of stores, including HomeGoods and Marshalls, offer high-end, designer home decor at a fraction of the original retail price.
How do they do it? I'm no expert, but I read an article years ago about how the company can afford to sell high-end goods at discount prices and it was fascinating.
From what I recall, as retailers order goods, inventory that doesn't sell for some reason, is out of season or the retailer changes design direction and cancels the order, is optioned to be purchased by the palette at a discount by other retailers. That discount is then passed on to the consumer when it arrives at stores.
At least, that is one such way T.J.Maxx company buys goods.
There are a few categories of home decor items I can't resist from stores like HomeGoods.
Large decorative vases and jars - It's actually quite challenging to find large vases at a reasonable price, for obvious reasons. The ginger jar below was a great find from HomeGoods.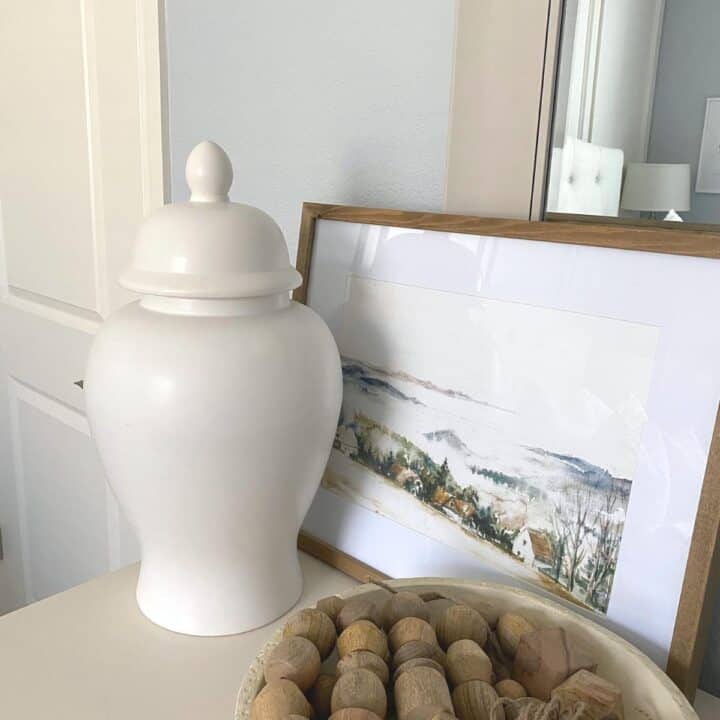 Coffee table books - You can find large, neutral coffee table books at the best prices across TJMaxx, HomeGoods and Marshalls. Not even Amazon can beat their prices.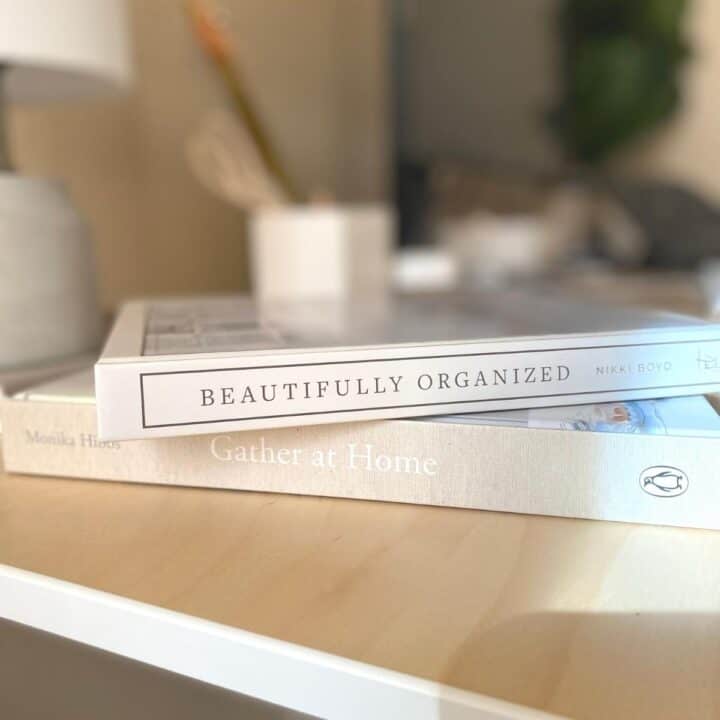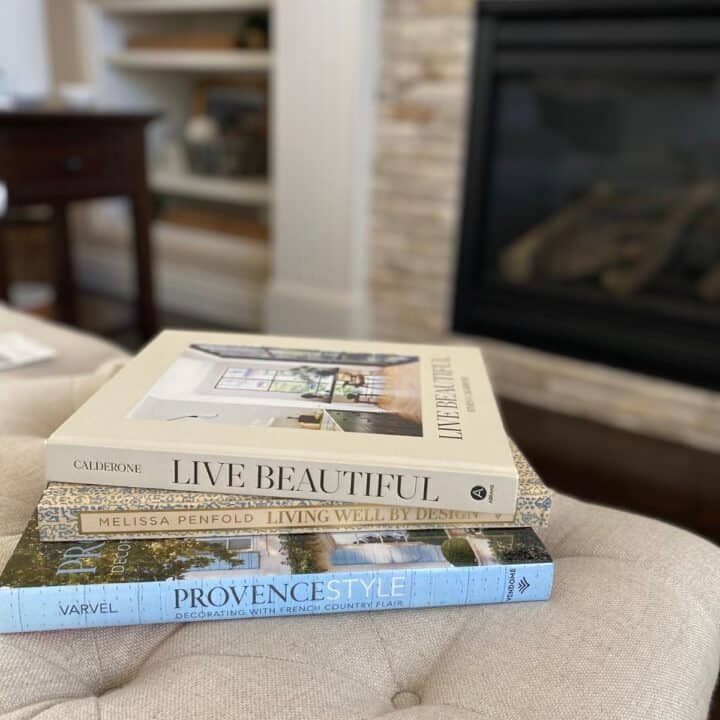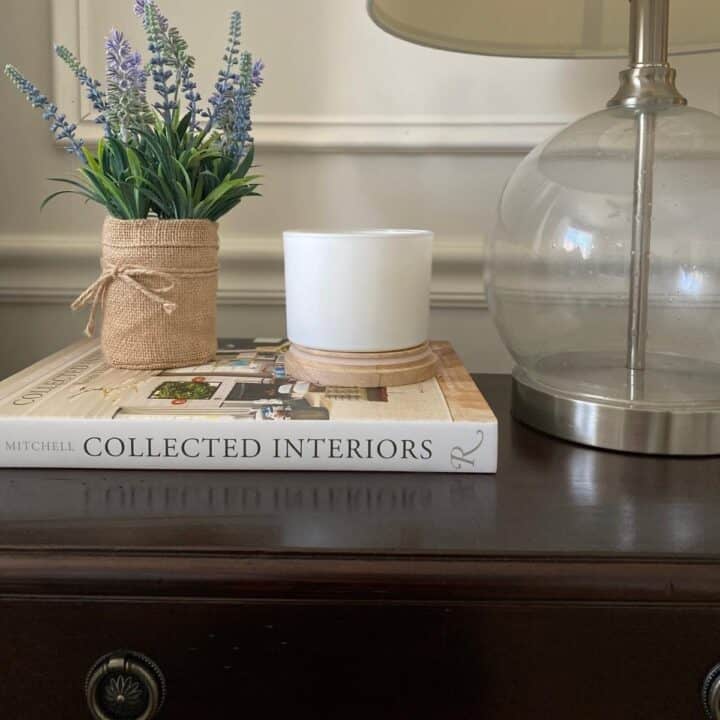 Artwork - Finding one-of-a-kind artwork decor on a budget is another challenging category. If you can find realistic looking artwork (i.e., hand embellished, hand finished), yet mass produced, it is worth it.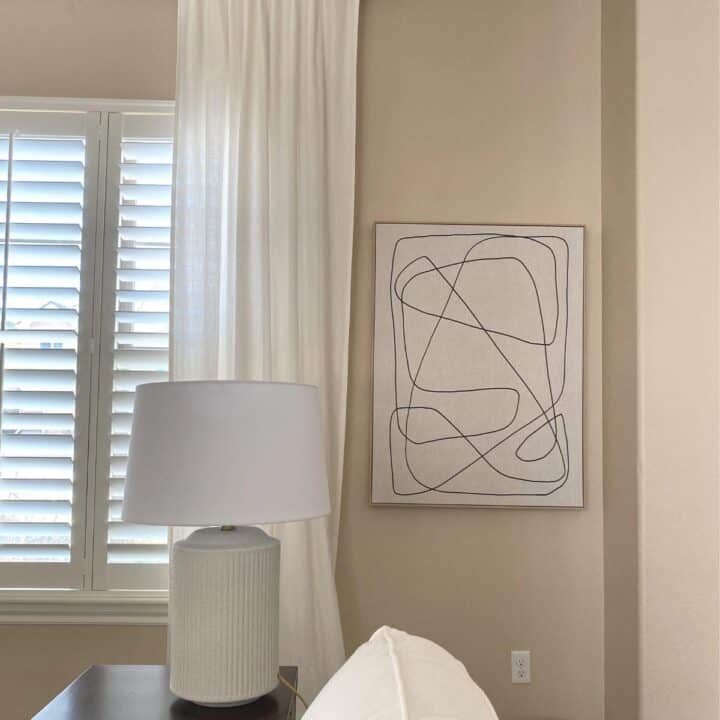 On a related side note, you are going to think I'm crazy, but I once spent nearly two years trying to find a painting in the "Adrift" series by Sarah Brooke of the Middle of Nowhere Studio out of Australia.
In the U.S., Middle of Nowhere Sarah Brooke artwork is exclusively sold across the TJMaxx family of stores.
The hunt was real, however, it did pay off. We are the proud owners of not one, but two pieces of her art (I'm collecting them all).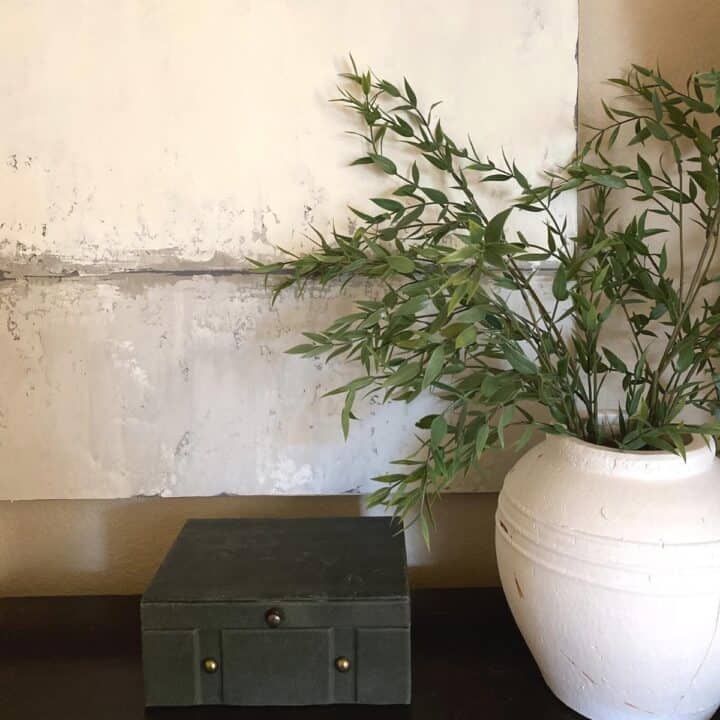 Truth be told, I am determined to get my hands on "Adrift 1" and/or "Adrift 2."
If you, too, are obsessed with Sarah Brooke art, I did find a store online out of Australia called Inside Home Style that sells, what looks to be, the entire "Adrift" series.
That said, I do not know anything about this retailer, including where in the world they ship to or how much it costs. What I can tell you is each individual piece is more than double what I paid for an individual piece at HomeGoods.
Decorative accessories - Discount retailers like TJMaxx carry an amazing variety of decorative accessories.
These are key items that make console table styling or shelf styling much easier and fun.
From candles and decorative boxes to marble chain links and baskets, you can find budget decor for many areas of your home.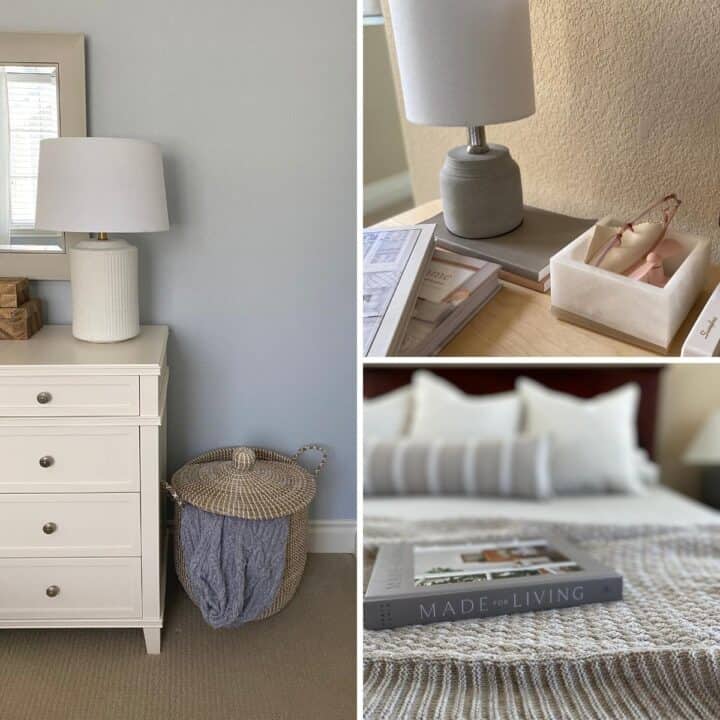 Budget decor stores are adding locations as demand for home decor increased over the past few years. You can read more on the home furnishings industry trends at Common Thread Collective.
Over the past year, two At Home stores opened here in Colorado. At Home provides high quality budget-friendly outdoor furniture and home decor.
Have you seen the wide assortment of giant ceramic planters? No, truly, that's not hyperbole. You would think they should be expensive, but they cost less than Home Depot or Lowes.
Sign-up for Emails and Set Up Price Alerts or Wish Lists to Get Discounts on Decor
Many retailers have membership programs you can sign up for to get coupons, discount codes and more, delivered to your email. (Technically, such programs aren't free, since you do need to give them your personal information when registering.)
Smaller boutique shops usually have a newsletter, mobile app or membership as well, so don't rule them out. You can frequently find lower prices than larger, more well-known retailers.
Take the stunning white vases below.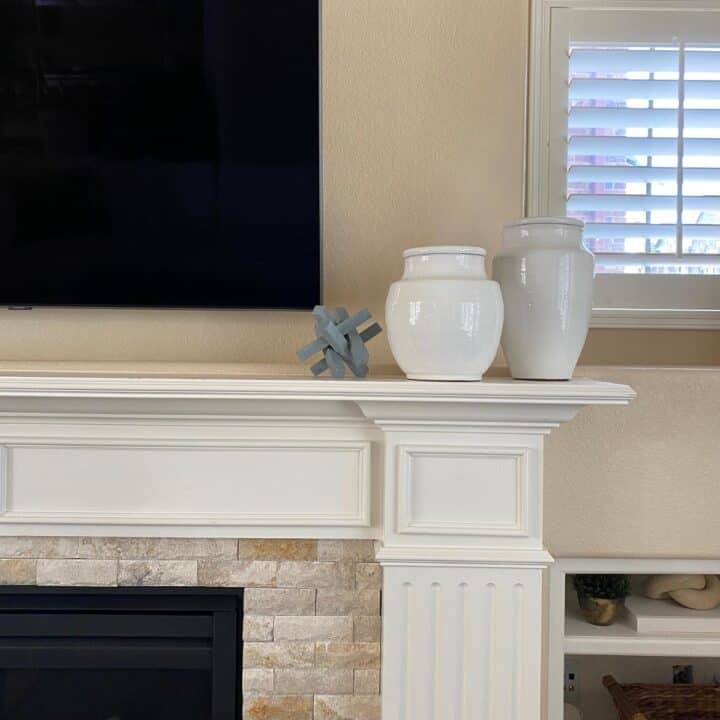 This small white terracotta cachepot vase is from Amazon, reasonably priced at $49. Michael's, however, carries the same vase for $39.99. With their coupons, you could get it for around $30.
The tall white terracotta jar is from McGee & Co, where I paid $65. At the time, they had the best price. Who doesn't love buying things from McGee & Co?
I signed up to receive emails from one of my all-time favorite shops, Brooke & Lou. Now, I get access to information about sales and collection launches before they happen. Same with McGee & Co.
Tip: Be sure to also utilize "wish list," "favorites" or other similar tools at each retailer online.
For instance, if I want to buy a home decor piece on Amazon, I add it to my cart and then move it to "Save for later." As I'm browsing for decor on a budget, I will pull up the saved for later list and reference it.
Amazon's wish list features are helpful, but I find the save for later is much easier.
Wayfair, Overstock and TJMaxx family of stores are just a few places you can "favorite" items.
Want to know a secret? If you favorite items on TJMaxx, HomeGoods and their other brands, when items go out of stock, they still appear in your favorites (as out of stock). It's helpful if you want to remember what the name of a budget decor product is to search for it elsewhere.
Compare Prices with Google Search or Google Shopping
Did you know you can search Google to compare prices? A simple Google search can help you find home decor on a budget.
Google aggregates content from all over the web, surfacing the same or similar item, allowing you to quickly and easily compare price across many retailers in one place.
Google Shopping works the same way, but has additional functionality. For instance, you can set up price alerts to get an email when the price of a specific item changes. The screenshot below shows how to turn on the track price feature.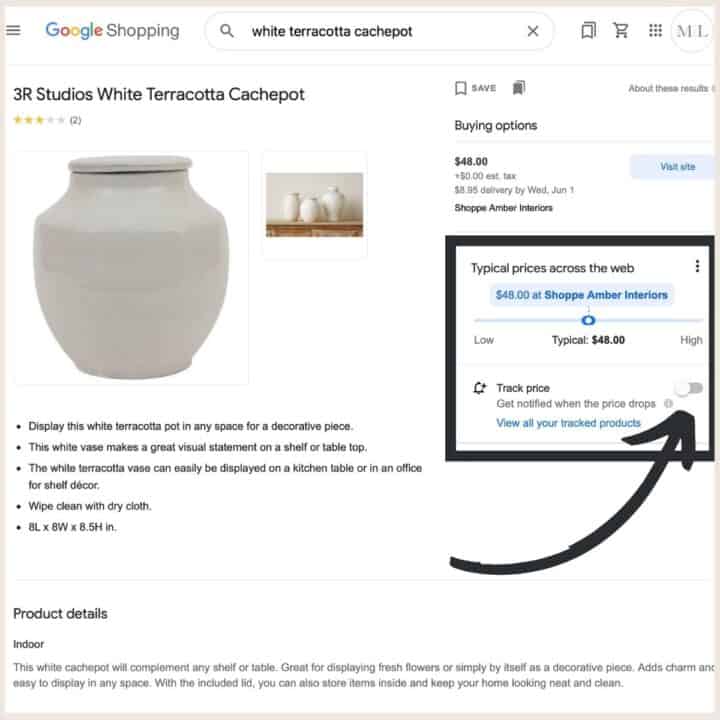 Keep in mind that browsers display results slightly differently. I prefer Safari search results when I look for a price comparison.
Find Budget Decor at Antique, Vintage and Thrift Stores
There is a common misconception that vintage and antique home furnishings are expensive. If you've ever been happily lost in the wonderful maze that is Etsy, you know that is not true.
Local antique and vintage shops are a great place for decor on a budget. Shopping local helps support local businesses as well as your community.
After we bought our house, and as we were furnishing it, I spent countless hours meandering around any local shop that sold home decor. Once you get into the hunt for unique, one-of-a-kind pieces, it motivates you.
The architectural salvage French black finials are from a local antique mall.
Each pieces was reasonably priced and now I have one-of-a-kind home decor.
The basket is from the same antique mall and was at least 50% off when I bought it. I think I paid $20. The handles are real leather in a beautiful cognac finish.
Giving a second, third or fourth life to something that was once a prized possession, is rewarding in its own right.
Second-hand shops, such as Goodwill, arcThrift and The Salvation Army, are equally helpful if you're looking for decor on a budget. You may also be supporting those in need, as these retailers are typically non-profits.
Both vintage and second-hand provide opportunities to do some DIY projects. A lower price point makes it more attractive to try your hand at modifying decor without the fear you'll ruin it.
Use Facebook Marketplace for Budget Home Decor
Facebook Marketplace is a place you should check out for budget decor. Similar to thrift shops, buying second-hand makes it easier to furnish your home.
YouTube is filled with DIY projects of items discovered on Facebook Marketplace.
Buying decor on a budget can be exciting. There are so many options available, from online-only retailers to local shops, big box retailers and more.
Beautifying your home should be fun.
The advice I will give you is to try to enjoy the process.