Coming up with Christmas mantel decorating ideas starts with a spark of creativity. Maybe you have a color palette in mind, or perhaps there is a specific look you're going for. Whatever the case, get the base right and the rest will fall into place.
Simple Christmas mantel ideas—in a neutral color palette—are featured here, because sometimes less is more. That said, if more is more to you, you can absolutely turn these ideas into over the top holiday decorations by just adding, well, more.
These are the best fireplace Christmas mantel decor ideas to inspire your holiday decorating.
Tips to Decorate a Christmas Fireplace Mantel
It is tempting to jump right in and start decorating for the Christmas holiday. Songs of the season play on repeat, while donation bells ring as you shop for presents. Scents of cinnamon and peppermint linger on the cool, crisp evening air. What could be more comforting?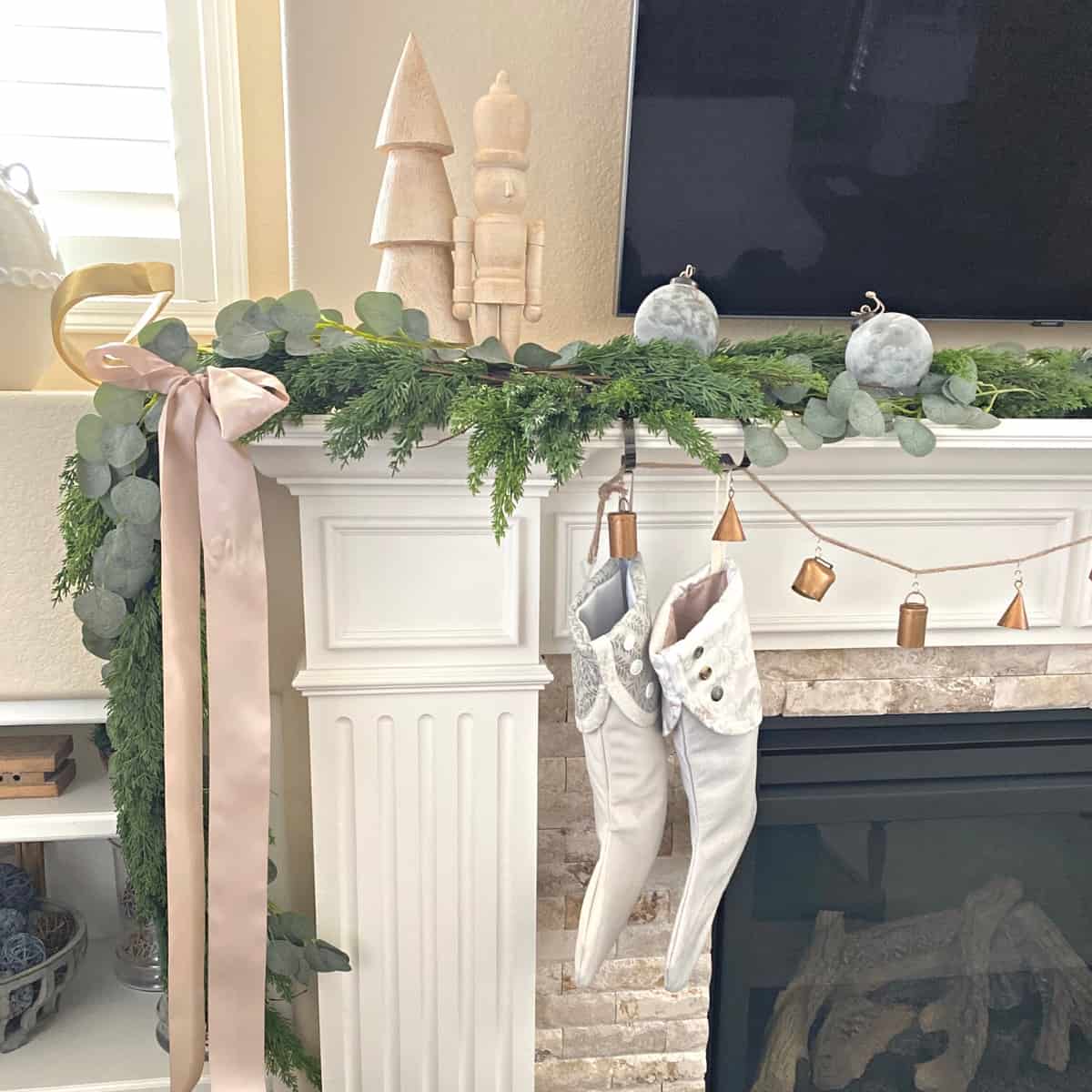 Before diving in the deep end to decorate your fireplace for the Christmas holiday, keep these tips in mind to help you stay on track to achieve the look you want.
Make a Plan and Gather Mantel Decorating Inspiration Pictures
Start by taking a little time to make a plan. When I say plan, think about a theme or a look you really like when it comes to holiday decorating. Create a board on Pinterest to gather inspiration pictures in one place.
After you've pinned several pictures, review your board. You may notice a pattern emerging, whether it's a similar style, color palette or use of materials.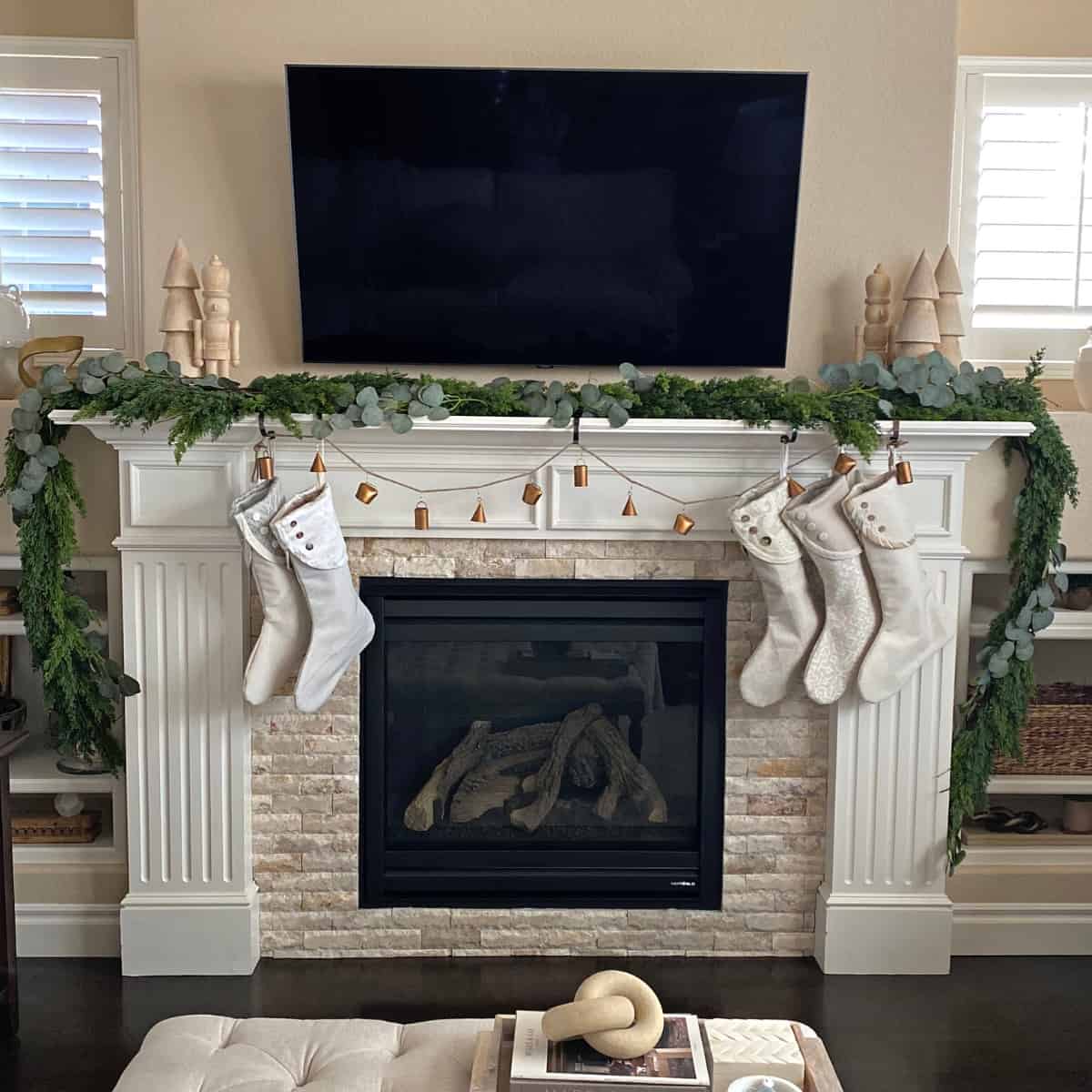 Decide on a Color Palette for Holiday Decorations
Decide on a color palette as the second step to gathering Christmas mantel decorating ideas. This is my favorite step!
Years ago, decorating in traditional Christmas holiday colors of red, green and gold was the way to go. Today, anything goes. This year, I went all in on neutral holiday decorations.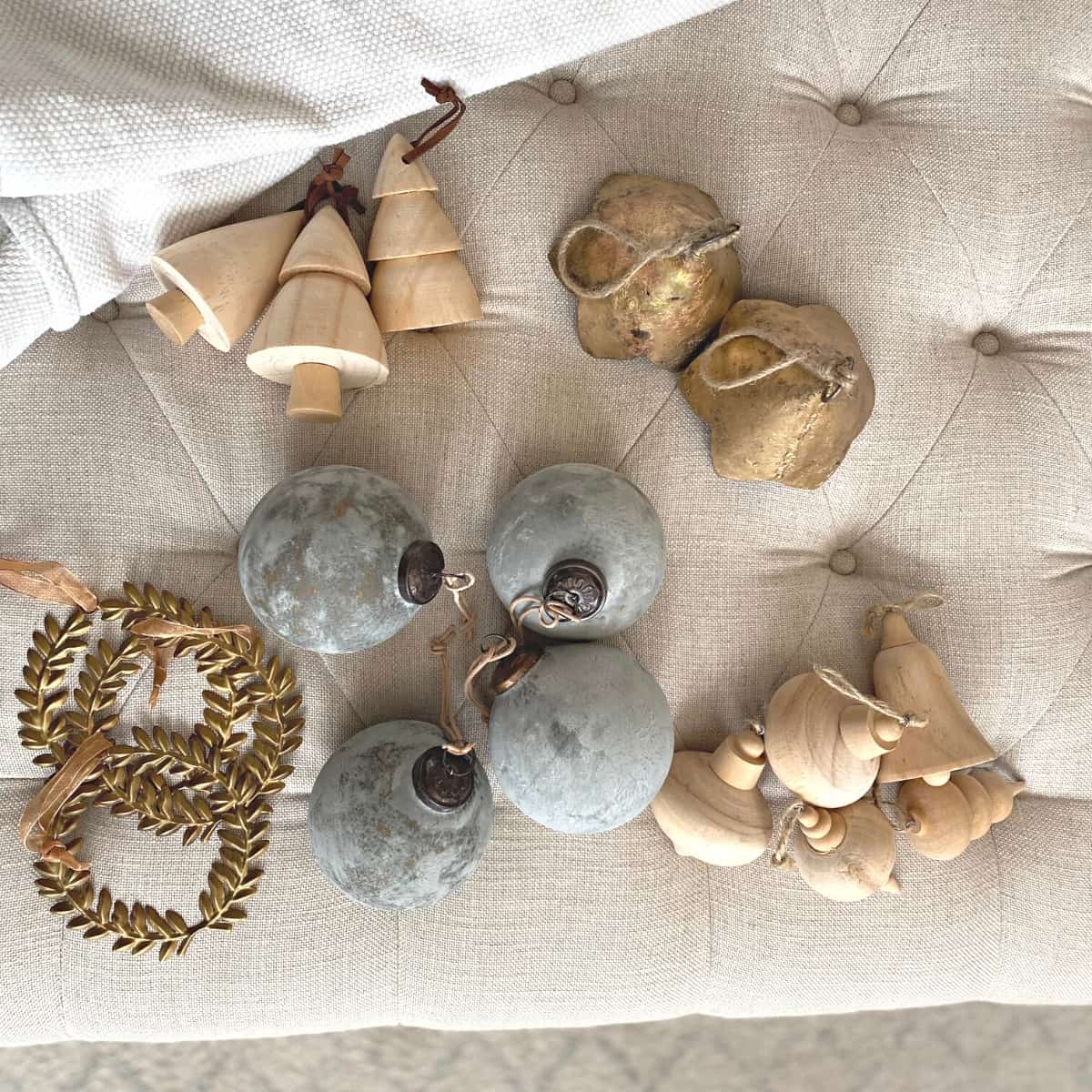 Our mantel and tree are decked out in natural wood tones over greenery, as well as a hint of dusty blue, while the garland on the stairs has blush pink bows. A soft, neutral color palette made its way into our presents. Check out the beautiful gift wrap ideas post for inspiration.
Whatever colors make you happy are what you should decorate with.
Get Supplies to Decorate the Christmas Fireplace Mantel
Decorating a fireplace for Christmas is one of infinite possibilities. You've done the research on a style and (hopefully) chosen the look you're going for. Now, you should have a sense of what supplies you'll need.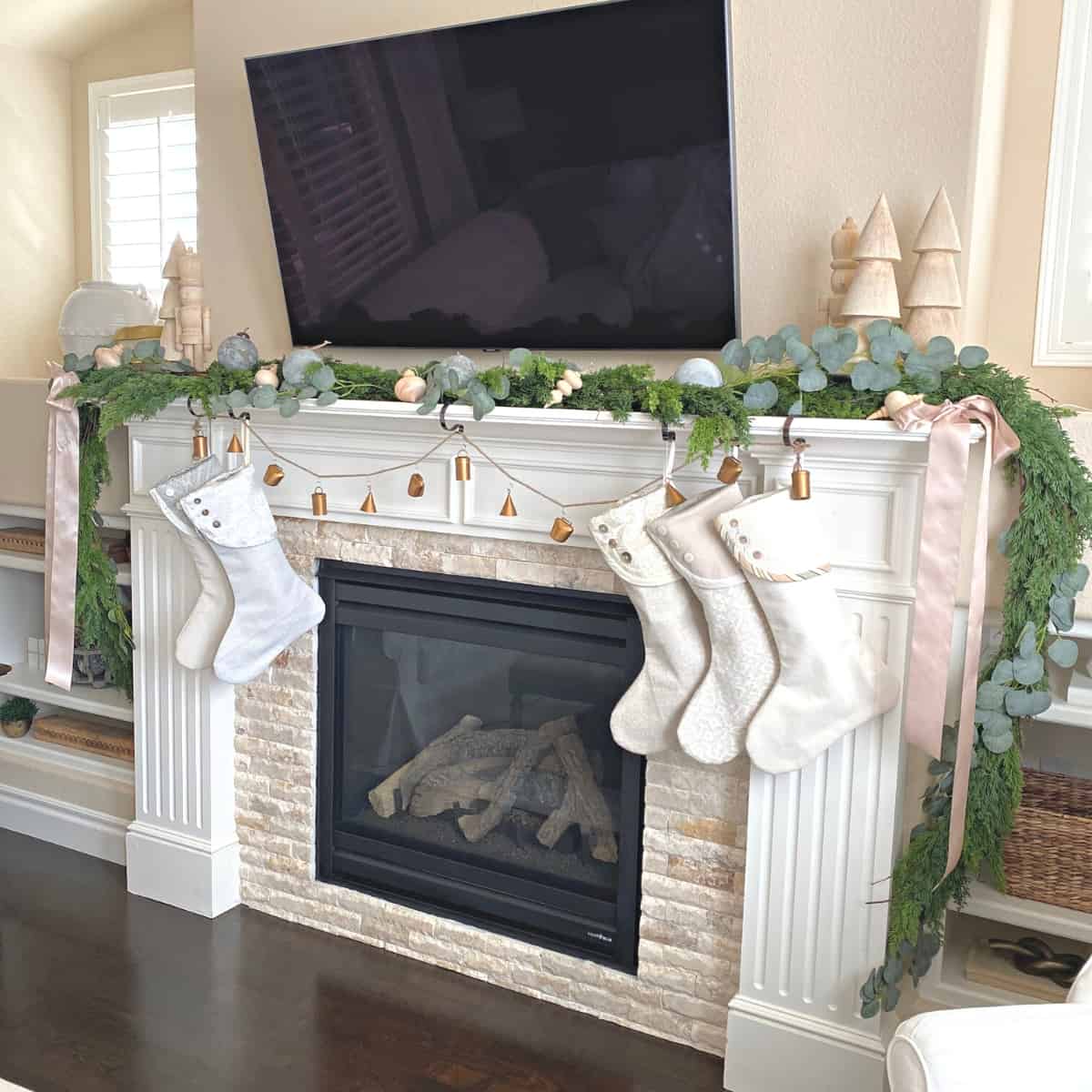 Don't necessarily source supplies, such as ornaments, bows and garland, from one place. Some of the best home decor stores carry unique Christmas decorations during the holidays.
Tip: Sign up for retailer emails and newsletters and you may get early access to sales and exclusive offers.
Head to the store in-person or online to get all the supplies you need, which may include:
Garland - Cedar, pine, eucalyptus, and spruce are all great options for greenery garland. For an elevated, full look, layer different styles of garland, including metal bell garland. Our mantel is decorated with cedar and eucalyptus, which looks gorgeous. Read how to hang garland on mantel for a list of the best places to buy faux garland.
Ornaments - Keep your color palette in mind when purchasing ornaments. Moreover, consider materials, such as glass versus plastic. Wayfair, Michaels and Brooke & Lou have an assortment of ornaments to choose from.
Stockings and holders - Get extra creative when it comes to stockings. I highly recommend checking out Etsy. You can find one-of-a-kind holiday stockings, like the beautiful Christmas stockings we have on our mantel, while supporting small businesses at the same time.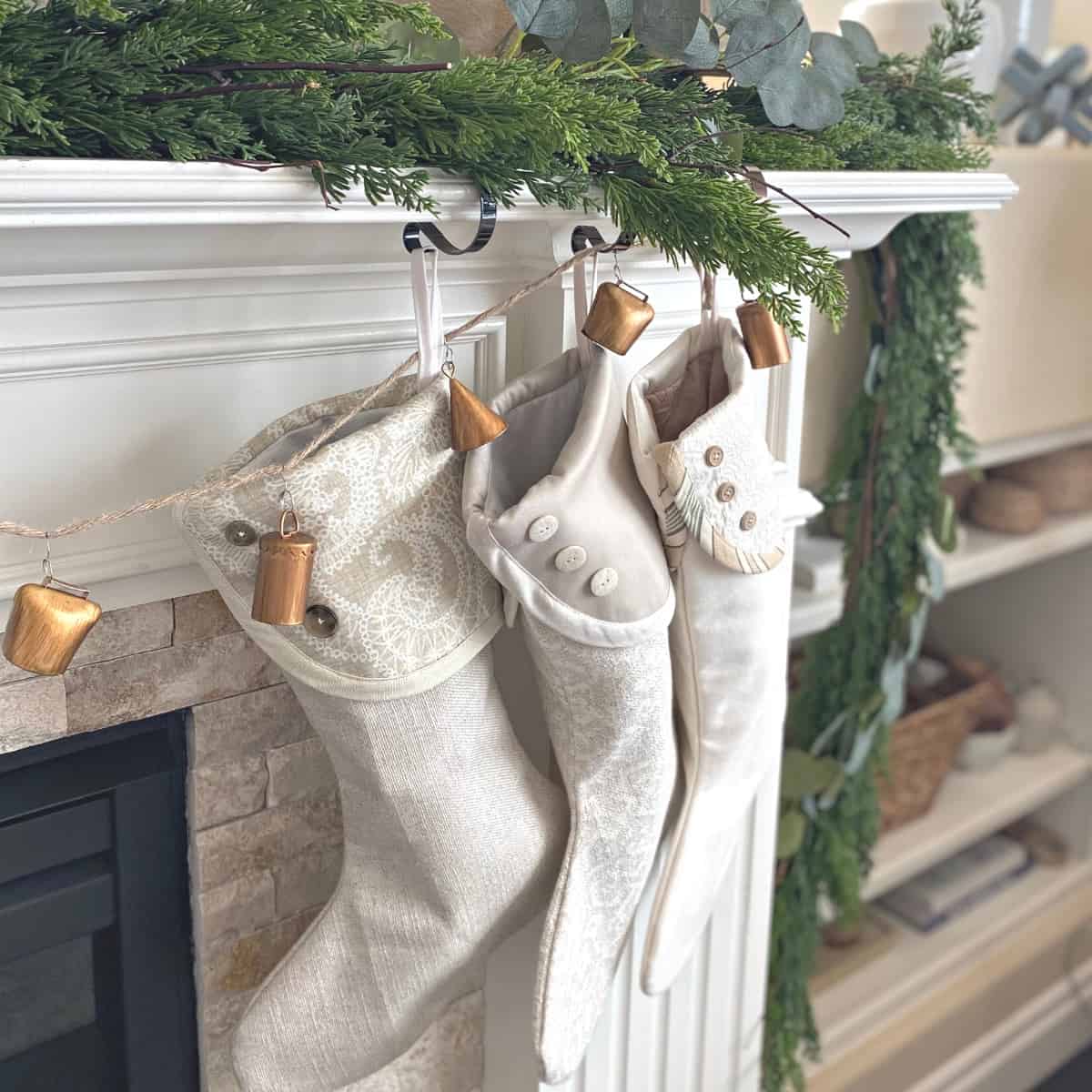 Ribbon and/or bows - Joann, Michaels and Amazon have the best selection of ribbon. On our stairs, we used a nude satin (a taupe-pink color) 2 ½ " wide ribbon from the Save the Date ribbon collection at Joann. Velvet also makes everything look elevated, so it's a great option.
Other holiday decorations - Layer wreaths, led flicker candles, trees (i.e., ceramic, wood), and other holiday decorations on top of the mantel.
Christmas Mantel Decorating Ideas
With your supplies in hand, now comes the fun part: decorating! Refer back to your inspiration pictures to give you ideas as you're decorating the fireplace for Christmas.
Tip: Have all of the decorations laid out in front of you to easily see what you're working with.
Check out the Christmas fireplace mantel decor ideas that follow.
Simple Christmas Mantel Ideas
"Oh, simple thing, where have you gone," is a line from the Keane song, Somewhere Only We Know.
Simple does not mean sparse or uninspired. Simple just means not ostentatious; understated beauty at its finest. Simple also gives each area a moment—a break for the eyes or a space to capture the light.
A simple Christmas mantel decorating idea could be a form of greenery garland, stockings and a string of metal bells garland, draping down the front of the fireplace.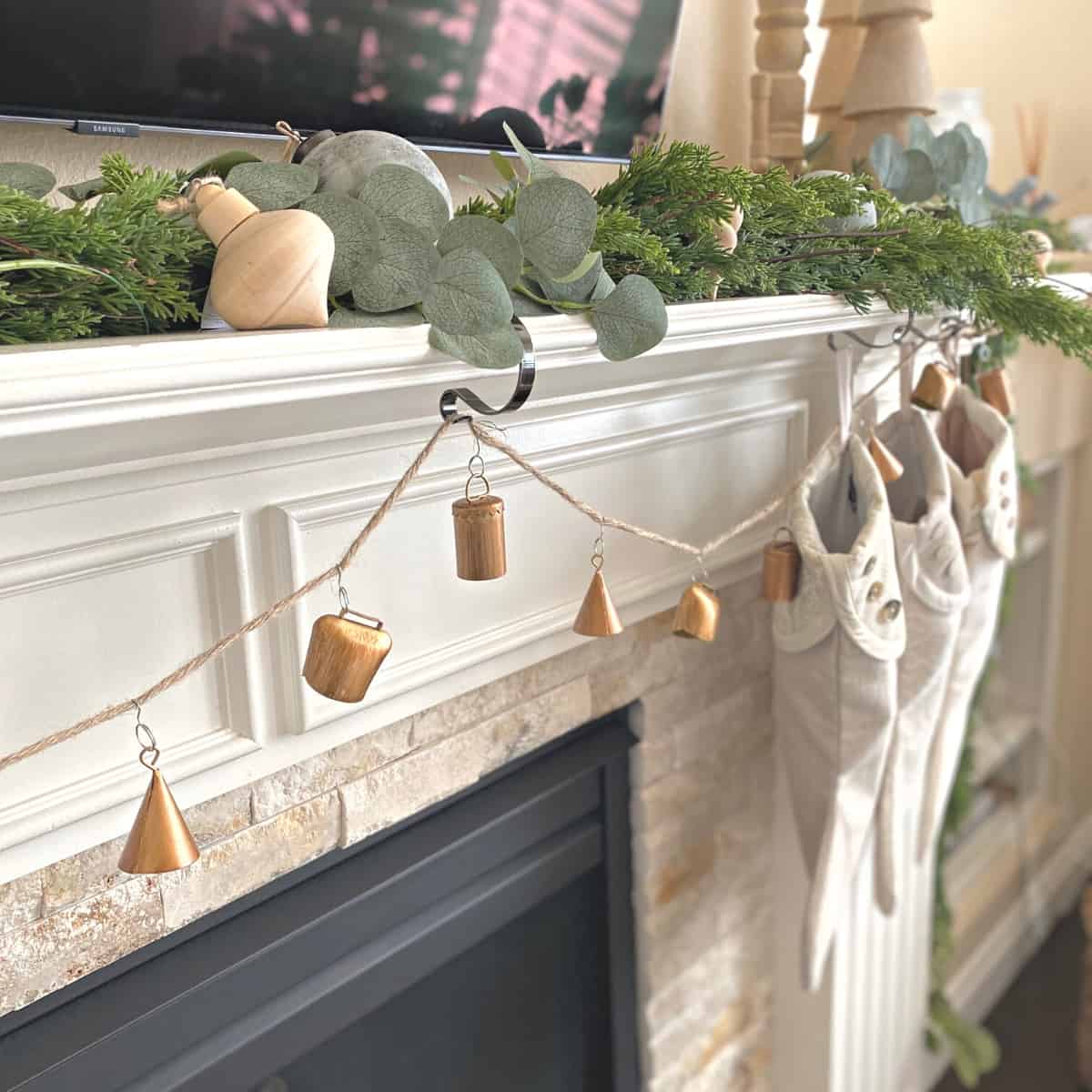 Taking the Christmas mantel decor idea up a level is the addition of muted blush pink ribbon bows. Large ribbon bows may seem dramatic in their length, but they are understated in color, lending balance to the look.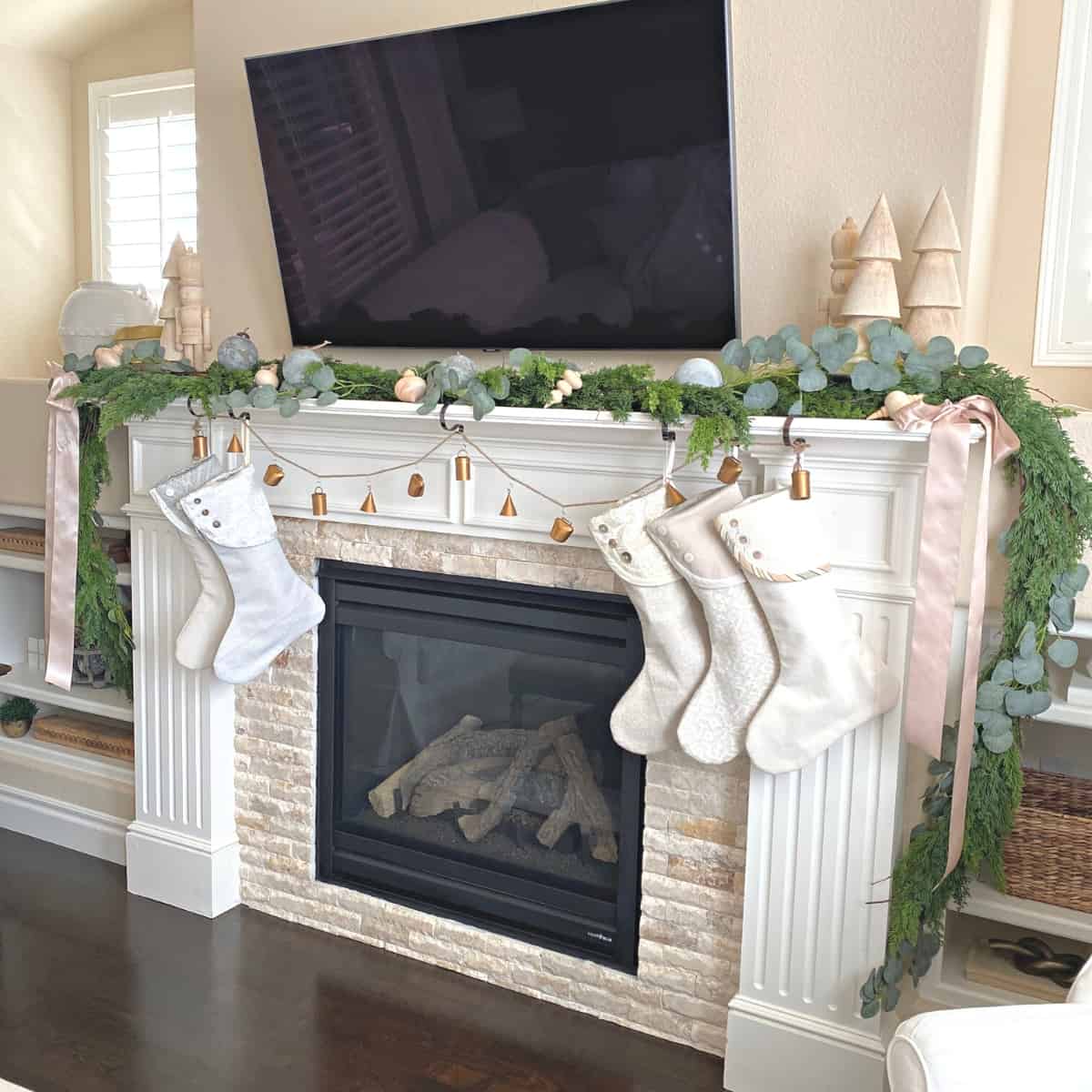 Try popping a few ornaments on top of the mantel as well. (Emphasis on a few for a less is more approach.)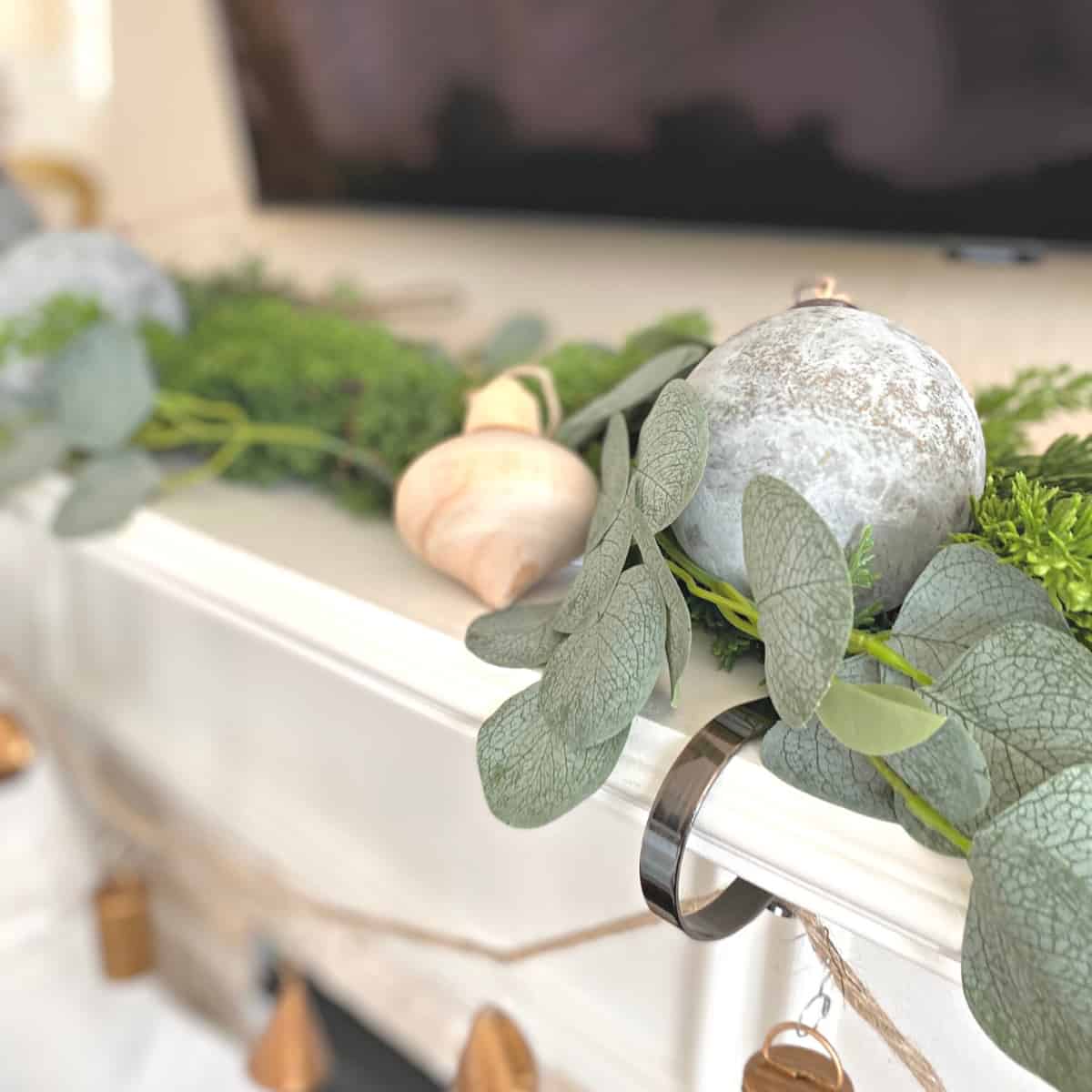 These dusty, powder blue glass ball ornaments are stunning. These ornaments come in multiple colors, so choose those that fit within your color palette.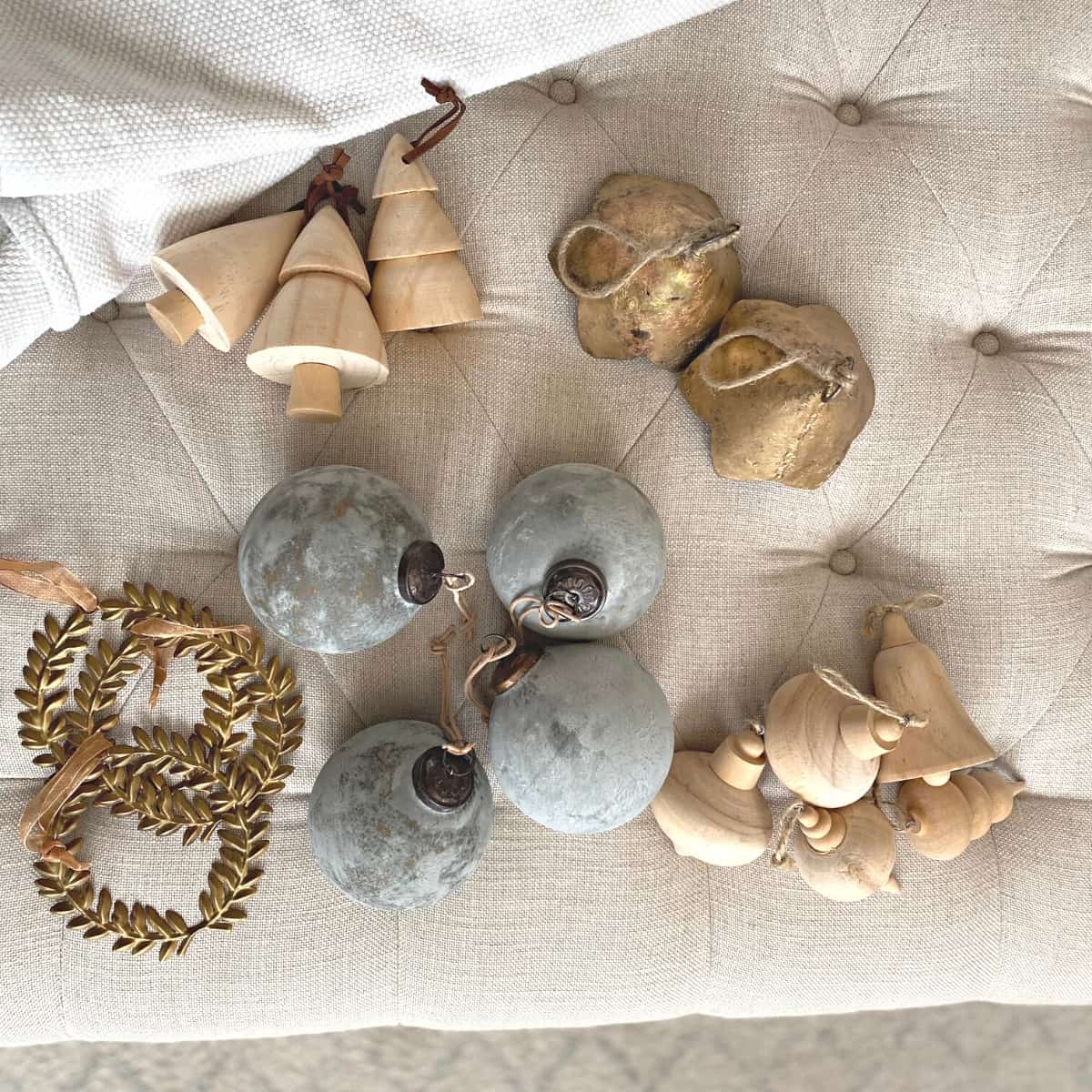 Natural wood elements are an alternative if blue isn't your color. Cute wood ornaments found in different shapes add interest to the holiday fireplace mantel.
Neutral Christmas Fireplace Decor Ideas
Consider using neutral holiday decorations for your Christmas mantel decorating ideas.
Christmas decorations of neutral toned natural wood trees and wooden nutcrackers provide a subtle nod to the holidays, without being overbearing.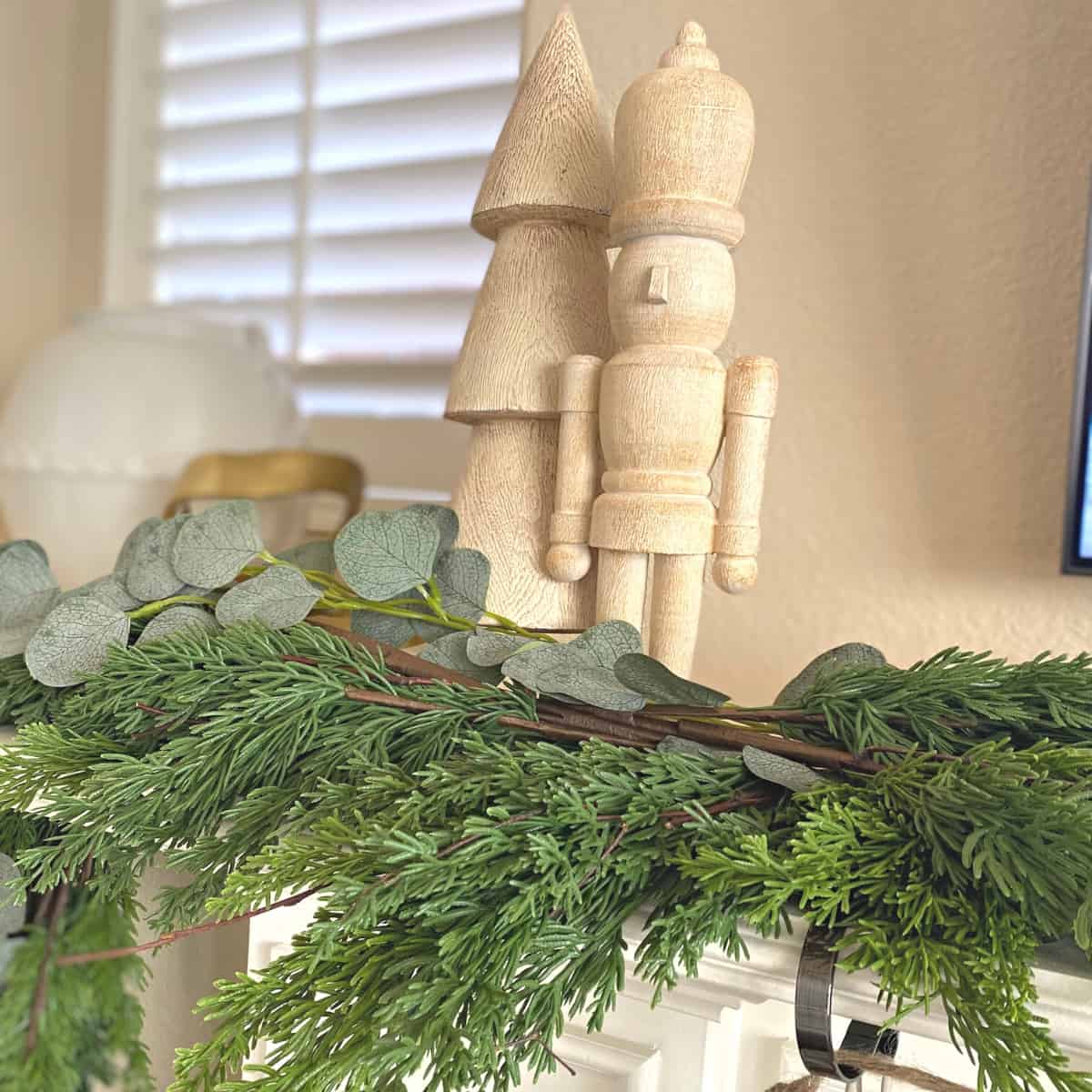 Mix natural wood tones with shades of white, black, and green, for a naturally neutral feel.
Garland comes in many different forms. Metal bells garland brings in metallic elements, allowing light to bounce around the room, while further breaking up matte tones.
Don't you just love how the bells swag gently beneath the mantel? Tucked among the stockings, variations of bells doesn't make it feel too perfect; rather, organic.