What is a more comforting time of year than Christmas? Before the holiday is upon us, you may want to read these tips for how to hang garland on mantel.
Hanging garland on a fireplace mantel typically doesn't take long, if you have the right tools. Really, decorating a fireplace mantel will take significantly more time.
This quick guide is meant to help you easily and quickly show you how to hang garland on a mantel. Once you've learned these tips, stand back and admire your holiday fireplace.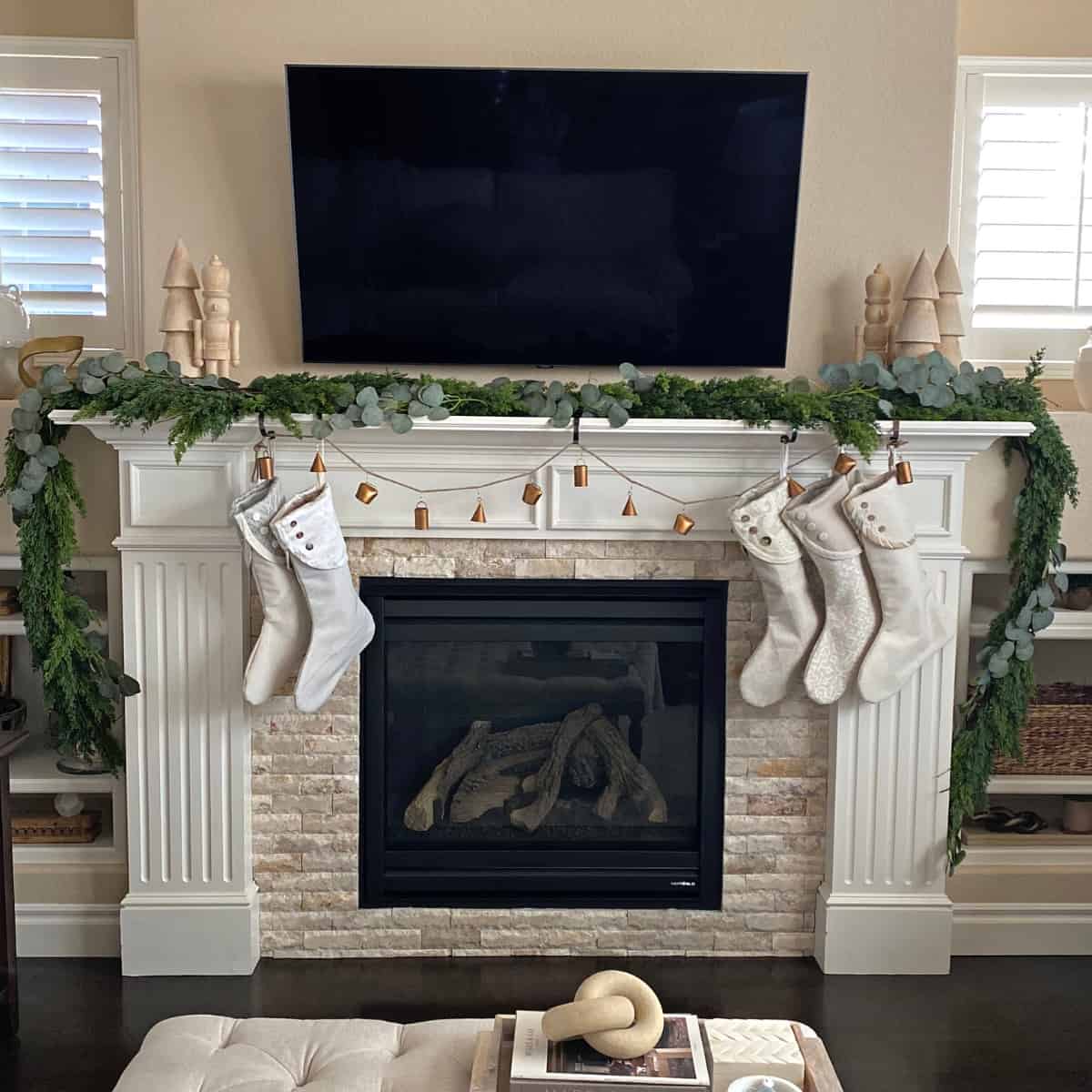 Fireplace garland simply completes the Christmas holiday experience.
As layers of greenery drape elegantly down the mantel, and the fire crackles away, the ambiance evokes feelings of comfort (and joy).
Faux or Real Christmas Holiday Garland
If you are unsure whether to buy faux or real garland, I highly recommend reading my post on the best way to hang garland on stairs, where I cover in-depth why you should buy faux garland.
Today, sumptuous garland comes in many varieties. From pine and cedar to eucalyptus and olive branches, determine if you want faux or real greenery.
Tip: Go look at the garland in person at a local store if you want a specific look. To me, garland looks significantly different in-store than online.
For real greenery garland, local nurseries or farms may sell different varieties.
Some of the places to find natural looking faux garland include: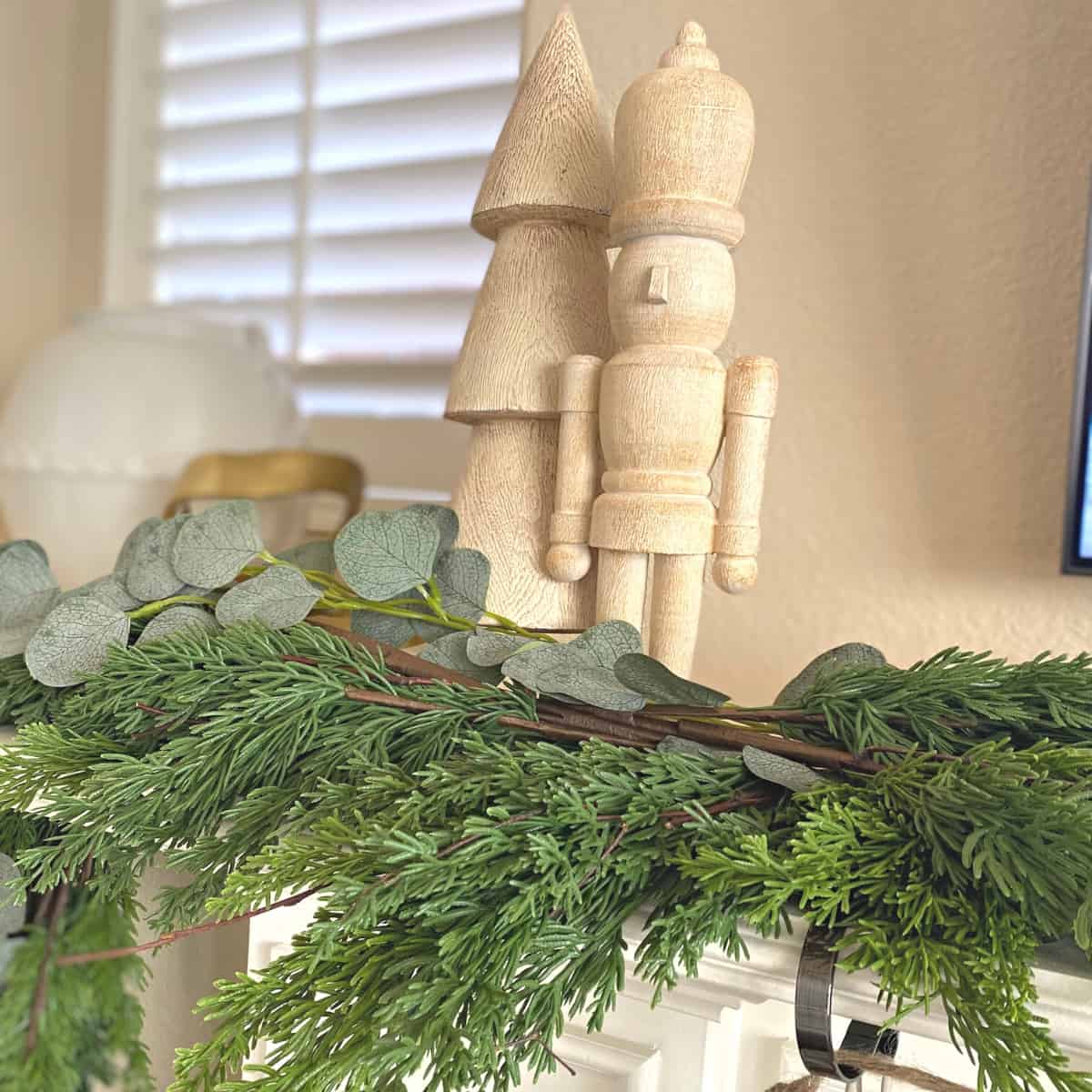 Sign up for retailer emails to get coupons and access to special sales.
Decide on the Holiday Mantel Look You Want
You may want to search Google or Pinterest for fireplace garland ideas.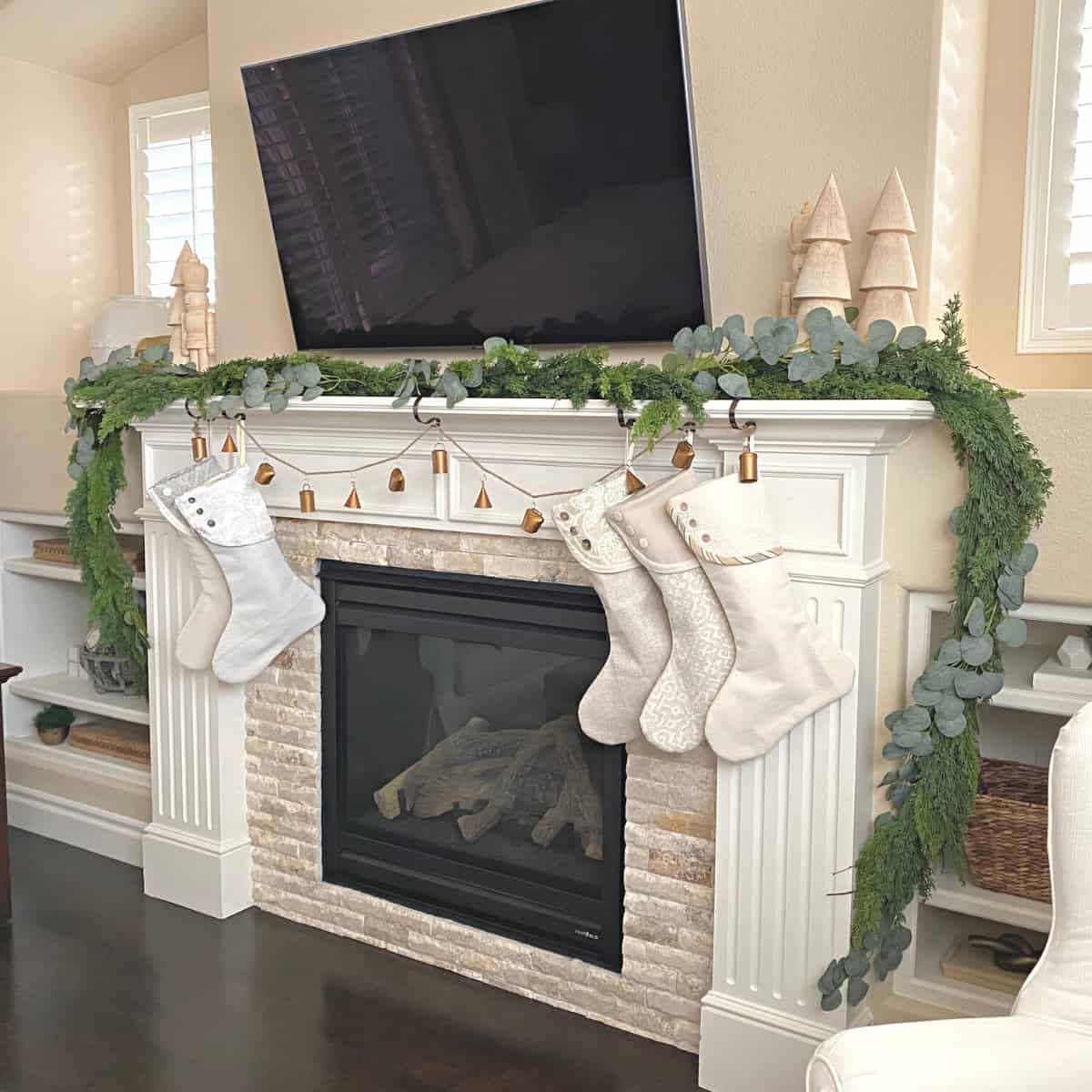 When researching for inspiration myself, I came across the ever-stunning Monika Hibbs Christmas home tour on Lark & Linen. Simple, yet impactful, her design makes the home feel inviting. Sanctuary Home Decor shared her warm, neutral holiday look as well.
Ask yourself the following questions as you decide on a look for your mantel garland design:
Do you want the garland to swag or swoop down the mantel? If so, how many swags? 1? 2? Keep in mind, if you plan to use your fireplace during the holiday, swagged garland is a fire hazard.
Do you like a full, fluffy garland look or minimalist?
How will you hide the garland attachments? Will you use ribbon, specialty attachments, decorations, or other greenery?
Do you intend to layer the garland with other holiday decorations?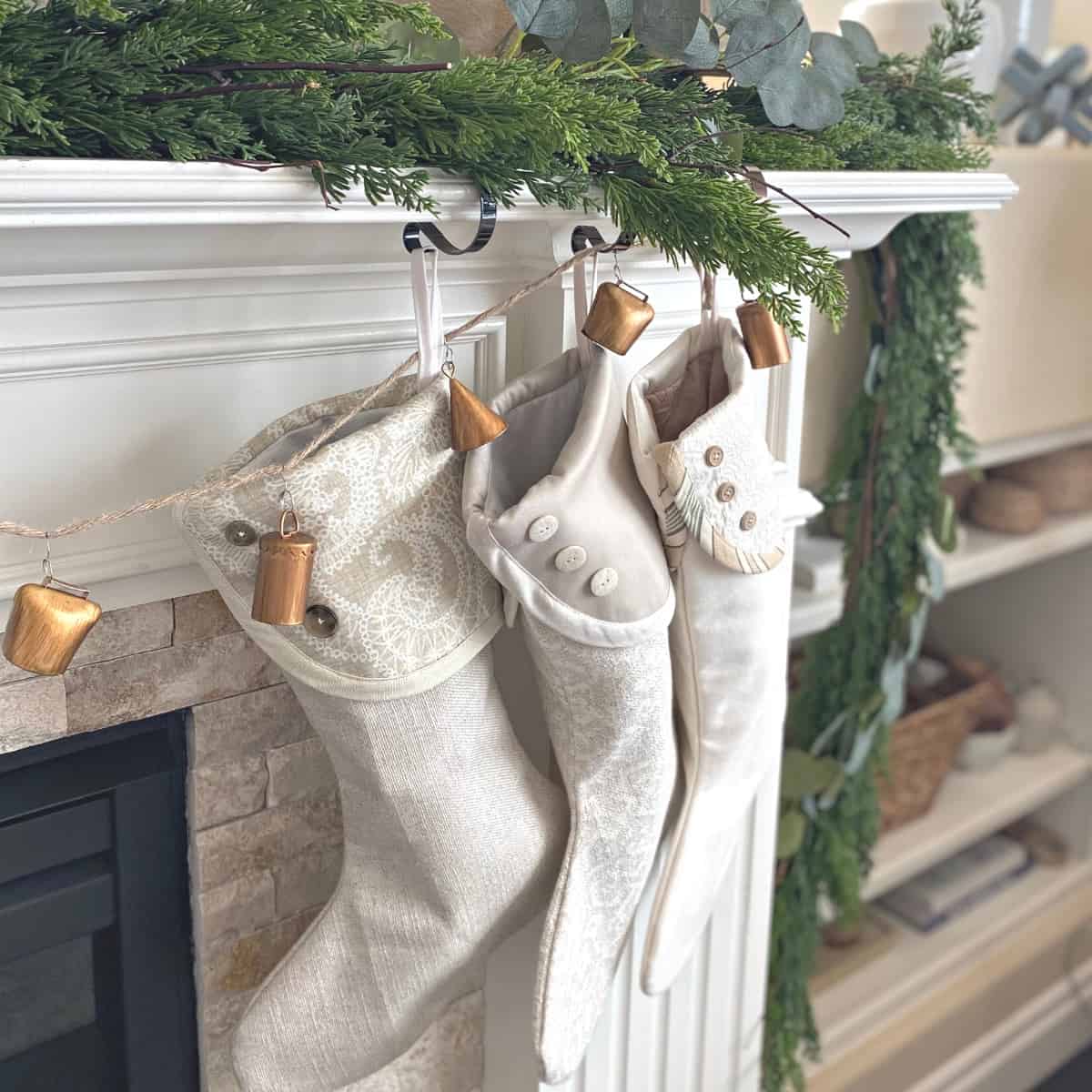 How to Measure for Fireplace Mantel Garland
Christmas garland typically comes in strands of 6 to 12 feet. Measuring for fireplace mantel garland ensures you have enough strands to achieve the look you're going for.
For instance, swagged garland swoops or dips below the mantel, creating a dramatic swagged effect. Depending on how much swag you want across the mantel, you'll need to measure to know how many strands to buy. (Yeah, that means you need to do a little dreaded math.)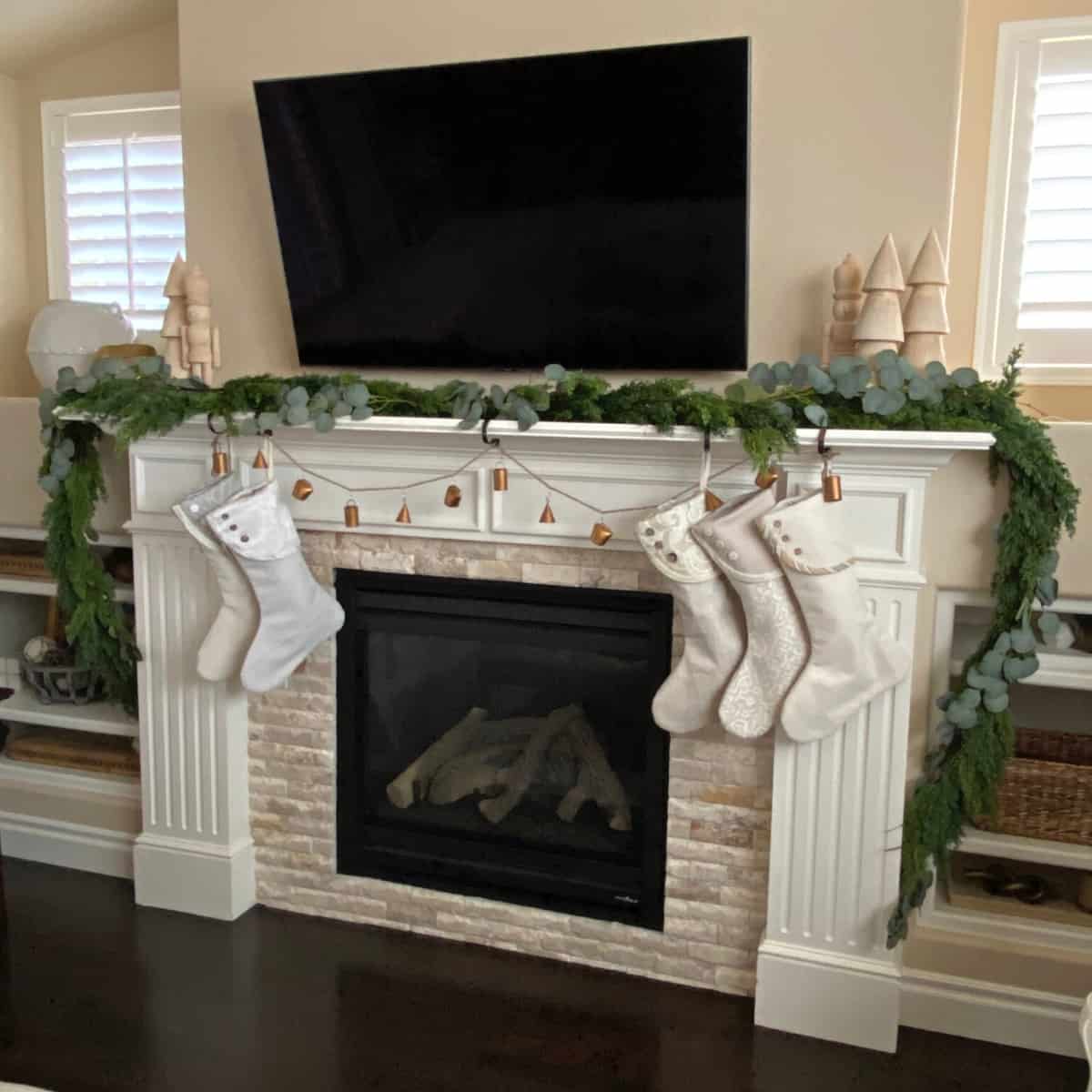 As I mentioned in the post about how to hang garland on stairs, my husband is a mathematician and engineer. So, while he did the math, I ate chocolate—naturally—and jotted down some figures.
Measure your fireplace mantel for garland as follows:
Top - Measure across the top
Sides - Measure each side from the top to the floor or to the point you want the garland to hang to down each side
Swag - If you want to swag the garland, add a quarter to a third extra
Add the measurements together to determine how many feet of garland will cover the area.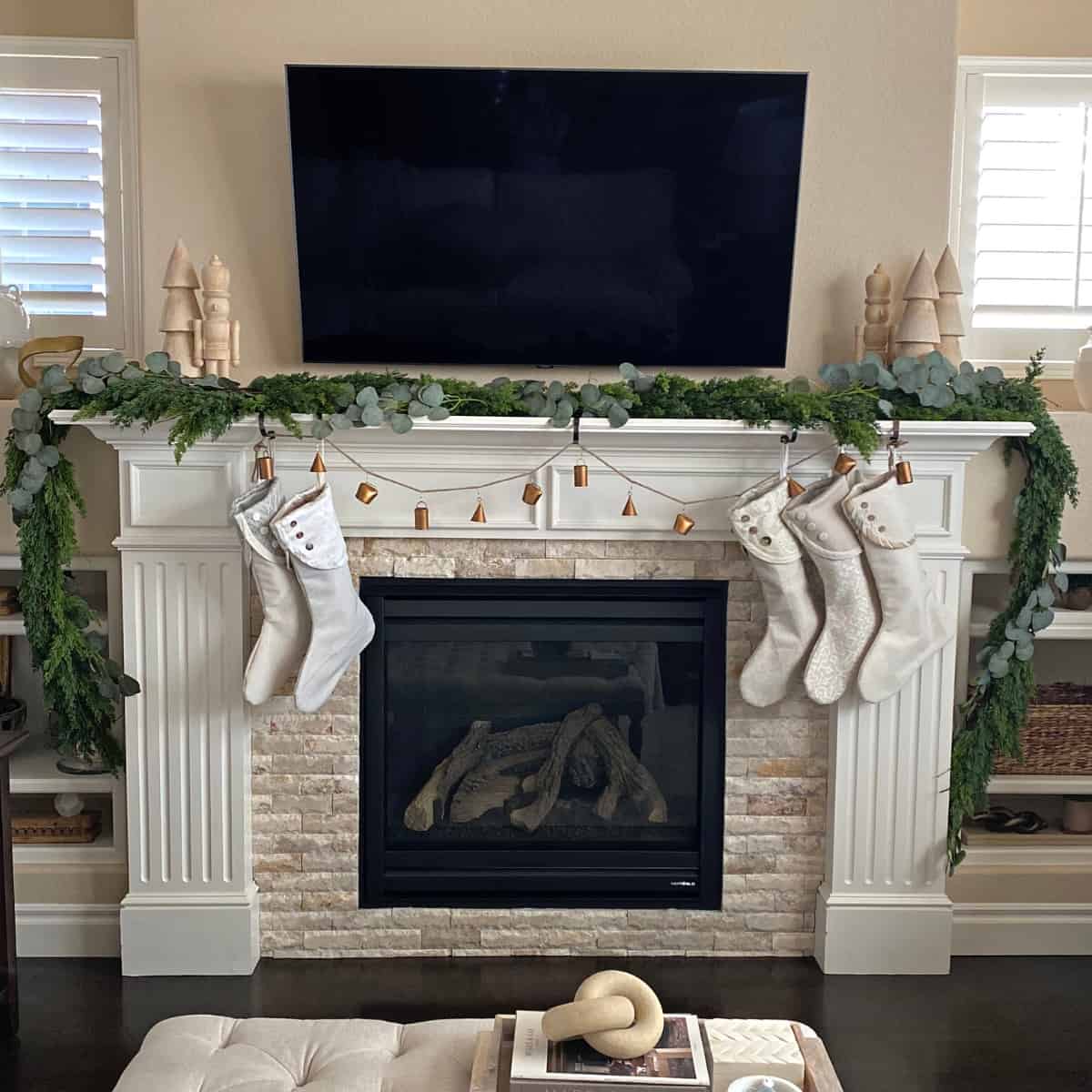 Since I like to run the fireplace during the holidays, I did not want any swag but I did want the garland to drape down the sides almost to the floor. In the end, I used three garland strands.
How to Hang Garland on Mantel
Fireplaces being a concentrated area of open flame and heat, means you need to choose your garland to mantel attachments carefully, if you plan to run the fireplace.
A few different ways you can attach garland to a mantel include:
Command hooks - One of the most popular methods to hang garland on a mantel are command hooks. Clear and easy to work with, command hooks can be found at your local hardware store, Target and Walmart. Make sure you choose the kind that is safe to use around flames.
Mantel garland stocking hooks - Plenty of retailers carry stocking hooks during the holidays. Williams Sonoma carries a combination garland and mantel stocking hook and West Elm has a mantel garland and stocking hanger.
Gravity - You rely on gravity to hold the garland on the mantel, as we did. However, since there are too many variables to know if it would work for your specific needs, you will need to try it out.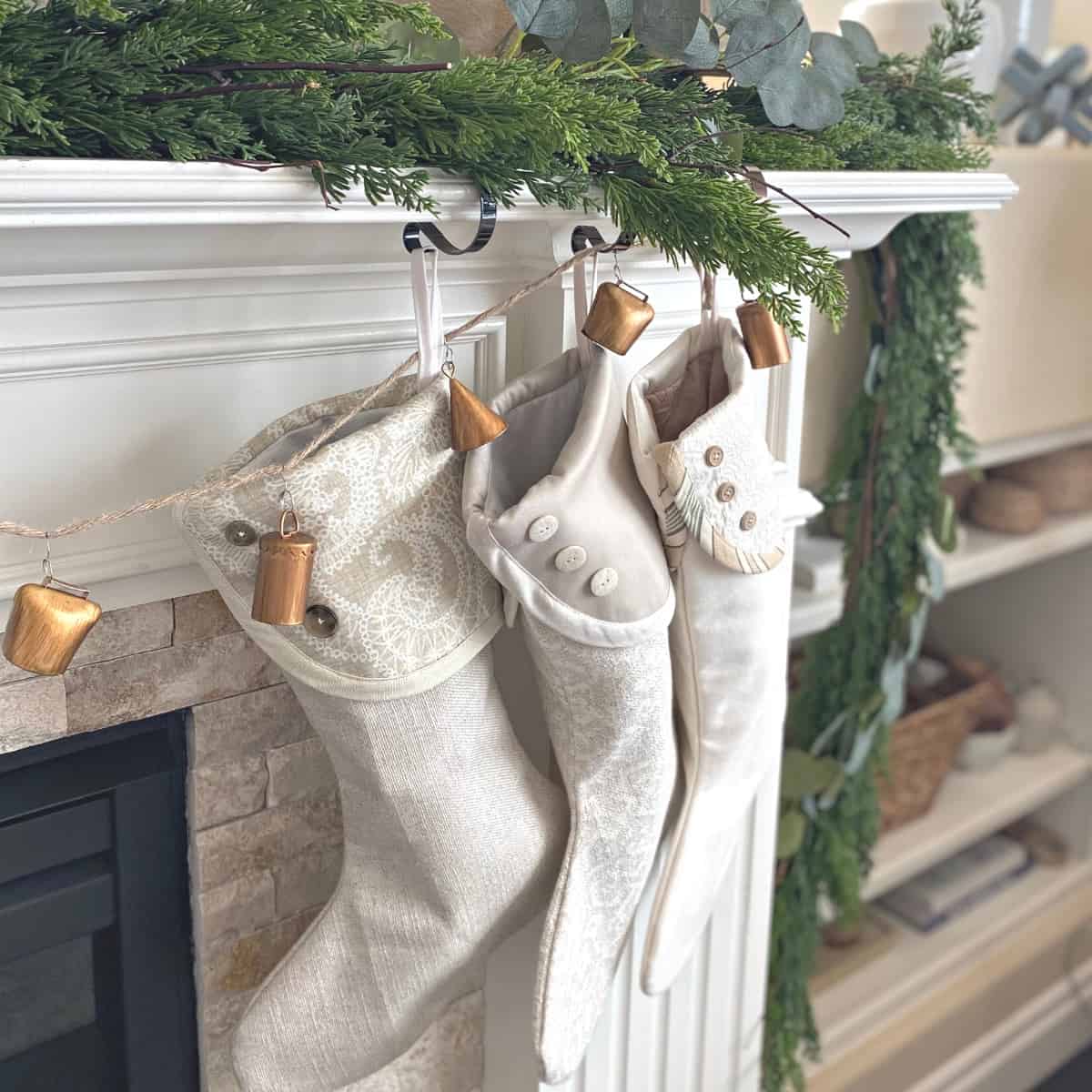 You may also need to secure the garland strands to each other. Below are a few ways to hold the mantel garland strands together.
Ribbon, twine or rope - The prettiest option is to use ribbon. Mix in different colors and texture for a curated look. Twine or rope can also be used to attach garland strands to one another.
Garland ties - Specialty garland ties are available in several different varieties. Greenery garland ties match the style, while more decorative garland ties add interest. Target, Grandin Road, JoAnn, and others carry an assortment to choose from.
Floral wire or zip ties - Typically sold at craft stores like JoAnn, floral wire is sold in pre-measured individual wires or in spools. To blend in with the greenery, purchase green floral wire.
Step 1: Top of Mantel
Start with the top, layering in the number of strands you measured for. Secure the strands to each other via one of the methods mentioned above, if desired.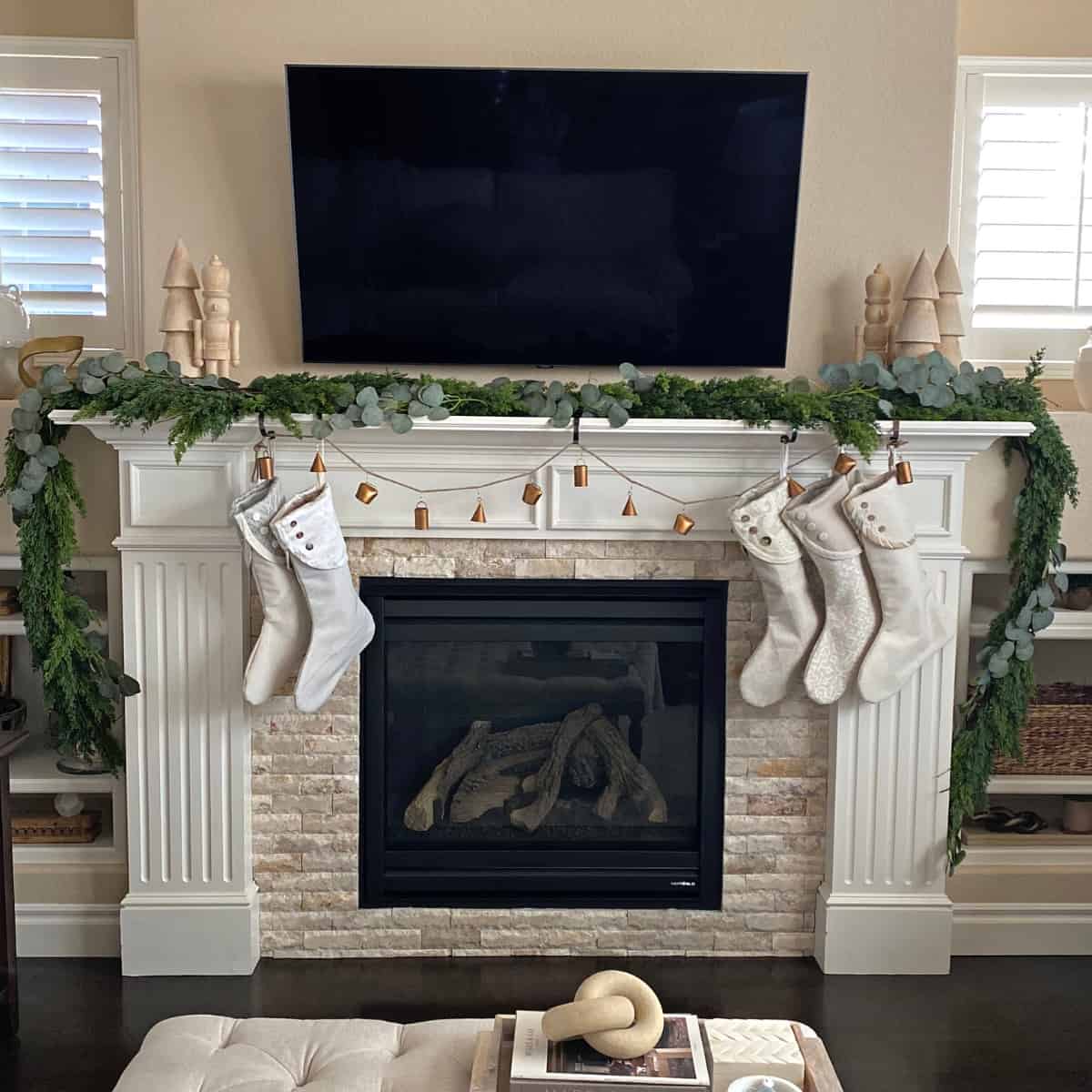 Step 2: Left Side of Mantel
Move to the left side of the mantel. Drape the strand off the side to the point you measured. If you need more than one strand, attach the strands to one another before moving on.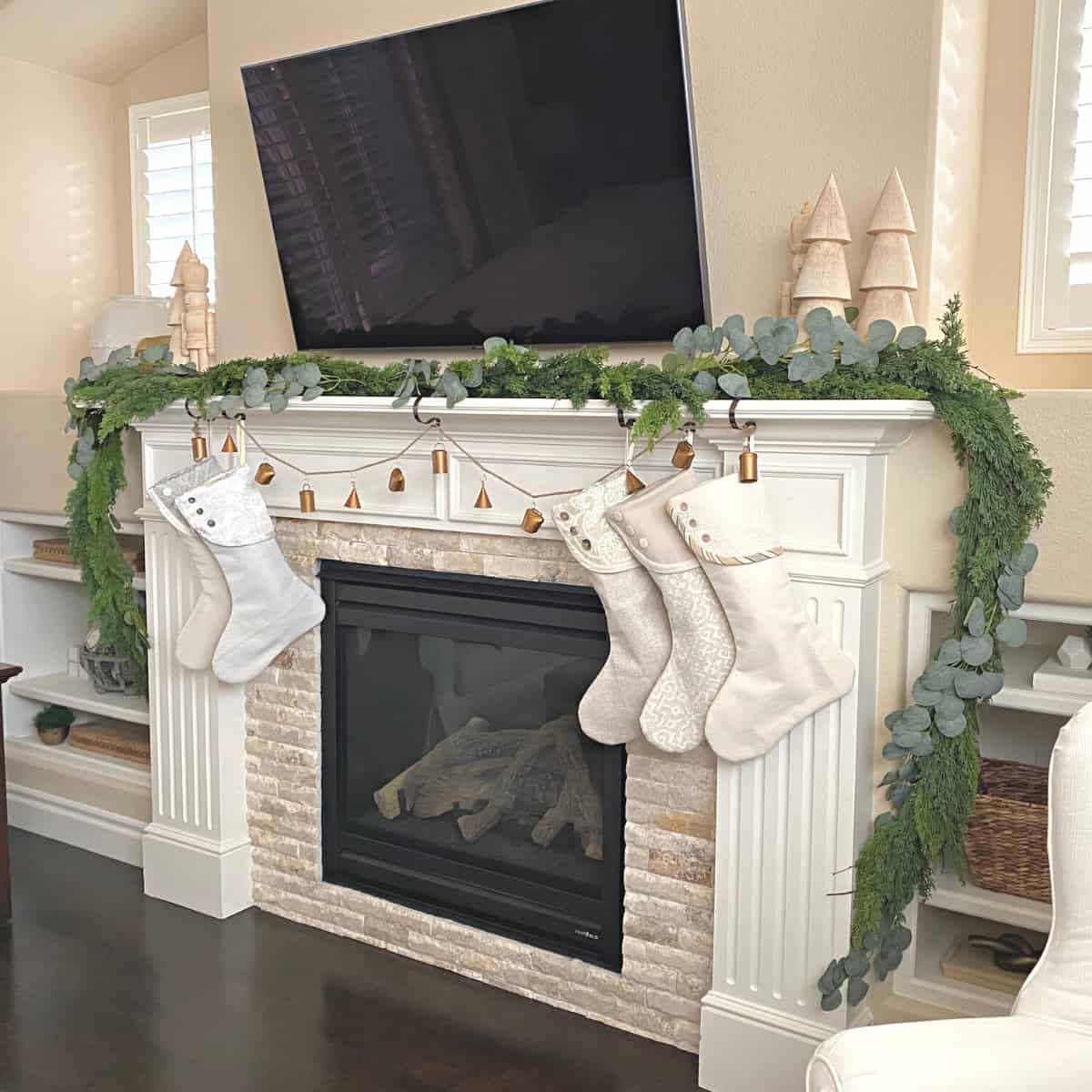 Step 3: Right Side of Mantel
Repeat this step for the right side of the mantel.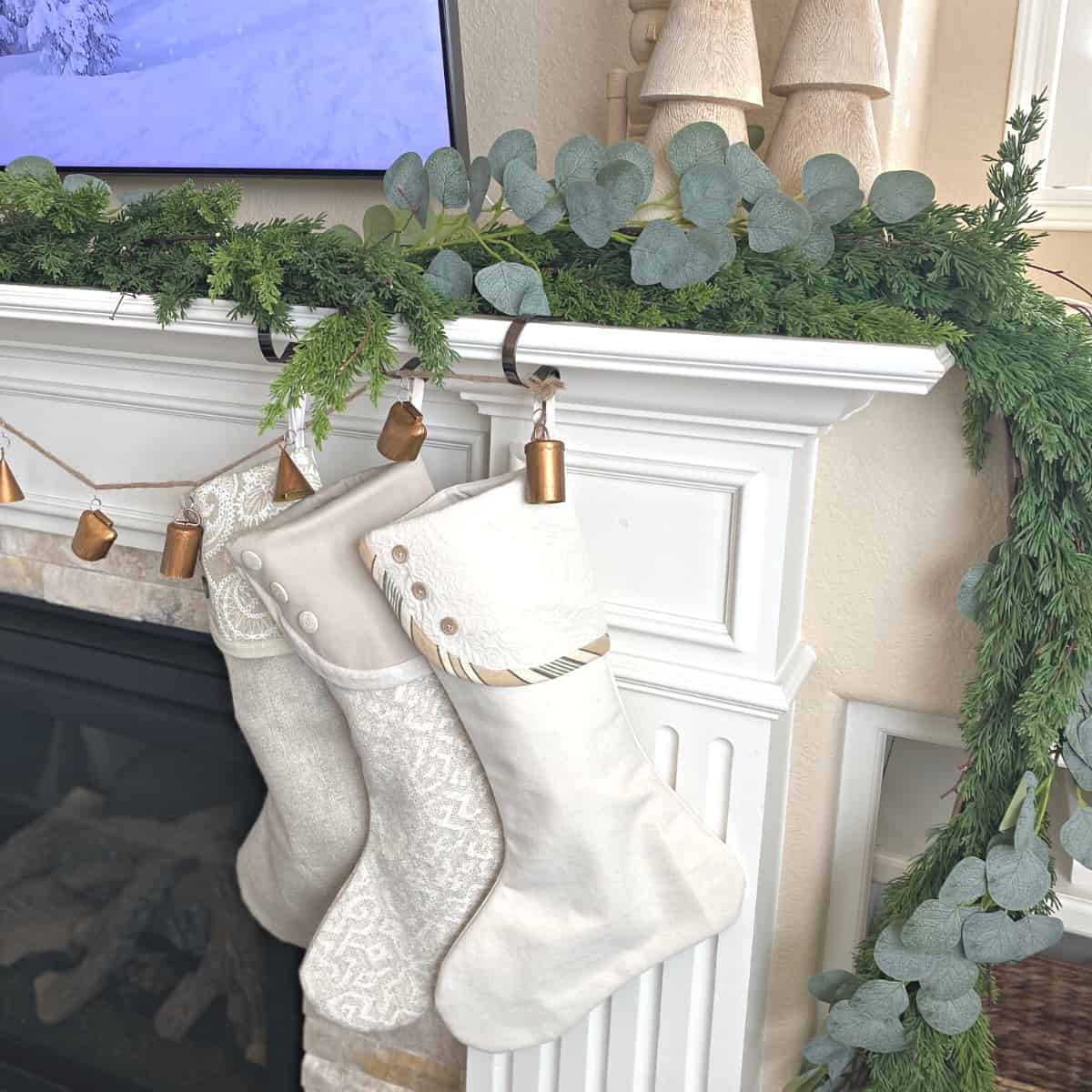 As you can see in our mantel garland, I weaved in the eucalyptus garland strands. Note that I added the eucalyptus after the cedar strands. This order of operations allowed me to adjust where each section of eucalyptus—even specific leaves—would be.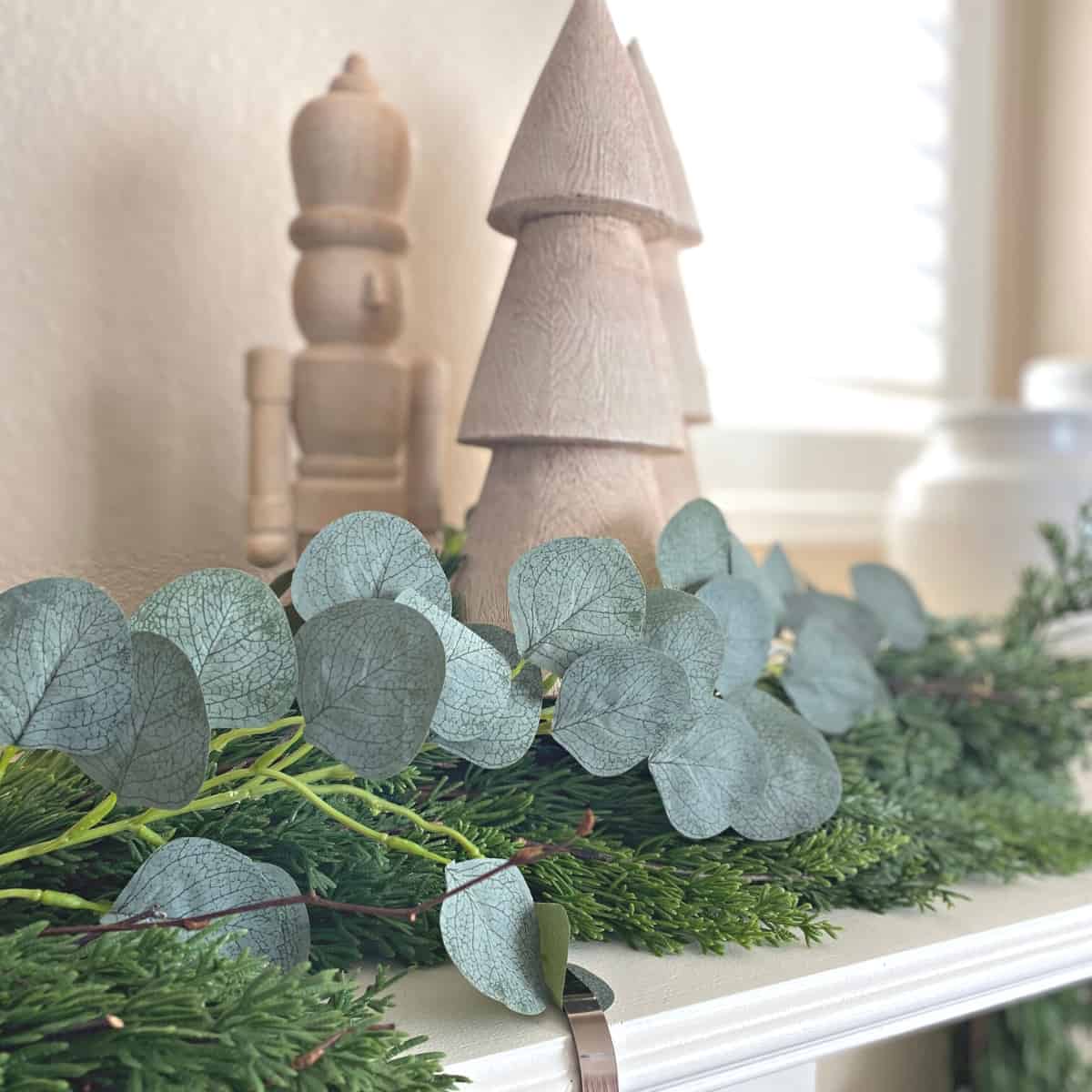 Decorate the garland with holiday ornaments, ribbon and other mantel decorations to make it all come together. I added this metal bells garland and I absolutely love how it swoops down.