When we were tiny tots awaiting Christmas day, we were, for the most part, oblivious as to how to decorate a Christmas tree.
We brought home our school-made Christmas ornament—of the Santa, colorful evergreen tree or glittery bauble variety—and found an empty spot on the tree to display our museum-worthy masterpiece. We rarely, if ever, thought about the order of operations to decorate a tree.
Eventually, we learned there is an order for how to decorate a Christmas tree and why it matters. (Hint: In a war between weaving garland into the tree versus hanging glass ornaments first, the former always wins.)
Here are a few must-know tips and ideas on how to decorate a Christmas tree in no time.
I distinctly recall hanging a Santa ornament I made in my first-grade class on our fresh, pine smelling Christmas tree.
A white, bushy beard, rosy cheeks and signature red hat defined Santa's face, which is really all the ornament consisted of; Santa's face, and a white braided string by which to hang it on the ever-full Christmas tree my mom painstakingly picked out at the tree farm.
I would choose a spot close to one of the lights to ensure my Santa ornament glowed, much like this gorgeous matte white glass ball ornament.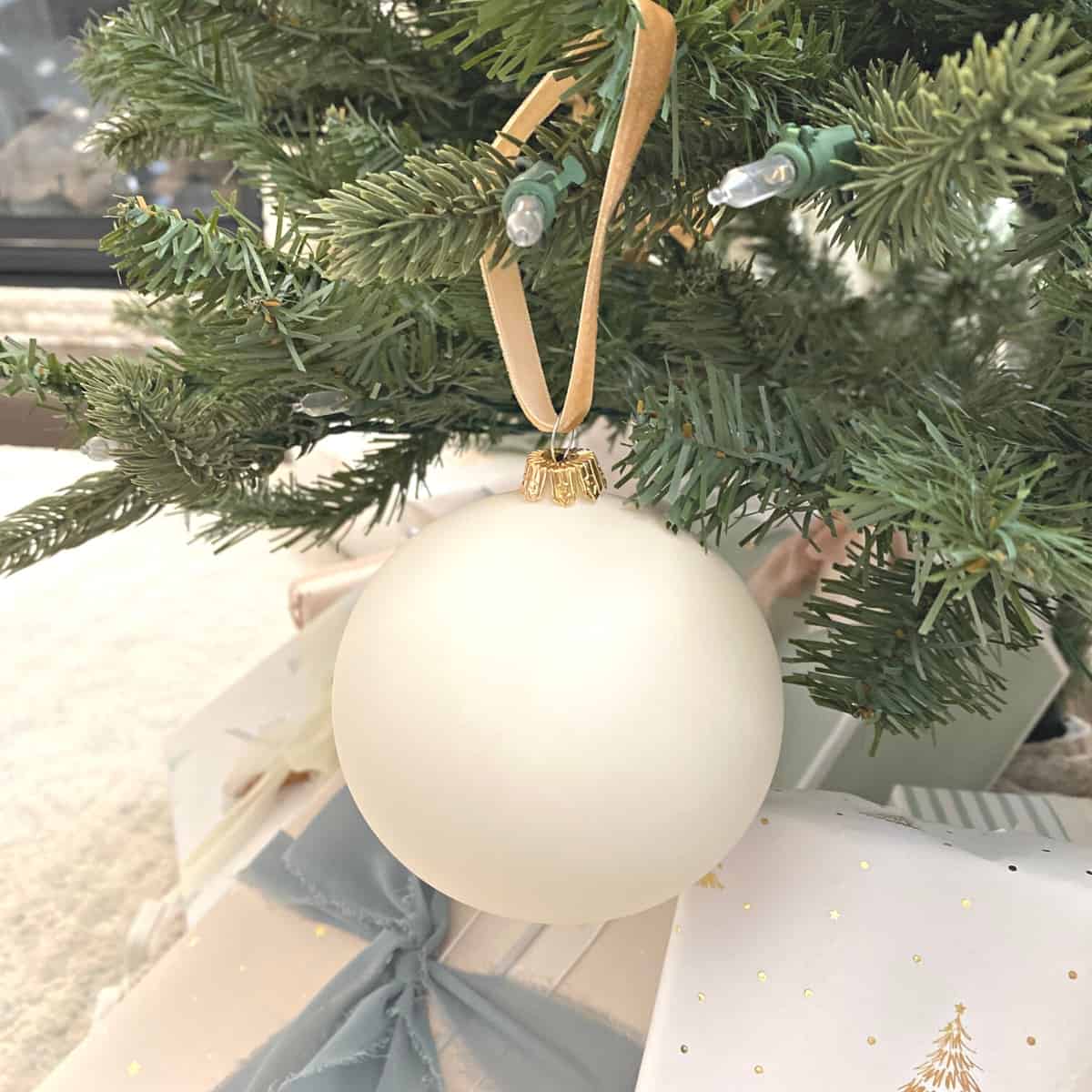 Make a Christmas Tree Decorating Plan
In my post on Christmas mantel decorating ideas, I explained how coming up with a plan to decorate is the actual first step in this whole process. A well executed plan removes at least one point of stress during the busy holiday season.
Settle on a Color palette
My favorite part of decorating our Christmas tree is settling on a color palette. (No, I do not change out our decorations every year.)
This year, in an effort to introduce calm into our living space at the holidays, I shifted away from traditional colors of red, gold and silver to a neutral palette. It's not for everyone, but it makes me happy.
Our fireplace mantel and tree are decked out in soft whites, natural wood tones atop greenery, as well as a hint of dusty blue, while the garland on the stairs has blush pink bows. Our soft, neutral color palette made its way into our presents as well. Check out the beautiful gift wrap ideas post for inspiration.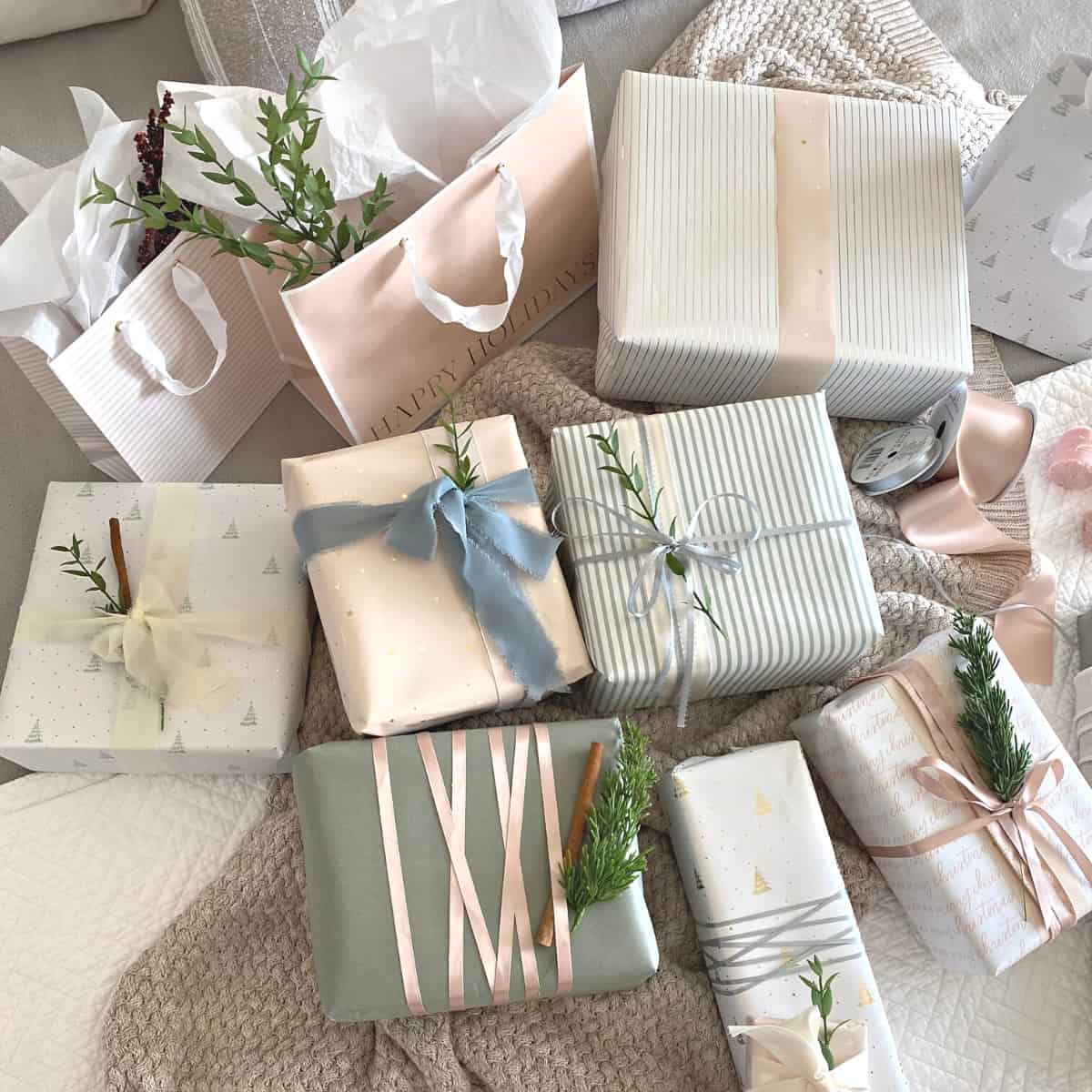 Seek Inspiration for a Theme
Once you've landed on a color palette, decide on an overall look you want. You may have found this post when searching for inspiration on Pinterest, which is a great place to research themes.
After you've looked through several pictures, review your work. You may notice a pattern emerging. Do you notice a similar style surfacing? Is there a color palette or use of materials you gravitate toward? Then, pick your theme.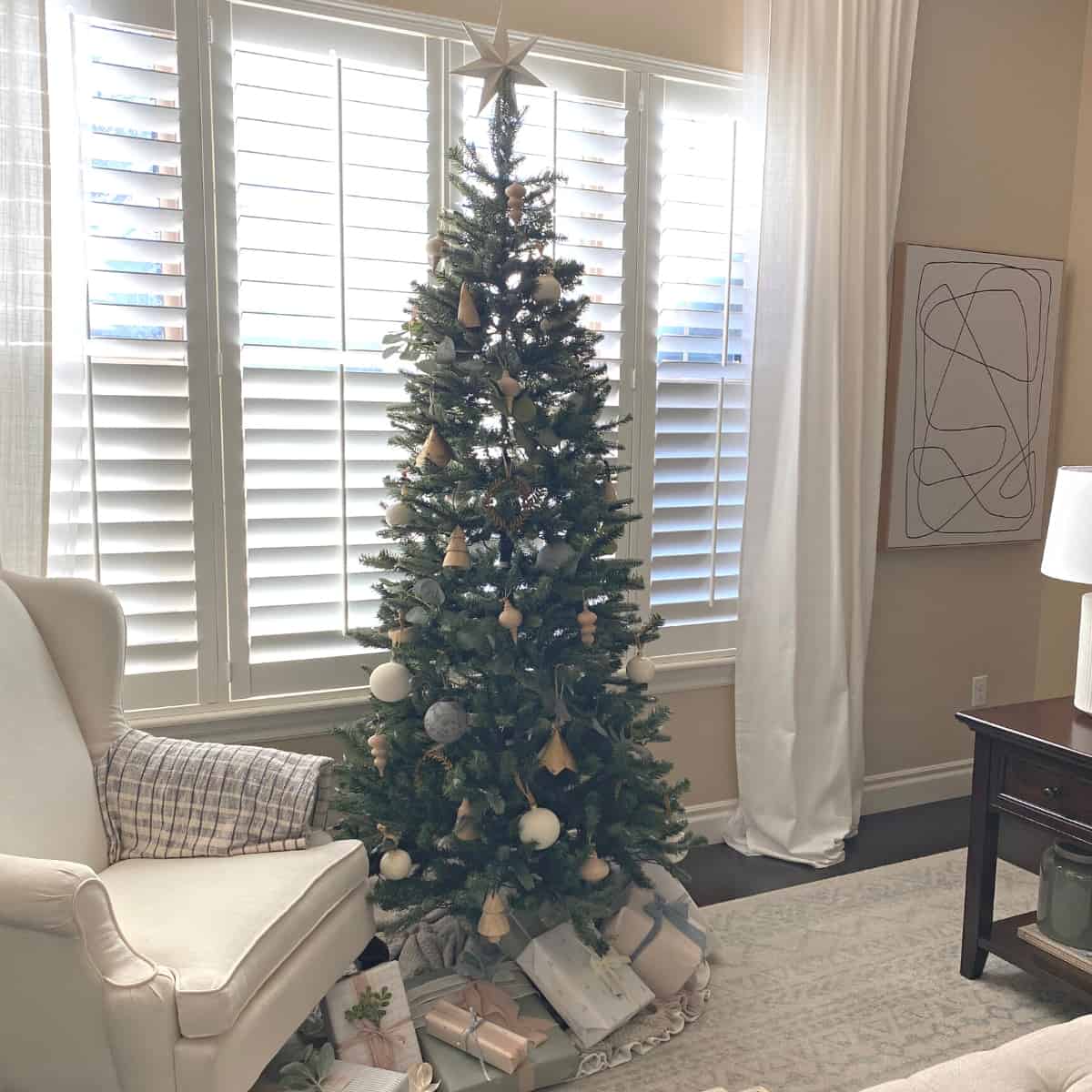 Supplies You Need to Decorate a Christmas Tree
Decorating a Christmas tree can be a fun family activity. Growing up, it seemed like a whole day affair. That could have been because my mom never got rid of any decorations. We had many, many, many ornaments. Each of us kids made a new one every year of elementary school, so decorations added up.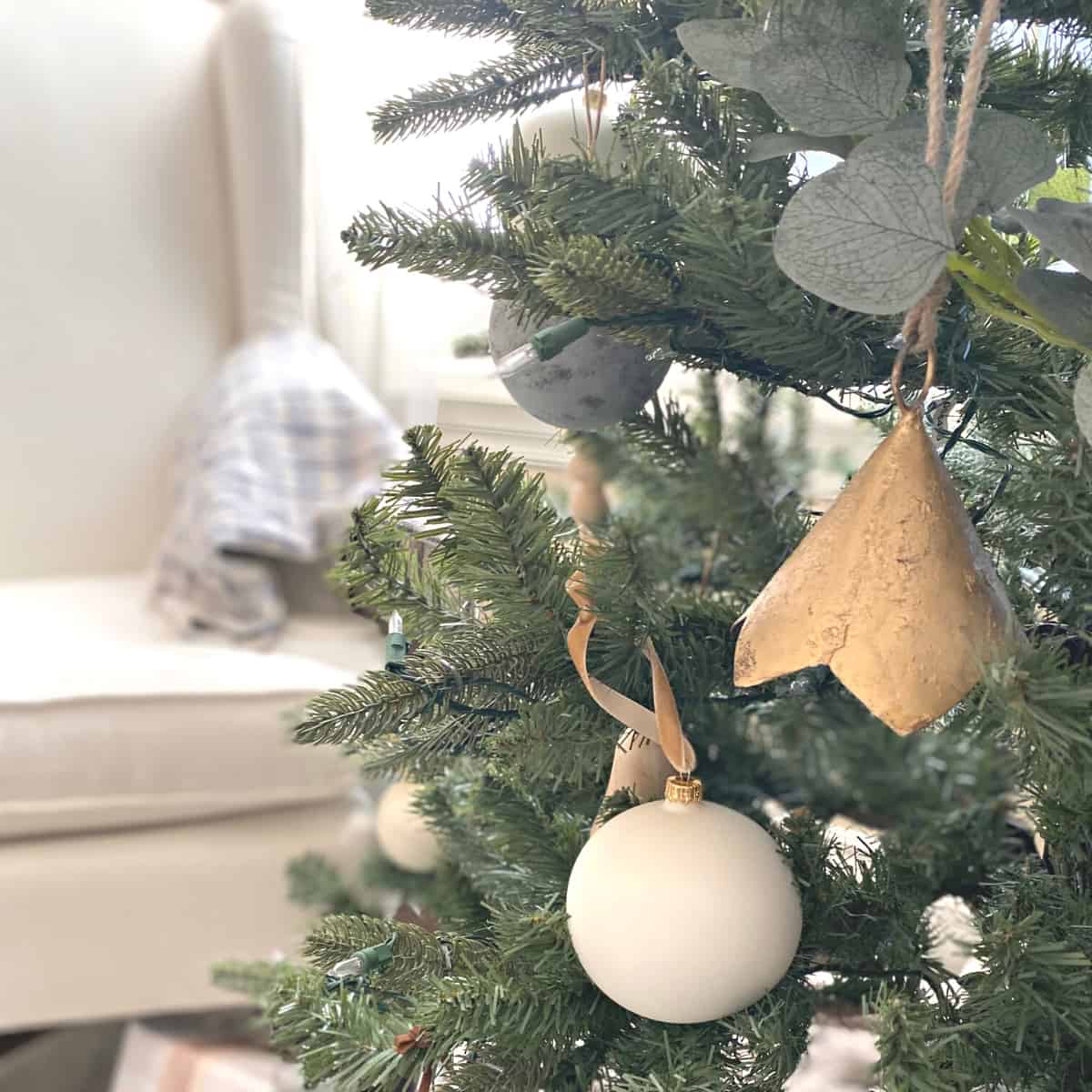 Preparation is key before embarking on decorating a tree. Make a list of the supplies you'll need to decorate and head to the store if you don't have something.
Nothing is worse than when you start to decorate the tree only to interrupt the flow mid-decorating for a supply run.
Here are some supplies you may need to decorate a Christmas tree:
Christmas tree - Whether you prefer a faux or a real Christmas tree doesn't really matter, as the process for how to decorate the tree is the same. I prefer a faux tree and even convinced my mom to switch to faux when I found this 6.5ft pre-lit, realistic looking Dunhill Fir tree that includes the stand.

Balsam Hill trees are probably the most well-known, though I haven't bought one yet. We will need to replace our tree soon to better fit our high ceilings and I have my eye on a Balsam Hill tree.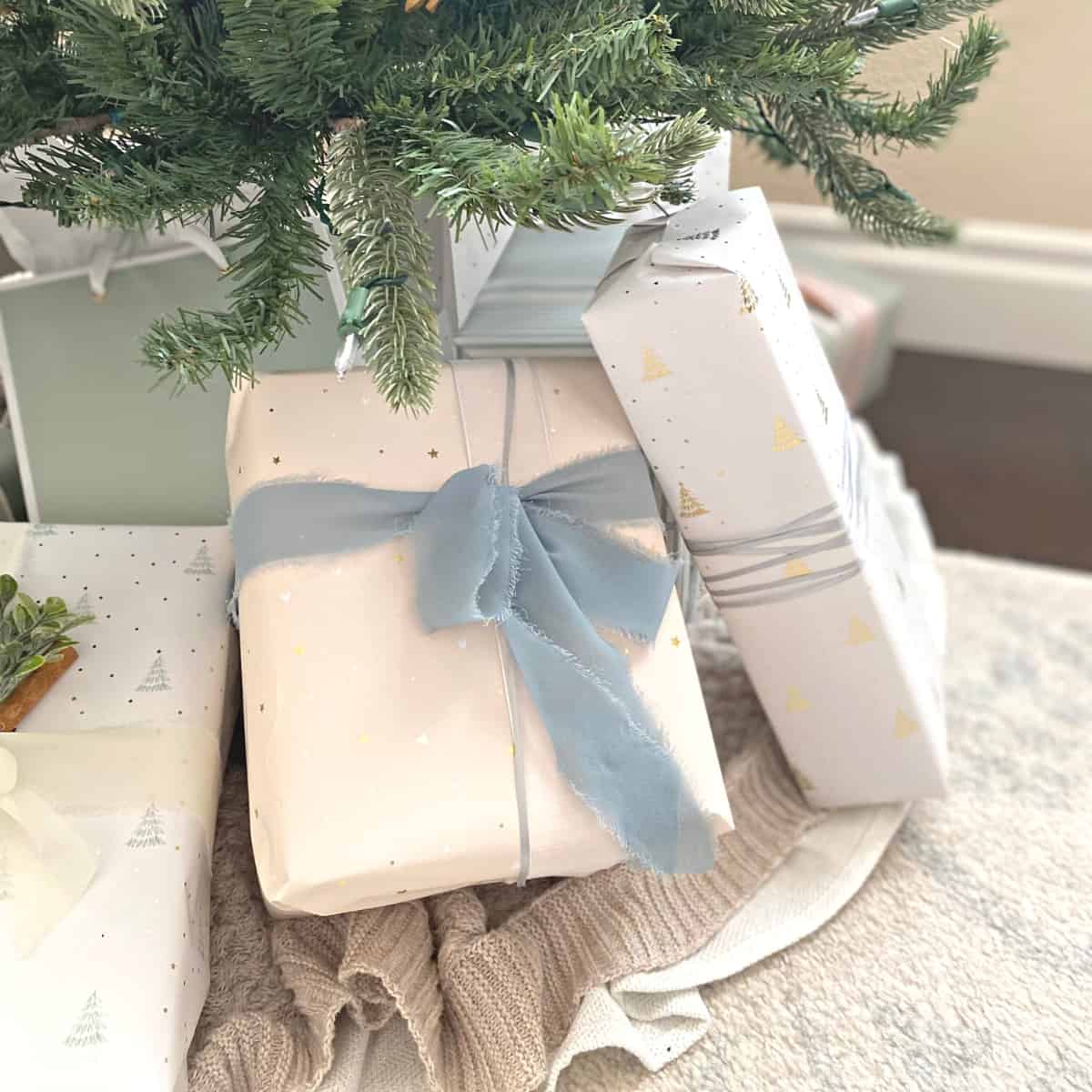 Tree stand - If your tree does not come with a stand, you will need to purchase one. They are fairly ubiquitous and can be found wherever you buy your tree. That said, depending on if you will use a tree skirt, planter/plant pot or collar, you need to choose the right size to fit both the tree itself as well as the tree skirt decor.

Pottery Barn typically carries large, gorgeous planters that may work for a Christmas tree. You may also find generous size planter pots at during Spring/Summer HomeGoods
Tree lights - Faux trees come in pre-lit or unlit options. (I recommend pre-lit to make setting up and taking down your Christmas tree that much easier.) Small LED lights—white or color—can be found at a near-endless variety stores around the holidays.

Target and Home Depot are my go-to shops for Christmas lights, because both retailers carry a wide selection. Also, the Wondershop brand of lights at Target are super cute.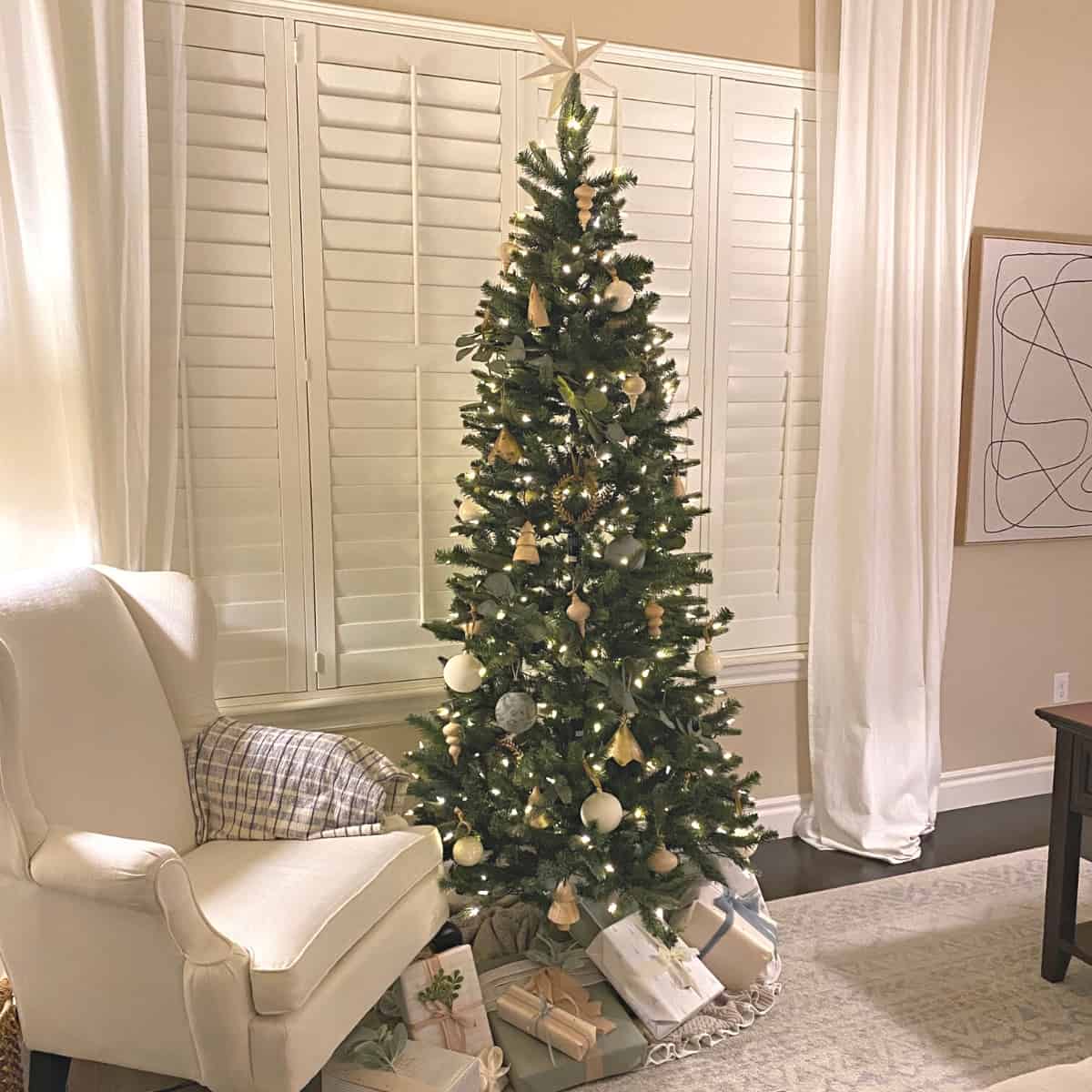 Garland - Wood beads, eucalyptus greenery, ribbon, or bell garland not only add layers to the Christmas tree, but also help fill in any holes, making the tree appear fuller. Joann, Michael's and Hobby Lobby have the best selection at the best prices for garland. These stores may also carry garland year-round online, so you can order when you have a coupon or when a great sale is on. I used two strands of eucalyptus garland on our tree.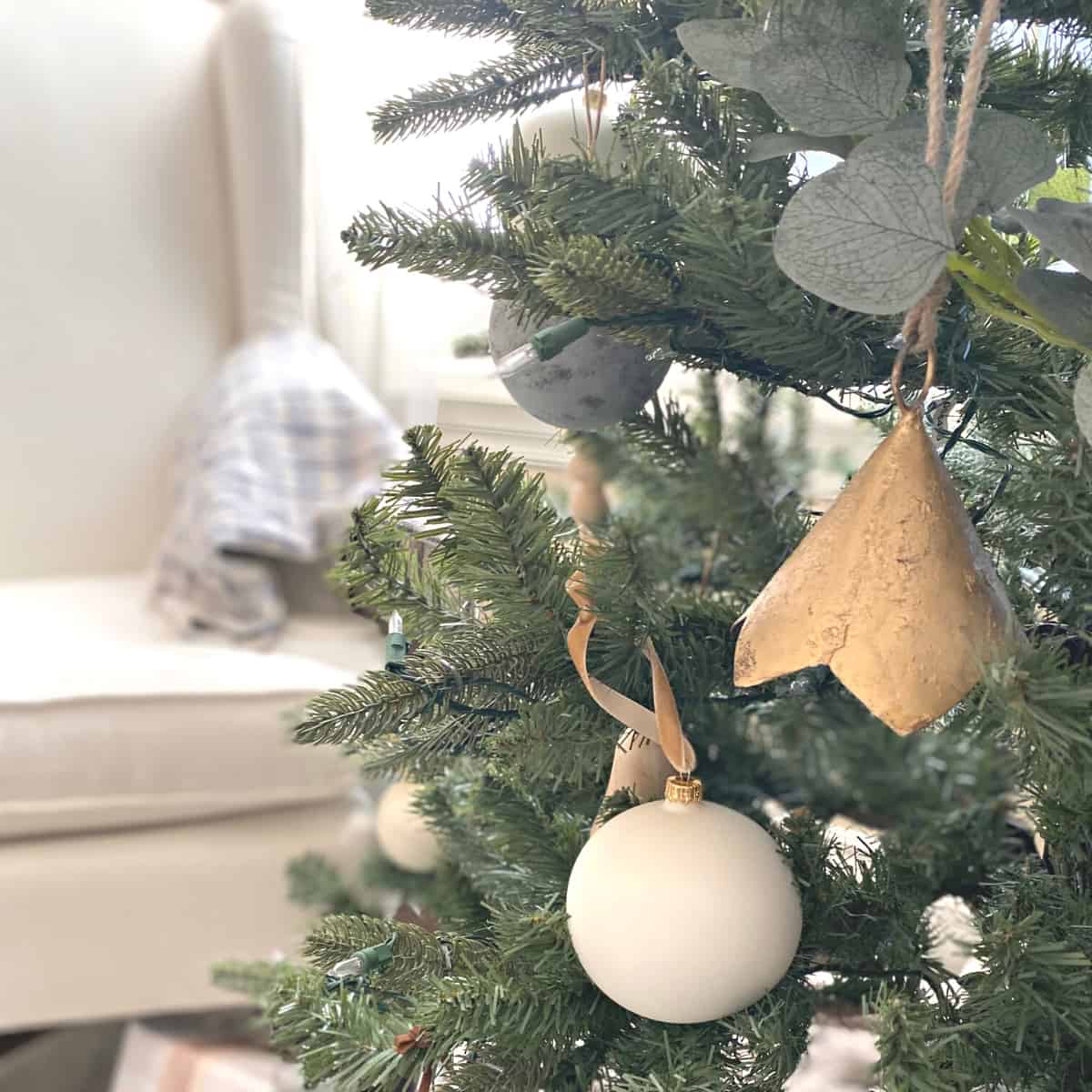 Ribbon - Another way to fill in any holes on your Christmas tree is to use ribbon. Ribbon enables you to add texture, break up the greenery or add color.

Joann, Michaels and Amazon have the best selection of ribbon. For the garland on our stairs I used nude satin (a taupe-pink color) 2 ½ " wide ribbon from the Save the Date ribbon collection at Joann. They have narrower sizes that would look stunning on a tree. Or, add a natural touch with burlap/jute ribbon.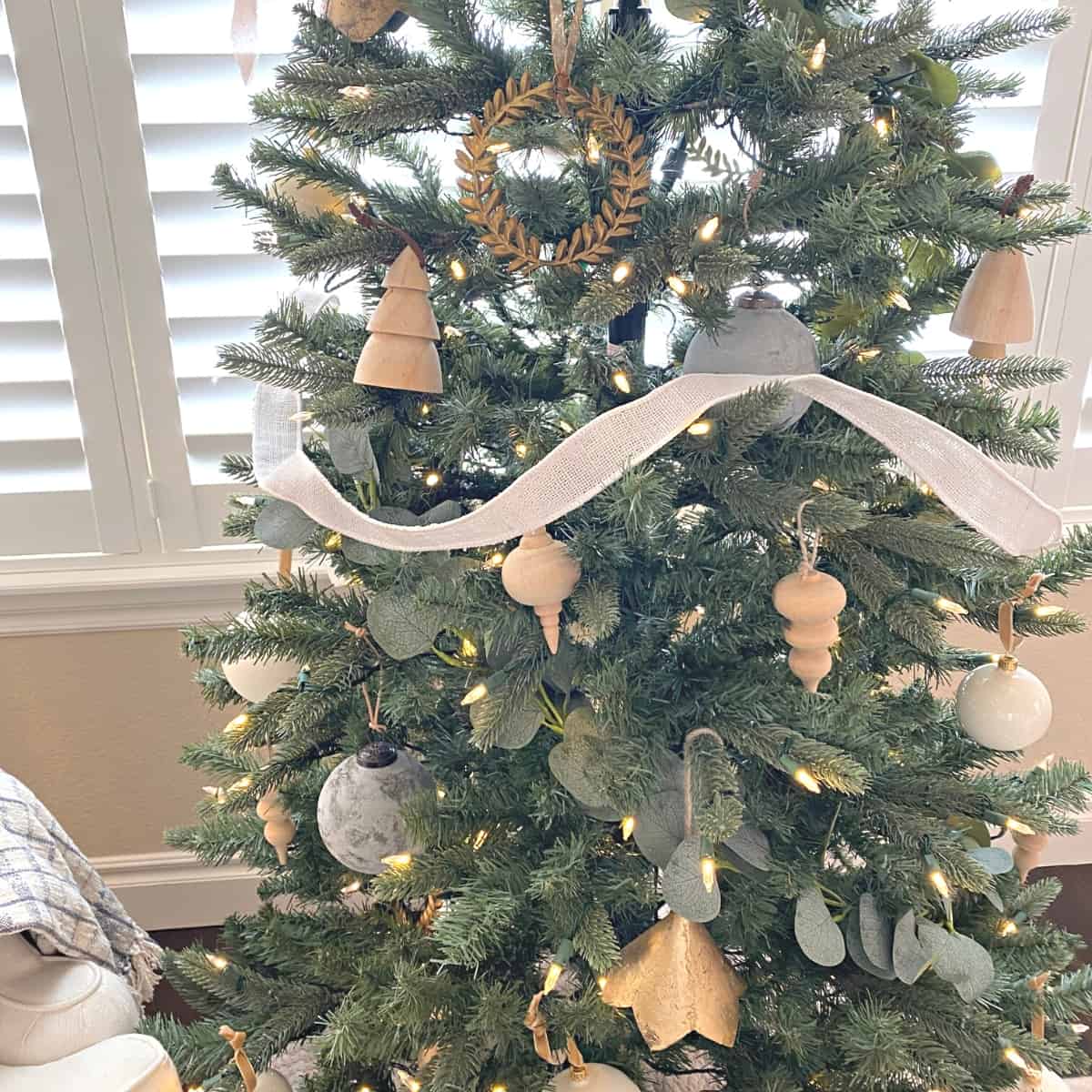 Ornaments - From round glass (or plastic) ball ornaments, brass bells and figurines to wood trees and tiny wreaths, ornaments provide infinite possibilities to decorate your Christmas tree with. Don't get me started on the color, shape and size of ornaments, as they, too, are near endless options.

Brooke & Lou, McGee and Co. and Joann will not disappoint for ornaments. This year, and shifting to neutral Christmas decorations, I bought white glass ball ornaments (matte and glossy) from McGee and Co. as well as dusty blue glass ornaments from Brooke & Lou, both of which are simply stunning. (I didn't know I could love Christmas ornaments so much.)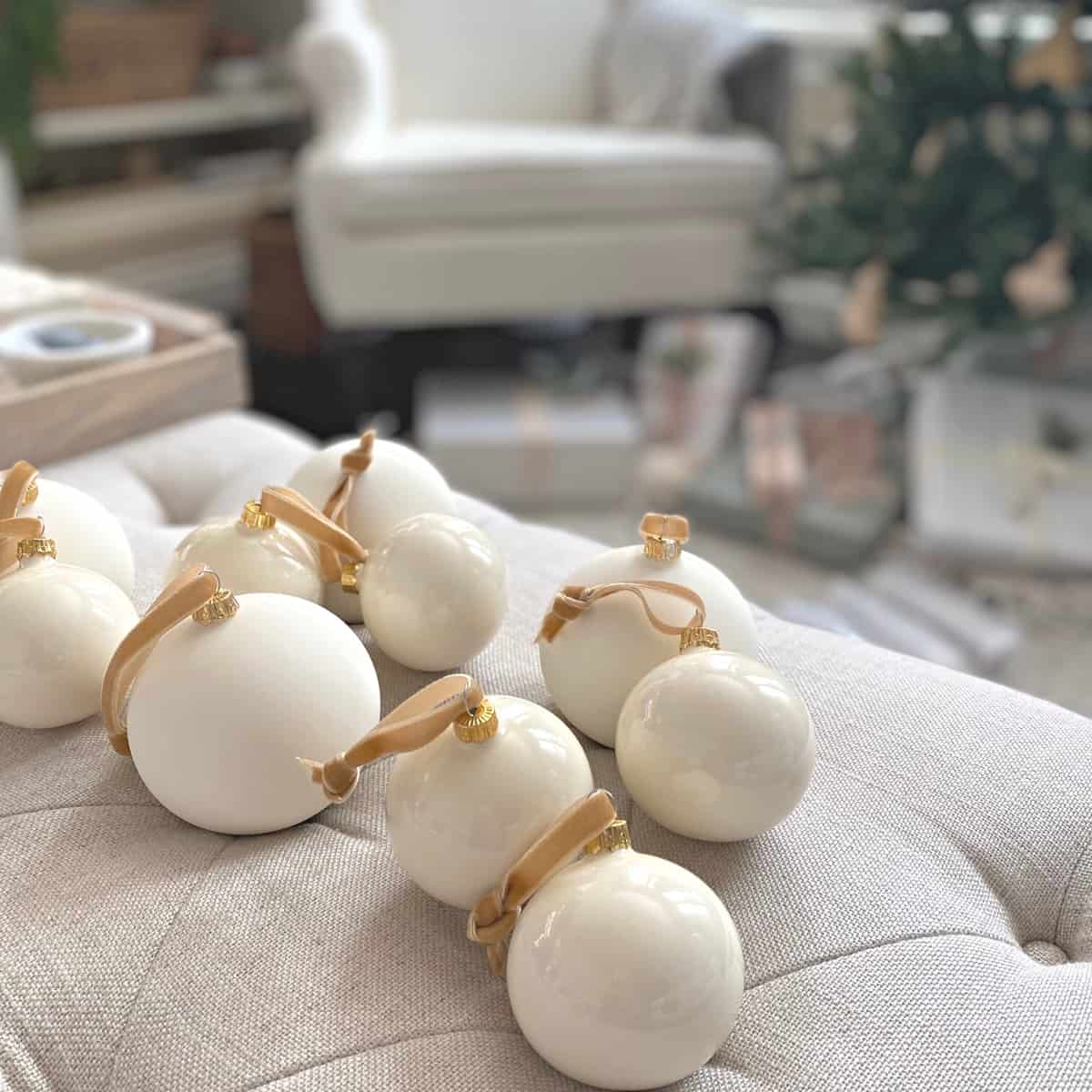 The white ball ornaments did not come with a string to hang it by, so I made my own out of this buttery, caramel colored velvet ribbon.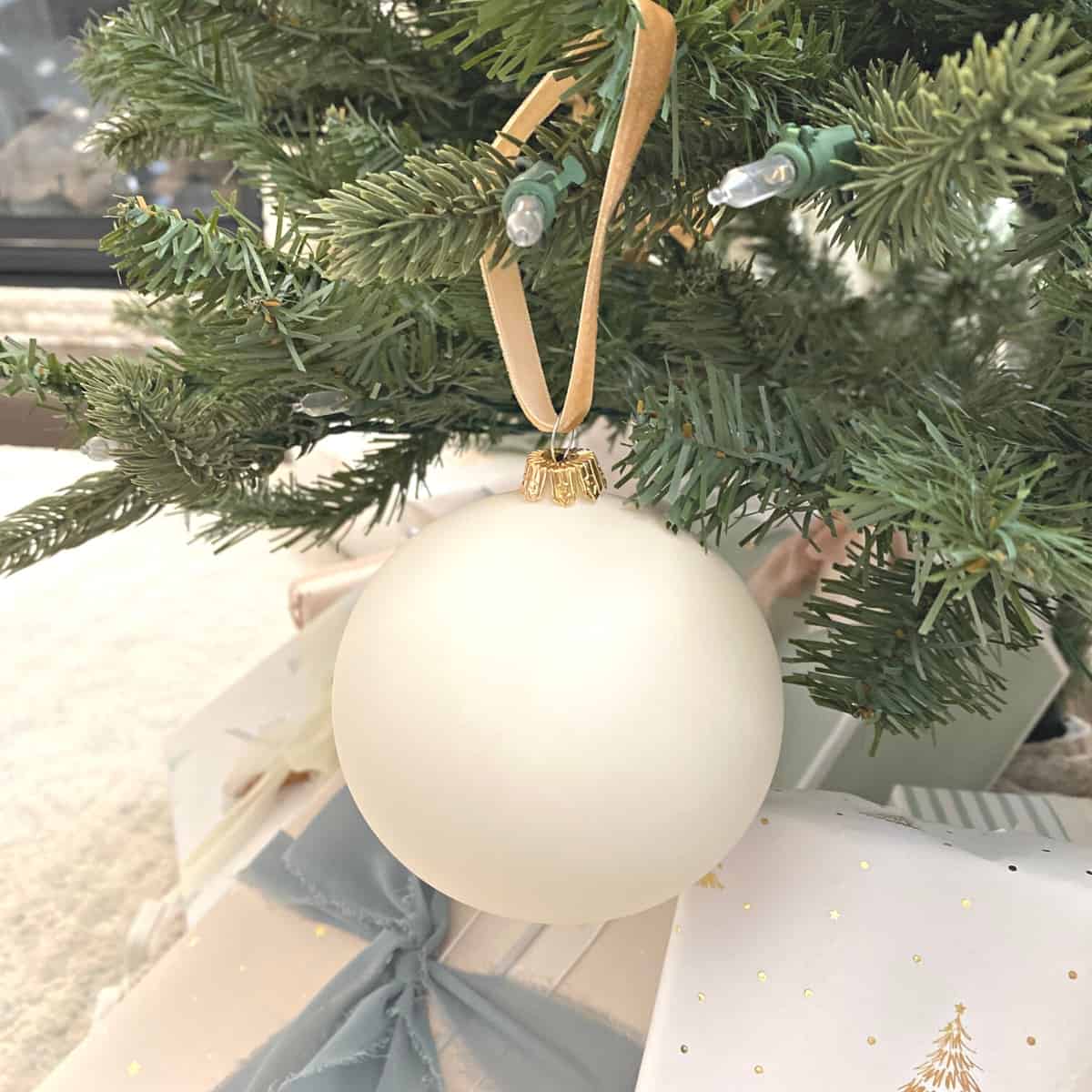 Tree topper - Of all the Christmas tree decorations, the tree topper tends to carry the most significance. Some opt for a glowy, lit from within angel with feathered wings, while others top their tree with a simple gold star. One is not better than the other, so choose whatever tree topper makes you happy like we did with our natural wood star from the Studio McGee x Threshold Christmas collection at Target. Understated in its beauty, we hope to have this topper for many years to come.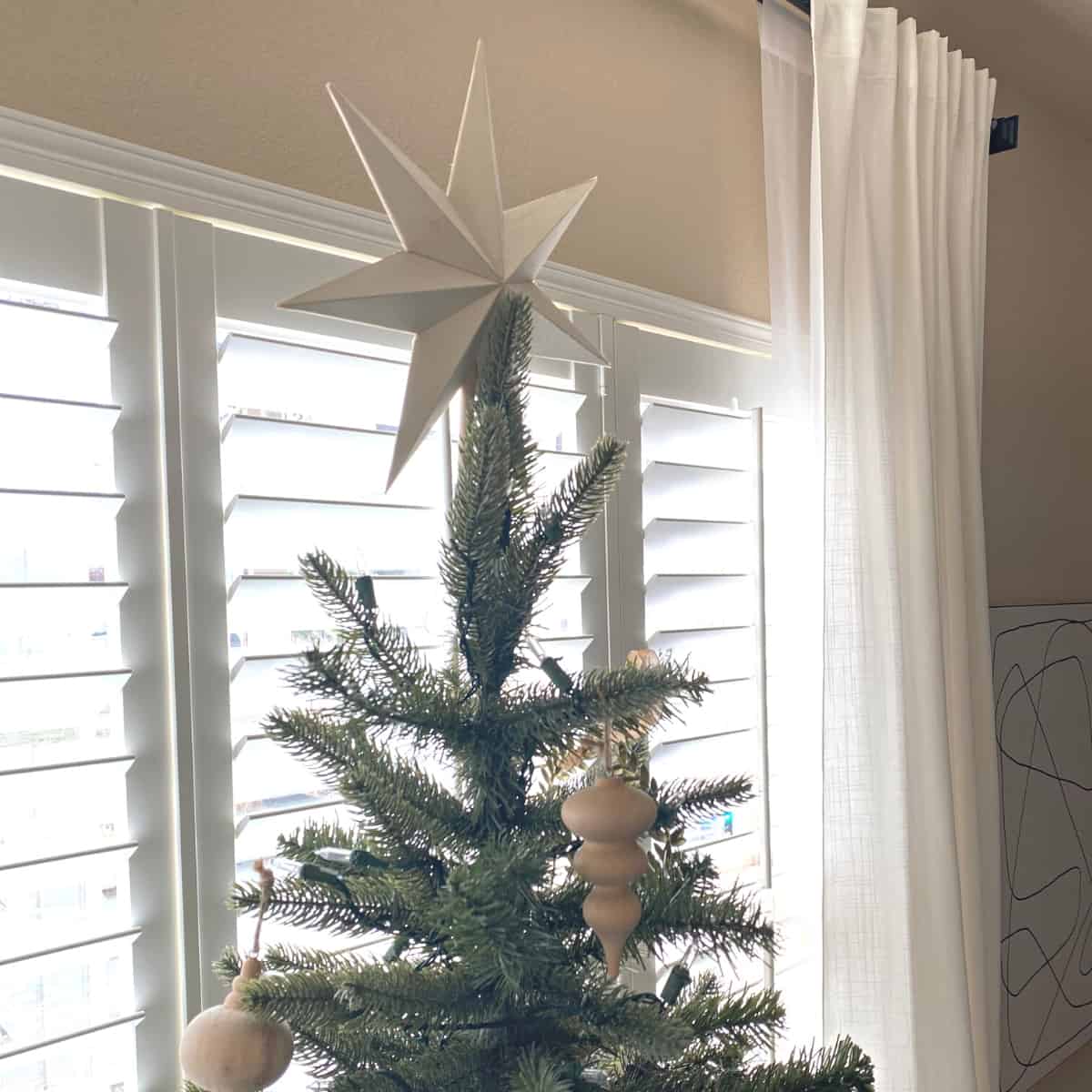 Step-by-Step How to Decorate a Christmas Tree
When it comes to decorating a Christmas tree, thinking about decor in terms of an order of operations will make this process much, much simpler. This should also help you avoid breaking any ornaments in the process.
Tip: Place the tree in its stand before the steps below. Moreover, if you plan to use a planter pot in lieu of a skirt or collar, place the tree in the pot before the steps below.
Here are step-by-step instructions for how to decorate a Christmas tree:
Step 1: Weave in Garland or String the Lights
If you plan to use any garland, start with the garland first. If you wait until after putting ornaments on the tree, especially fragile ornaments, there is a high likelihood you will knock an ornament off the tree, shattering it into a million pieces and your heart along with it.
String the lights on the tree first, if you do not plan to add any garland.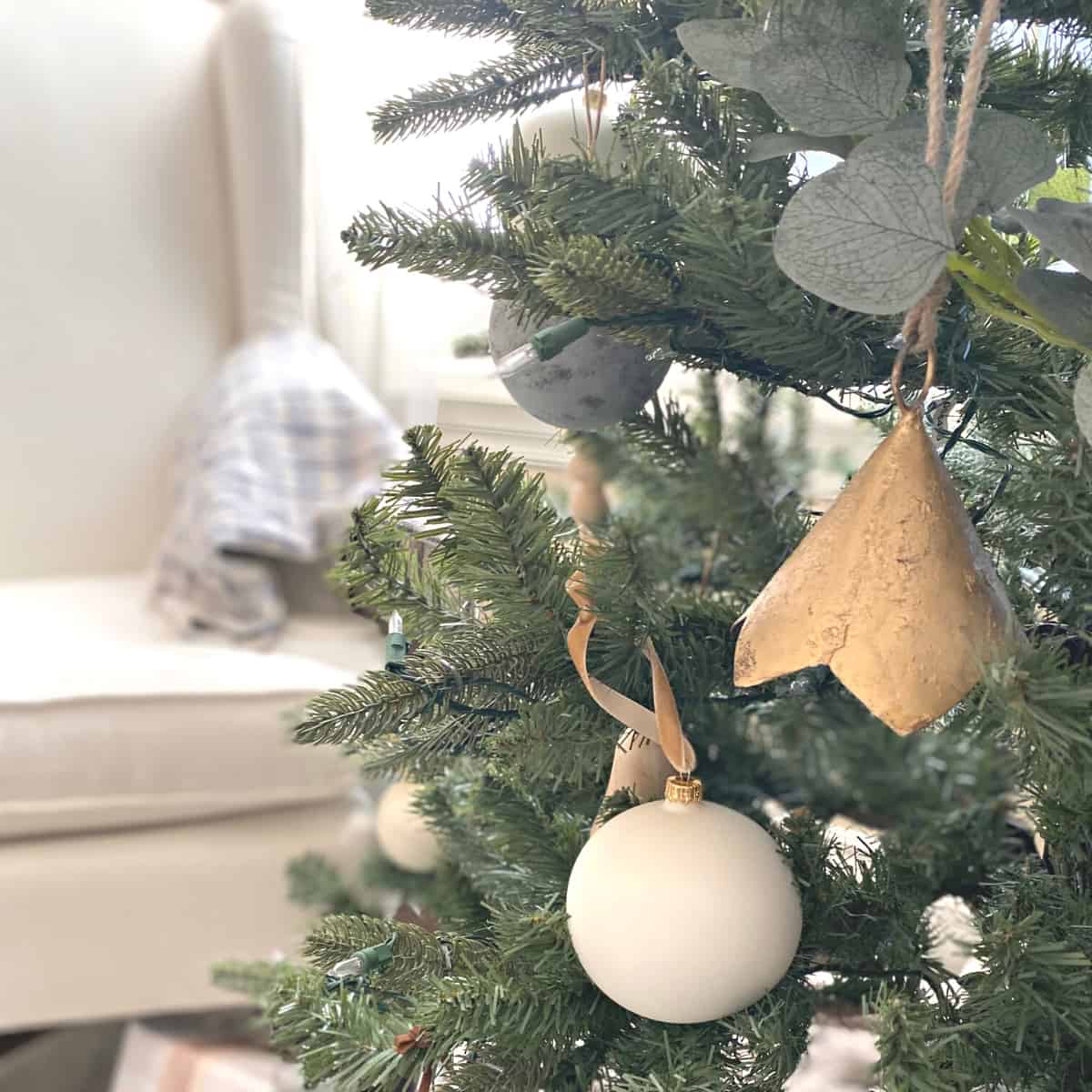 Step 2: Add the Tree Topper
You may have a sacred final moment of topping the tree with the angel or star, but, in reality, it is best to put the tree topper on after stringing lights or garland and before ornaments. You may be asking yourself why that is and the reason has to do with the possibility you will, again, knock a precious ornament off the tree in the process of adding the tree topper.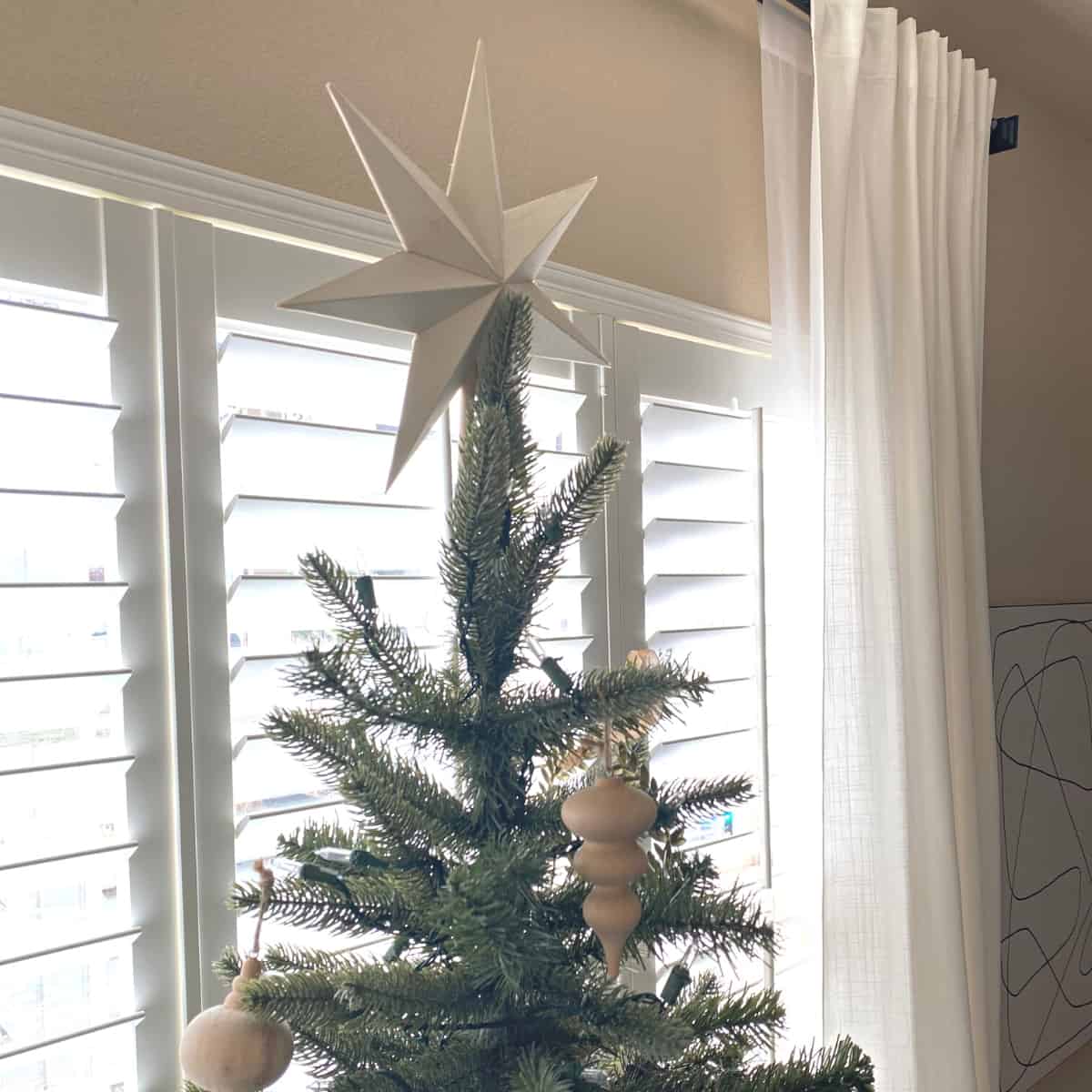 If you have an unstable, fragile tree topper, and you tend to shake the tree while adding ornaments making it likely the topper will fall off and break, add the topper before the ornaments.
Step 3: Place Large Ornaments
After lights, garland and the tree topper, place the large ornaments on the tree, beginning with large ball ornaments.
Starting with large ornaments makes it easier to evenly distribute smaller ornaments on the tree later. Additionally, larger ornaments can more readily hide any holes in the tree.
Place larger ornaments deeper into the tree to get a fuller effect.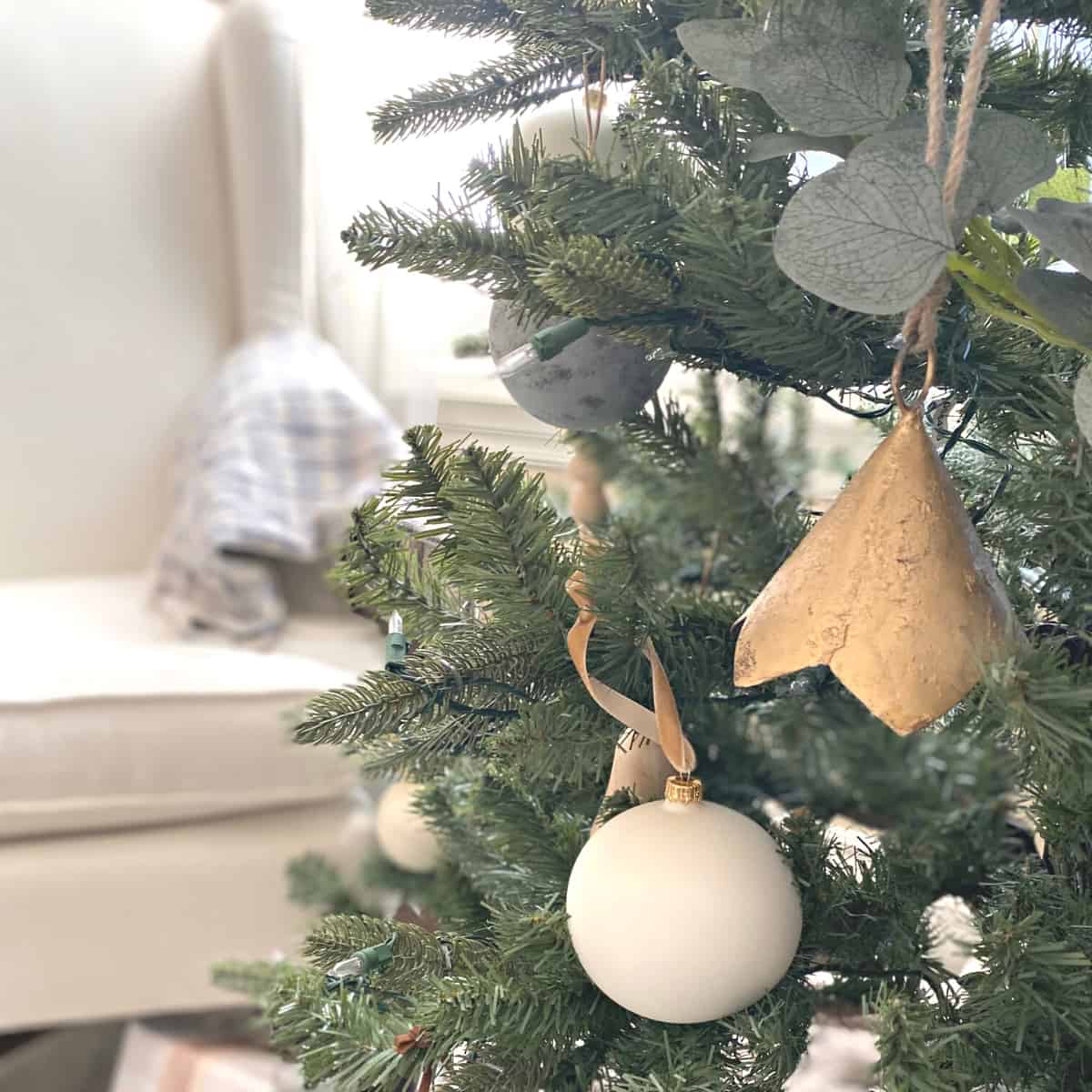 Tip: Step back from the Christmas tree from time to time to ensure you've covered any holes and are happy with the placement of ornaments.
Step 4: Place Small Ornaments
After the large ornaments have been placed, move onto smaller ornaments.
Start with small ball ornaments, as you may find distributing ball ornaments to be easier before adding oddly shaped ornaments.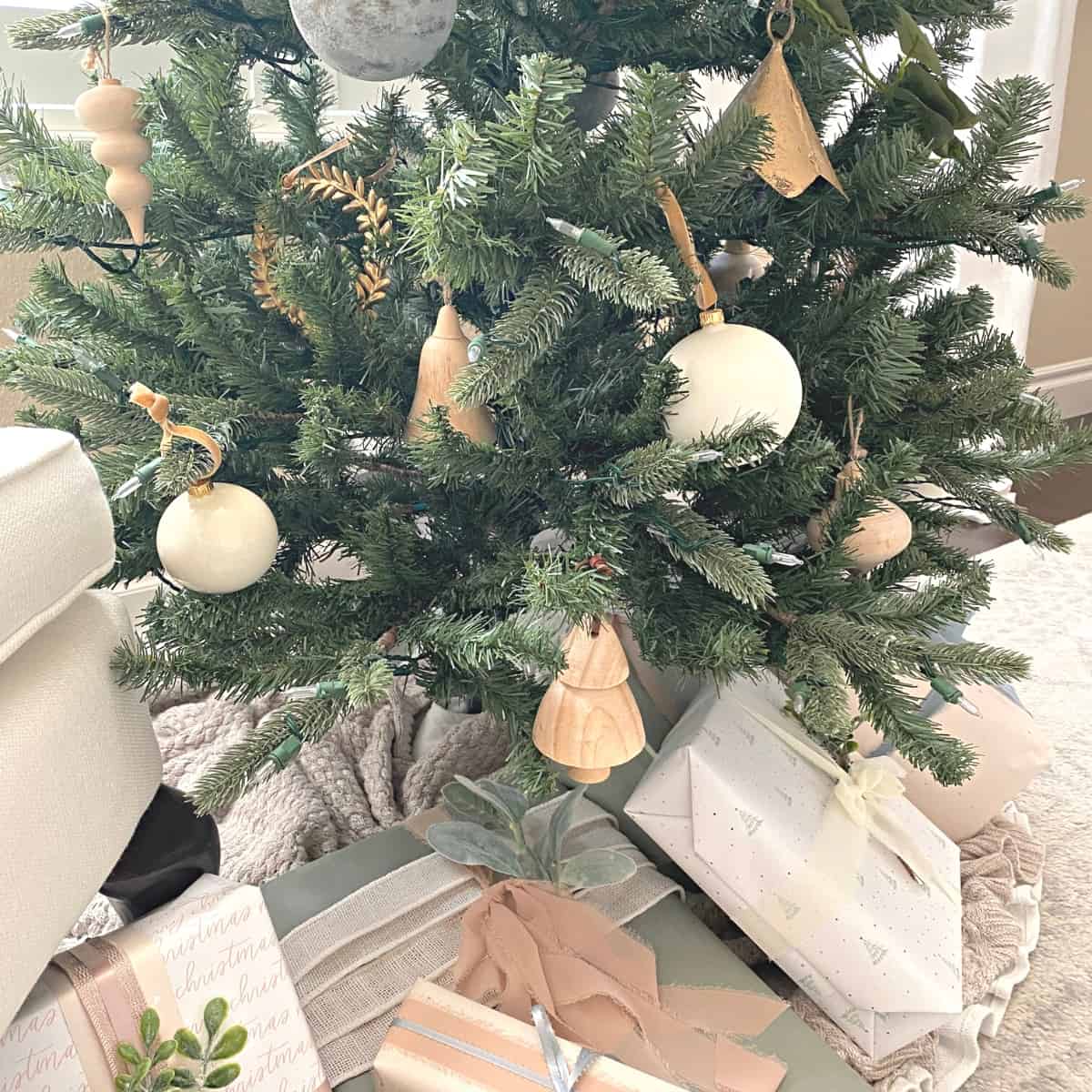 Step 5: Tie Ribbon Bows or Add Tinsel
If you plan to tie bows on a few tree tips or drape tinsel on some of the boughs, both should come last, but before the tree skirt.
Be gentle, while also moving slowly, so you don't disturb the ornaments.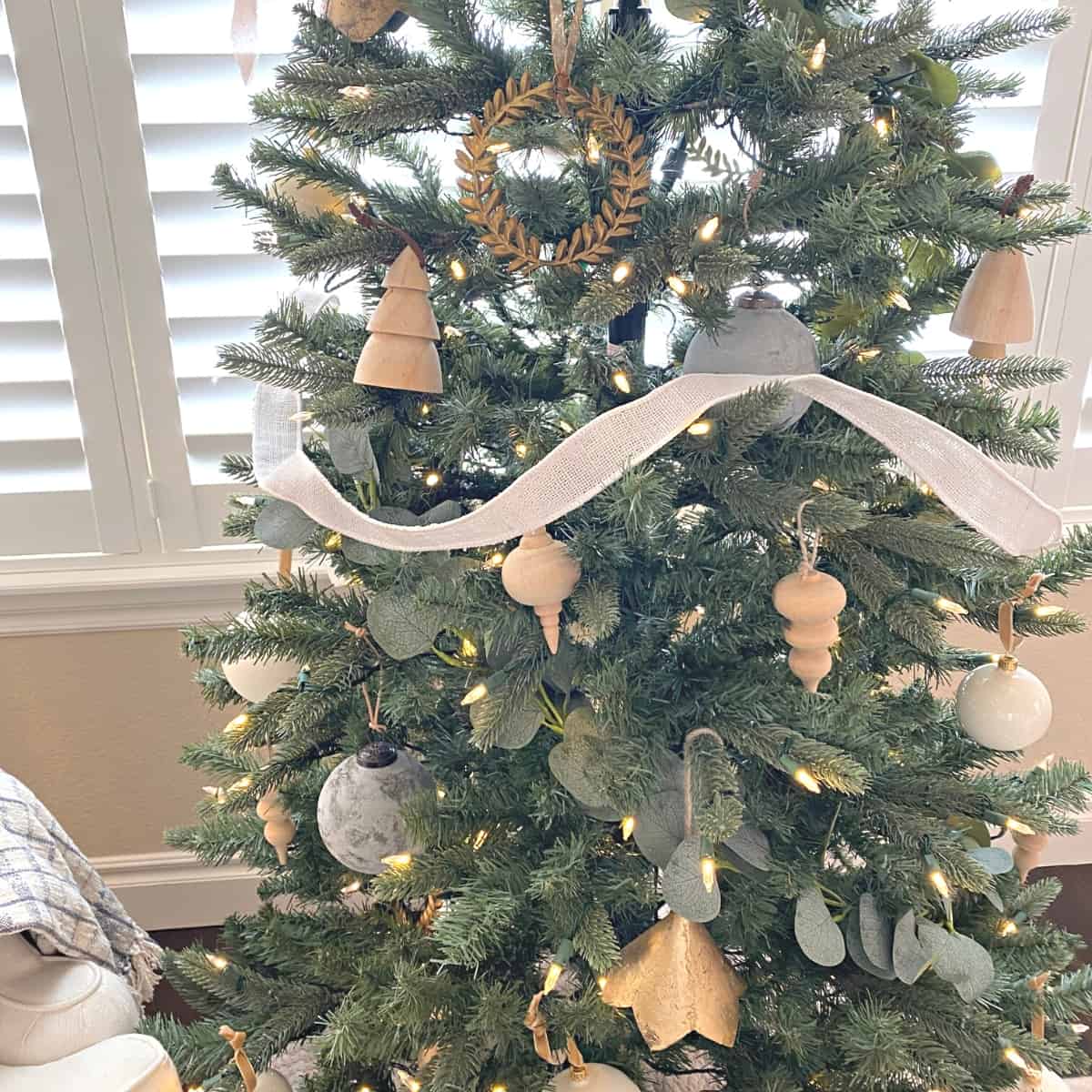 Step 6: Arrange the Tree Skirt, Collar or Blanket
The final step to decorate a Christmas tree is to arrange the tree skirt, collar or decorative throw blanket (in our case) to cover the tree stand.
Arrange the skirt last so you don't trip over it while decorating the tree.
When you have presents ready, arrange them under the tree. Read my post on how to wrap presents or get inspirational gift wrap ideas.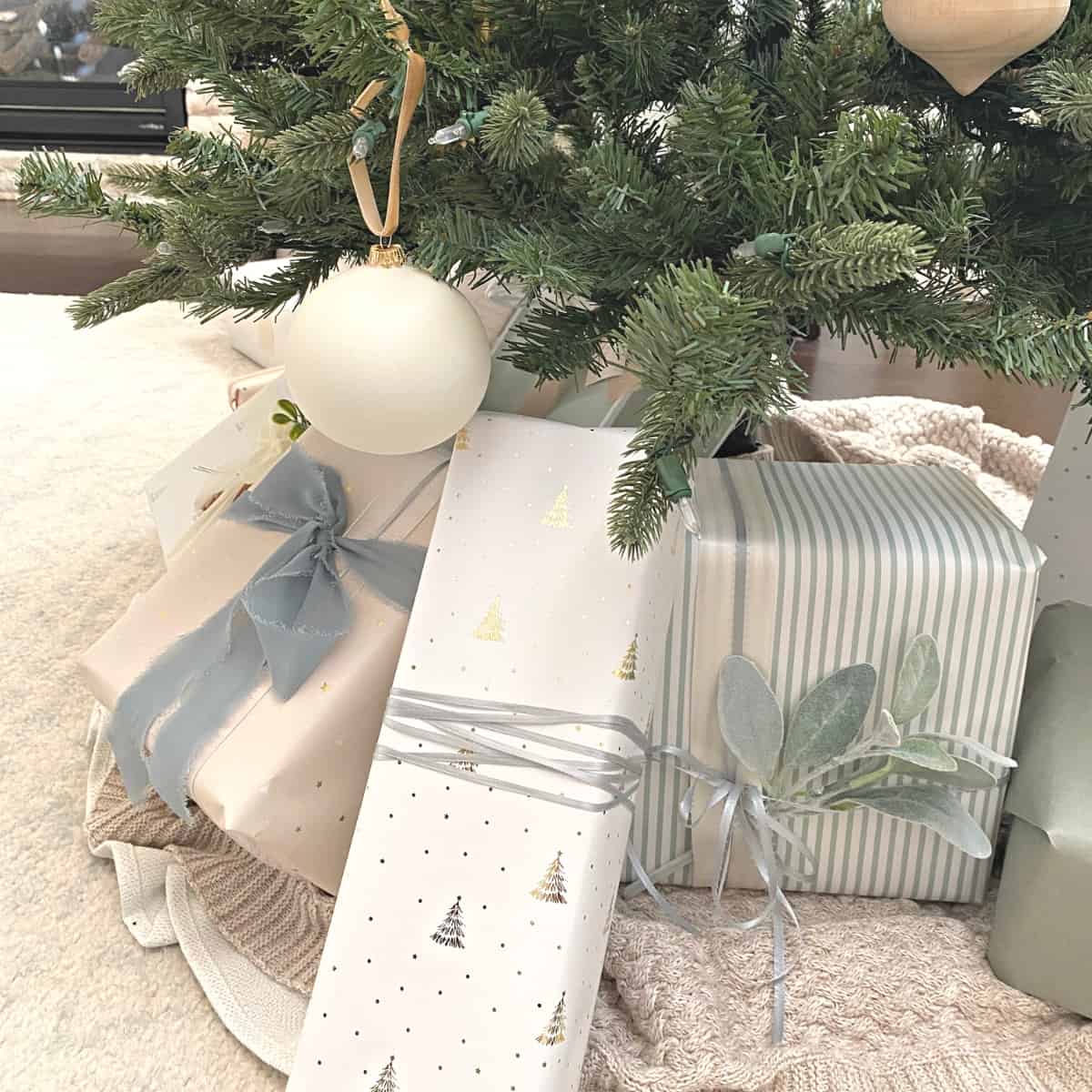 ---
Frequently Asked Questions
What is the correct order to decorate a Christmas tree?
The correct order to decorate a Christmas tree may depend on who you ask, but there is an order of operations that may work for you.

Start with garland, stems or string the lights. It's more difficult to weave garland, stems or lights into the tree when ornaments are hanging in the way.

Next, add the tree topper. Unless you move the tree considerably while adding decorations, it's much easier to place the topper before you've added the ornaments.

Then, add the large ornaments, filling in any holes. Given the size of large ornaments, you can place them deeper in the tree, but still be visible. Hang small ball ornaments next, as it's easier to evenly distribute ball ornaments before adding small, odd shaped ornaments.

Next, if you are using ribbon for bows, tie bows on a few tree tips or drape the tinsel over some of the boughs.

Last, add the tree skirt or collar. Your Christmas tree is ready for presents!
How to decorate a Christmas tree to look full?
To make a Christmas tree look full, weave garland into the tree. Use eucalyptus, a different type of evergreen (i.e., cedar, pine, fir, spruce) or add picks/stems. You can also add wood bead garland, bell garland or even long lengths of wired edge ribbon as garland.

After you've added the garland, fill in any holes with large ornaments, placing them deeper in the tree but still visible. Add the other ornaments and consider tying bows on some of the branch tips to further make your Christmas tree look full.
Do you decorate the back of a Christmas tree?
You can decorate the back of a Christmas tree, but it might not make sense for every situation. For Christmas trees in the middle of a room, decorating the back of the tree makes sense, because you will see every angle of the tree. However, for a Christmas tree placed in a corner that does not back to a window, there is no reason to decorate the back unless you want to.