How to style a console table to create a welcoming entryway, is a fairly quick process. The entryway is the first place guests see upon entering your home and you want it to be welcoming.
To create a welcoming entry does not require much, but a little, thoughtful styling.
A decorated entryway console table is probably the most popular method of entryway styling. Depending on the size of your entryway space, you may or may not have room for a console table.
With so many ideas for how to style a console table, it can be challenging to know where to begin. So, I made it easier for you. Follow along and learn how to style a console table like a pro.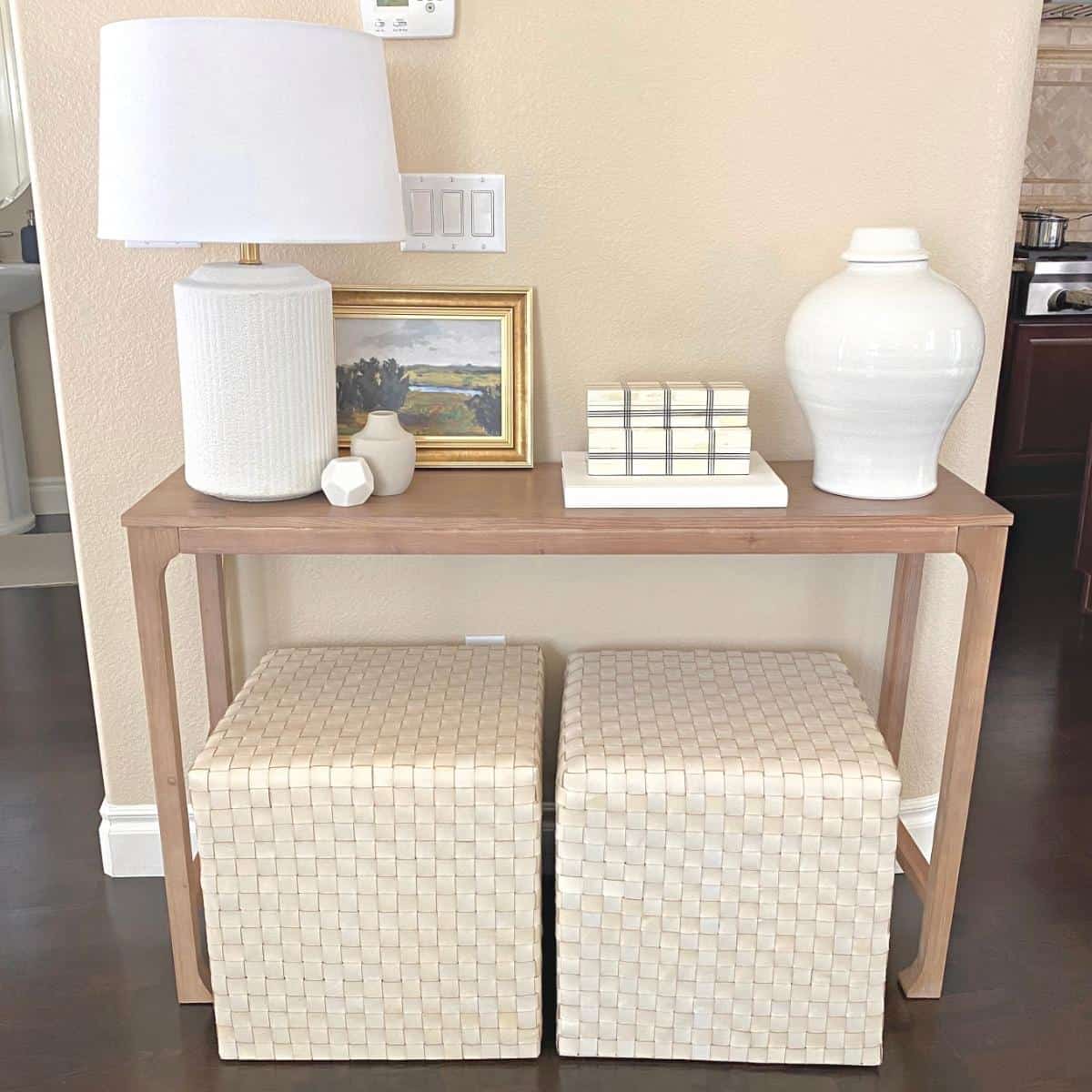 What Decor Pieces You Need to Style a Console Table
Decorating a console table can be quick if you recently purchased items specifically for this project, or if you have pieces you can pull from around your home.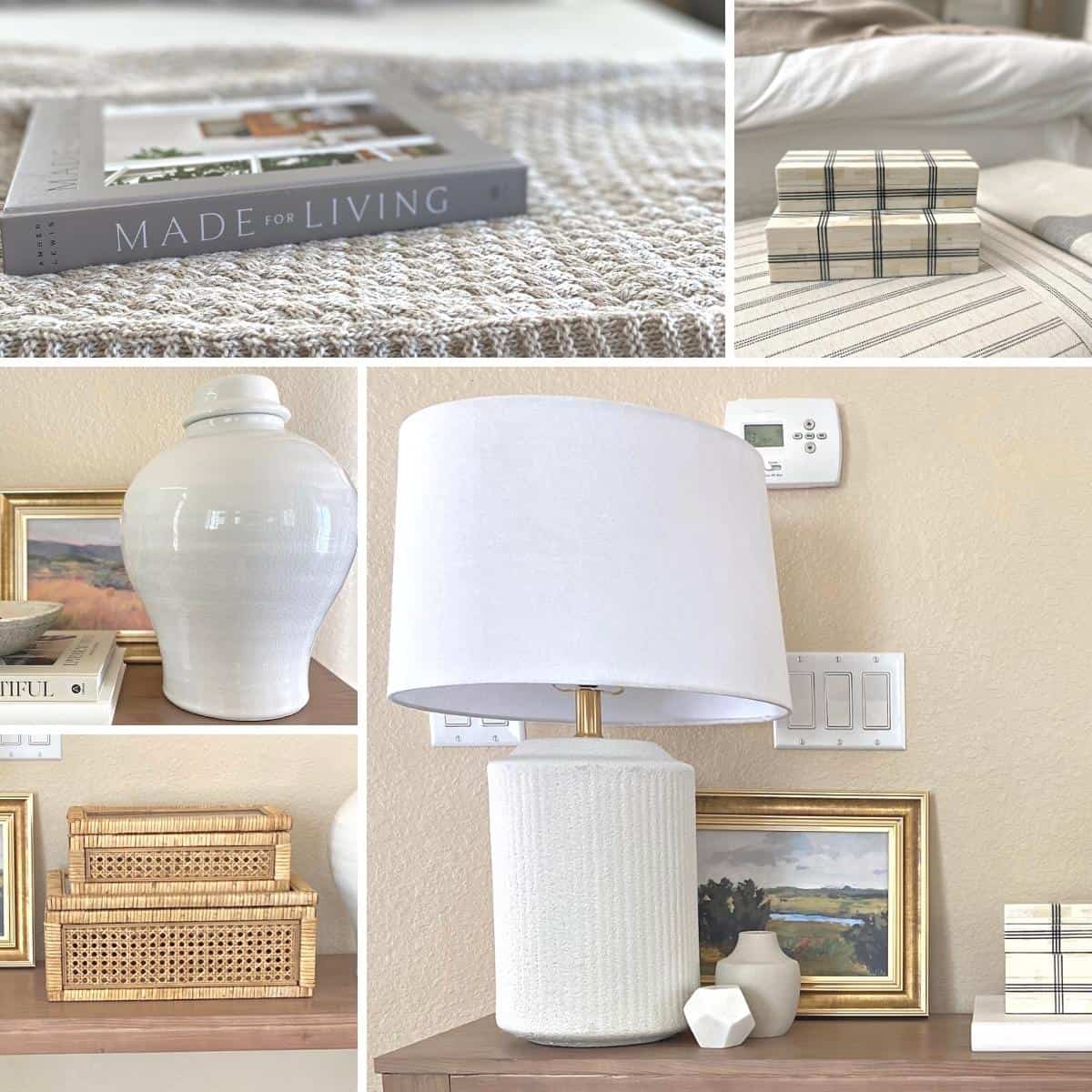 Some of the most common console table styling decor pieces include:
Table lamp
Artwork
Mirror
Stacking boxes
Books
Bowl
Vase
Greenery – real or faux
Decorative accessories/objects
Rug
Ottoman or pouf
Baskets
Beads/garland
This list covers an array of items that are typically easy to source. Note that pieces you choose should also vary in size, shape, texture, and color.
Variations in decorations keep the space interesting. It also ensures the design doesn't fall flat. (I'll get into that more in a bit.)
The Rule of Thirds in Design
You don't have to go to interior design school to understand a few basic design rules. Instead, you just have to know a few key principles of design that can help achieve a well balanced look.
The rule of thirds, or the golden ratio as it's also known, is one such principle. In a nutshell, this rule is all about breaking a space into thirds to achieve balance and proportion.
Once you have this in mind, and depending on the size of your console table, look at it as if it were in three sections.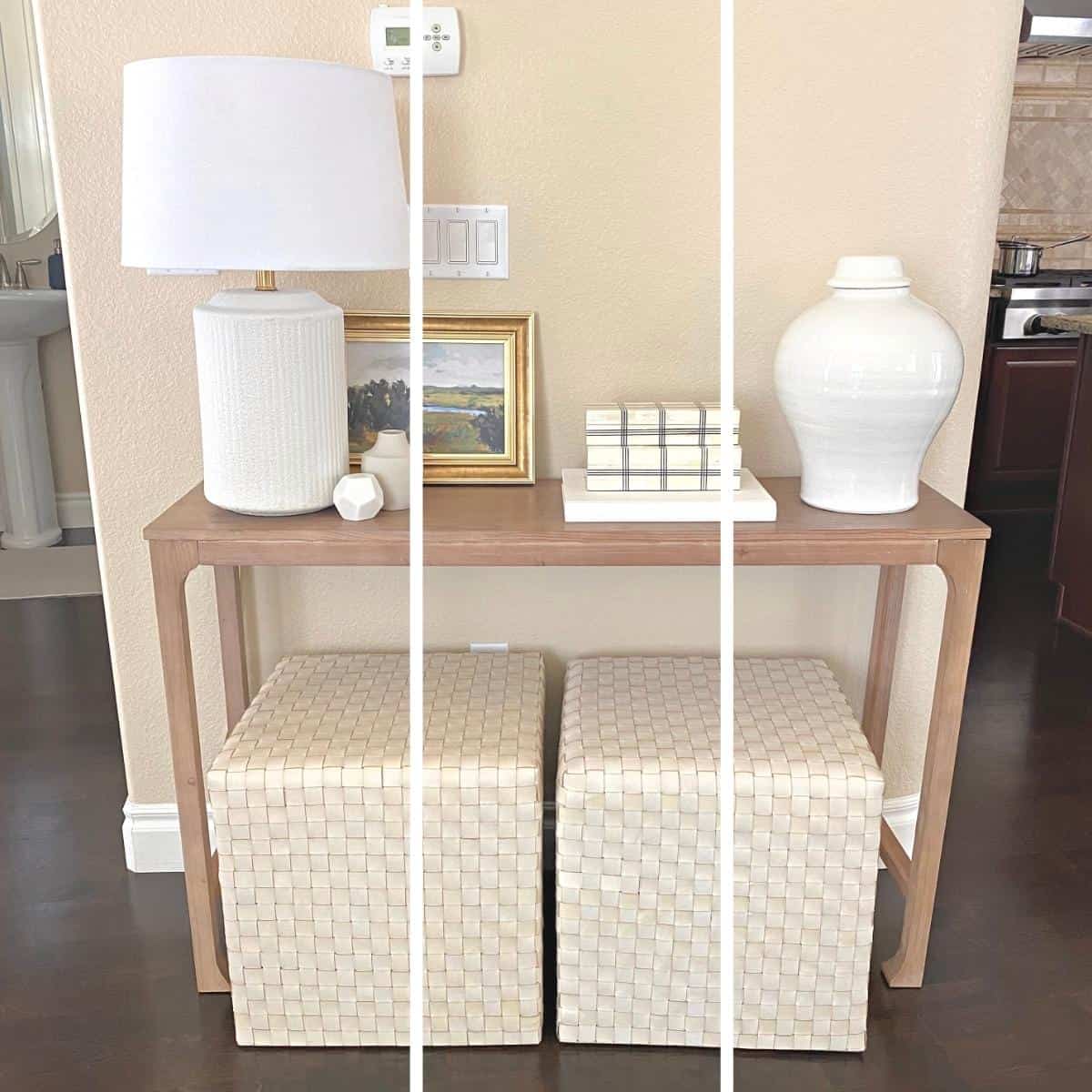 Imagine placing decor pieces in each section, leaving enough space between the individual sections to distinguish the groupings. With that said, the items should still feel connected. .
Tip: If thirds isn't your thing, or if your console table is on the longer side, try fourths or fifths.
Don't place objects too far apart. In the end, you're looking for balance and proportion.
Negative Space is a Good Thing
When I used to design creative for marketing campaigns during my career in tech, I truly loved the white (negative) space between the various elements.
Negative space ensures breathing room and is, in my opinion, one of the most understated aspects of great design.
Aesthetics of Odd Numbers in Design
Just like the rule of thirds breaks a space into distinct but connected sections, odd numbers play a vital role in achieving great design.
When placing items together, odd numbered groupings are more aesthetically pleasing to the eye. There are books written on this subject, so I won't go into too much detail here.
I usually like grouping three decor pieces together.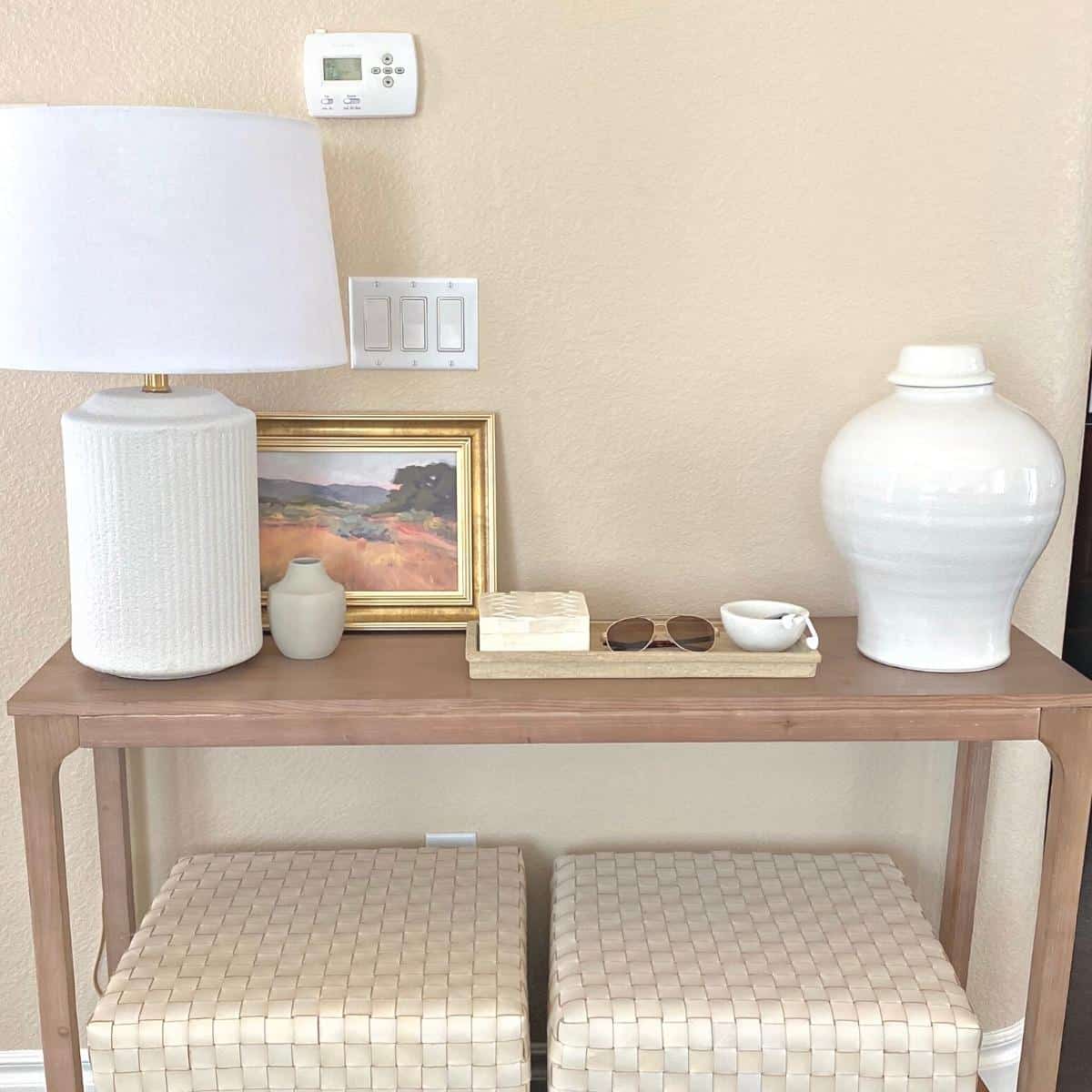 If I place the items on a tray, I don't necessarily include the tray in the group of three. It just depends on what it looks like when I step back to take in the console table styled as a whole.
The same goes for stacked boxes.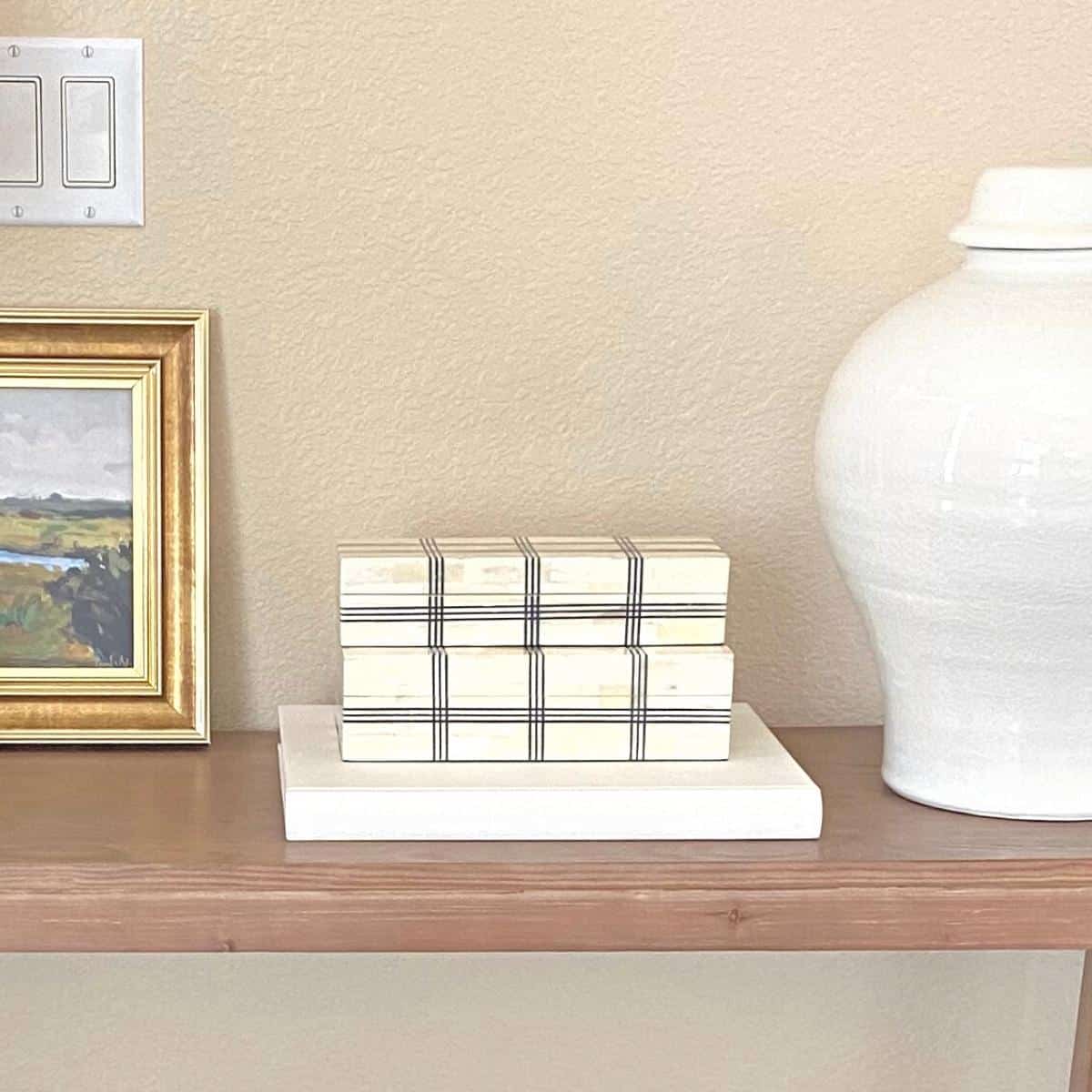 I stick with two and I usually add a very small object offset to one side or stack them on top of a wider object, such as a book.
To add movement and interest, vary the shape, height/size, texture, and color of the decor pieces.
How to Avoid Flat Design
It is easy to style your console table only to realize something doesn't look right. You can't pinpoint what it is, but you feel it.
It is entirely possible that the design you've come up with is flat.
Typically, this happens when the decor pieces, combined with the other elements of your home—paint color, flooring, console table finish—don't offer enough contrast or interest.
Don't get too worked up about it. Even professional interior designers can fall into this trap.
If you think this has happened to your design, here are a few things you can try:
Bring in a contrasting color through the decor pieces
Swap out the table for a different table
Add artwork to amp up the interest
After you've changed a few things out, step back and reassess. Because styling a console table is all about decoration, making small changes can have a great impact on the look and feel.
Keep trying until it looks the way you want it to.
Console Table Styling Ideas
With the basics in mind, let's take a look at how to style a console table different ways.
Ignore the beige wall color. We will eventually embark on a (practically) whole house reno, including painting ALL of the walls a shade of white, and this wall will also include wainscoting.
What to Place Under the Console Table?
What you place under the console table depends on the shape as well as if there is any space underneath.
Baskets are popular, providing a storage solution for shoes or toys.
One large or two small ottomans give you latitude on the design as well as enable you to bring in texture or color.
Storage Bins with a patterned fabric add interest.
For our entryway, I used two ottomans since we needed a place to take shoes on/off.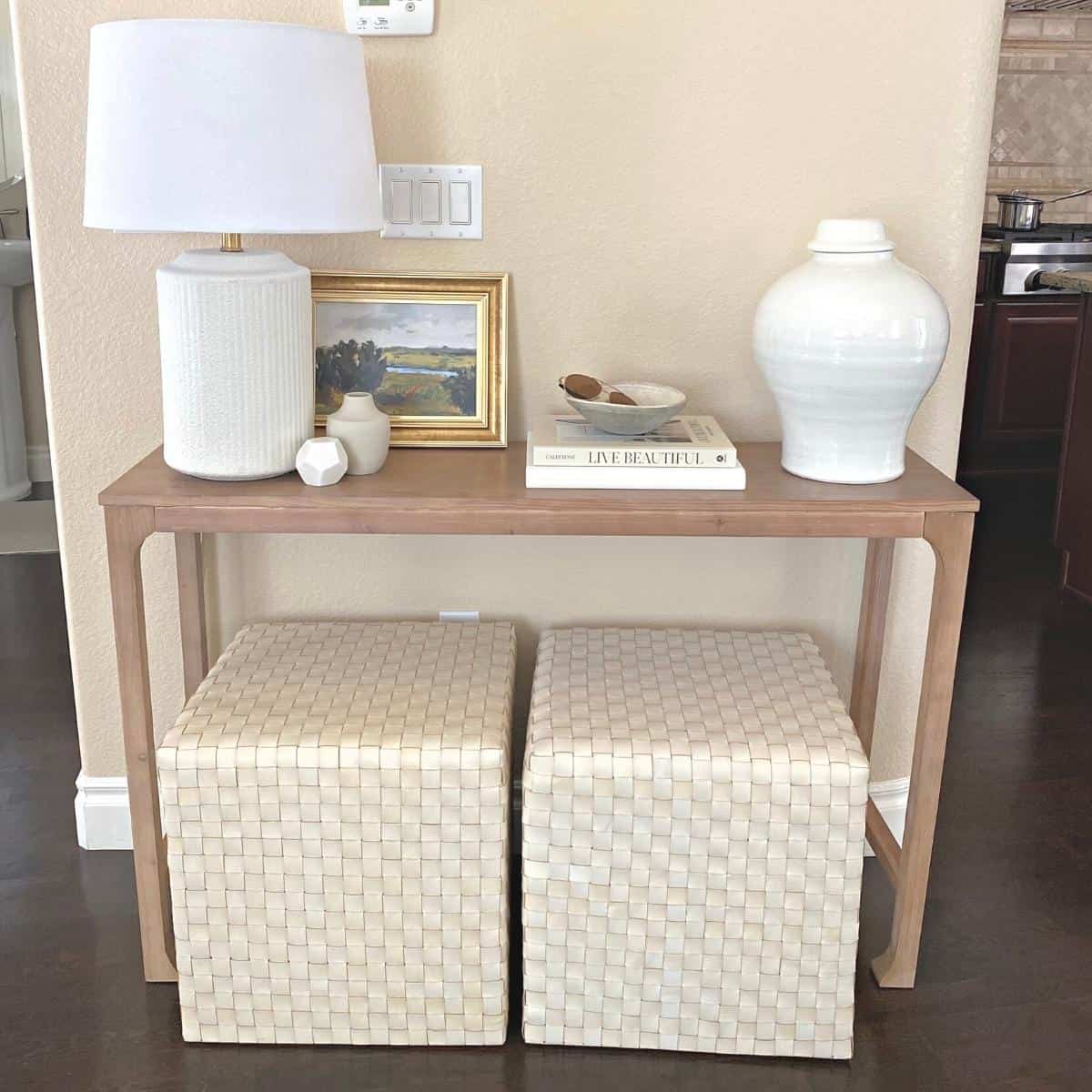 I found these stunning genuine leather neutral textured ottomans at T.J.Maxx online. They come in and out of stock, like most things at the T.J.Maxx family of stores (T.J.Maxx, HomeGoods, Marshalls, HomeSense, and Sierra).
They have these in a black ottoman, tobacco colored ottoman and the cream color I have.
Console Table Styling Idea #1
To create balance from the start, I often flank each side of the console table with taller items.
For example, a large, tall lamp on the left, with a large, slightly shorter vase on the right. Or, two lamps on each side, as you'll see in the following pictures but in no particular order.
This first console table styling idea is one of my favorites. Simple in its structure, while remaining functional, layering home decor pieces is the defining characteristic of this design.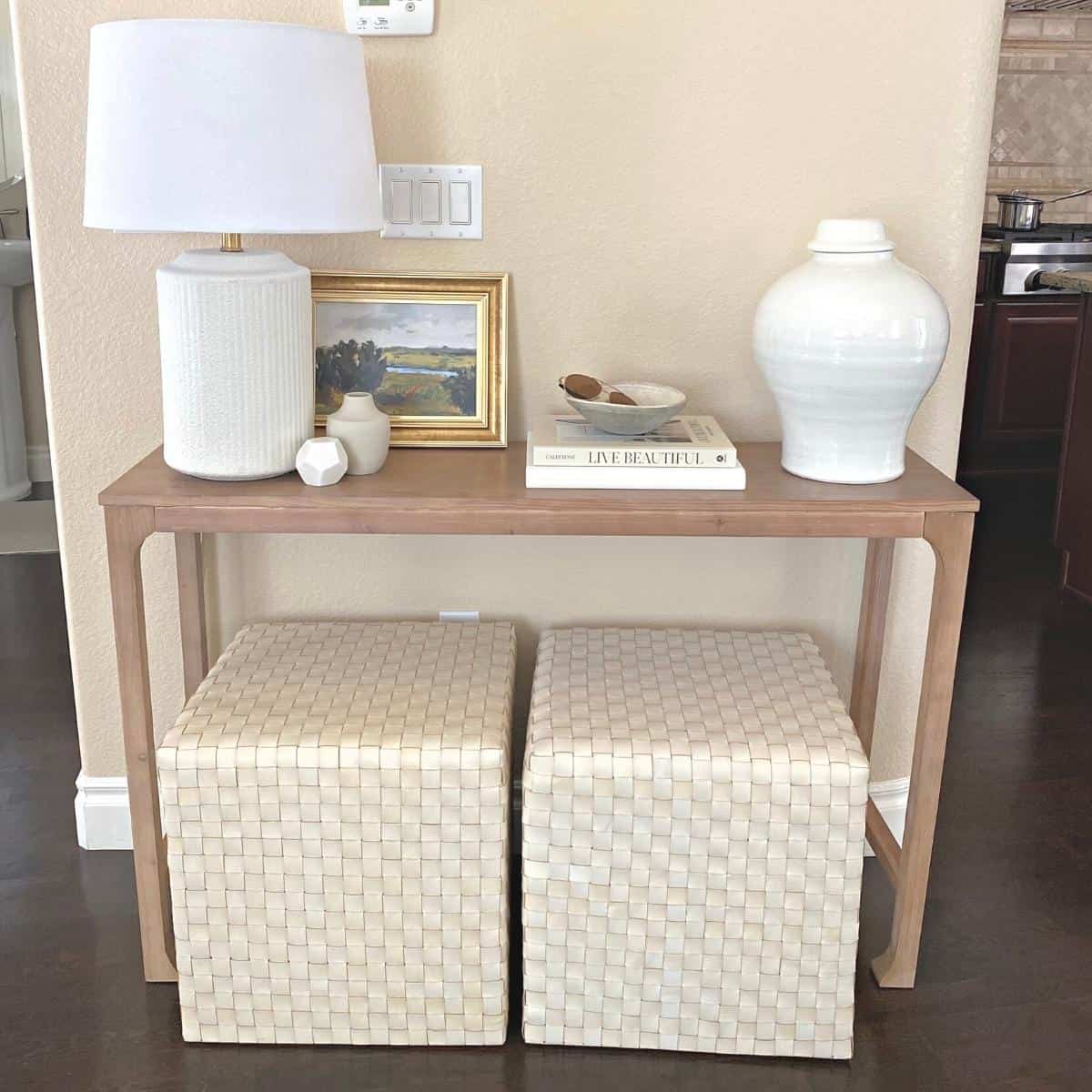 A large white table lamp flanks one side, with a large stunning white terracotta vase from one the best home decor stores you need to shop at, Brooke & Lou.
The textured grey bowl atop two pretty coffee table books is a convenient place to store sunglasses or any little item you may need just before heading out the door.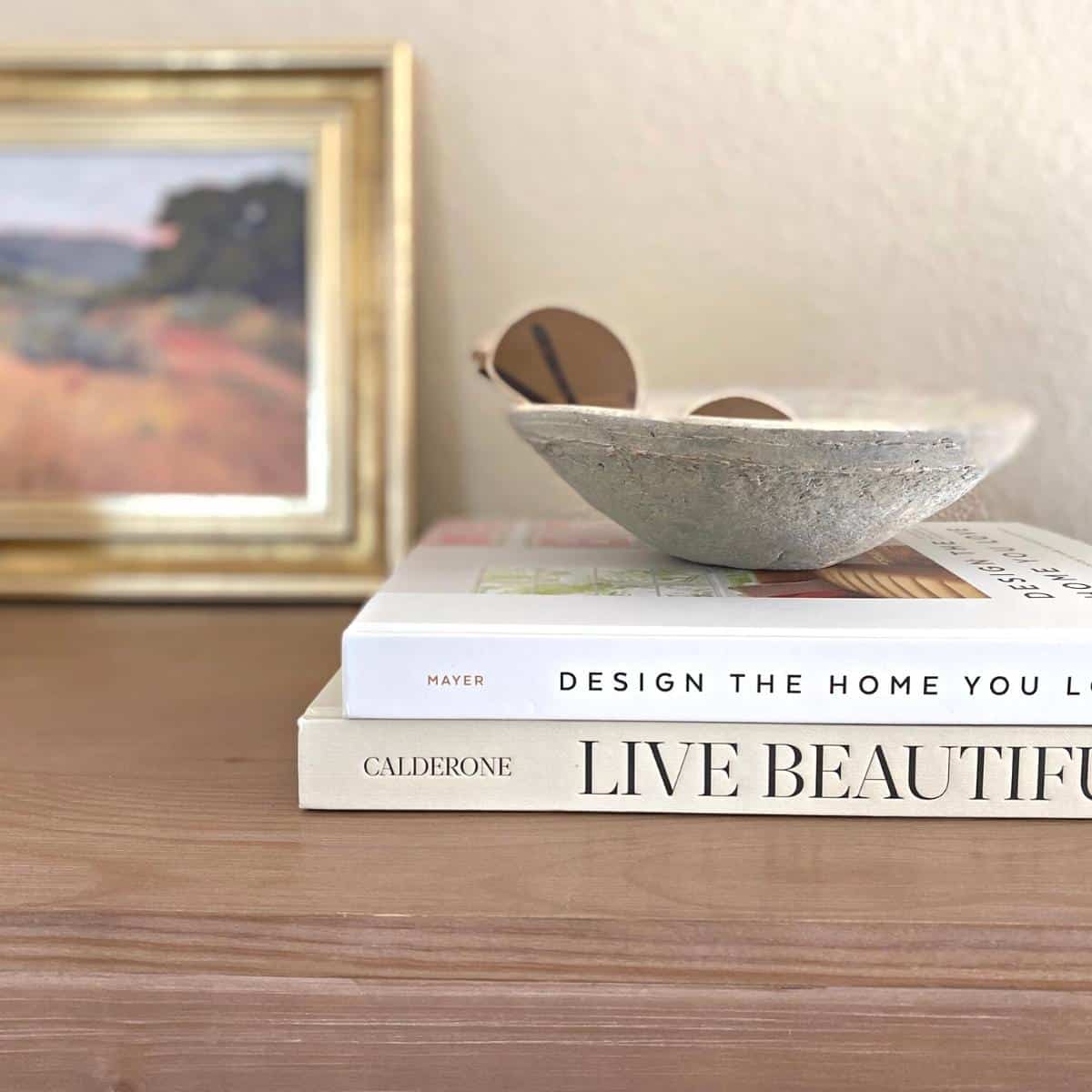 To add interest, movement and color, a small framed piece of art leans against the wall.
Console Table Styling Idea #2
The second way to style a console table is to use stacked decorative boxes. Again, functional in their ability to keep keys, earbuds or sunglasses out of sight, decorative boxes come in a variety of materials, style and sizes.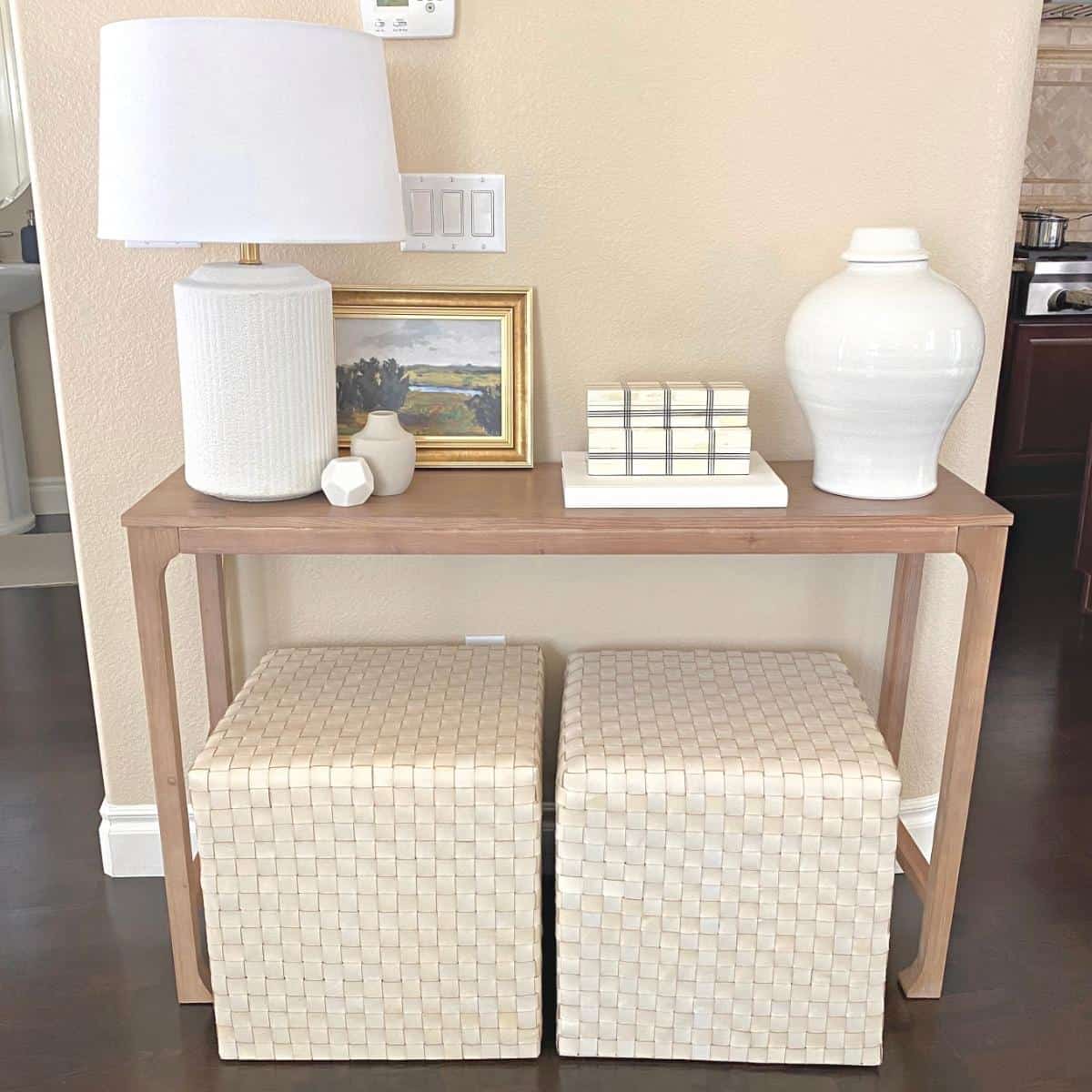 For the most part, this design resembles the first, save for the gorgeous wide grid bone boxes.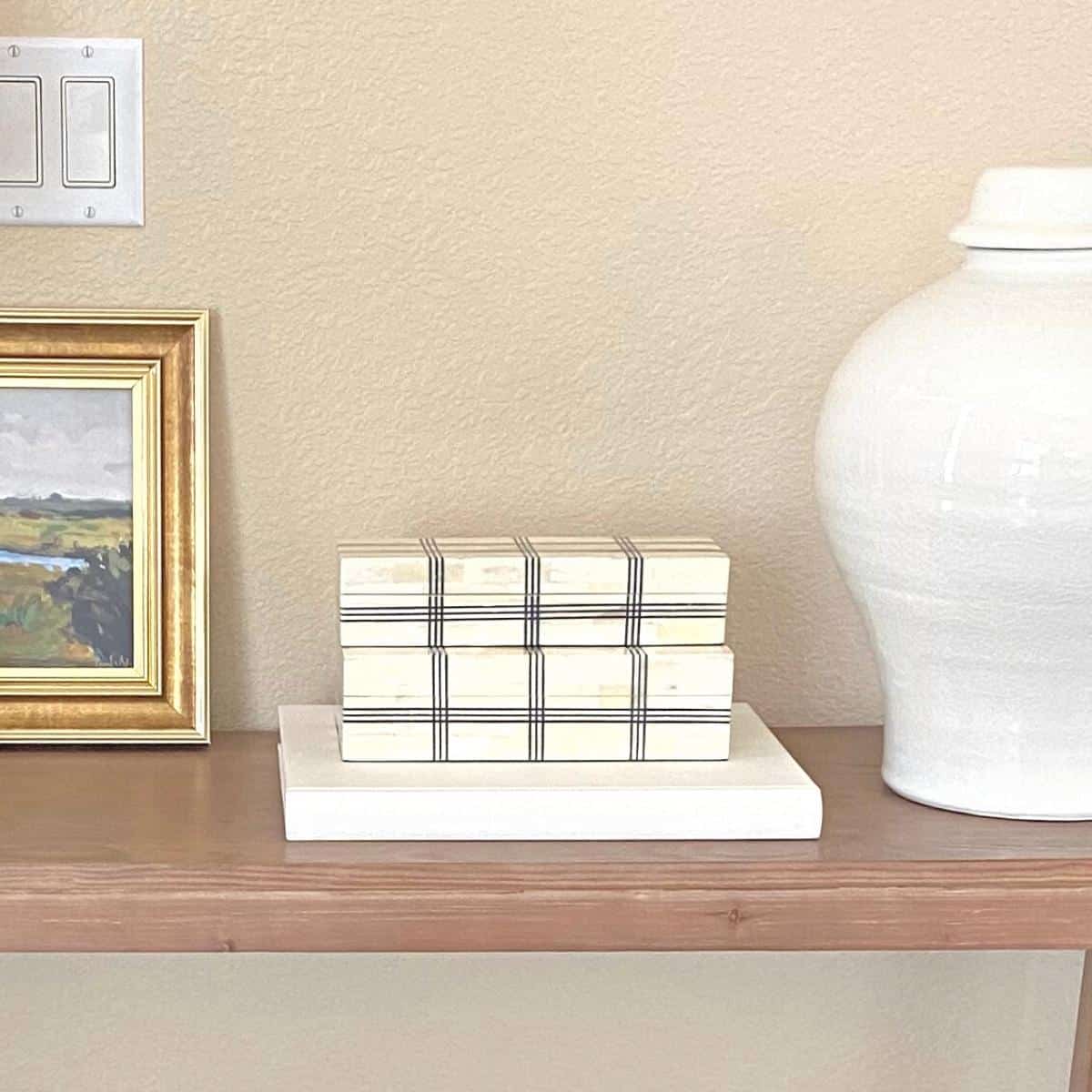 (I have an affinity for decorative bone boxes. I want them ALL and McGee & Co has one of the best selections of decorative boxes anywhere.)
Console Table Styling Idea #3
Trays make an excellent home decor accessory for console table styling. They keep items contained, and can be useful to hold keys or other items you need when you leave the house.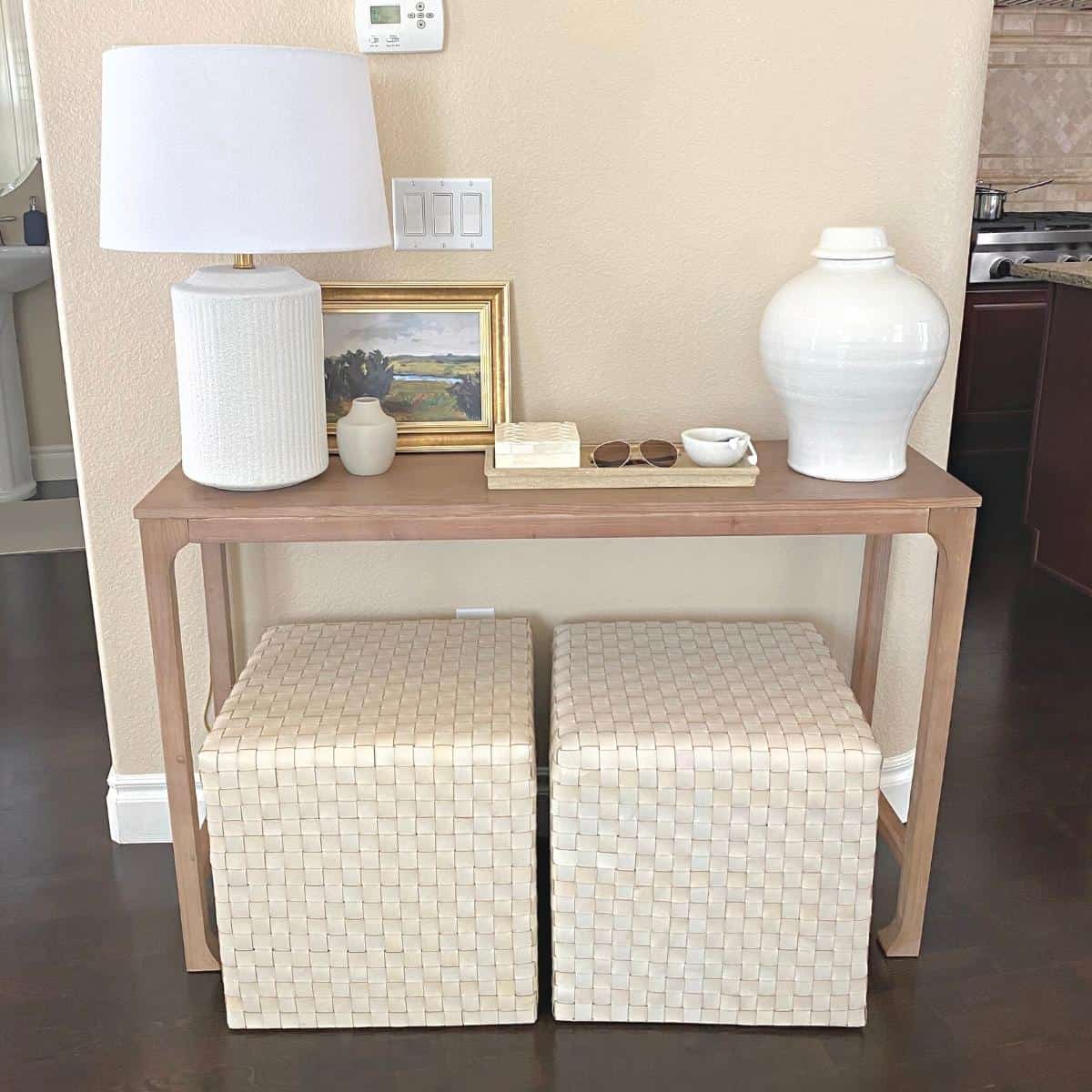 This tray lends a subtle texture to the design. Styled with a small bone box (of course), a space for sunglasses and a small dish (it's actually a 4oz marble dip bowl) to hold earbuds, this little tray packs an understated punch.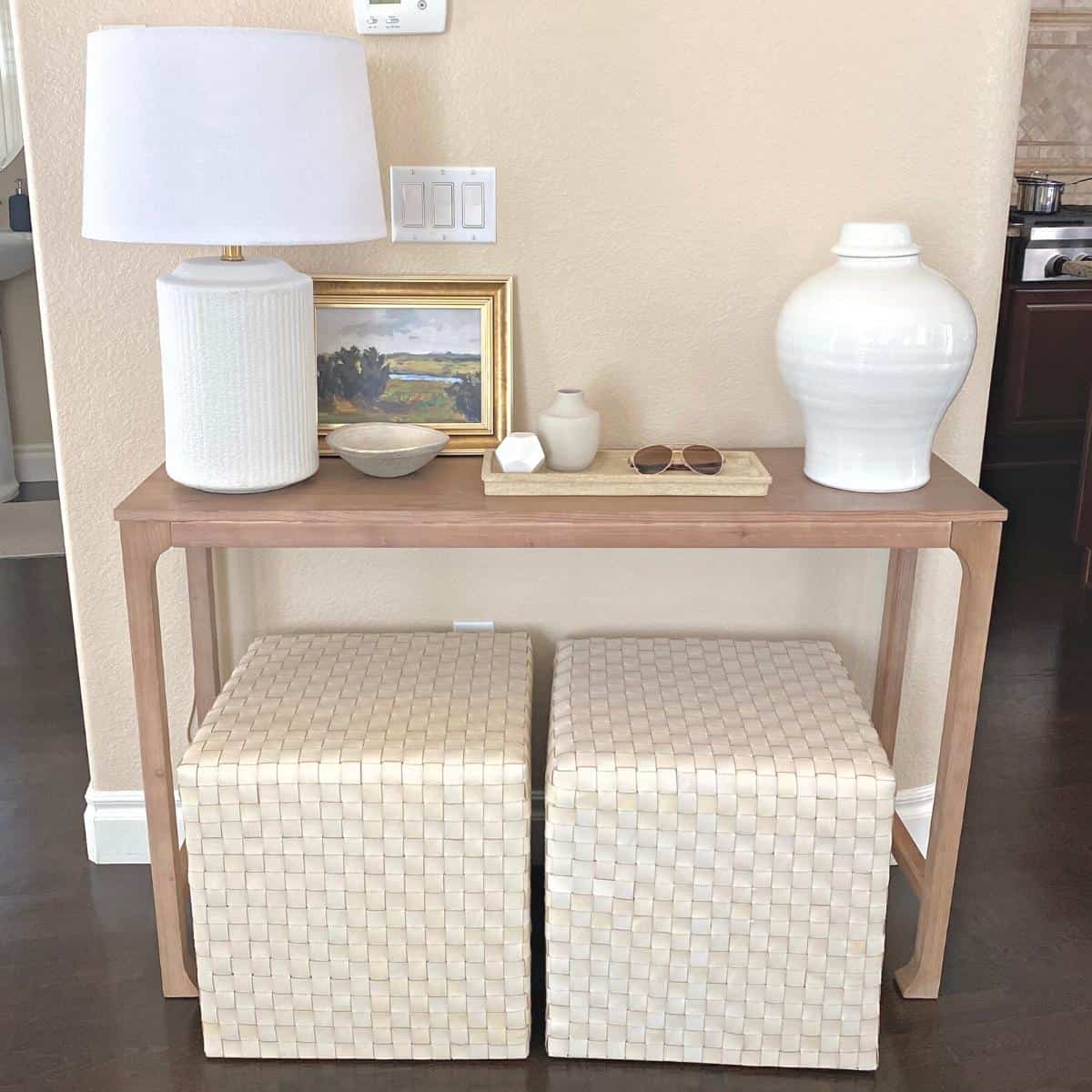 Switching out the large white vase for a slightly smaller sage green vase maintains the much-needed height at the opposing end of the console.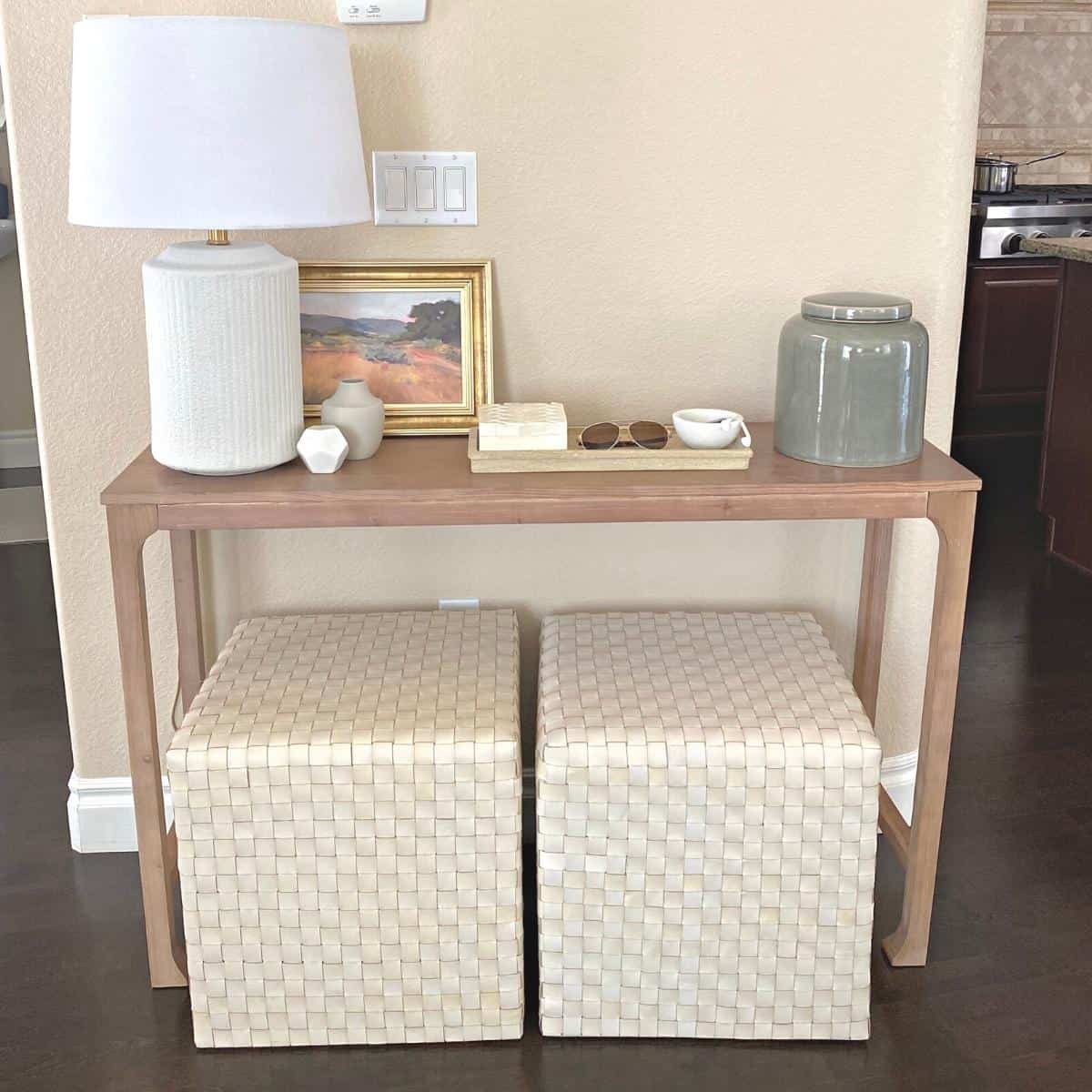 Even a simple change in the small artwork can alter the atmosphere of the entryway.
Console Table Styling Idea #4
A fourth idea on how to style a console table is to bring in a natural element, like a rattan box.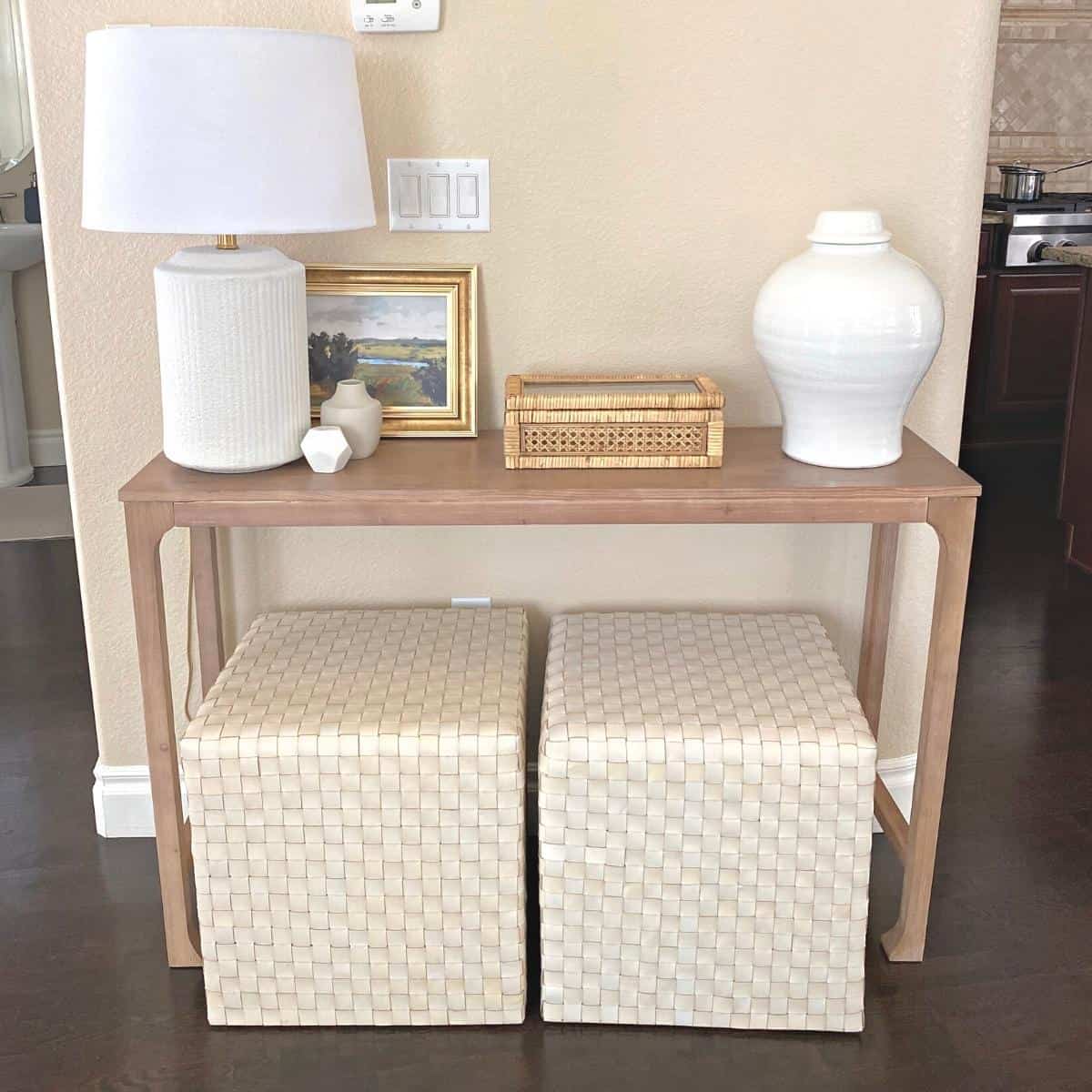 When you bring in natural elements, such as wood, it instantly warms up a space. Rattan, with its light, neutral color, fits well across different design aesthetics.
There are countless ways to style a console table. I actually find it relaxing to change things up.
Move things around.
Take things away.
Add unexpected pieces.
Play with the design until you achieve the look you want.
Style it, and let your eye be the judge. Afterall, you can always change it later.