Even at the holidays, when tradition reigns supreme, it can be welcoming to decorate the Christmas tree a little different than in years prior. For those looking to refresh your holiday decorations, these Christmas tree decorating ideas may be just the inspiration you need.
Maintaining family traditions at the holidays is common. You do not have to throw out your current Christmas decorations; rather, small additions to your collection, or making room for something new, can have a profound effect on how you enjoy the holidays with family and friends.
These Christmas tree decorating ideas focus on neutral decor, while playing on texture, shapes and finishes. You will hopefully come away with a few Christmas tree ideas for your own home.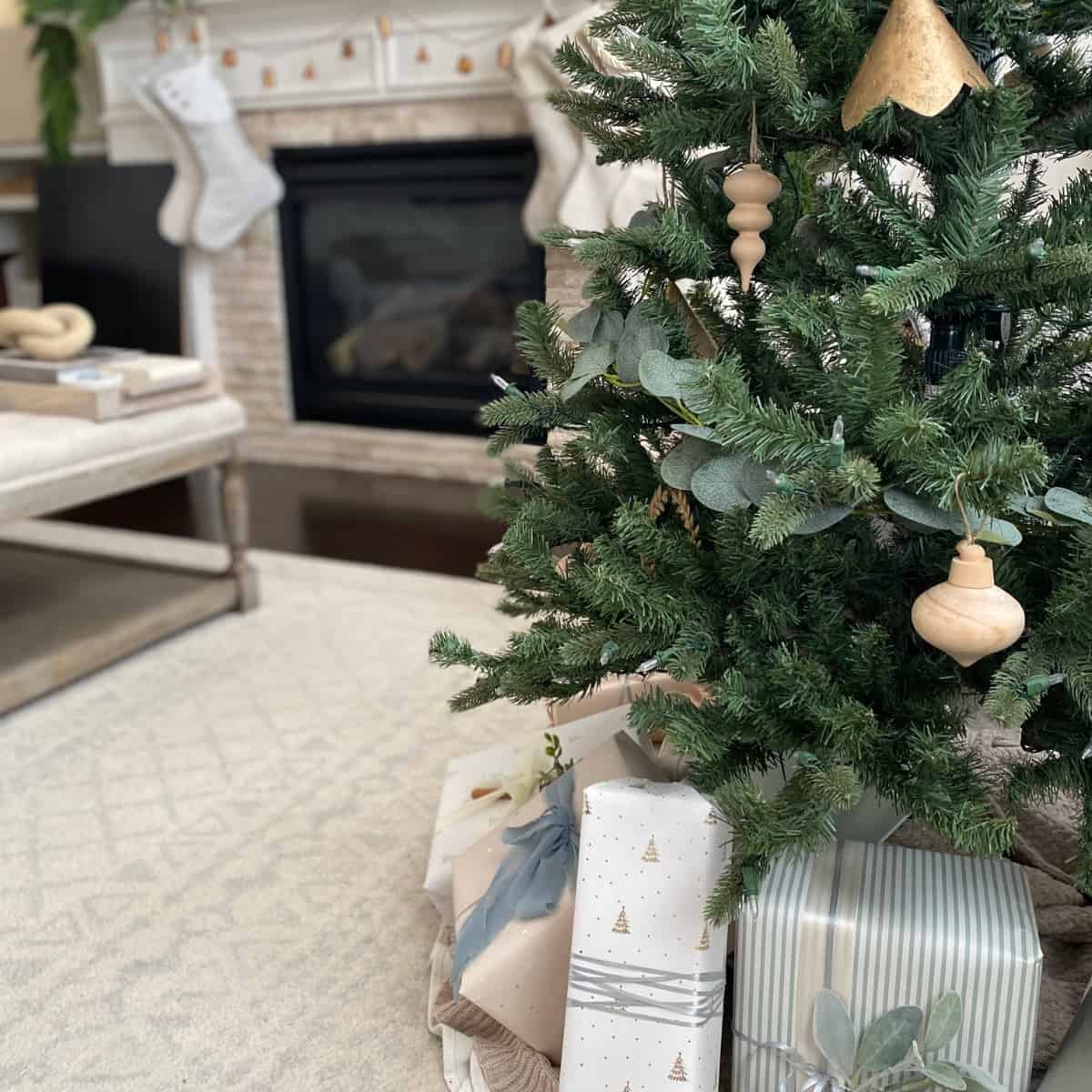 Real or faux, holiday Christmas tree decorating is usually a family activity. At least, growing up, it was for us.
Gathering boxes of Christmas decorations, upon decorations in the living room, as Bing Crosby played on the record player, it felt like that magical time of year was upon us. Hope hung in the air. 'Tis the season, after all.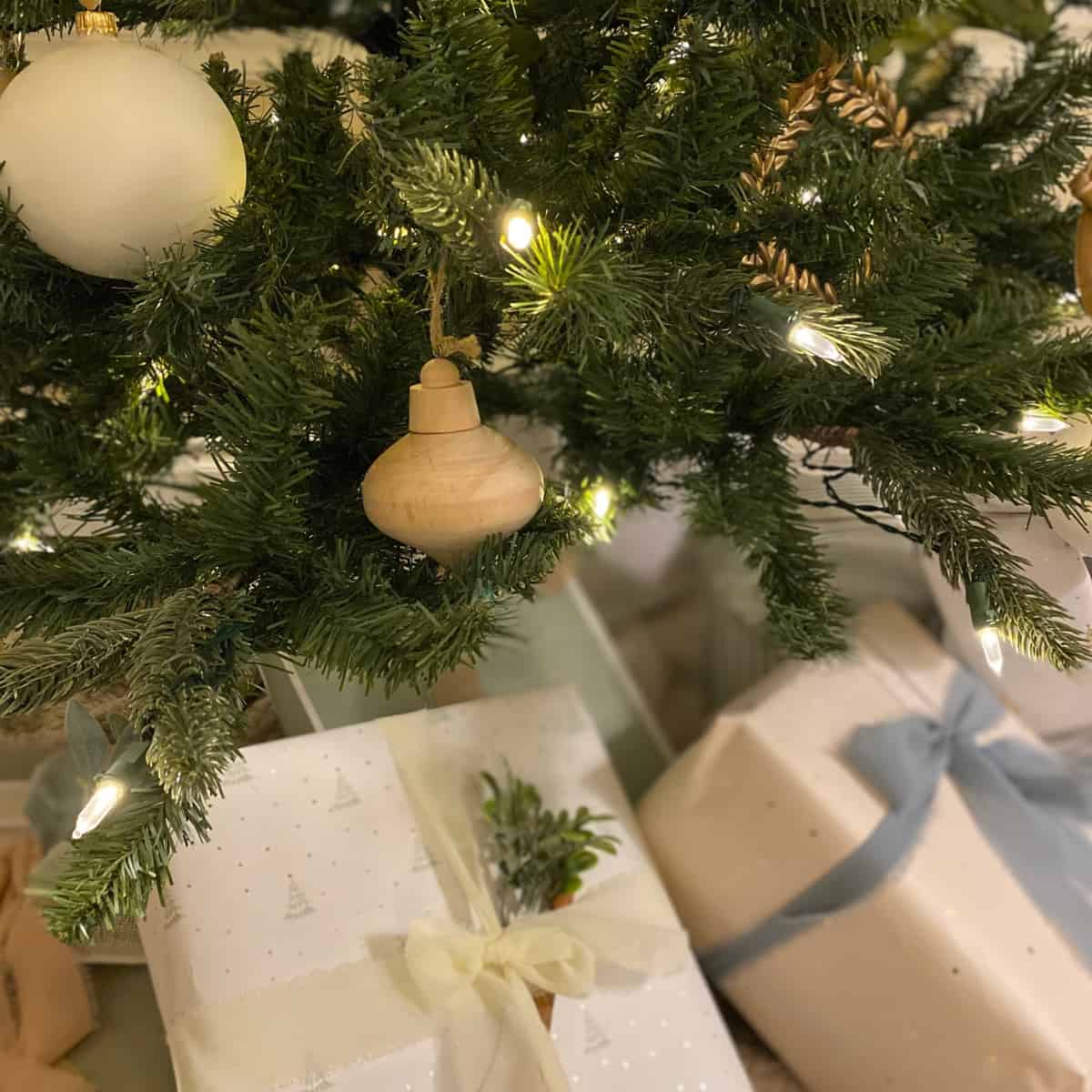 Decorating the Christmas Tree
Decorating the Christmas tree is all about the look and feeling you are going for. There are a couple questions to ask yourself before you begin decorating the tree.
Tip: Be sure to also read how to decorate a Christmas tree to learn a quick Christmas tree decorating process that may work for you, without breaking your precious ornaments..
Do You Want a Real or Faux Christmas Tree?
Choosing between a real or a faux Christmas tree comes down to how much maintenance you are willing to deal with. Technically, as far as decorating the tree, it does not matter one way or the other.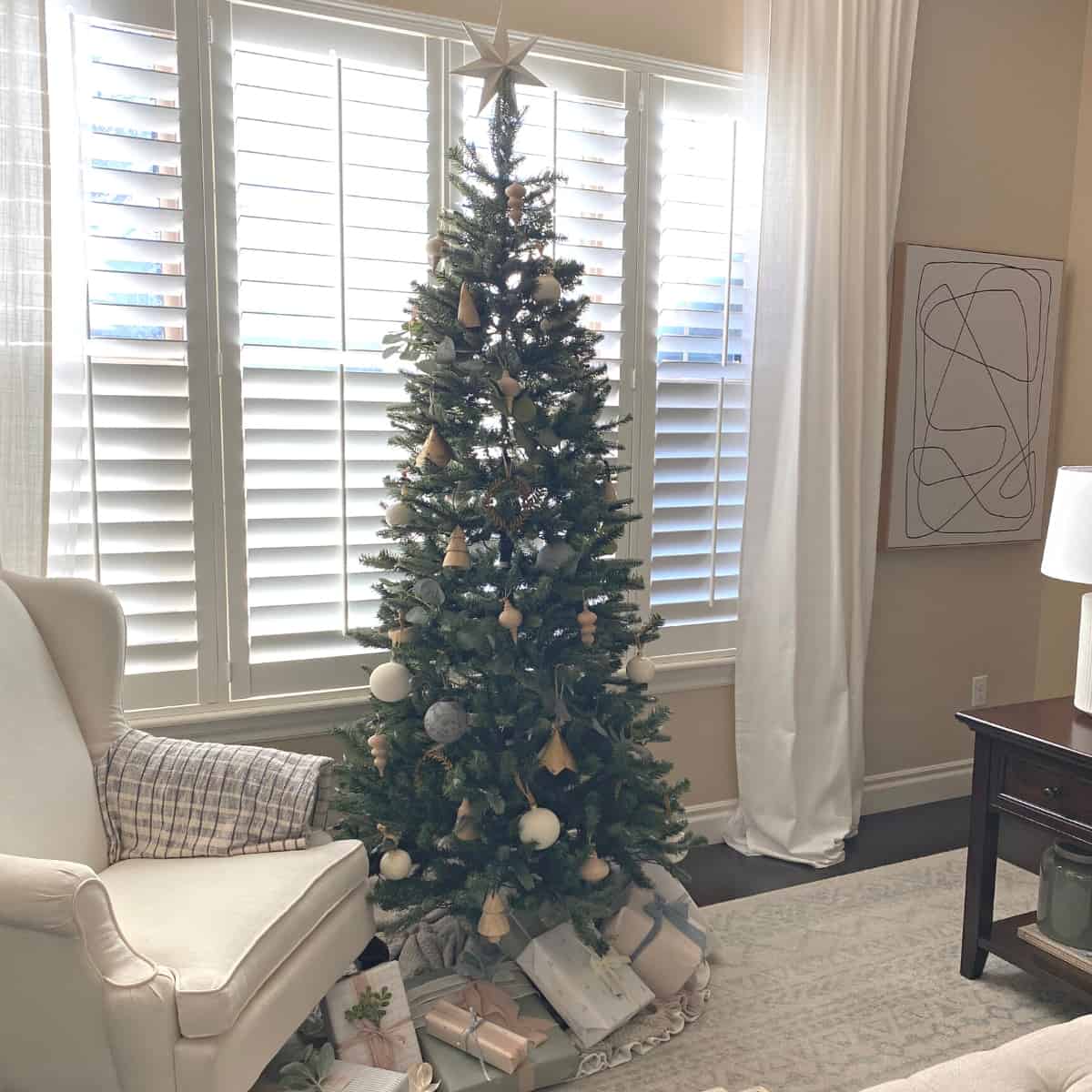 One of the best faux Christmas trees I bought for my mom and dad is this realistic looking 6.5 feet pre-lit Dunhill Fir tree. It is super full looking, due to the over 4,000 tips, which is the figure you should pay attention to when looking for a faux Christmas tree.
While I do not own one, Balsam Hill trees are also known for being the most realistic looking trees and, supposedly, last a very, very long time.
What Color Palette or Theme Are You Going For?
Typically, traditional Christmas decor colors are what many gravitate toward. Shades of red, gold, green, and silver adorn everything from tree lights to decorations dotted about most cities throughout the U.S at the holidays.
Different Christmas tree decorating ideas for color palette include shifting from traditional colors to neutral shades of white, dusty blues and muted brass. Adding a hint of blush pink is also an idea to decorate your Christmas tree with.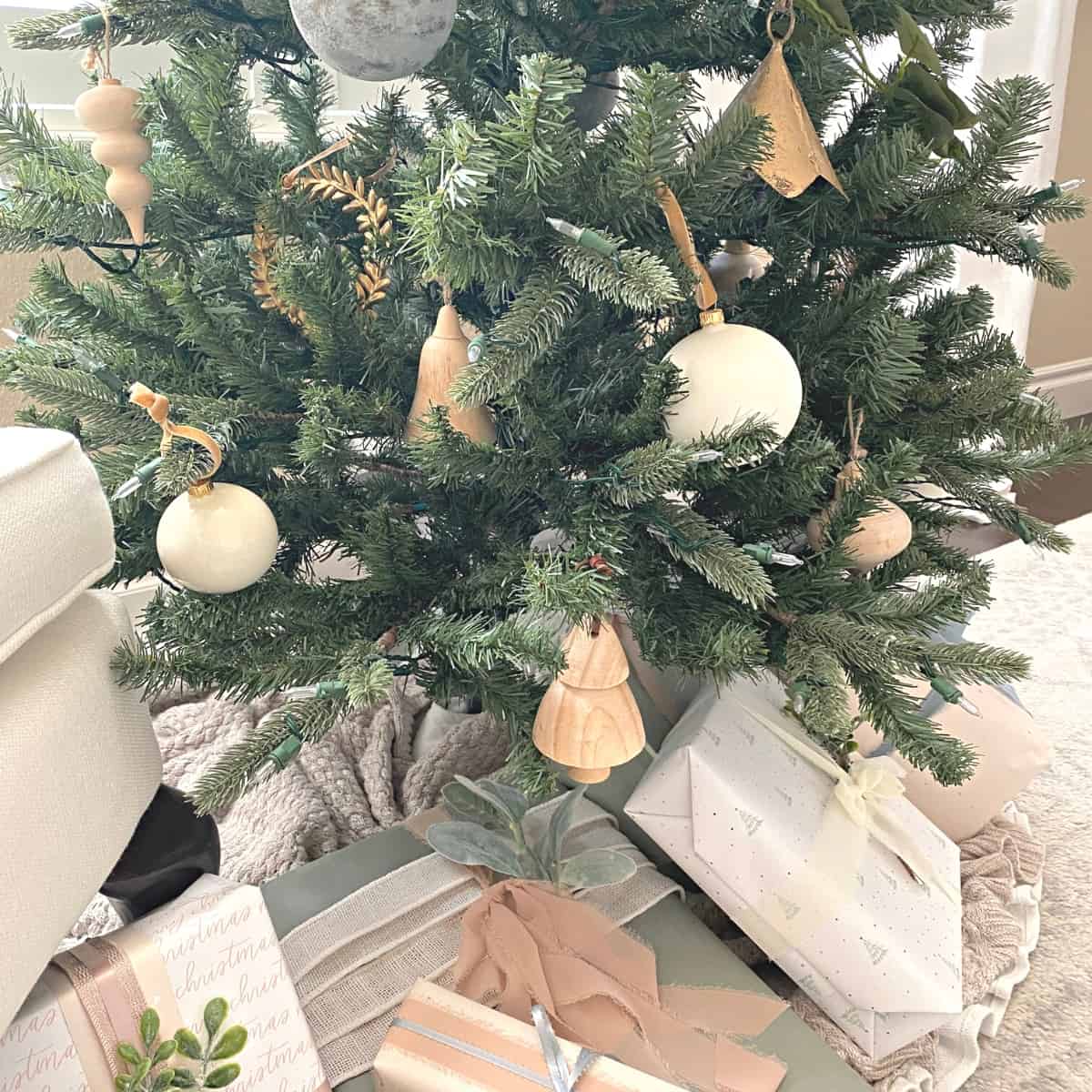 Choose your color palette or theme after you've looked at what decorations you have and before you purchase anything new. This may save you money in the long run.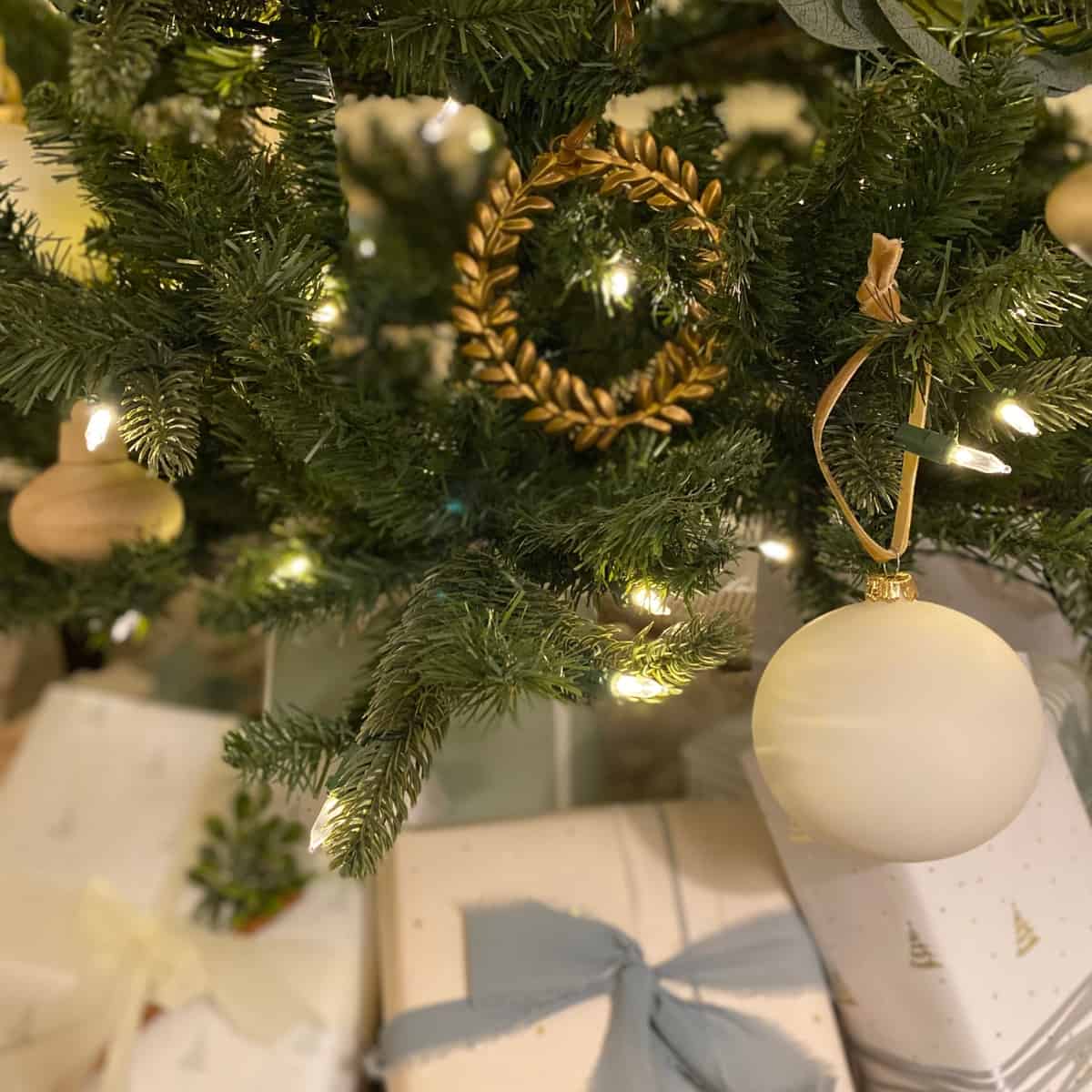 Gather Christmas Tree Decorations
When you're ready, gather all your Christmas tree decorations in one place. Have them laid out in full view so you can accurately see the size, color, shape, and sheen of the ornaments.
Tip: Do not forget to gather any tree lights, garlands or ribbon you plan to decorate your tree with. These types of decorations greatly impact the order of operations to decorate the tree as well as the overall look you envision.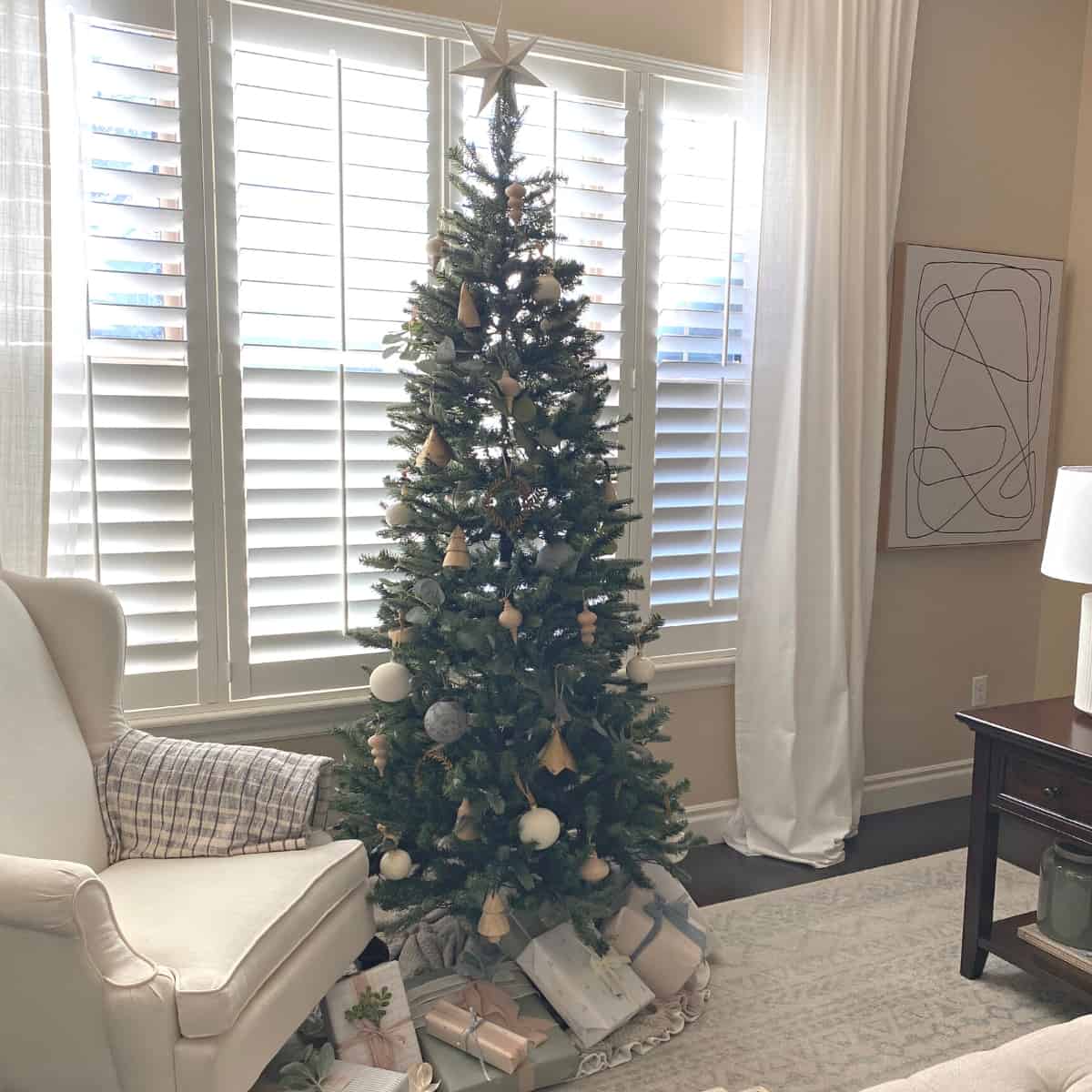 Christmas Tree Decorating Ideas
In the Christmas Mantel Decorating Ideas post, I spoke about how I shifted our decorations to a neutral palette. It was one of the best decisions about holiday decorations that I have made. I realize it's not for everyone.
Shades of matte white, dusty blue, blush pink, and brass are not commonly thought of as Christmas colors, but they work for us.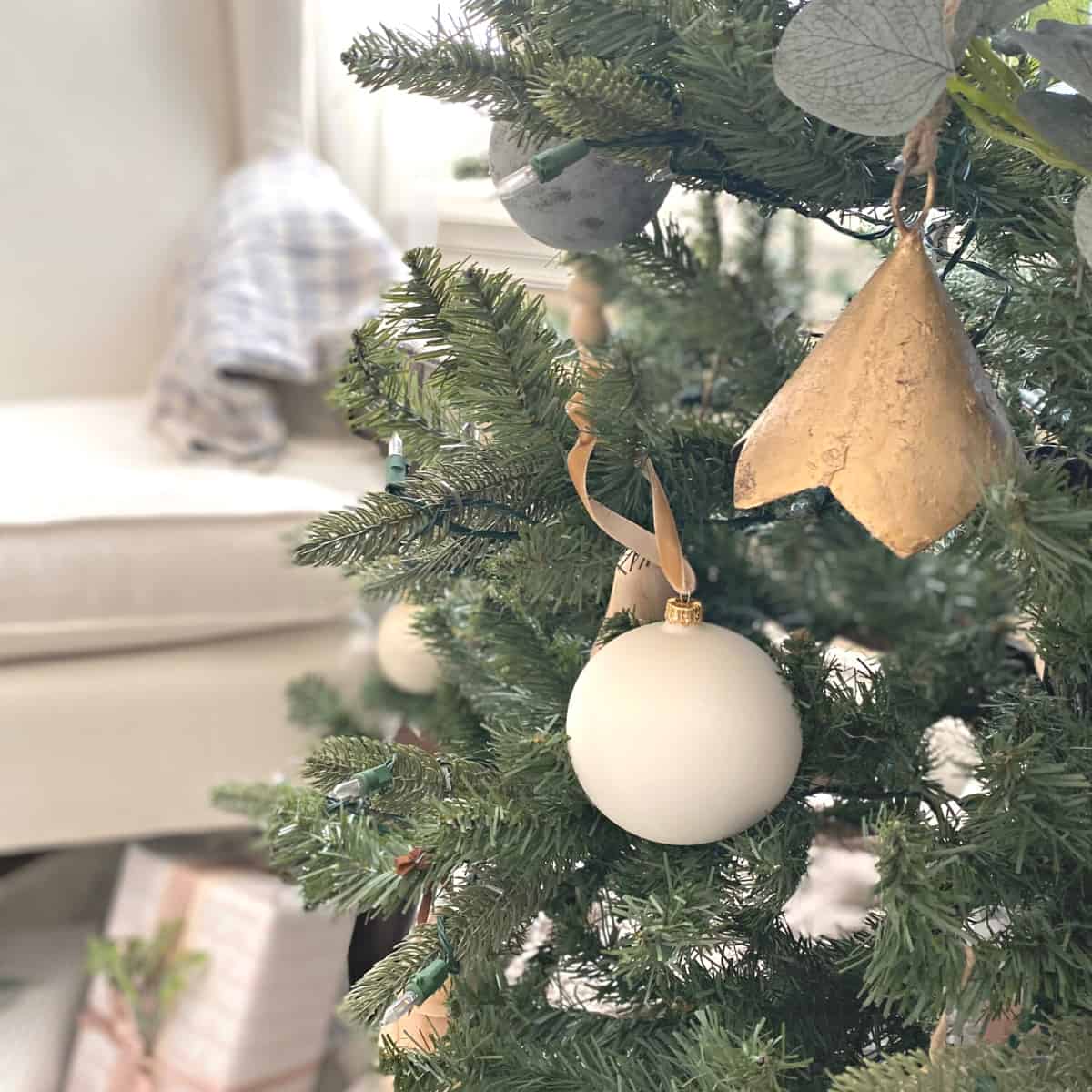 Honestly, for the foreseeable future, I won't go back to traditional colors. Neutral shades introduced a feeling of calm during this holiday season, because red is an energetic color. In color theory, red is power, energy and movement, which I desperately wanted to stay away from.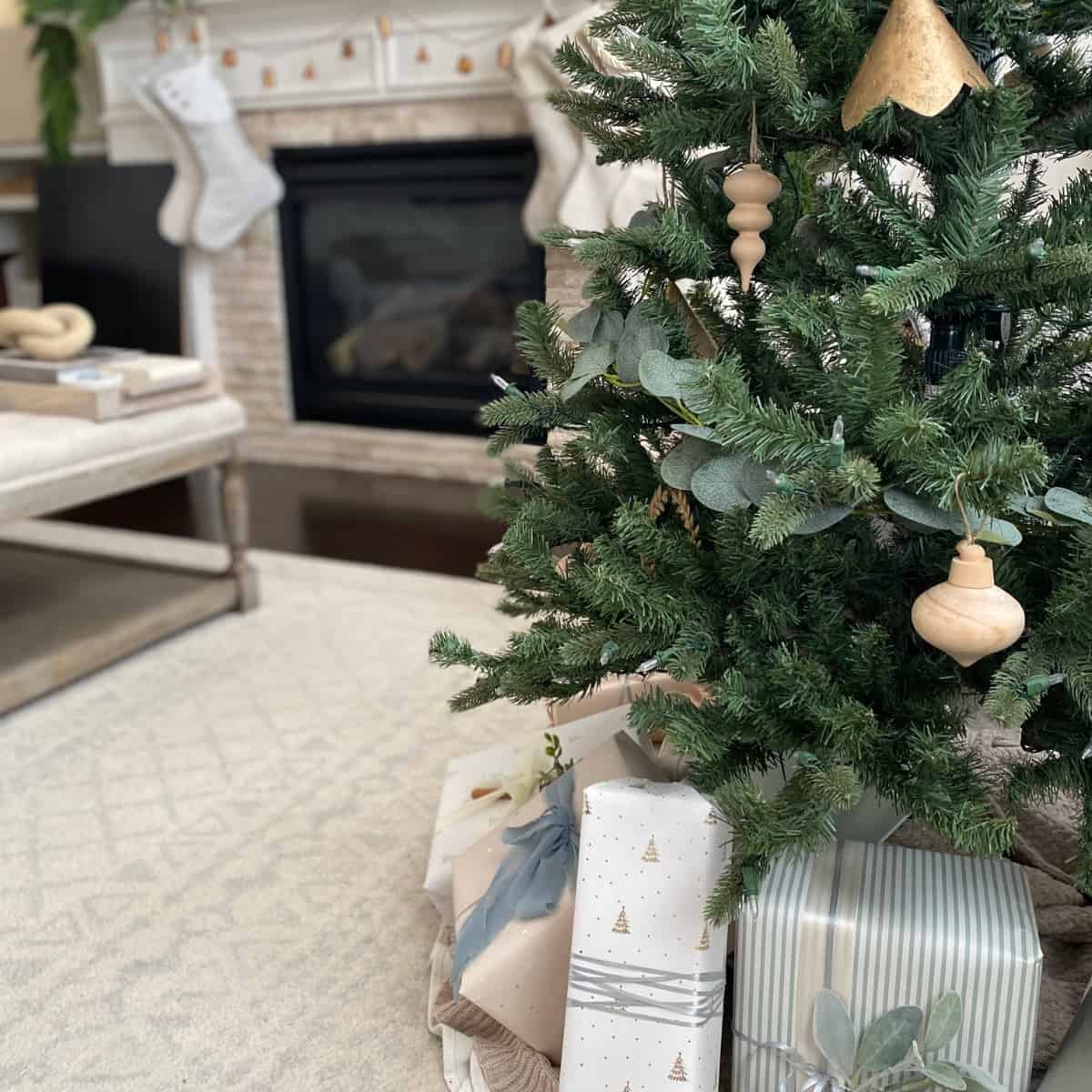 Adding Garland to the Christmas Tree
Another Christmas tree decorating idea is to add some variation of garland to your tree, such as eucalyptus, sprigs of cedar or flocked pine stems.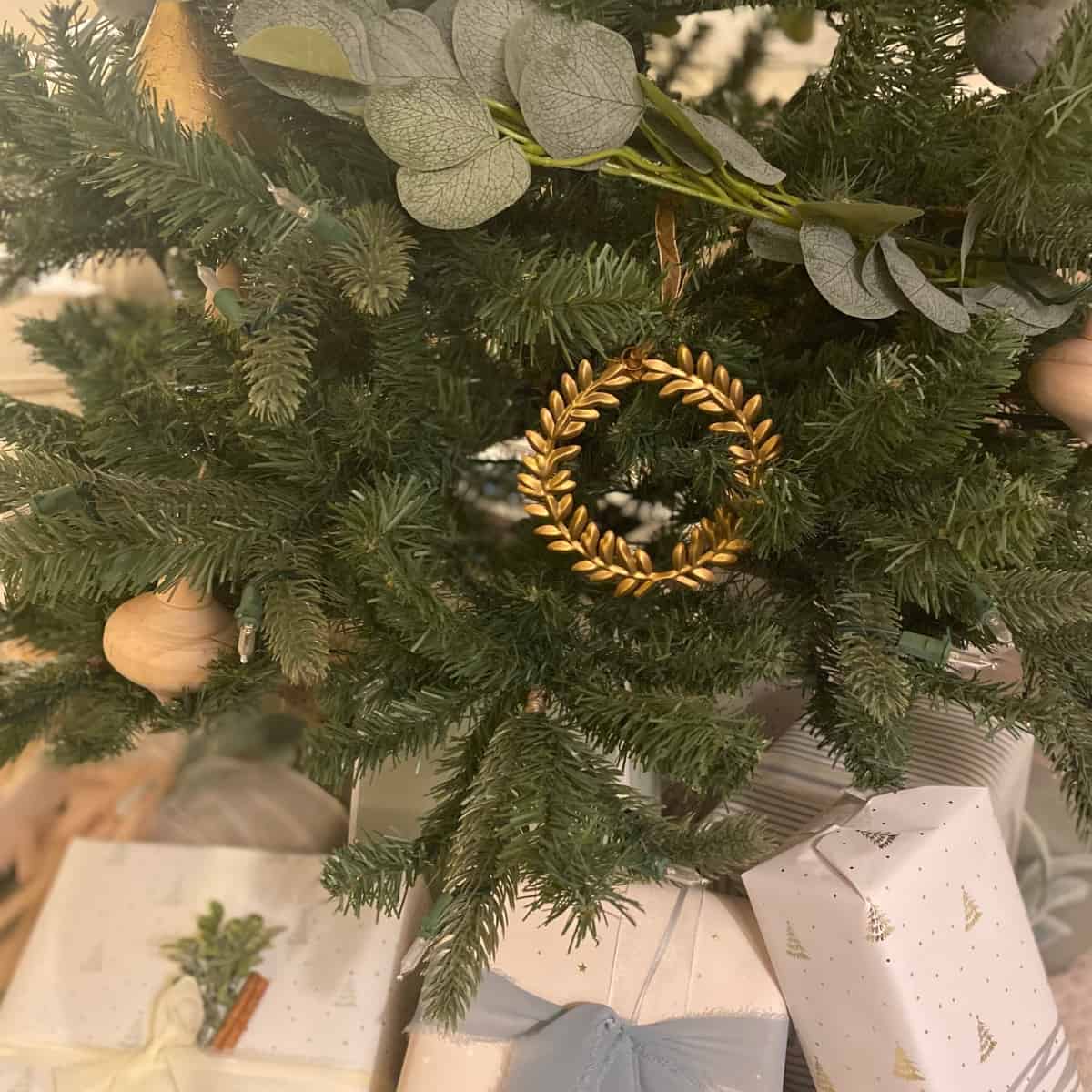 Joann, Michael's and Hobby Lobby are a few of my go-to places for Christmas garland. You also can't beat their prices for garland. Check online outside of the holiday season, as many retailers carry garland year-round via their online store. Order when you have a coupon or when a sale is running.
For our tree, I used two strands of this eucalyptus garland.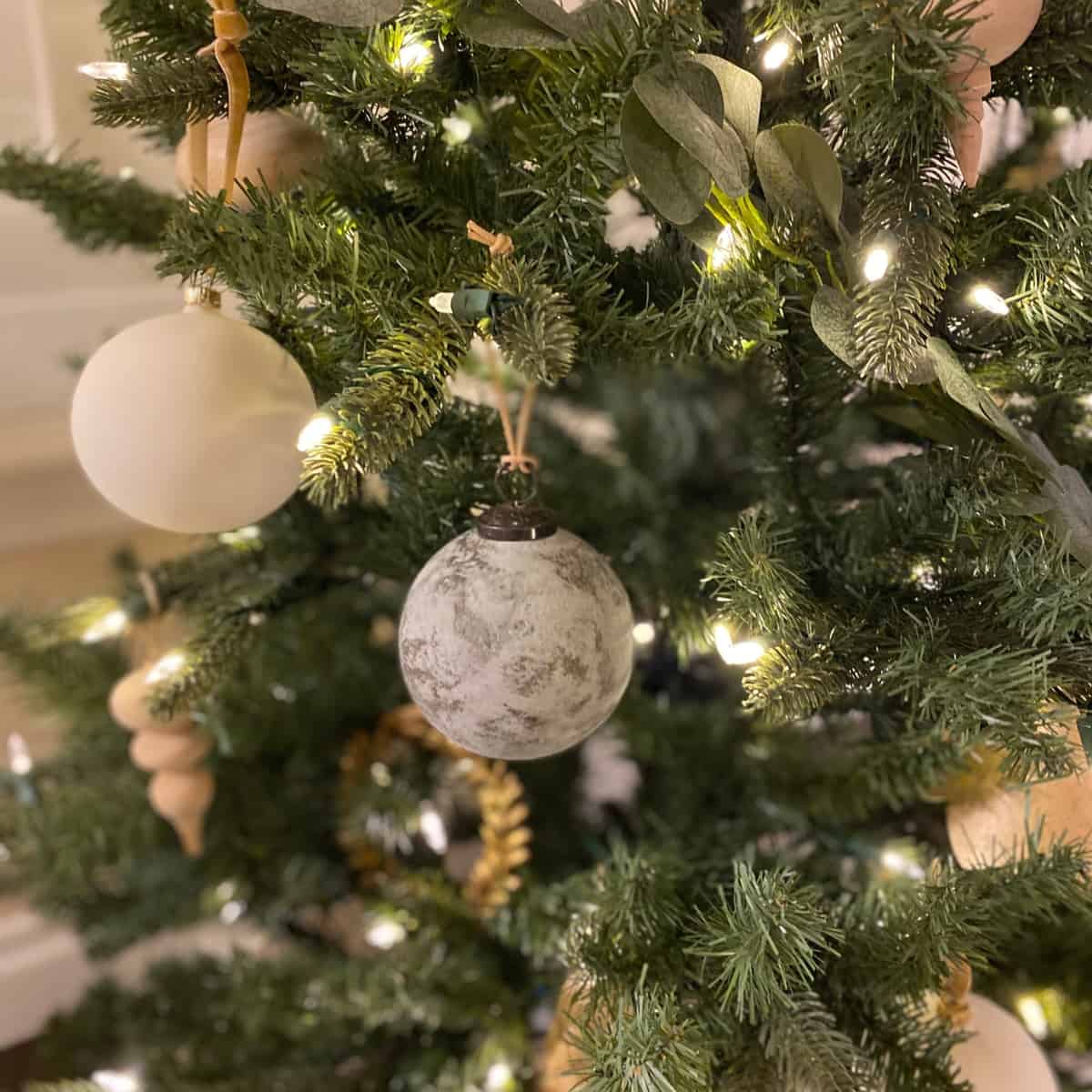 Additional greenery to your Christmas tree helps to fill in any sparse spots or holes, making the tree appear fuller. I also like the texture, as well as the slight color variation, eucalyptus lends to the tree.
Long Ribbon Strands as Christmas Tree Garland
Ribbon is an alternative to greenery garland as a Christmas tree decorating idea. Weave in dramatically long strands of ribbon as garland throughout the tree. You can also cut wire ribbon into 6-8 inch long strands to weave into different areas of the Christmas tree.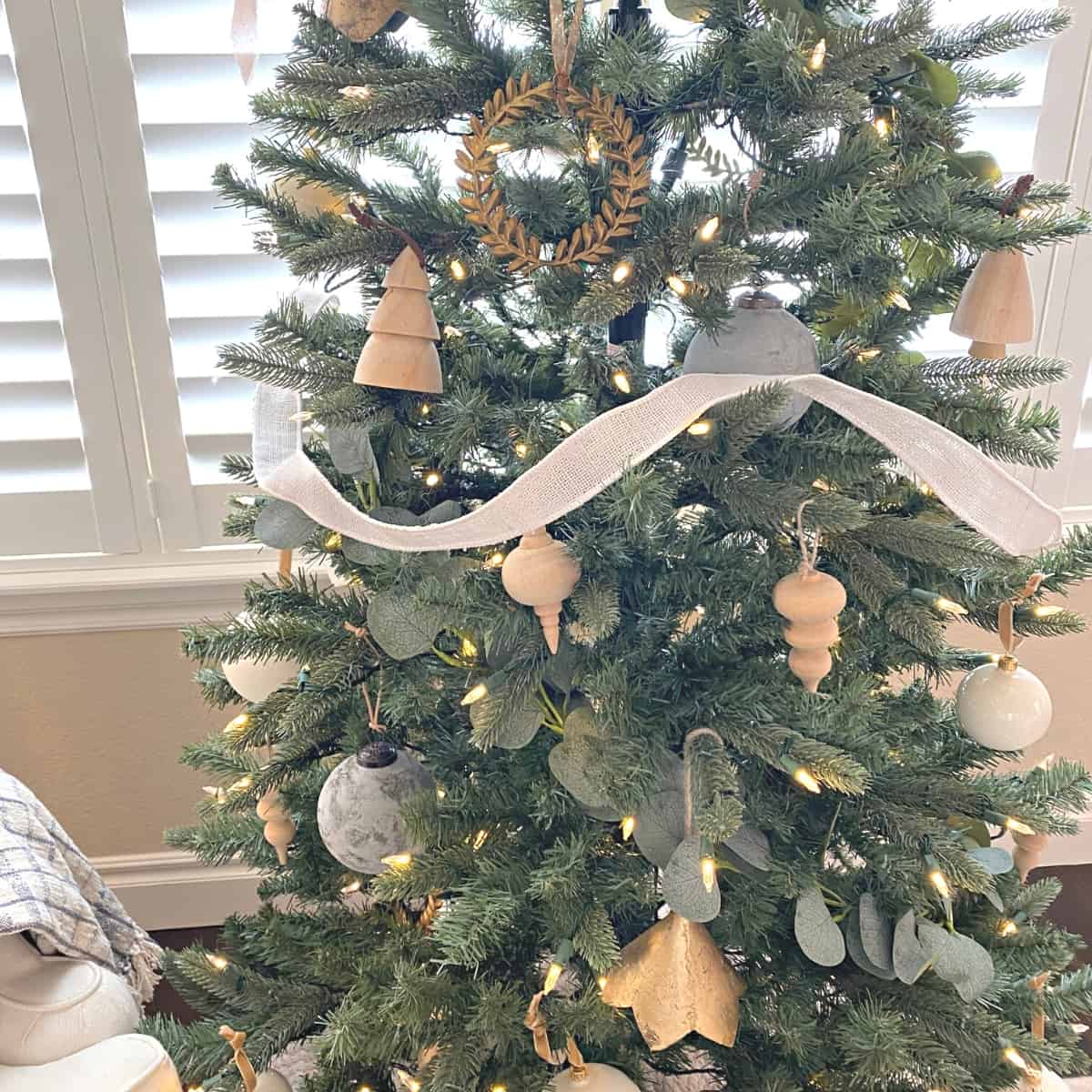 Again, ribbon, in all its forms, creates lovely moments of texture and color in ways you may fall hopelessly in love with.
I used this white burlap/jute wire ribbon for our tree.
Neutral Christmas Tree Ornament Ideas
Finding Christmas tree ornaments is easier in person than online. (If you know, you know.) But, seeing as how we weren't going out much this fall/winter, I took a chance and ordered all of our new ornaments online.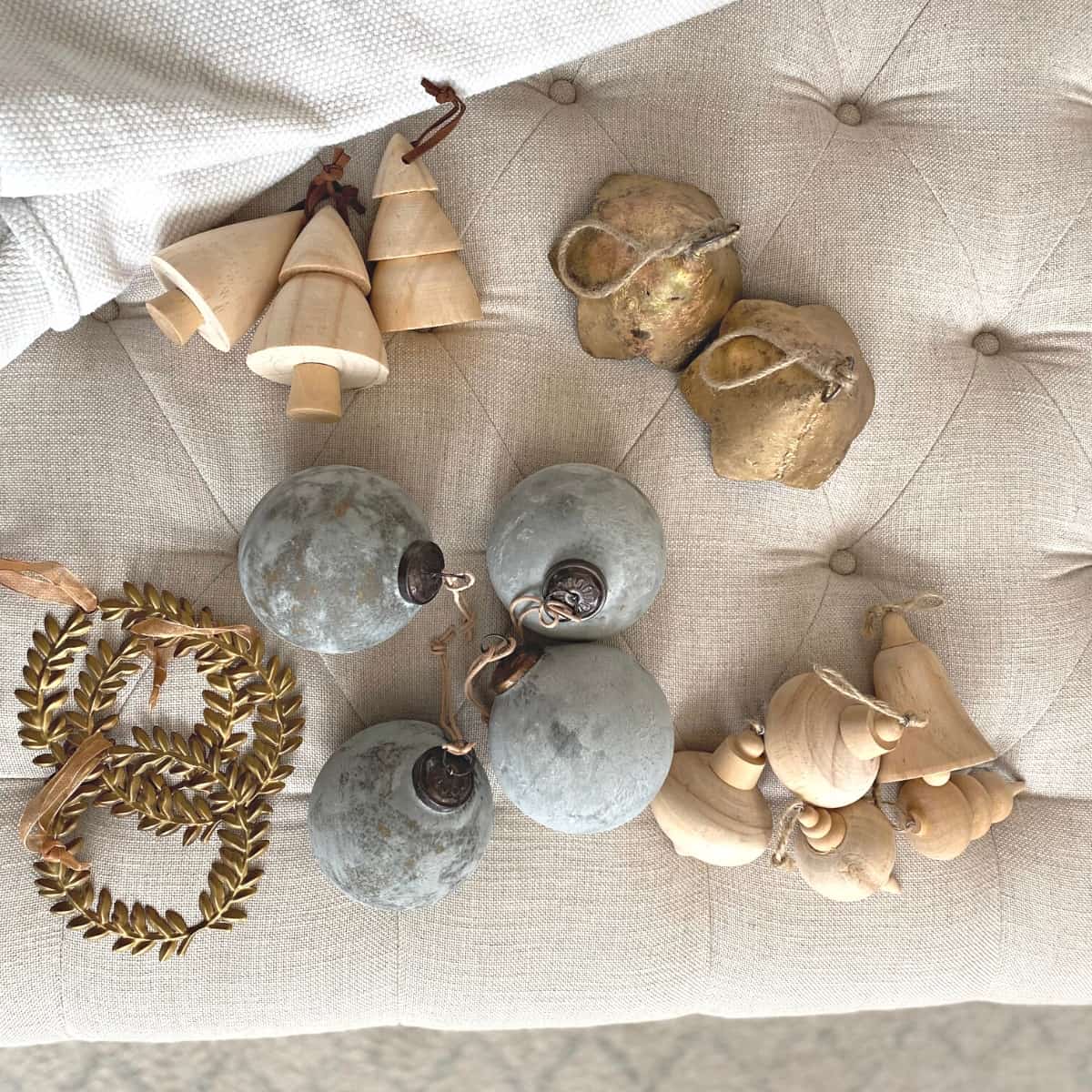 A few neutral Christmas tree decorating ideas for ornaments include:
White matte or glossy round glass (or plastic) ball ornaments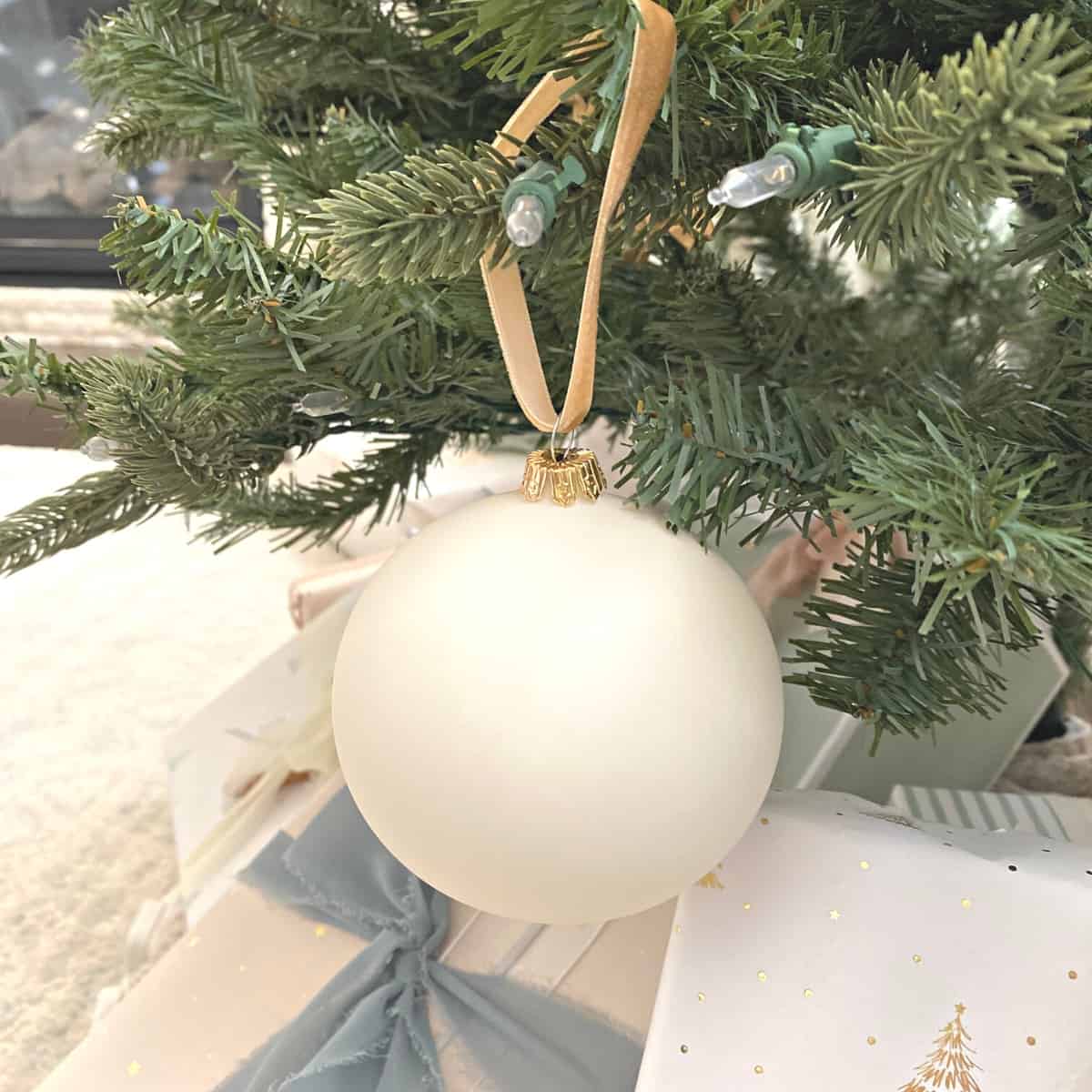 Brass bells and figurines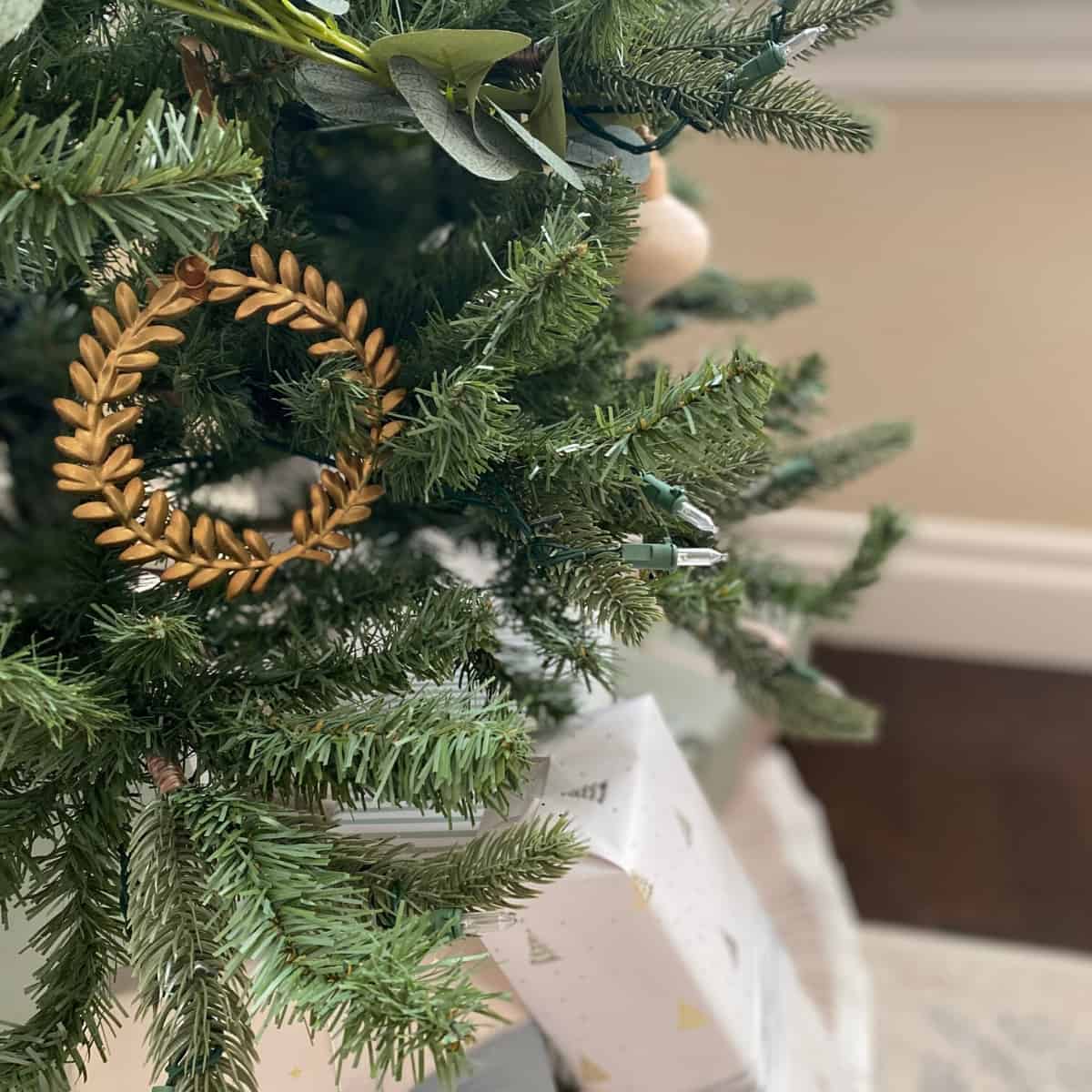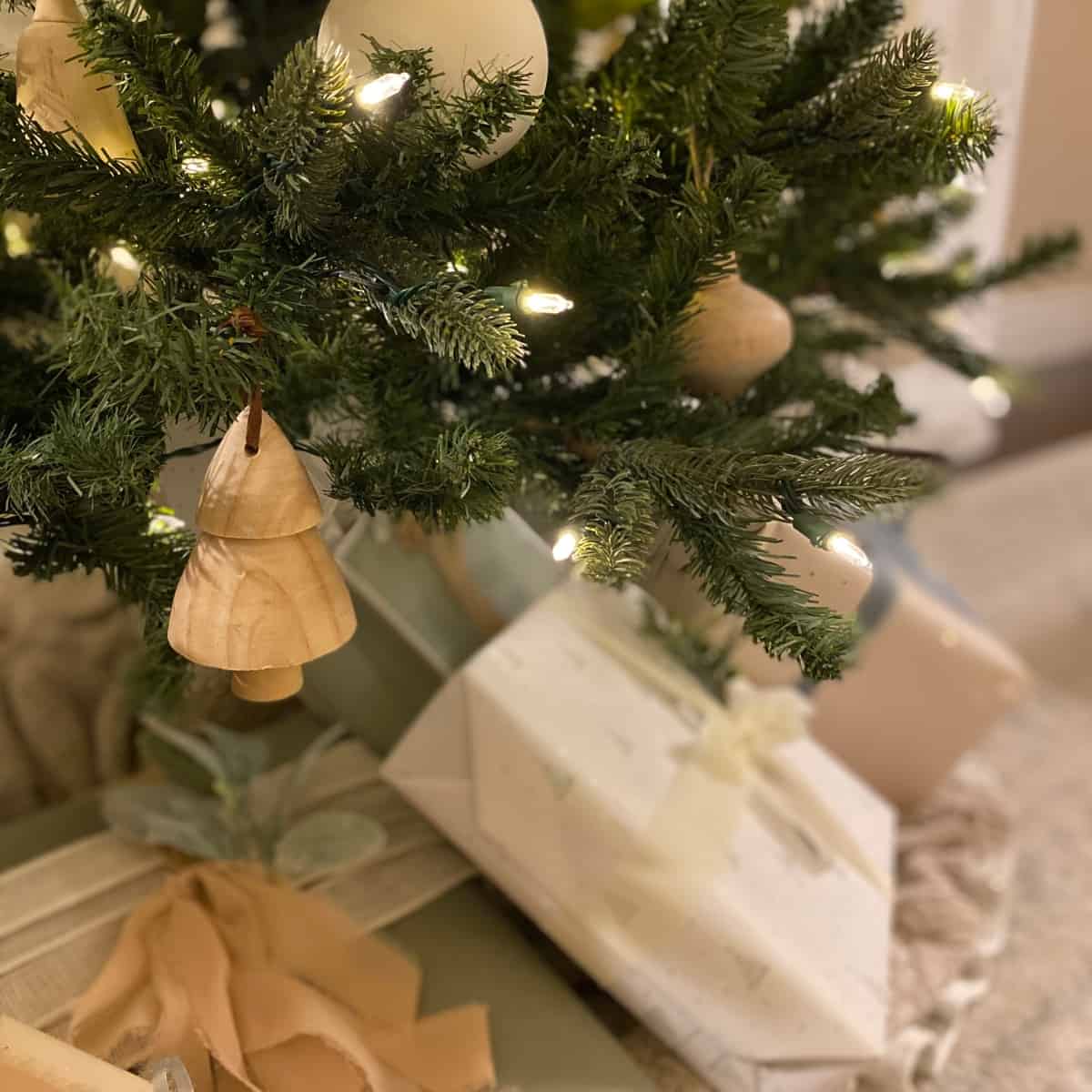 Dusty blue glass ball ornaments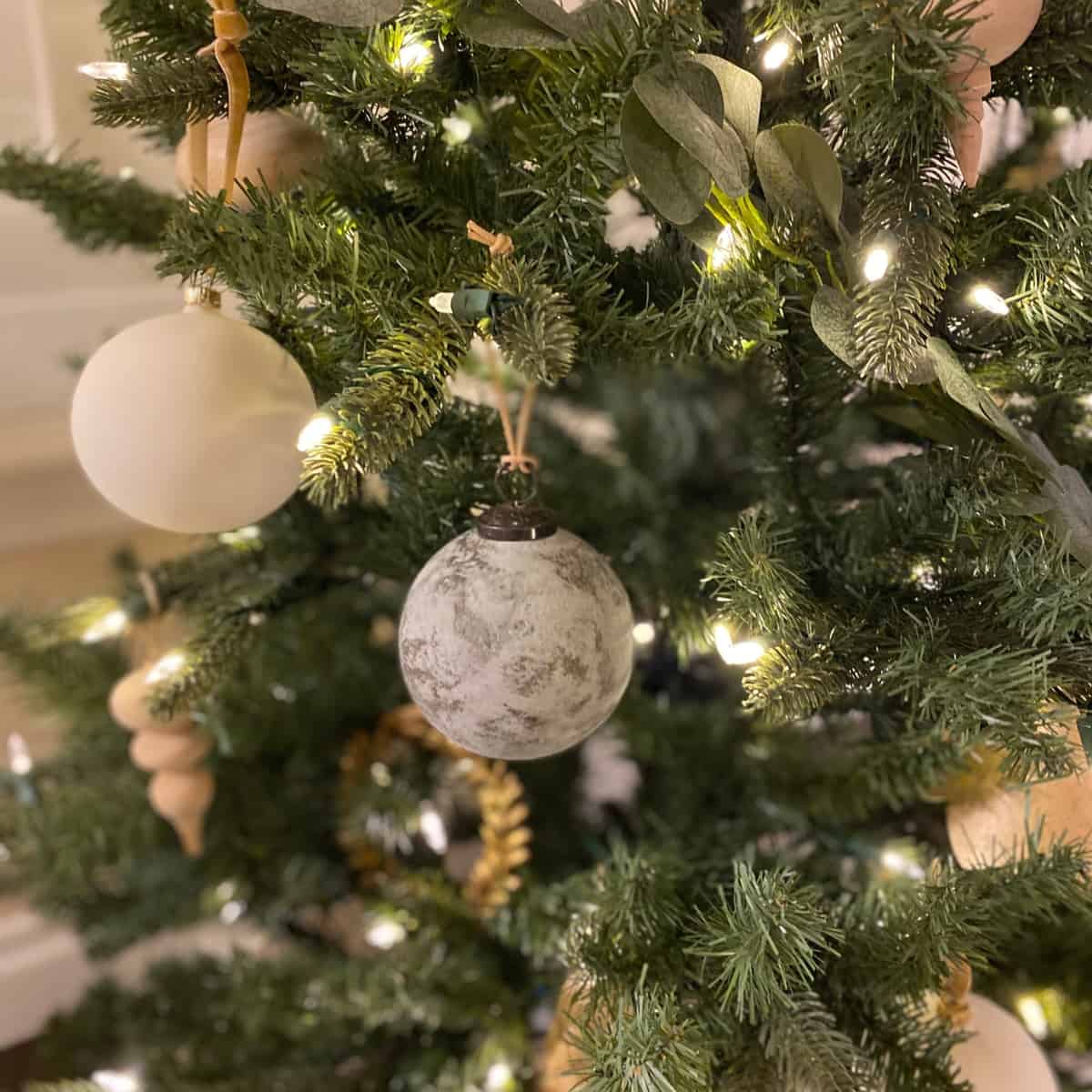 We ordered our Christmas tree ornaments from Brooke & Lou, McGee and Co. and Joann. The white glass ball ornaments (matte and glossy) are from McGee and Co., while the dusty blue glass ornaments are from Brooke & Lou. 
Trust me when I say both styles of ornaments are simply stunning.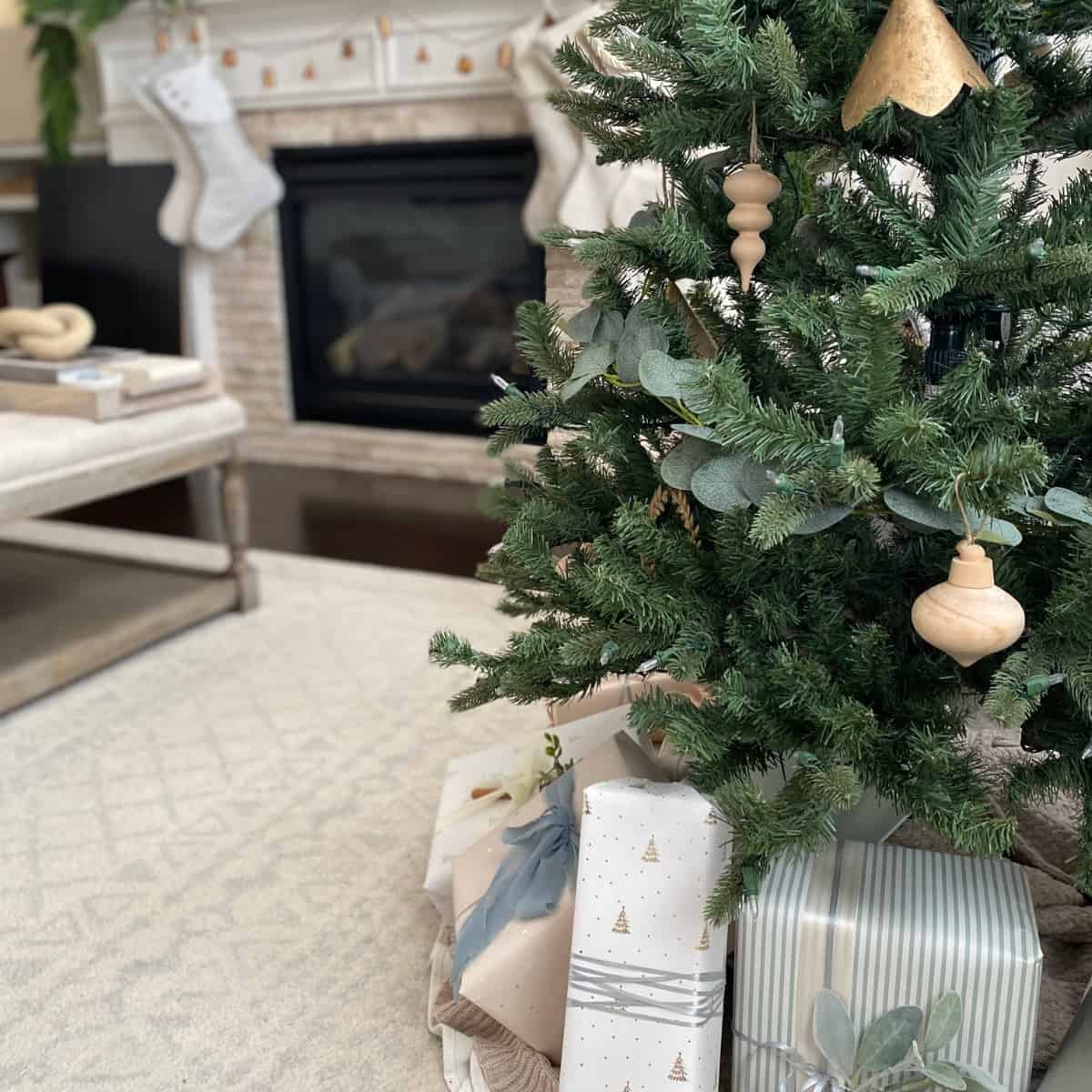 Would you ever decorate with neutral colors for Christmas? Leave a comment!