Since we moved into our home a few years ago, I have been excitedly waiting to create a few primary bedroom design boards. A transitional primary bedroom design is what I'm after: a mix of traditional and modern, with a slight touch of European-French-Belgian countryside (think Nate and Jeremiah) style.
Eventually, we will undertake a renovation of practically every room in our home. For now, our primary bedroom design is on my mind.
If you're looking for primary bedroom design ideas, this is the post for you. Explore a few transitional primary bedroom ideas, including a few key design rules I follow.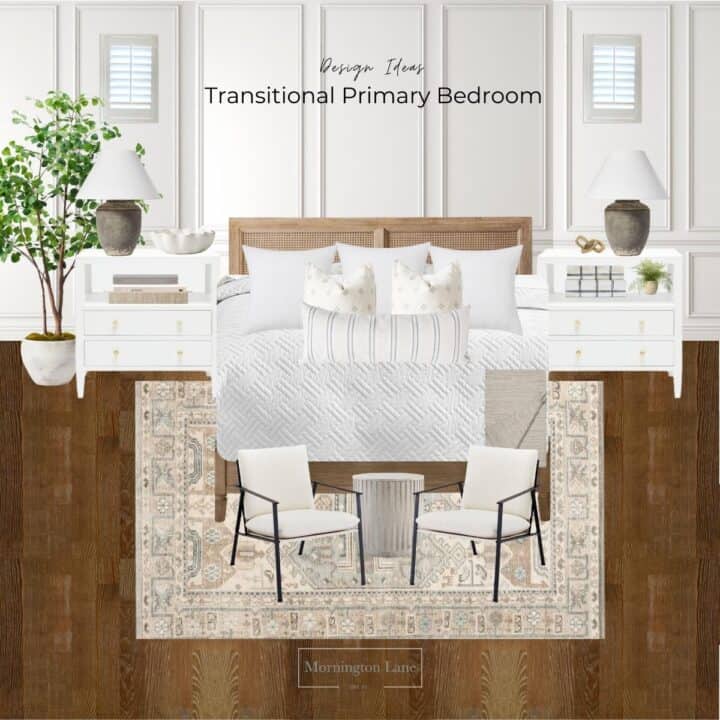 Transitional Furniture and Decor Elements
A transitional bedroom design is characterized by combining elements of traditional and modern interior design. It takes being a little more thoughtful when selecting furniture and decor.
I also look at transitional design as an opportunity to mix materials, bringing in wood, metal and upholstered elements. Add texture to bring movement to the space. Add greenery (real or faux, it doesn't matter) to breathe life into the room.
Design Rule #1: Resist the urge to buy a matching furniture set of ANY kind. Just don't do it!
A great primary bedroom design feels curated over time, while offering a much more interesting space you will want to spend time in.
One thing I love about interior design is sometimes all it takes is switching out a piece of furniture (or two) to make a space feel entirely new. And that's what I've done here. Many pieces remain across the three designs, demonstrating the versatility of transitional style.
European Inspired Transitional Primary Bedroom Design
I do not like themed bedroom designs. Really, ANY room with a theme. Coastal. Lodge. It doesn't matter what theme, I would much rather design a space inspired by a theme than a full-on themed room.
Thematic interior designs often get too literal and overwhelming.
To that end, the first primary bedroom design is ever so slightly French-European-Belgian countryside inspired. This STUNNING and calm Belgian countryside great room by Nate Berkus and Jeremiah Brent is the inspiration. I'm DYING at the beauty of this space.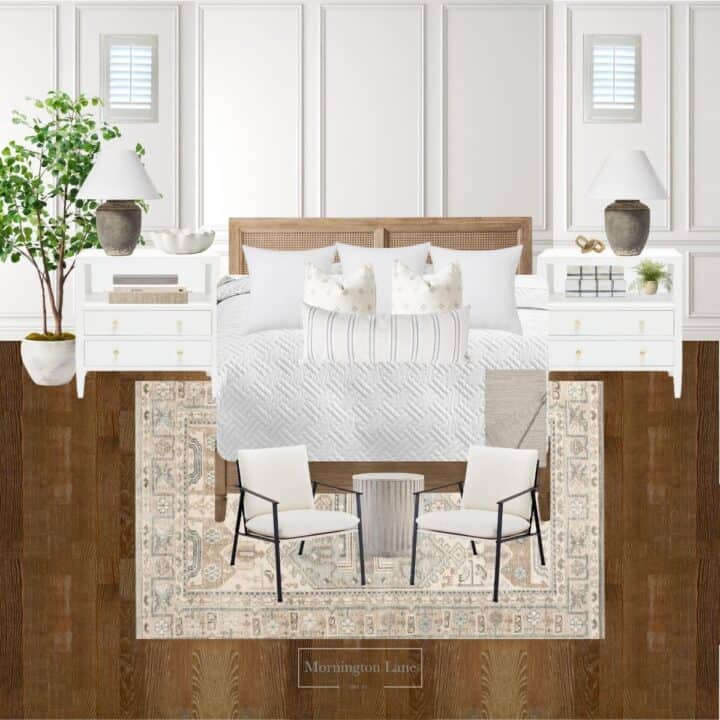 In this bedroom design, a gorgeous cane bed frame is the focal point, though it doesn't have to try hard to grab your attention.
Some of you might be wondering why there are chairs at the end of the bed instead of a bench. Well, I have a rule for this that I want to share with you.
Design Rule #2: If there is enough space to comfortably walk around the bed and, generally, the room, consider using chairs at the end of the bed in lieu of a bench. This is especially true in the case of a king size bed.
It also helps if you have something to look at from the chairs.
In our case, we have a large primary bedroom, measuring 15'9" x 14'9" in size. Our bed faces a fireplace with a TV above it. So, the chairs serve multiple purposes.
Combined with light, airy throw pillows and a muted rug, this European inspired bedroom makes you want to curl up to watch a movie.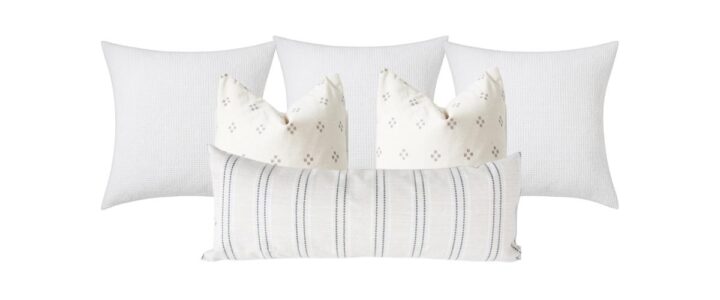 Also, remember when I said not to buy furniture sets? This is a perfect example of a curated bedroom design.
I LOVE how the wood bed frame complements the white nightstands to add depth and richness to the space. Save for the same nightstands and table lamps flanking the bed, there is no matchy-matchy going on in this bedroom.
Modern Transitional Primary Bedroom Design
A slightly different take on a primary bedroom style is this modern transitional bedroom design.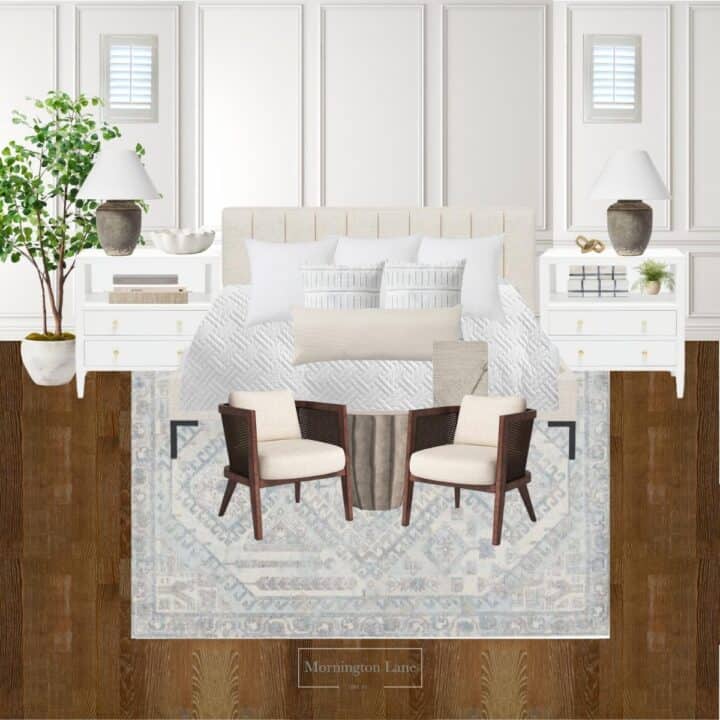 By swapping out the bed frame, chairs and accent table, the bedroom takes on a whole new, more modern feel. It's an approachable modern style.
Notice the metal leg detail on the bed frame, juxtaposed with the muted blue-grey rug which softens what could otherwise become a very structured space.
Accent tables are an often overlooked design element I like to play with. This concrete drum accent table picks up the linen-grey tones sprinkled throughout the room in such a fun way.
Oh, those end of bed barrel chairs!
Barrel chairs may seem to be trendy (I see you Studio McGee), but they have been around for quite some time. In particular, mid-century modern design has softened edges as well as rounded furniture moments. Picture the rounded legs on a mid-century modern table or rolled back channel sofa, for instance.
Design Rule #3: When using chairs at the end of the bed, choose chairs where the height of the back does not extend much, if any, above the footboard or mattress.
Again, the throw pillows are a mix of various textures and patterns.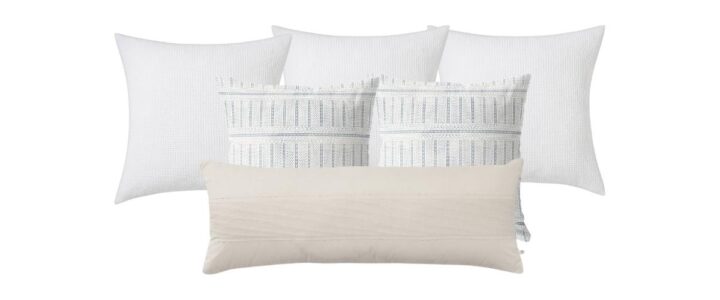 To give this primary bedroom a modern transitional feel, there are fewer color variations in the pillows.
The middle throw pillow pattern is quite linear, where a solid color lumbar pillow is the centerpiece to balance the modern feel.
Cozy Transitional Primary Bedroom Design
Coming up with a name for this next primary bedroom design was a little difficult. I mean, how do you capture a cozy feel in a name? That's really how this design came about: putting the focus on coziness.
This cozy transitional bedroom design still uses many of the same furnishings. As with the previous two designs, similarities really diverge at the focal point: the bed frame.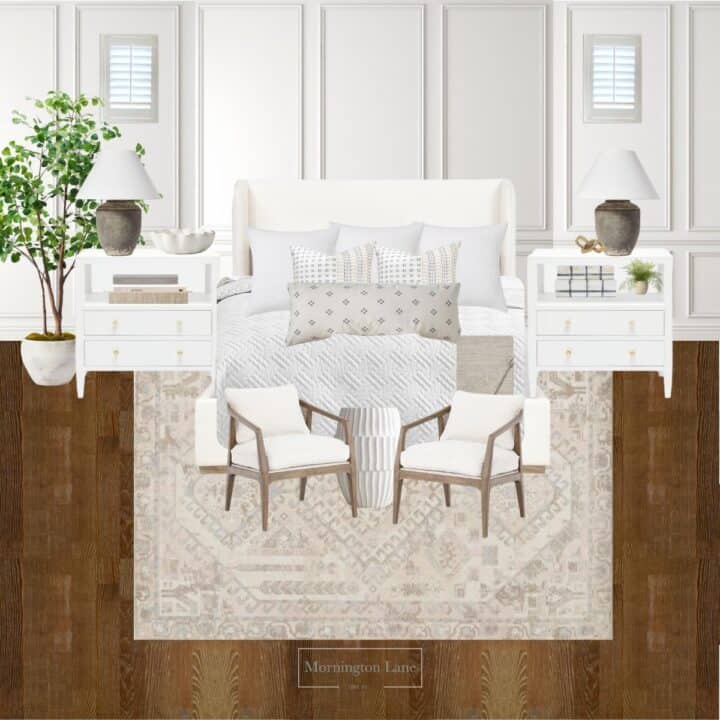 Instead of a solid wood frame, or upholstery accented with metal, the cozy transitional bedroom draws on a fully upholstered bed with a hint of wood in the feet. All the layers of fabric envelops you, exuding a feeling of warmth.
Changing out the blue-grey rug for a neutral beige rug elevates the coziness. An inviting wood-upholstered accent chair ties into the wood feet on the bed frame, but without feeling like it came from a matched set.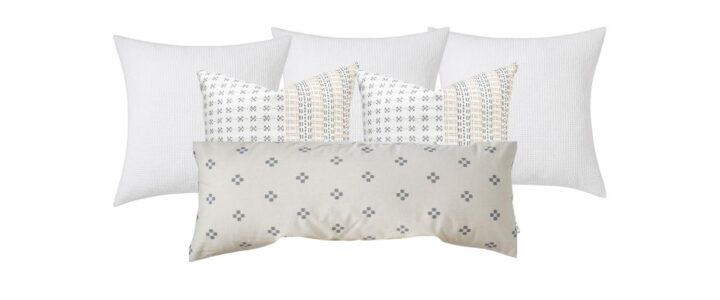 I would be remiss if I did not mention what may be my favorite pillow combination. Just look at the STUNNING Quinn Block Print pillow from Jolie Marche! I just can't even get over it!
Mixing in airy pieces of furniture alongside upholstered furniture and cleaner lines, helps to avoid a stuffy feel that traditional design often gives off.
Yes, you can add artwork above the bed. However, I'm always afraid it will fall on my face in the middle of the night, so no artwork above the bed for me.
There are no extremes when it comes to transitional design. If you are looking to appeal to the masses, transitional strikes the right balance of traditional and modern aesthetic.
Plus, when it comes to primary bedroom designs, you can't go wrong with a transitional style. What is your favorite aspect of transitional design?
---
Frequently Asked Questions
What is a transitional interior design style?
Transitional interior design is characterized by combining elements of traditional and modern interior design styles. It is one of the more popular design styles, because there are no extremes in transitional design.
What is the difference between traditional and transitional design?
Traditional and transitional design styles differ in a few key ways. Transitional design is characterized by combining traditional and modern elements into one space. Mixing in airy pieces of furniture alongside upholstered furniture and pieces that have cleaner lines, helps to avoid a stuffy feel that traditional design often gives off.
How do you decorate a room in transitional style?
Decorating a room in transitional style is fairly easy. Given transitional design combines elements of traditional and modern design, you can more easily mix materials, metals and decor. Transitional design is more eclectic in that a room should feel curated. For instance, mixing a linen, flax-colored upholstered bed frame with white painted nightstands feels more curated than a matching furniture set of a dark wood bed frame and nightstands.