Have you ever wanted to do a DIY mirror frame makeover? You loved the color and style when you bought the mirror (or even artwork), but you painted the walls or moved houses and it doesn't work in the room anymore.
Check out the before and after of my diy mirror, including the SUPER short list of materials I used to complete this mirror makeover.
This DIY mirror frame makeover might be just the home decorating project to help motivate you to pick up a paint brush and DIY something .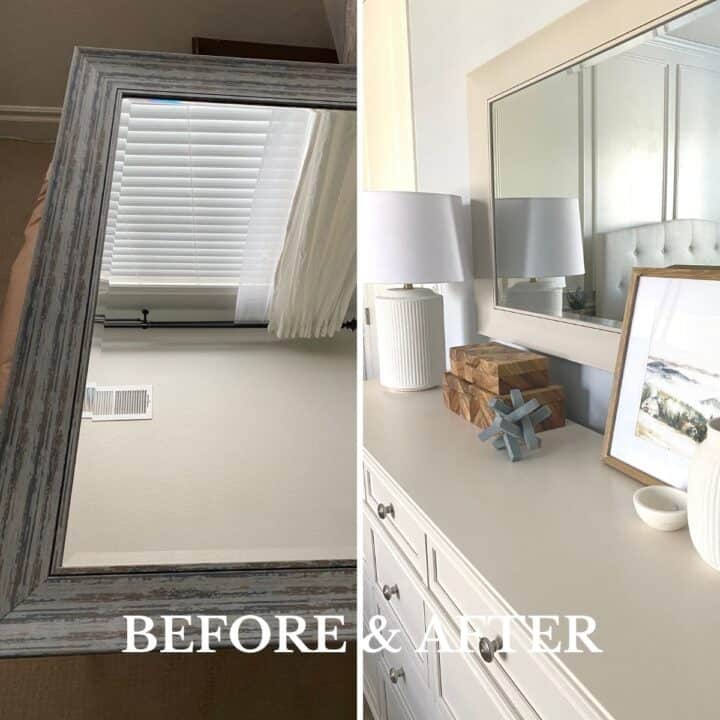 Mirror Frame Makeover
Let me start by revealing that I am not really a DIY person.
I enjoy reading about successful DIY projects and I absolutely LOVE looking at before & after pictures. I just don't like doing the project myself. The perfectionist in me fears I will mess it up, ruining whatever home decor item I was attempting to makeover.
This particular DIY mirror frame makeover project—dare I say—may have converted me.
Here's the story.
We bought this rather large mirror (31.5" height x 43.5" width) from Home Goods.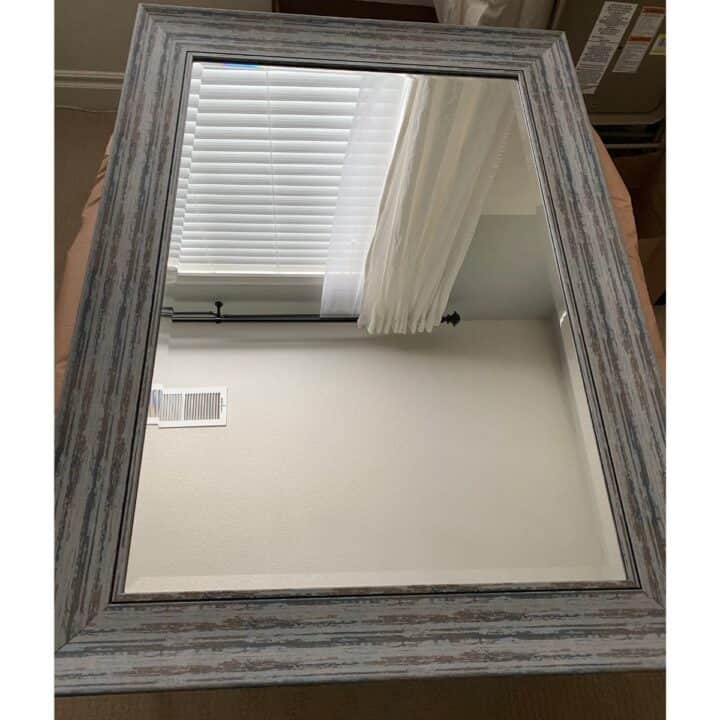 At the time, I didn't want to spend much because we were renting and I refused to decorate rentals. However, after eight years of renting, it was time for me to add some life to what would be our home for who knew how long.
So, Home Goods it was.
The mirror was only around $60, if I recall correctly. For such a large mirror it was a steal. The blue-gray wood frame kind of worked for our aesthetic at the time.
Skip ahead to four years later when we bought our forever home. I was changing a few things in our guest bedroom and I knew the frame color would not work.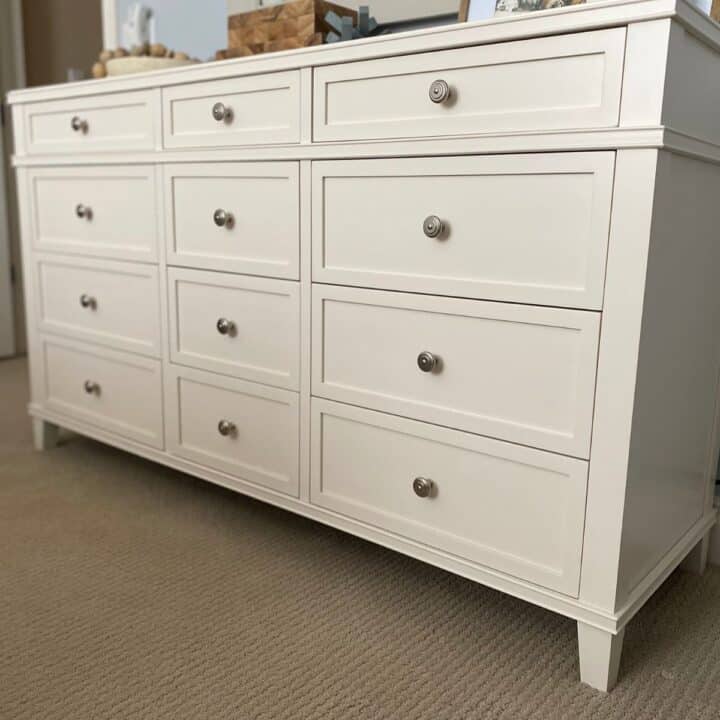 As part of the guest bedroom updates, we bought this gorgeous creamy white dresser from Pottery Barn.
We originally had a stunning antique serpentine front Dixy dresser in that room, but it was unusable. (More on that in a future post.)
The large scale mirror was a perfect fit to either hang above or lean on top of the new dresser. It was time for me to tackle what I said I would not do: a DIY mirror frame makeover.
Materials You'll Need to Makeover a Framed Mirror
I wasn't sure of the material that made up the frame to know if painting over it would ruin it. If it was MDF, it would swell and warp the frame. But this was an all-in or not-at-all sort of project, so there was no "testing" the paint in an area; I just had to go for it.
For this mirror frame makeover, I used the following materials:
Benjamin Moore Revere Pewter paint matched in flat Behr Ultra Low-VOC
1.88" Frog Tape painters tape
Large pieces of packaging paper as a dropcloth (reused from a package I received)
Patience
Part of what made this DIY mirror makeover quick was I already had the paint on-hand in the form of a sample. I was able to complete two coats, with about half the sample container still left at the end of this project. You know, for another DIY.
Because I did not believe this DIY project would actually be successful, I do not have any photos of the project in progress and only one photo from before the makeover.
If you look closely at a photo of the mirror before below, you'll notice a very thin, charcoal-black inset all around the frame. This was one of the features I really liked about this mirror that I wanted to preserve, because it added dimension and character.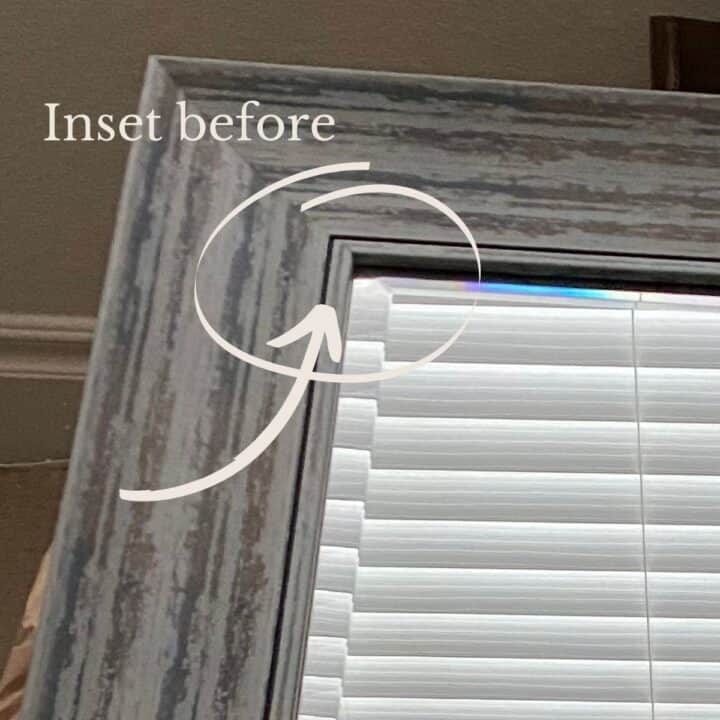 Laying the paint brush fully on its side, while dragging the brush with the inset, enabled a near flawless paint job.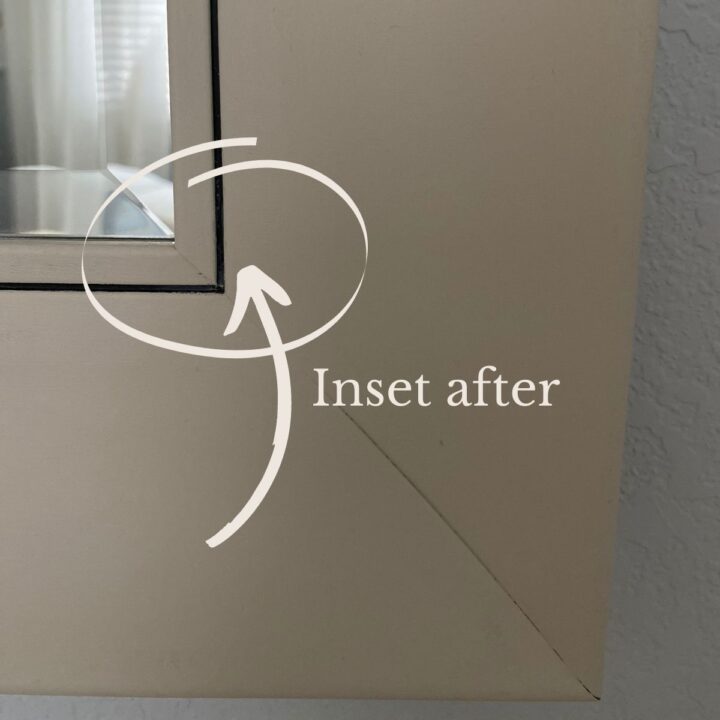 DIY Mirror Makeover Reveal
After a day of drying, the DIY mirror frame makeover was done.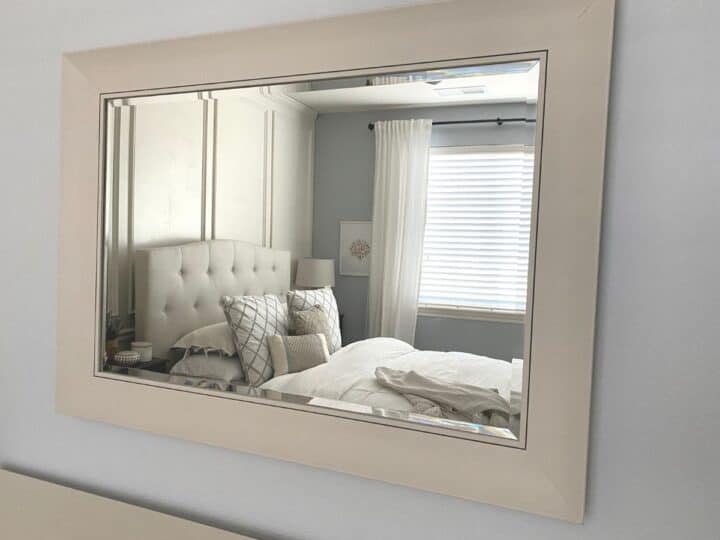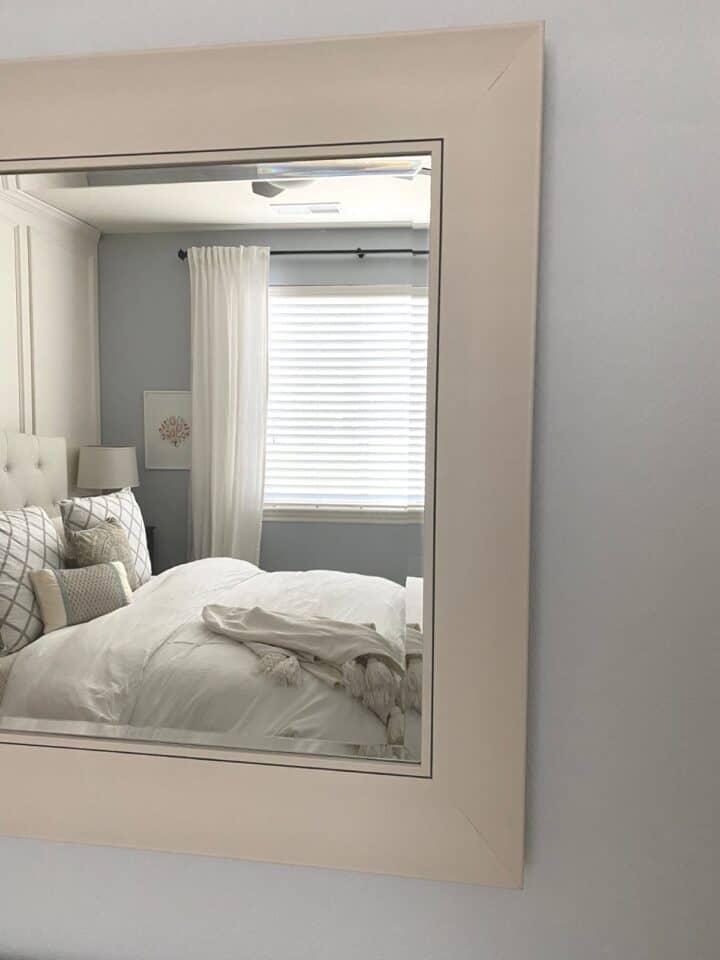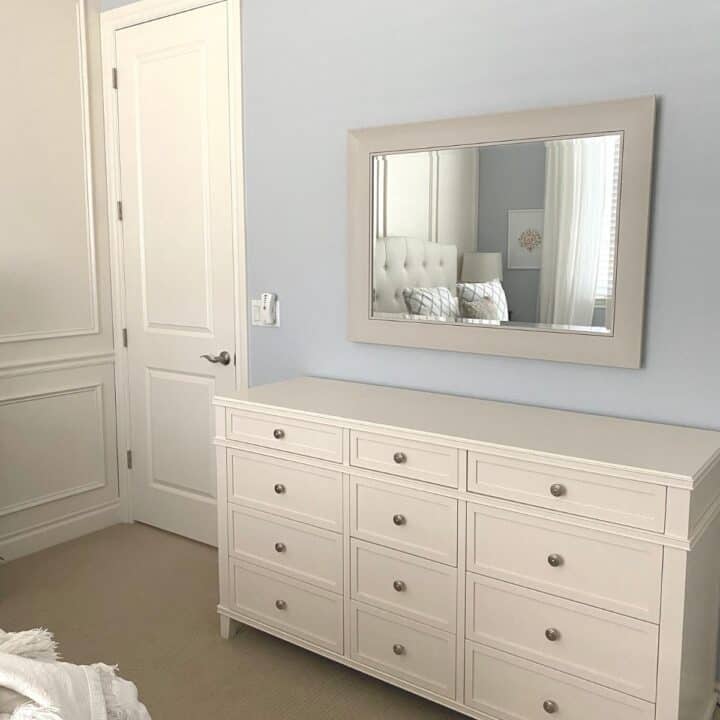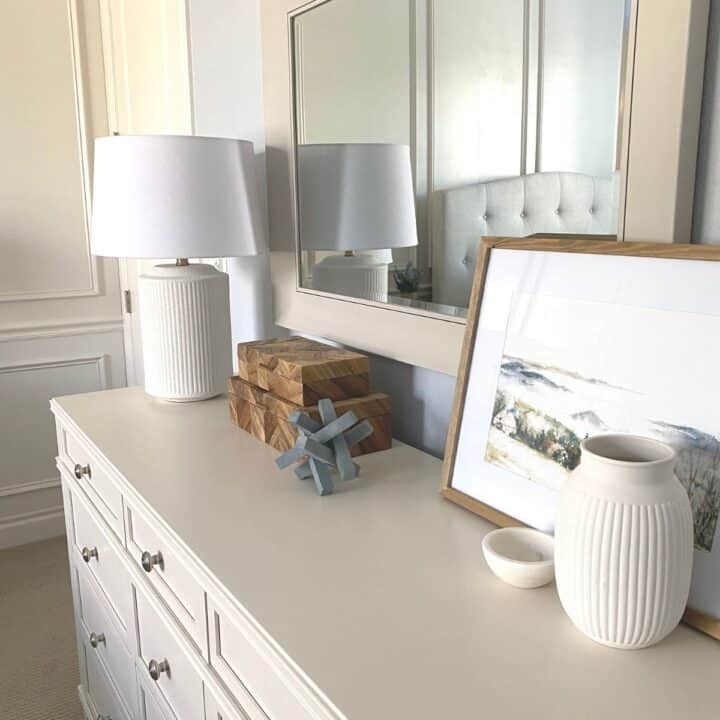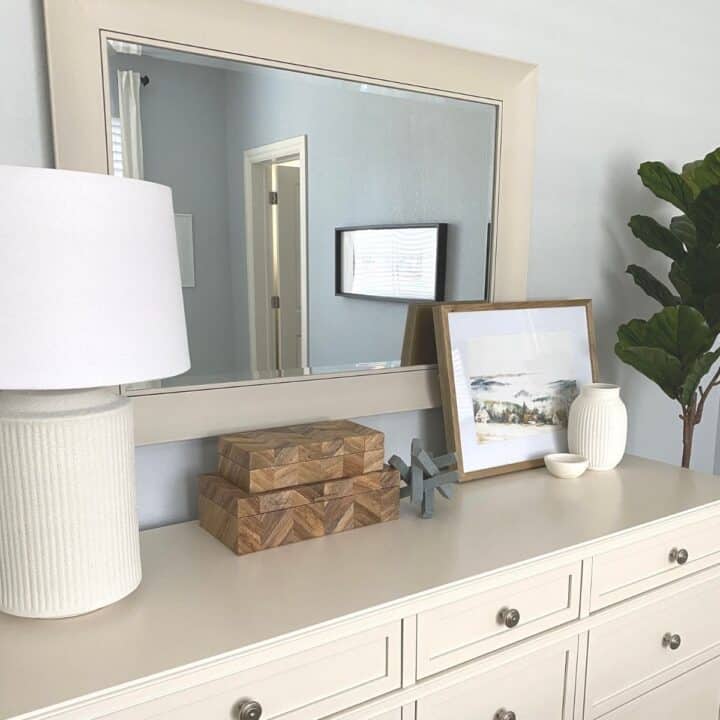 I chose to hang it for now. In the future, I may purchase some museum putty to lean it on top of the dresser.
The stunning table lamp is from the Target Studio McGee Threshold collection, as is the blue soapstone object. You can find the small marble bowl from Amazon. The tranquil hillside village artwork is from Hobby Lobby, while the boxes were a great find at Home Goods. The ribbed vase is from Zara Home.
Finding Affordable Mirrors to Makeover
Similar to larger scale lamps, mirrors can be expensive. Where can you find affordable mirrors to makeover?
Here is a list of places to find mirrors for your own DIY mirror makeover.
Thrift and second-hand stores (i.e., Good Will, Salvation Army, arc Thrift, etc)
Antique and vintage shops
Home Goods (of course, but really the whole family of brands—TJ Maxx, Sierra and Home Sense)
Facebook Marketplace
Craig's List
eBay
At Home
Ikea
Target
Walmart
H&M Home
Zara Home
All in all, this DIY mirror frame makeover took very little time. Do you have a mirror that is in need of a DIY? Leave a comment.
Frequently Asked Questions
How do you update an old mirror frame?
The sky's the limit when it comes to DIYing a mirror frame makeover. For instance, you could paint, stain, add overlays, or apply texture to the frame. Have fun with it!

How do you modernize a mirror?
One of the easiest ways to modernize a mirror frame is to change the paint or stain. Wood tones come and go out of fashion. If lighter wood is in, strip and stain the mirror a lighter tone. If light yellow paint is the trend, paint the frame yellow or a complementary color.

How do you refurbish a mirror frame?
If the mirror frame is antique, you can take it to an antique restoration shop. Otherwise, a DIY mirror frame makeover can help you refurbish the mirror frame for not much investment.

Can I paint my mirror frame?
If you can paint your mirror frame depends on the underlying material it's made of. There is usually a solution for almost every type of material, so don't let that dissuade you. Researching how to DIY over a particular material is one place to start. Also, check with someone knowledgeable at your local hardware store who may be able to point you in the right direction.