Here on Mornington Lane, you know it's all about home. Creating beautiful spaces you truly enjoy living in.
So, if you're here, you may also be as obsessed with home renovation and home improvement shows as much as I am.
Getting lost in HGTV's "Sarah's House" from the eponymous interior designer, Sarah Richarson, to the Mcgee's "Dream Home Makeover" on Netflix, I can't get enough. (I may or may not have watched "Dream Home Makeover" end-to-end five times.)
I also LOVE home renovation shows featuring The Property Brothers and other similar shows. Now, I am not exactly sure the brothers design the spaces or if they use a designer every time. And I've noticed shows like that tend to break design rules and not in a good way.
I also think you need to know the home renovations mistakes that are wrong in order to not follow them.
In reverse order—from least annoying to the most annoying— here are 5 mistakes home renovation shows make, repeatedly.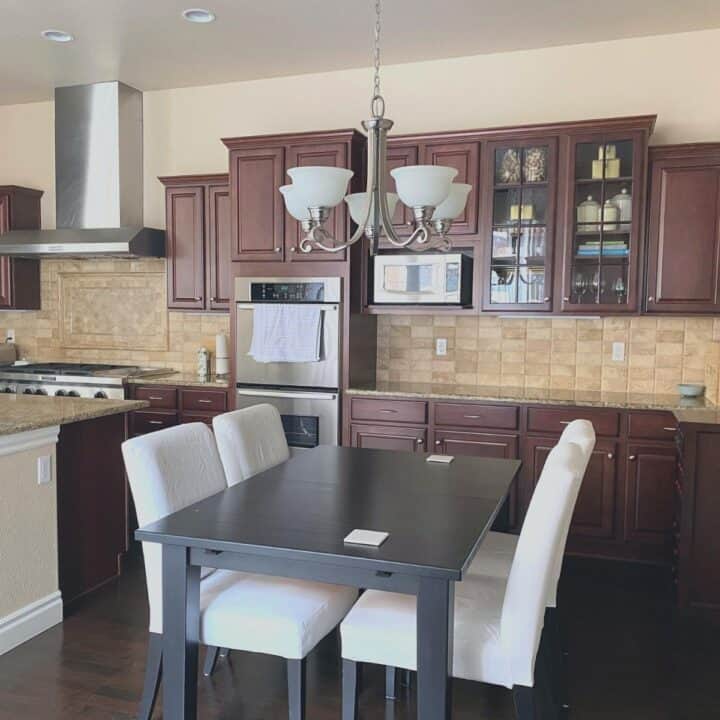 Blindly Following Interior Design Tends
Like fashion, music and hairstyles, interior design trends come and go. (Think pastel bathroom tile in the 50's, shag carpet in the 70's and linoleum in the 80's.)
It seems as if home improvement shows like the Brothers repeatedly blindly follow trends in their designs.
In one house they may (and recently do) use ALL of the following:
Intricately designed cement tiles in the kitchen AND bathrooms.
Grey LVP flooring.
Two-toned kitchen cabinets in "the-color-of-the-moment" color.
Open shelves in lieu of upper cabinets.
Grey paint. Everywhere. All. The. Time.
Sure, sometimes you may have to update the interior of your home to sell it.
Then again, you could just as easily update it to incorporate timeless design aspects instead, while most likely saving money at the same time.
Following trends is one home renovation mistake (trap?) you should try not to fall into.
Hanging Curtains Wrong
There are certain design rules that I always follow. Hanging curtains correctly is one such rule.
I'm not sure how renovation shows that typically work with a professional interior designer make this mistake. It is one of the most surprising mistakes I see.
In particular, The Brothers almost always hang curtains too low, too narrow or too high.
Hanging curtains too low from the ceiling/crown cuts the height of the room off, making the ceilings feel lower.
Too narrow means light is obstructed as well as the possibility the curtains will be unable to fully cover the window when they are closed.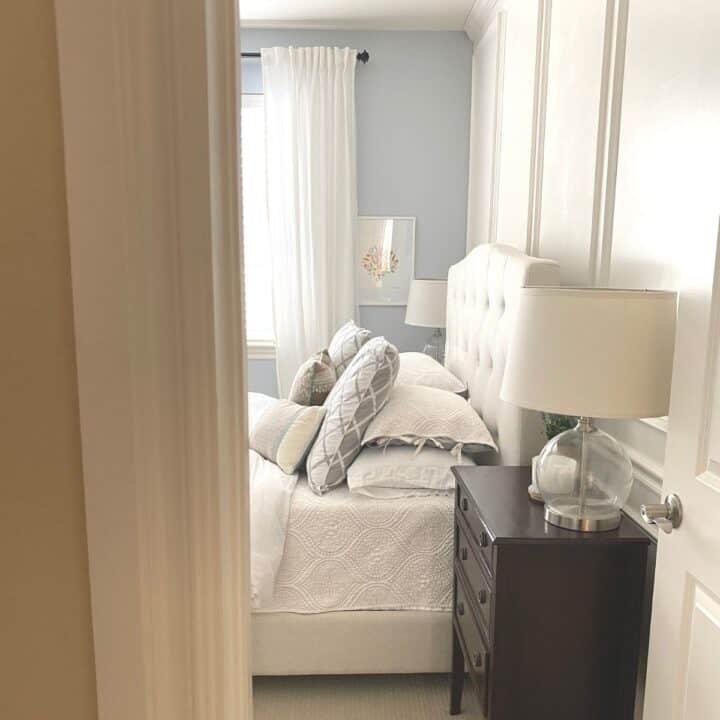 The correct way to hang curtains is as follows:
The curtain rod should be hung two-six inches below the bottom of the crown molding or ceiling. (Some people hang curtains right up to the crown/ceiling; I think that looks off except in very specific circumstances.)
The curtain rod should extend at least 12 inches from the outside of the window frame. This ensures the curtains can FULLY open without intruding on the window or blocking the light. Note: this rule depends on the width of the window, as you could go two feet or more for large windows.
This brings me to the curtain width. You need about 2.5 times the fabric as the width of the window. Why? Because when CLOSED, the curtains need to cover the full span of the window. Otherwise, you will end up with a gap at the middle or at the sides. Moreover, with large windows, if you do not have ample fabric when the curtains are open, too little fabric will look very unbalanced (read: skinny fabric just hanging there).
From the floor, the length of the curtains should either slightly pool or just graze the floor. They should NOT be an inch or two (or fourteen) from the floor. (Yes, scary as it sounds, I have seen curtains hung in such a way and it makes me cringe.)
Once you know how to hang curtains correctly, you'll always want to fix others' mistakes.
Not Taking Upper Kitchen Cabinets to the Ceiling
I admit, this next design mistake home renovations shows make most likely has more to do with budget constraints than anything else.
But kitchens are so much prettier and look finished with stacked upper cabinets.
Then again, I will refer you to the number one mistake and you'll know why I believe that is usually not the case.
For instance, The Brothers rarely take kitchen cabinets to the ceiling. Actually, kitchen cabinets, laundry room cabinets, built-ins or any other cabinets. And it matters.
What is the first thing you notice about the kitchen below? I suspect you notice the height difference of the upper cabinets. They don't go all the way to the ceiling.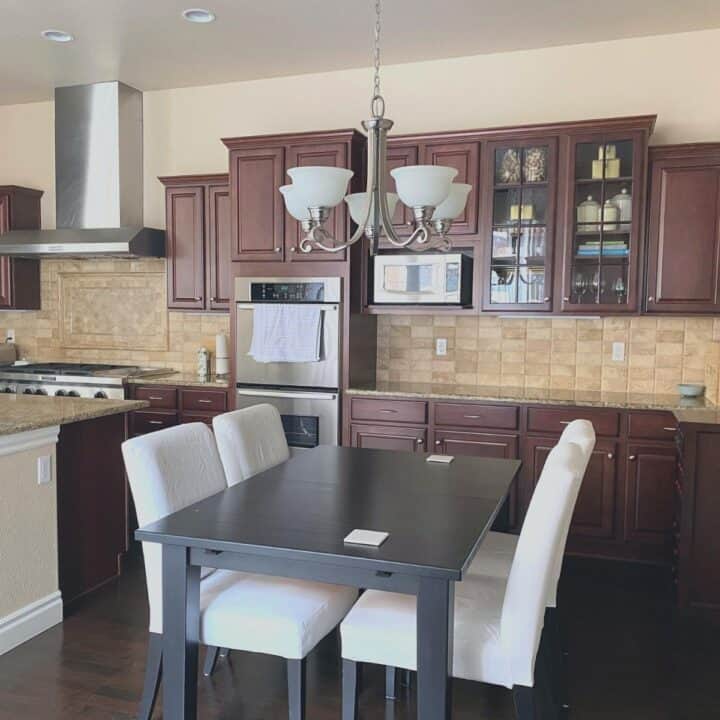 Without stacked cabinets makes the kitchen feel, at least to me, incomplete. I know it's full of dust up there, because my own kitchen was built without stacked cabinets.
You may be thinking they didn't have the ceiling height to put in stacked cabinets. When the ceiling height is lower than 9 feet stacked cabinets will most likely not work well. However, I am only talking about when there is appropriate ceiling clearance to fill in the space. Upper kitchen cabinets come in MANY heights, starting at 12 inches. You could also install custom, handmade cabinetry.
The reason I call this home improvement mistake out will become more apparent why it's so frustrating, so keep reading.
Placing the Range on the Island
If there is one and only one kitchen design tip I can impart on you (and the rest of the world) it's this:
Never, under any circumstances are you to ever (like, ever) install a kitchen range on an island.
That's it.
It's the most useful kitchen design advice ever.
You now know all you need to design your dream kitchen.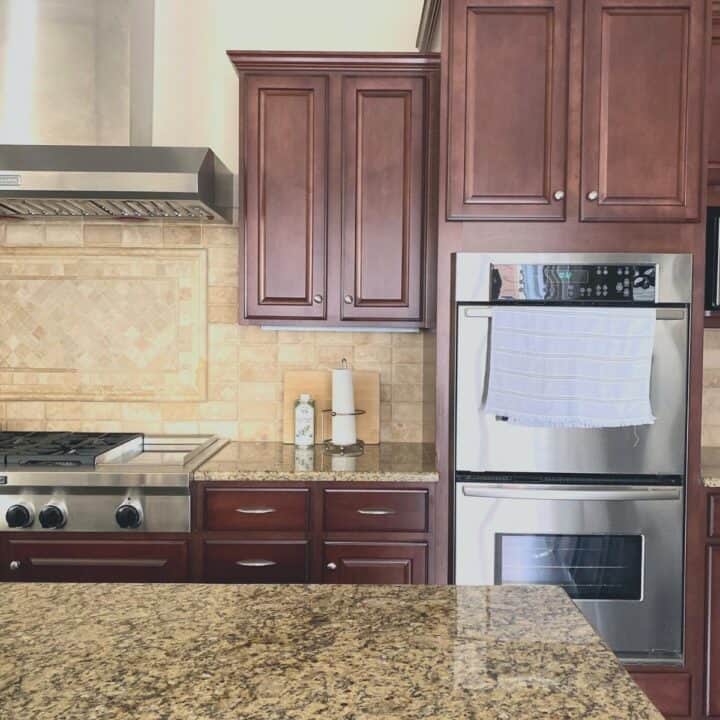 Go forth, knowing you will never install a range on that beautiful kitchen island you've always dreamed of having.
In all seriousness, if you find yourself thinking, "Oh, I have nowhere to put the range now," think again.
In fact, before you even consider placing your range on the island, throw out the kitchen triangle rule. It's more of a reminder to think about flow in a kitchen than a hard-fast rule. (And I have seen too many professional interior designers take liberties to call it a rule.)
There are many reasons you should never place a range on the island, but the three main reasons to try to convince you NOT TO DO IT are:
Unless you have a downdraft, the hood vent will ALWAYS (and forever) be in the way of sightlines and headroom. It will be a huge eyesore that breaks up the space in a terrible way.
Even if you have a downdraft, the act of cooking splatters grease and creates fumes. On a large, open surface like an island--where there is typically seating--means food flies in the face of anyone sitting there.
It makes it look like the plan for where to place the range was an afterthought and the overall design poorly planned.
The impracticalities should speak for themselves but here we are.
To sum up… don't ever place your range on the island.
Replacing Cabinets or Flooring for No Good Reason
On many home renovations shows, I see it time and time again.
Touring the space with the host, talking about what changes the homeowner wants to make, the host recommending what changes they can accommodate, etc. the inevitable happens: it's time to talk about flooring and kitchen cabinets.
"Do you want to keep the floors," the host asks.
"We hadn't really thought about it," replies the homeowner.
"We can make it seamless throughout the space with LVP. It will hold up better with the kids and the dog. We'll find room in the budget for new floors," says the host.
"These cabinets have taken a beating," says the homeowner as they continue the tour into the kitchen. "Can we replace them?"
"They do look beat up. We'll find room in the budget for brand new kitchen cabinets," says the host.
Just no.
In many instances, not only is this monetarily a waste, but from an environmental standpoint too.
It is a difficult scene to watch play out, where the gorgeous real hardwood or engineered wood floors are ripped out to be replaced by a sticky vinyl or another engineered wood floor in a different color.
Rarely does the host offer to match the existing flooring. Nor do they discuss the cost of replacing an entire kitchen.
This is a failure on so many levels. There are ways to save while getting what you want.
What should you do?
Ask for a cost comparison of replacing vs refinishing the existing cabinets (i.e., paint/stain, new door/drawer fronts, modifying a few lower cabinet shelves to full drawers, adding aftermarket soft close hardware).
Discuss retrofitting stock cabinets to take the upper cabinets all the way to the ceiling or to add an island.
Ask for a cost comparison of replacing the floors vs refinishing/matching new flooring to the existing flooring.
It's not just the budget, but environmental considerations when you take on a home renovation.
There are ways to keep building materials out of landfills.
Sure, sometimes it won't work and you just have to replace it. Or, it is more expensive to match the existing materials. That said, knowing the cost difference will help you make a more informed decision. Try to reuse what you can by updating what you have to fit your space.
Don't be afraid to ask questions. In the end, it is your home.