After the holiday has passed, the birthday party is over or the anniversary celebration has come to an end, you return to the disorganized wrapping paper scene that awaits you in the next room.
Tired of fighting with wrapping paper, these gift wrap organization storage ideas will help solve your wrapping paper mess once and for all. Sure, you could throw rolls of gift wrap in a closet and close the door… until you need to wrap a gift again. Also, that's just not pretty.
From a tall woven basket to a behind the door hanging organizer, these gift wrap organization ideas eliminate organization complications.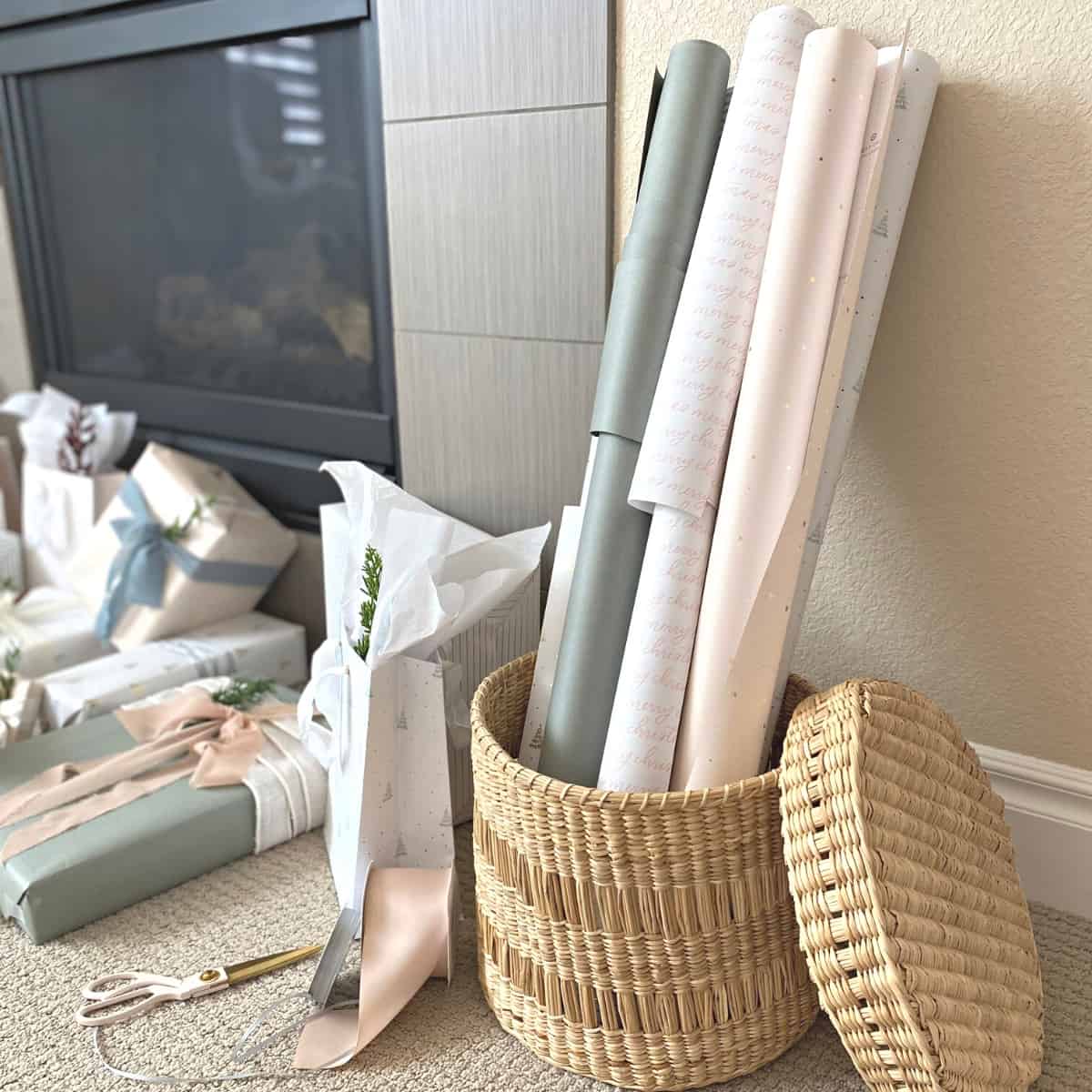 Wrapping gifts comes with some amount of waste and plenty of organized chaos. Planning a fun, creative way to reimagine gift giving is my favorite part. I like to use sprigs of greenery, layers of textured ribbon and other gift toppers.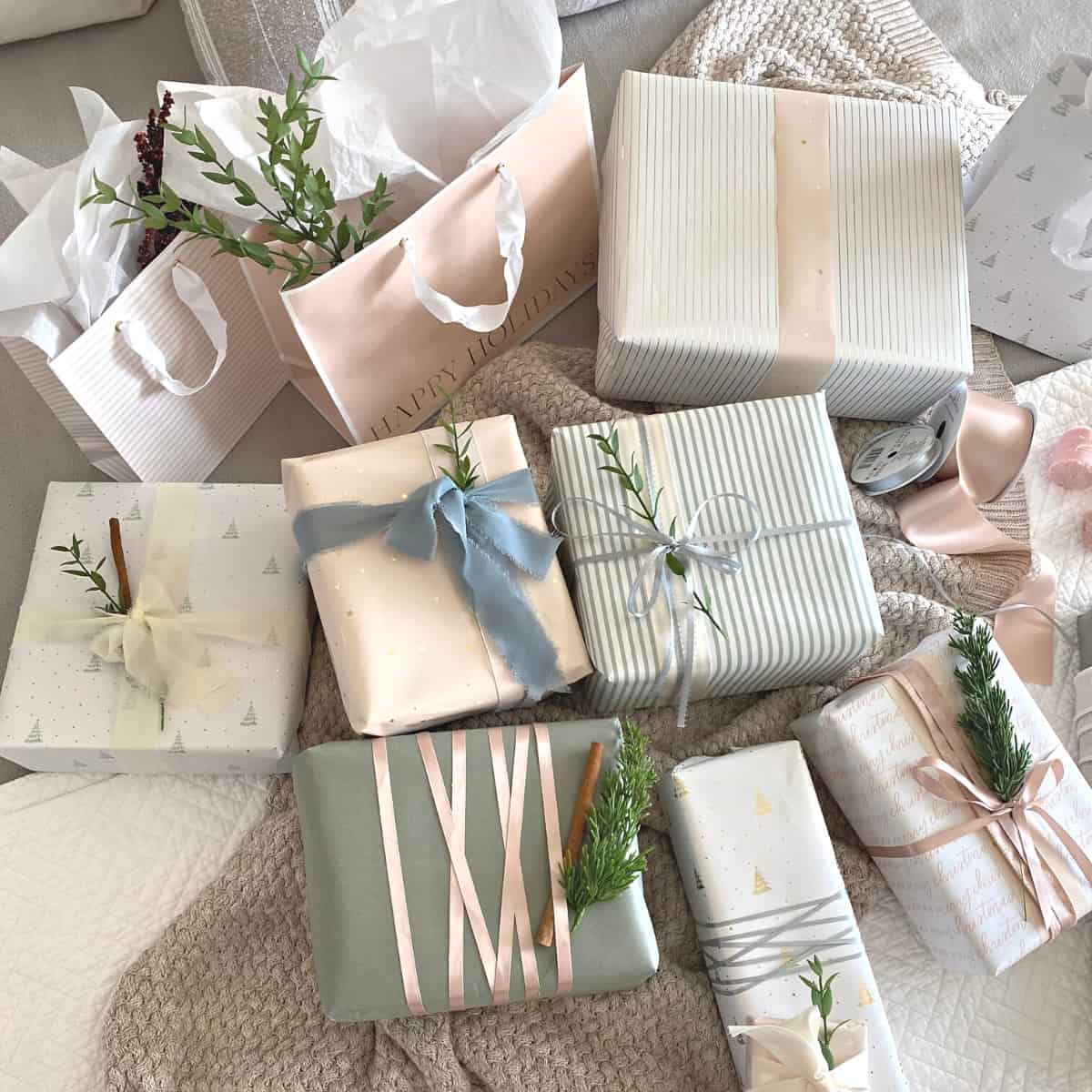 If you haven't read the beautiful gift wrap ideas post, you should. It's full of pretty gift wrap ideas for your next birthday, anniversary or holiday celebration.
Gift Wrap Organization and Storage Ideas
Storing and organizing wrapping paper is almost an art form. (It only sounds dramatic.)
You may prefer stacking gift wrap on a shelf or propped up on one end in a closet. If that worked for you, you probably wouldn't be reading this.
Here are a few gift wrap organization ideas—and a couple ribbon storage ideas—to help you stay organized.
Use a Tall Basket to Organize Gift Wrap Paper
New or vintage, you can't go wrong with a tall woven seagrass basket as a gift wrap organization idea.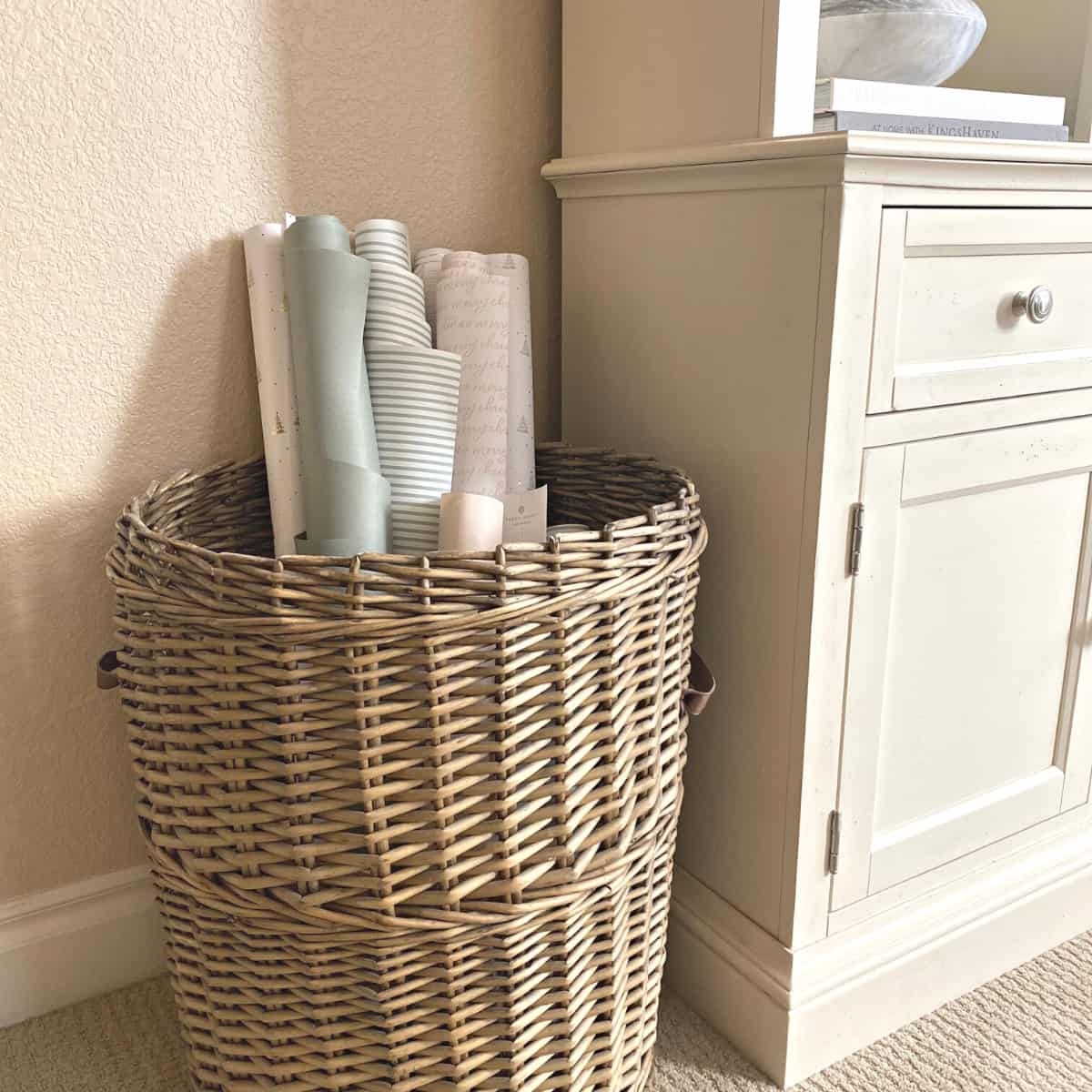 Leanne Ford's wicker hamper basket line with Crate & Barrel is a great option as well as Pottery Barn's gray woven hamper. You could also check out World Market's water hyacinth basket that has more of an airy feel.
Then there is the eponymous Serena & Lily La Jolla basket in the large size. We found a similar basket at our local HomeGoods that was too good to pass up.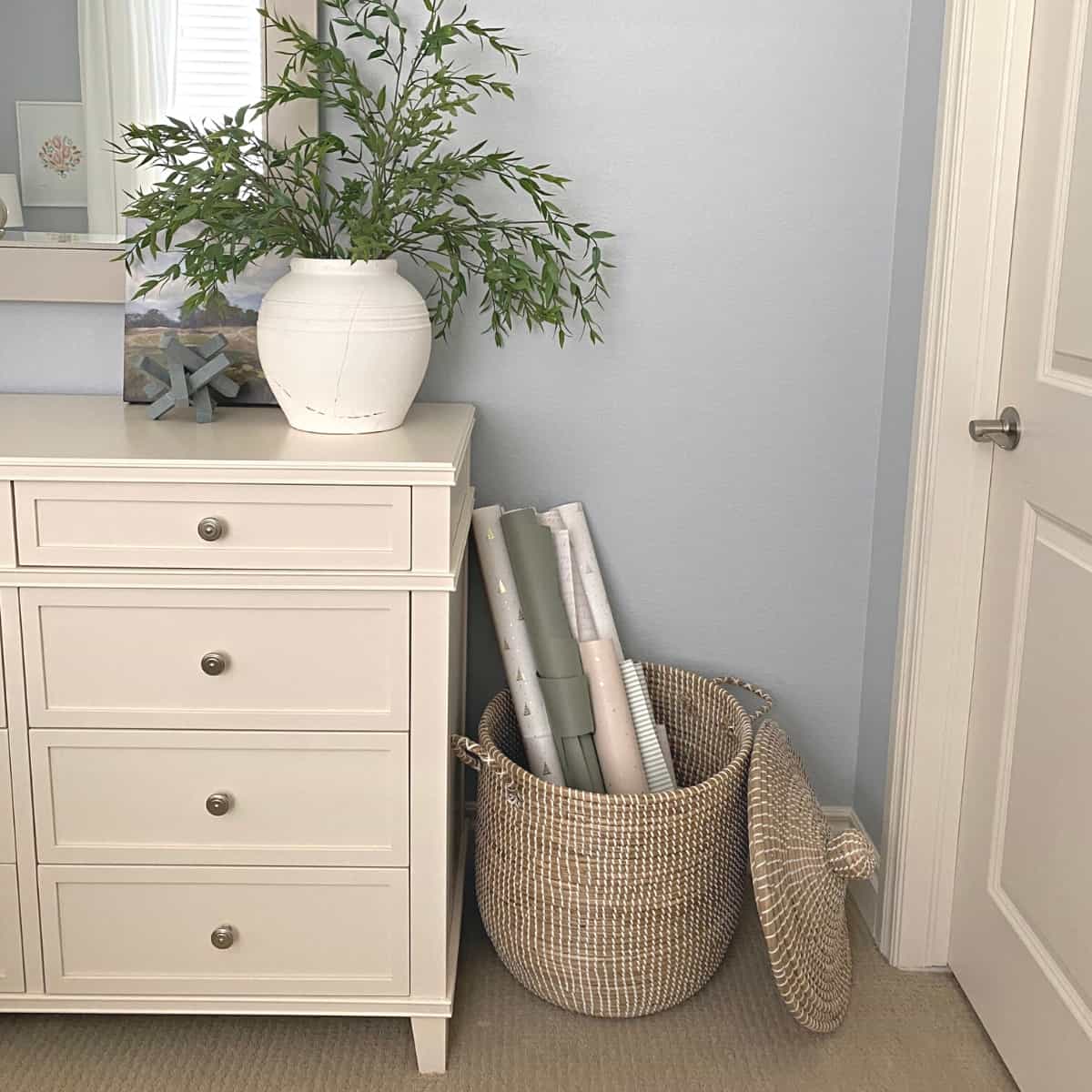 You can often find baskets at HomeGoods online that will work wonderfully as gift wrap storage ideas.
Small Baskets as Wrapping Paper Storage Ideas
While large, tall baskets work very well for storing wrapping paper, smaller baskets could work as well.
Take this oval open weave small basket from the wide selection of storage baskets at Target.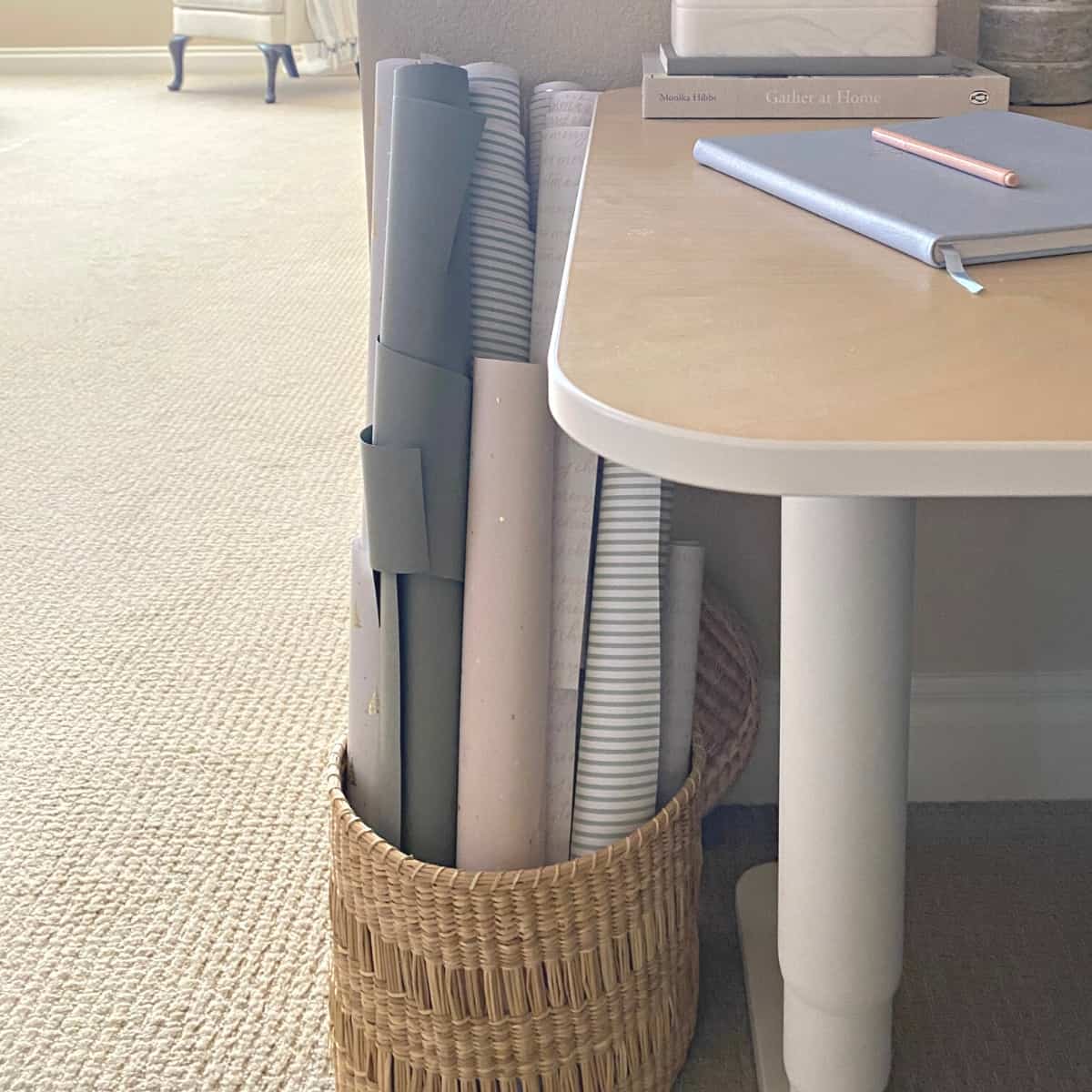 Who said you have to store gift wrap in a closet? Our wrapping paper is on display, propped against the wall in my home office area. It's not for everyone, but looks good in some spaces.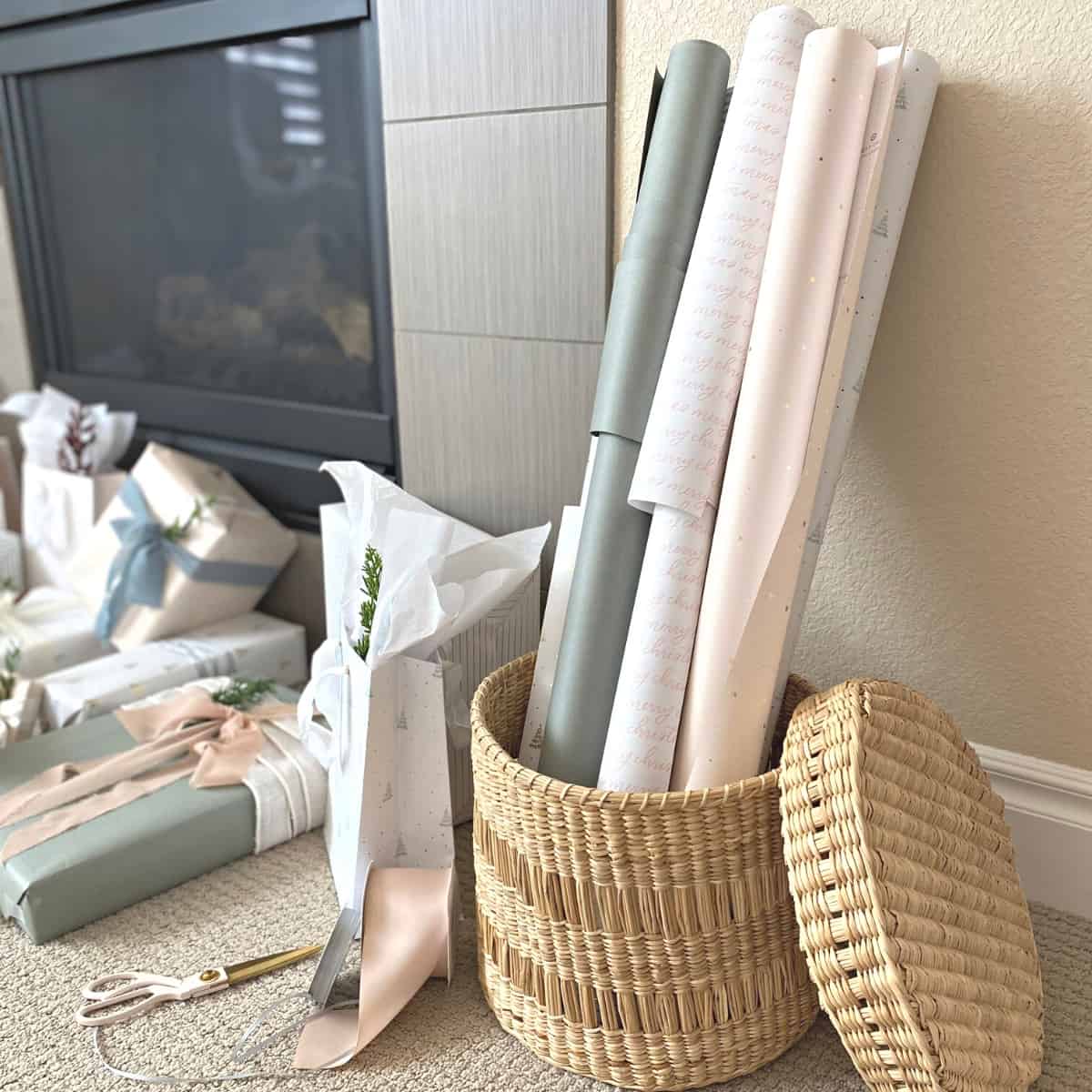 Cloth Hamper Gift Wrap Organization Idea
If woven baskets aren't your thing, cloth hampers are an alternative solution to store wrapping paper. Hampers store easily in a closet, keeping it out of sight until you need to wrap a gift. Cloth storage gift wrap solutions preserve wrapping paper a little better, as paper has a tendency to catch on open weave baskets, causing tears in the paper.
Over the Door Organizer and Closet Gift Wrap Storage Ideas
Kelly Nan blog and Little Bits of Home both show off their wonderful back of the door hanging gift wrap storage organization solutions. Typically, the door organizer will contain modular and moveable baskets, allowing you to easily create a configuration that works for the length of a wrapping paper tube.
Other ideas for gift wrap storage is to simply lay the rolls on an open shelf in a closet.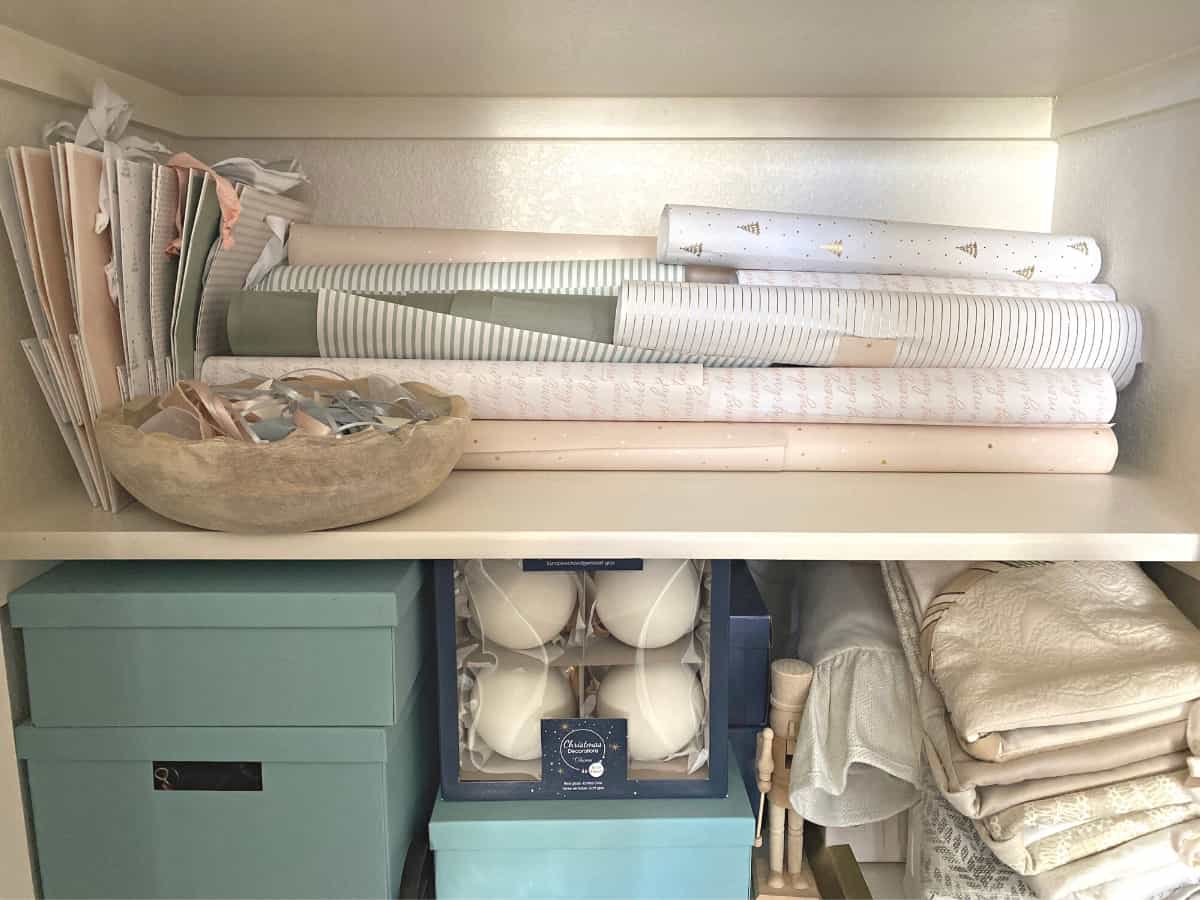 It's not as aesthetically pleasing; however, storing gift wrap on a shelf may be easier for people who happen to have enough closet space somewhere in their home.
Organizers that hang over the back of a door are ubiquitous across major retailers, such as the ClosetMaid wall cabinet door organizer from Wayfair. Target, Walmart, The Container Store, and Amazon also carry different versions of over the door organizers.
Ribbon Storage Organization Ideas
Ribbon and other gift toppers present their own set of unique storage and organization challenges. For instance, storing ribbon on a roll vs loose ribbon scraps means finding two different types of storage solution.
A pretty tray can be used to organize ribbon on rolls. I used a similar lacquered tray with handles. Also, Mark & Graham should be on your list of places for decorative trays.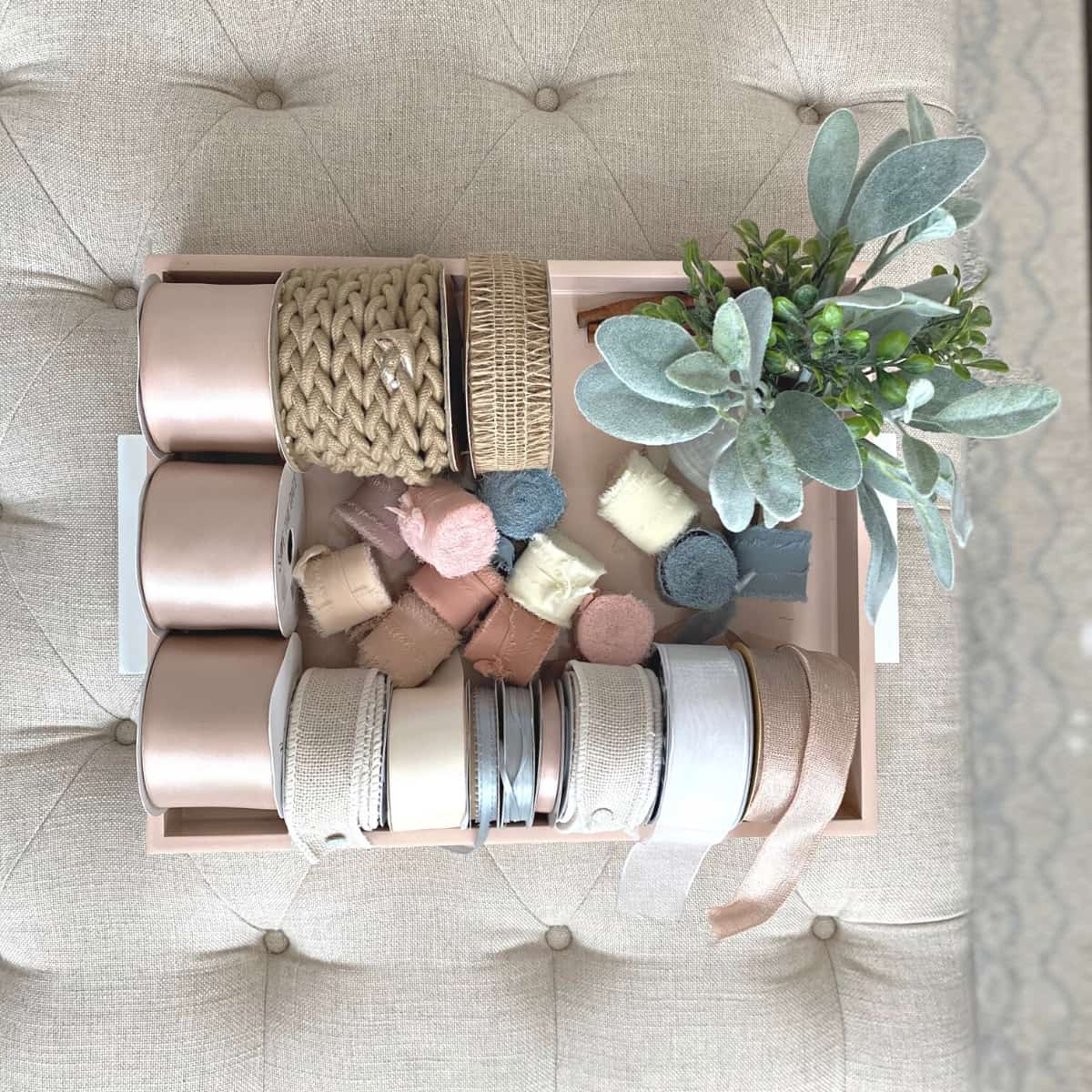 Trays from AtHome and World Market are reasonably priced.
You may pay a little more, but Pottery Barn and Williams Sonoma carry some of the most gorgeous trays. A woven rectangular tray looks pretty on a shelf, while a light wash rattan round tray sits nicely atop a console and a raffia tray looks great anywhere.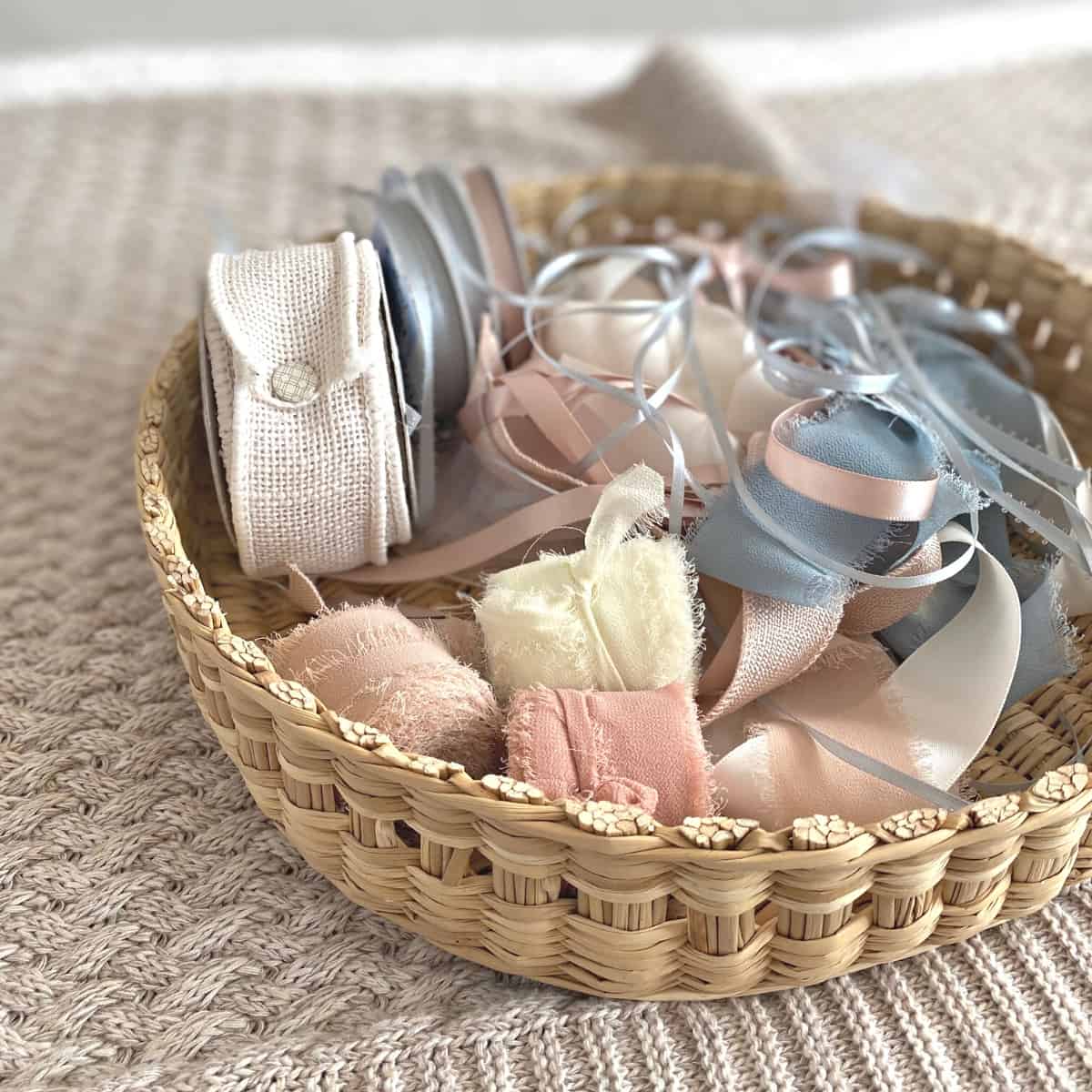 You can use a stunning wood bowl to store ribbon scraps, if you are unable to wind it back on the roll.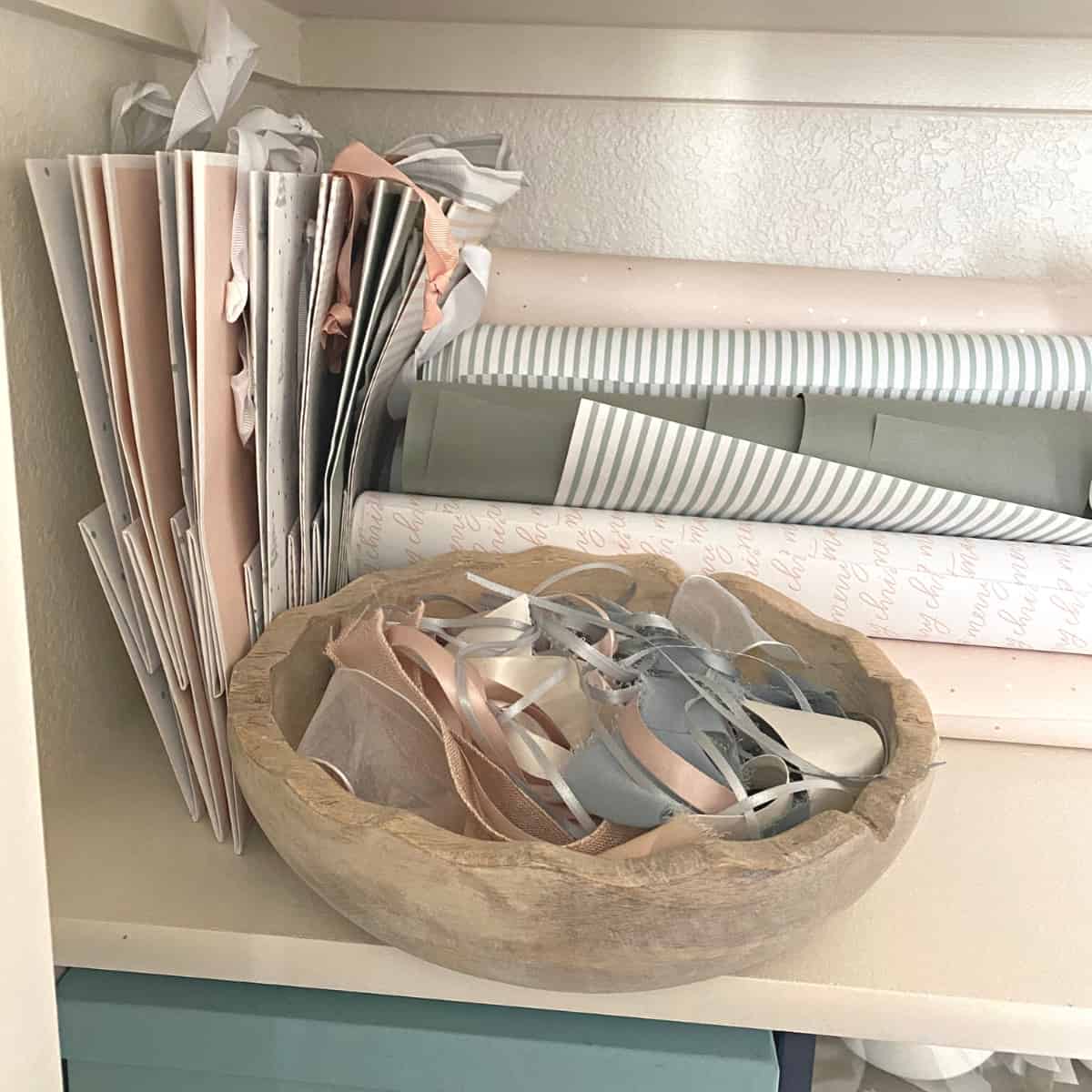 Our wood bowl was another HomeGoods find. 
Think outside the box, as any bowl, even a kitchen serving bowl. Again, World Market's selection of serving bowls won't break the bank. Amazon is a go-to place to find paulownia wood bowls, including Serene Spaces Living Store paulownia round bowl.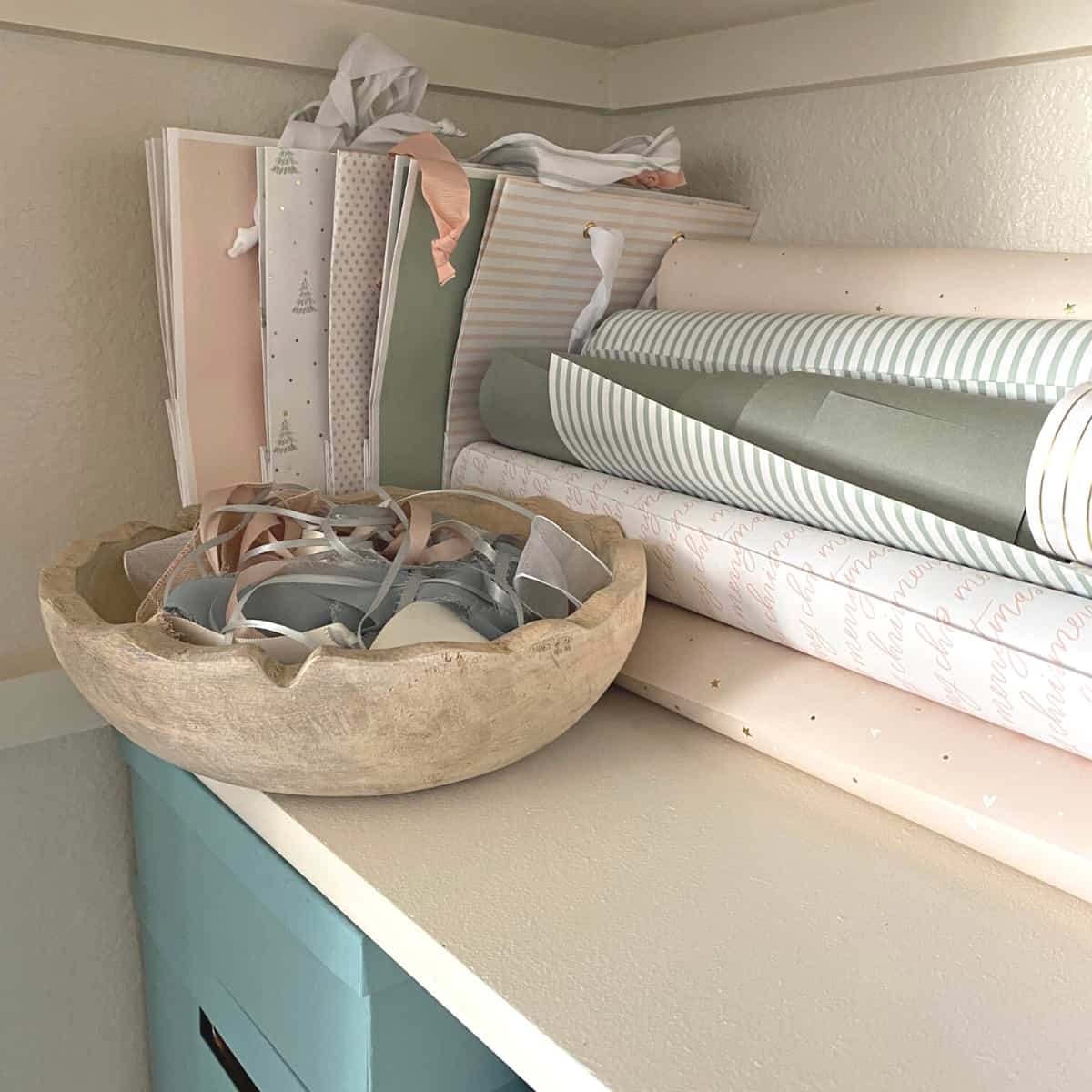 An over the door hanging organizer that was mentioned earlier can also be used to store ribbon in all its forms.
Gift Bag Storage Ideas
An open closet shelf easily solves a gift bag storage issue. Prop them against the side of the closet, next to the rolls of wrapping paper, and you're done!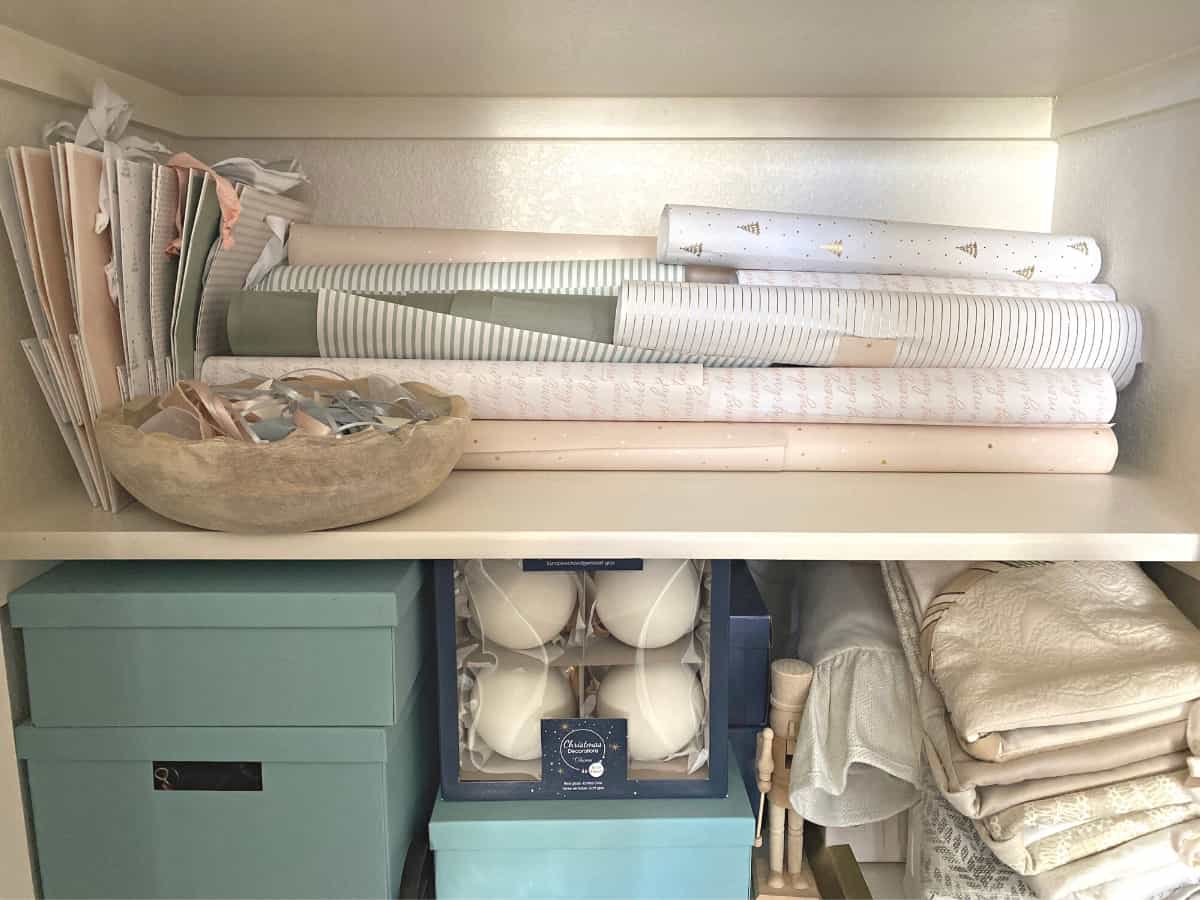 Not everyone has an empty closet shelf to store gift bags. Large baskets can be used to organize gift bags. Again, open weave baskets are not kind to delicate things, so take care when storing and removing bags.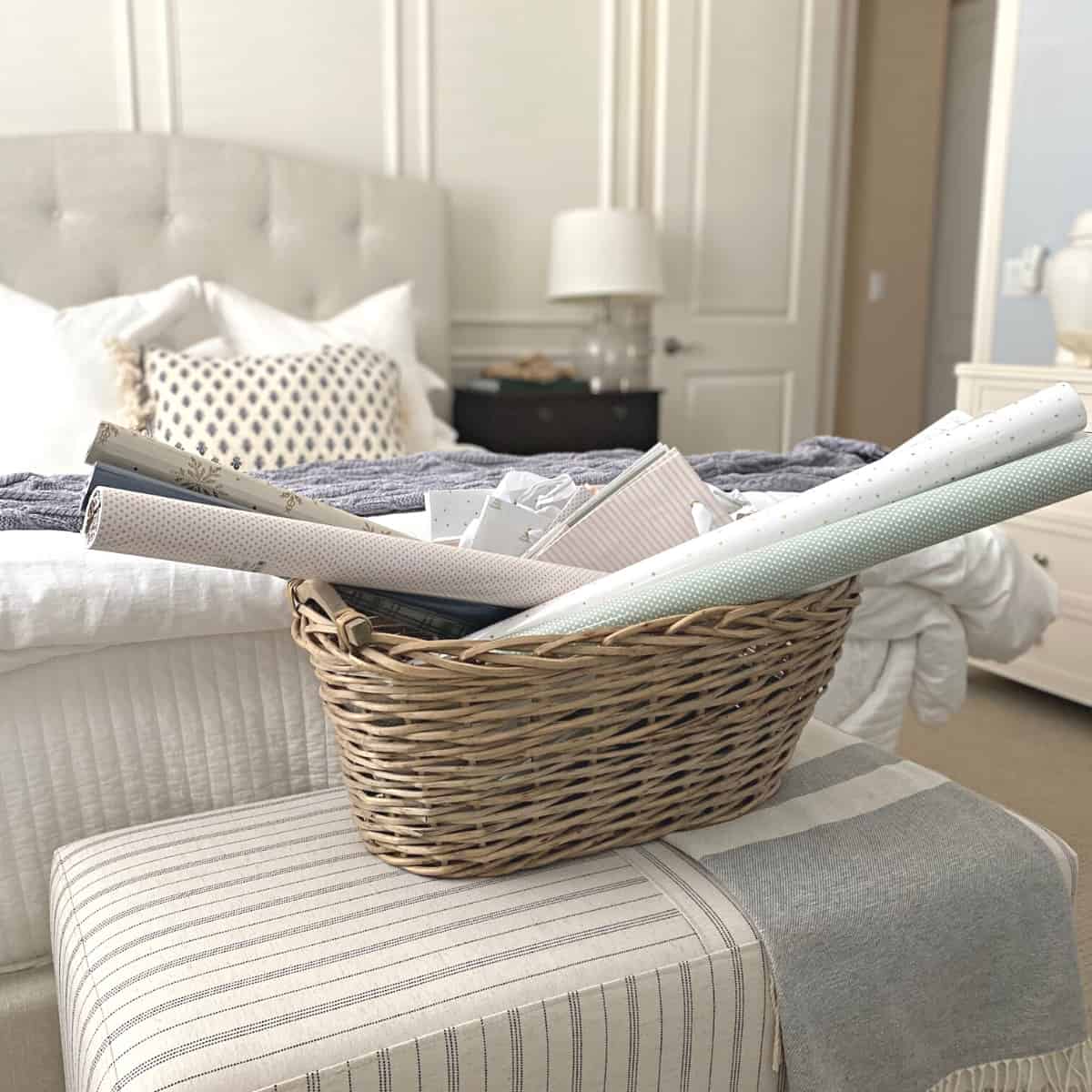 Another gift bag storage idea are fabric cubes or boxes. Lay the gift bags flat or stand them up, depending on the size of the container.
How do you store your gift wrapping supplies? Leave a comment!