Of all the seasons, fall is a favorite of many. It's that time of year when we put away our sleeveless tops, replacing spaghetti straps with a chunky wool oatmeal colored cable knit sweater.
Just as we change out our wardrobe, we put away brighter hued home decor for moody pieces that mimic the colors of fall—sienna, ochre-mustard, nearly black green, and burgundy—reminiscent of leaves changing color.
These are some of the best fall decorating ideas to transition your home to a wrapped-in-a-blanket warm, cozy feel we crave this time of year.
For those who relish in the arrival of sweater weather, make these small changes to decorate for fall.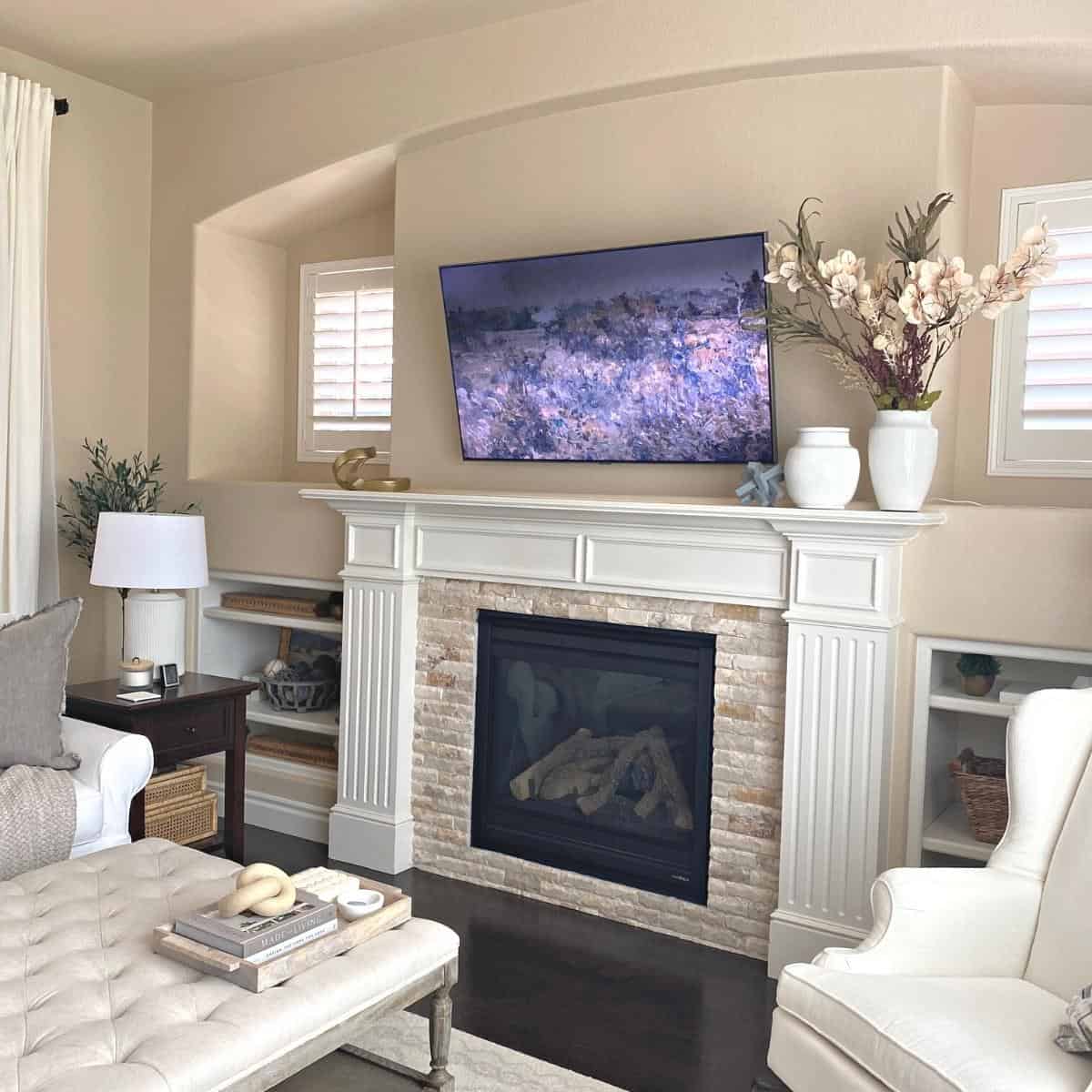 How to Decorate for Fall
Fall ushers in a warmer, moodier home decor palette. Decorating for fall is all about layering textures, while marrying a spectrum of similar but different colors.
Change Floral Stems to a Fall Color Palette
An easy change for fall decorating ideas is to swap bright green stems for muted, ochre-mustard or deep forest green stems.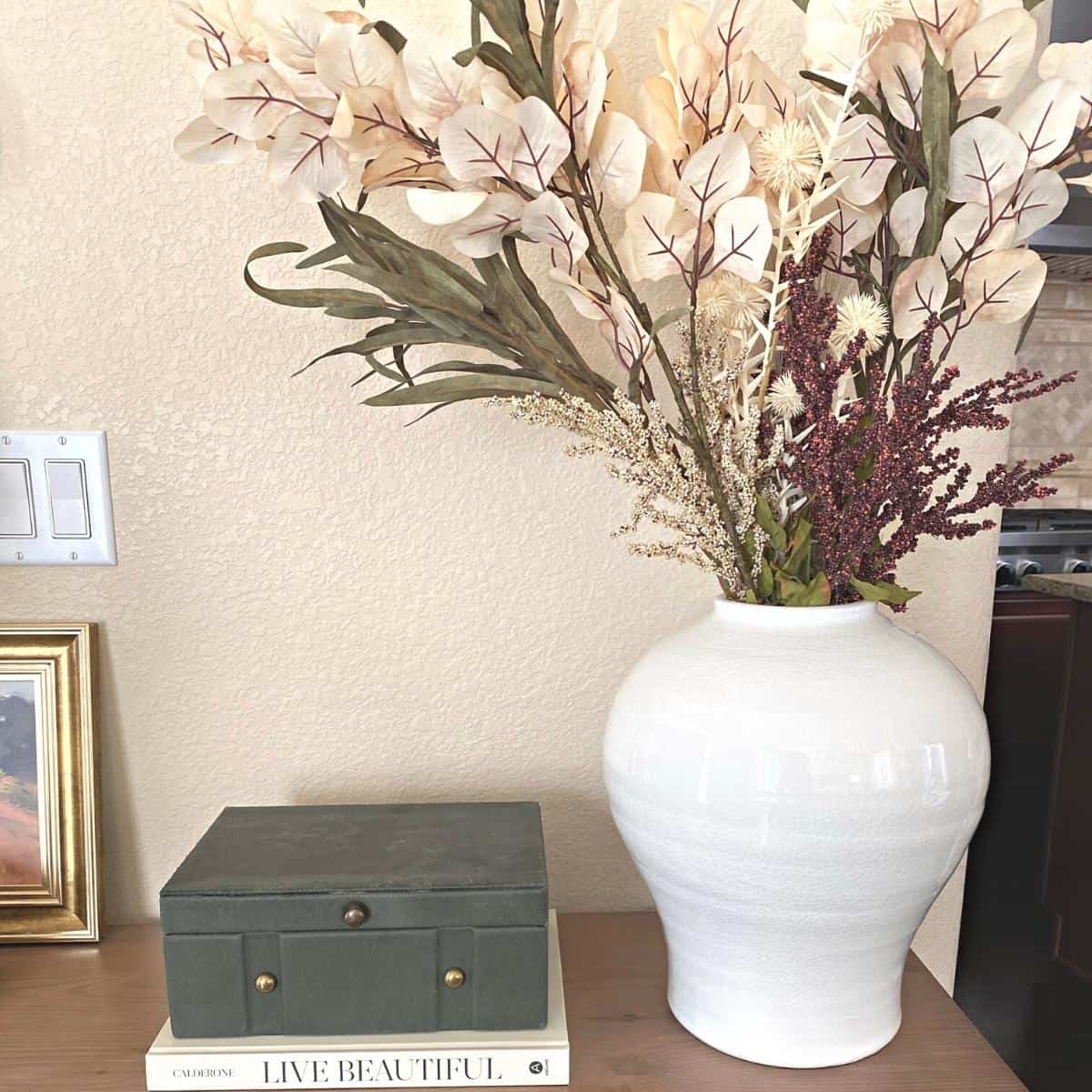 This subtle color shift evokes the foliage dormancy fall season ushers in. Combined with shades of burgundy as well as soft creams, floral stems are a quick way to decorate for fall.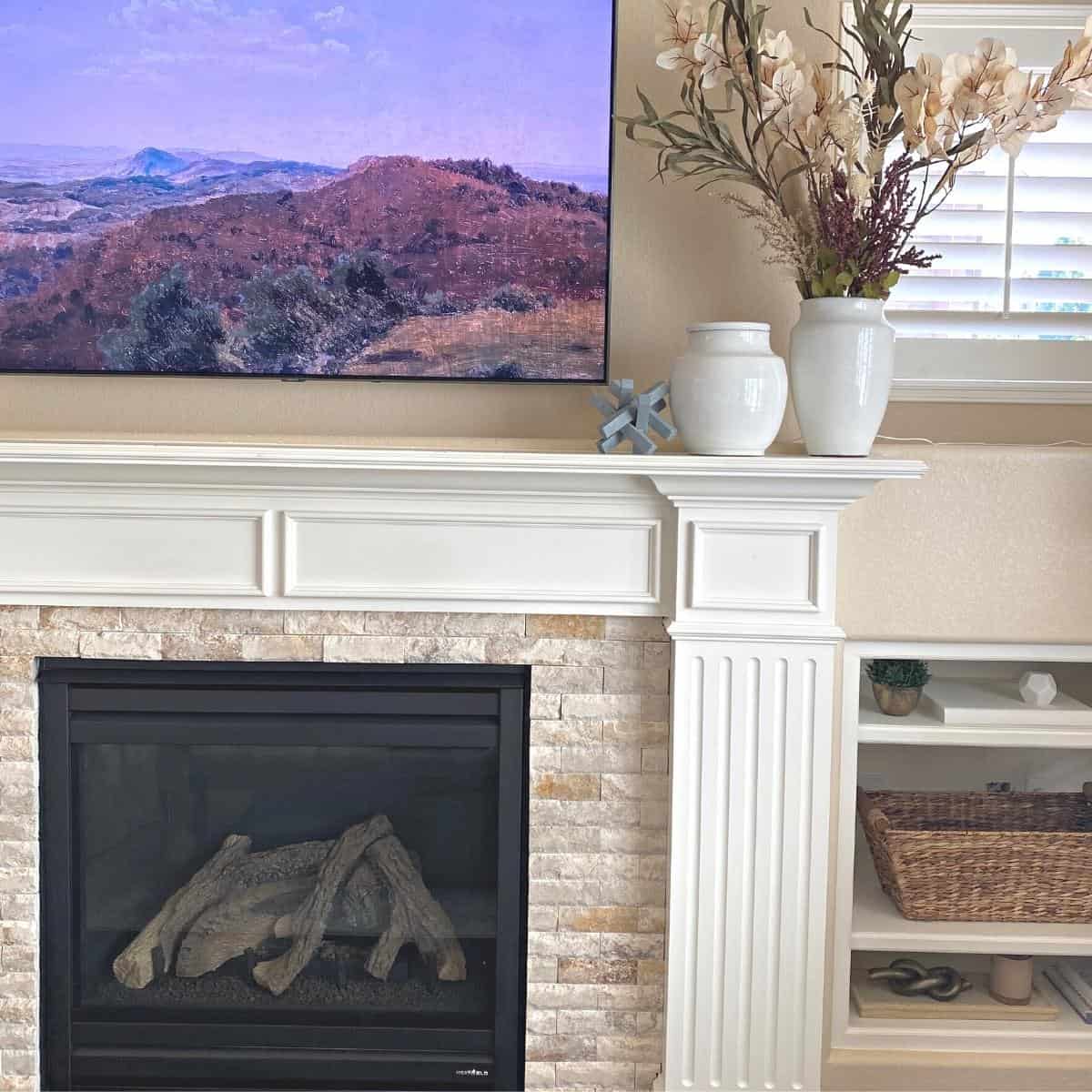 JoAnn provides a very large selection of fall floral stems.
Swap Bright Pillow Covers and Throw Blankets for Moody Hues
Whether you use decorative throw pillows on your sofa, chair or bed, take a careful look at the patterns and hues. If the pillow covers feel bright, crisp or spring-like, this is an excellent area to decorate for fall.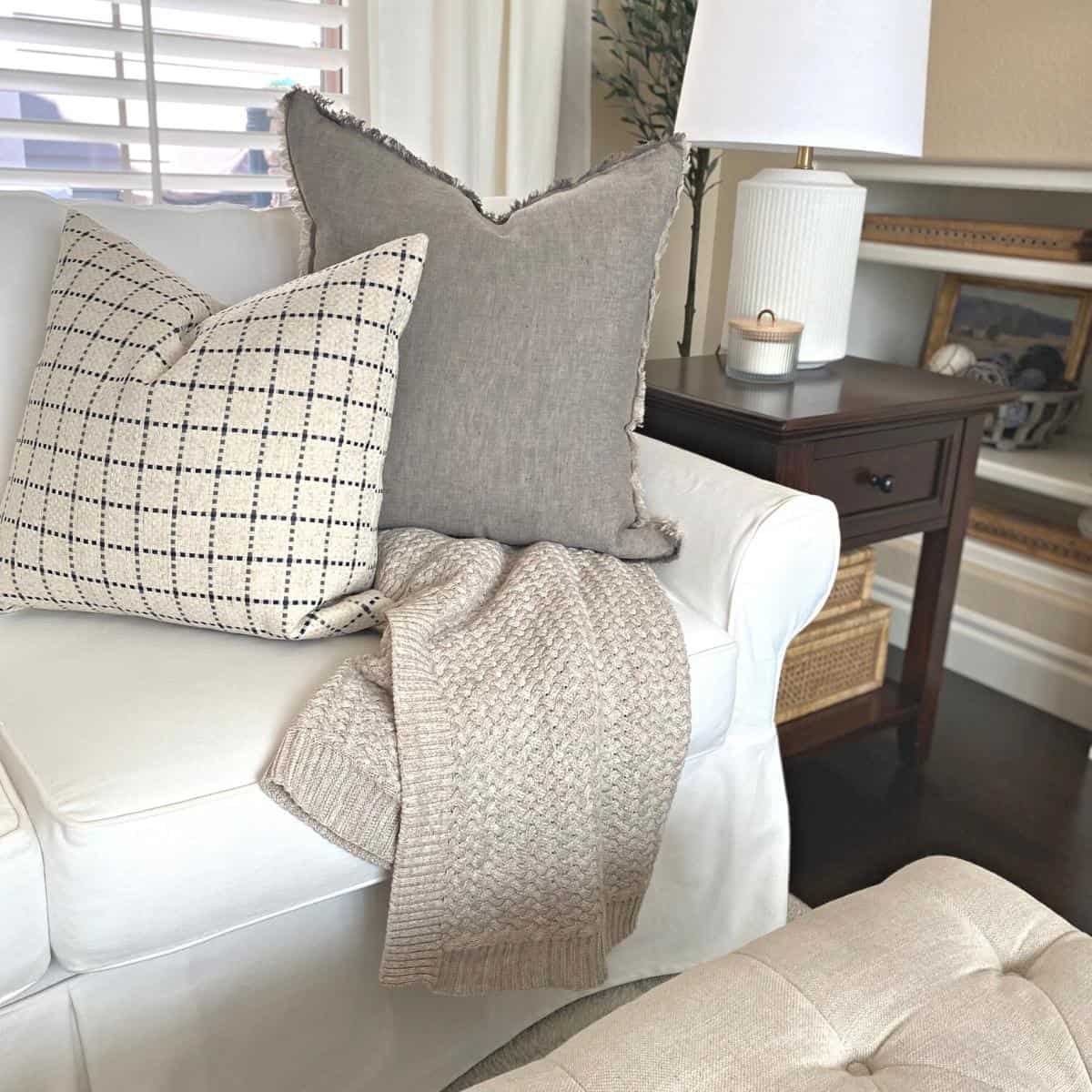 For fall decorating ideas, mix pillow covers together that have different patterns, textures and colors. You can find the very best quality, as well as large variety, of neutral pillows at Hackner Home, Apartment No. 3, Ann Marie & Co, and Jolie Marche. 
Read my previous post on tips to get home decor on a budget for more.
While you're switching out pillow covers, grab a throw blanket. This cotton heathered oatmeal cable knit blanket finds its way around our house. I mean, who could resist cozying up with a plush blanket while binging watching a Netflix show?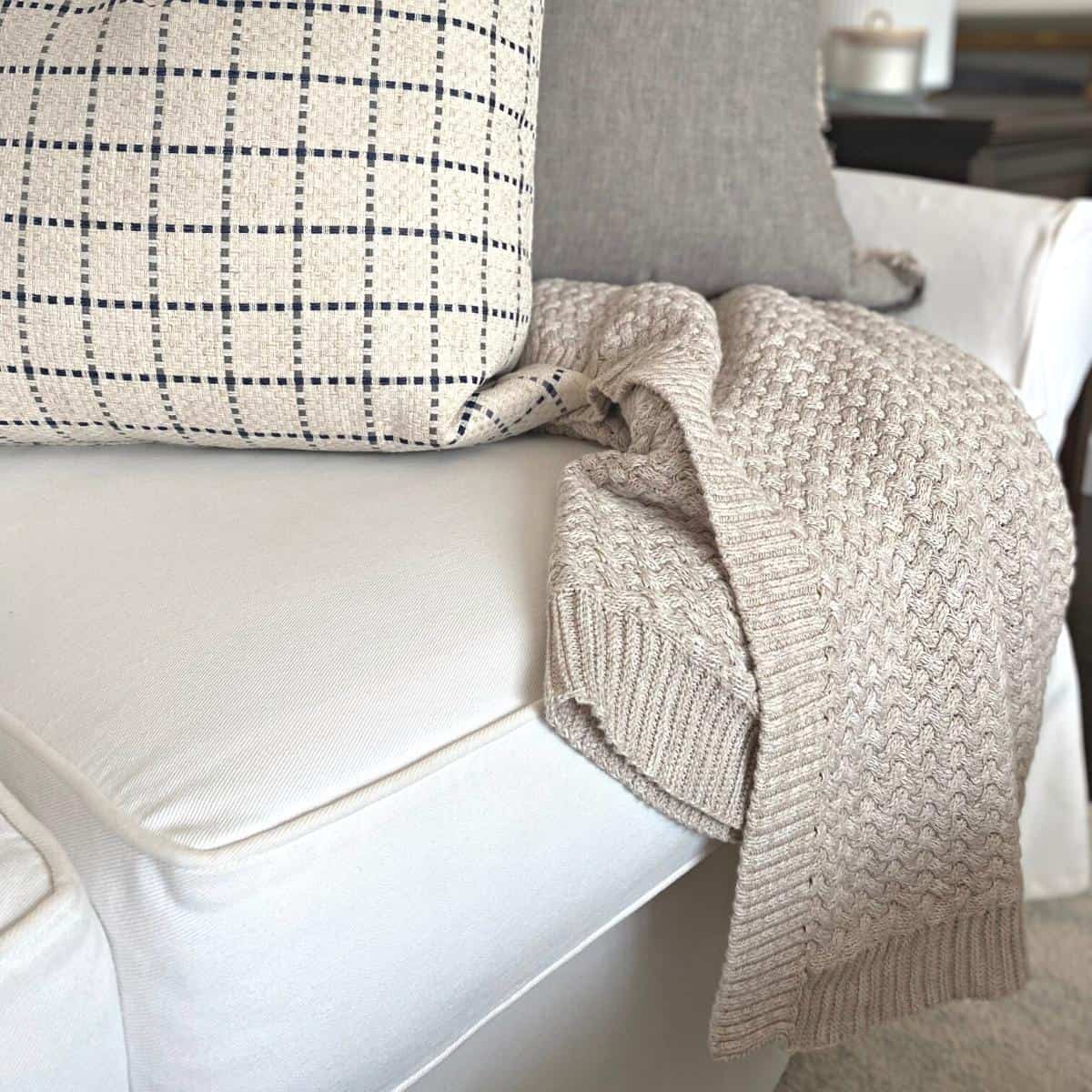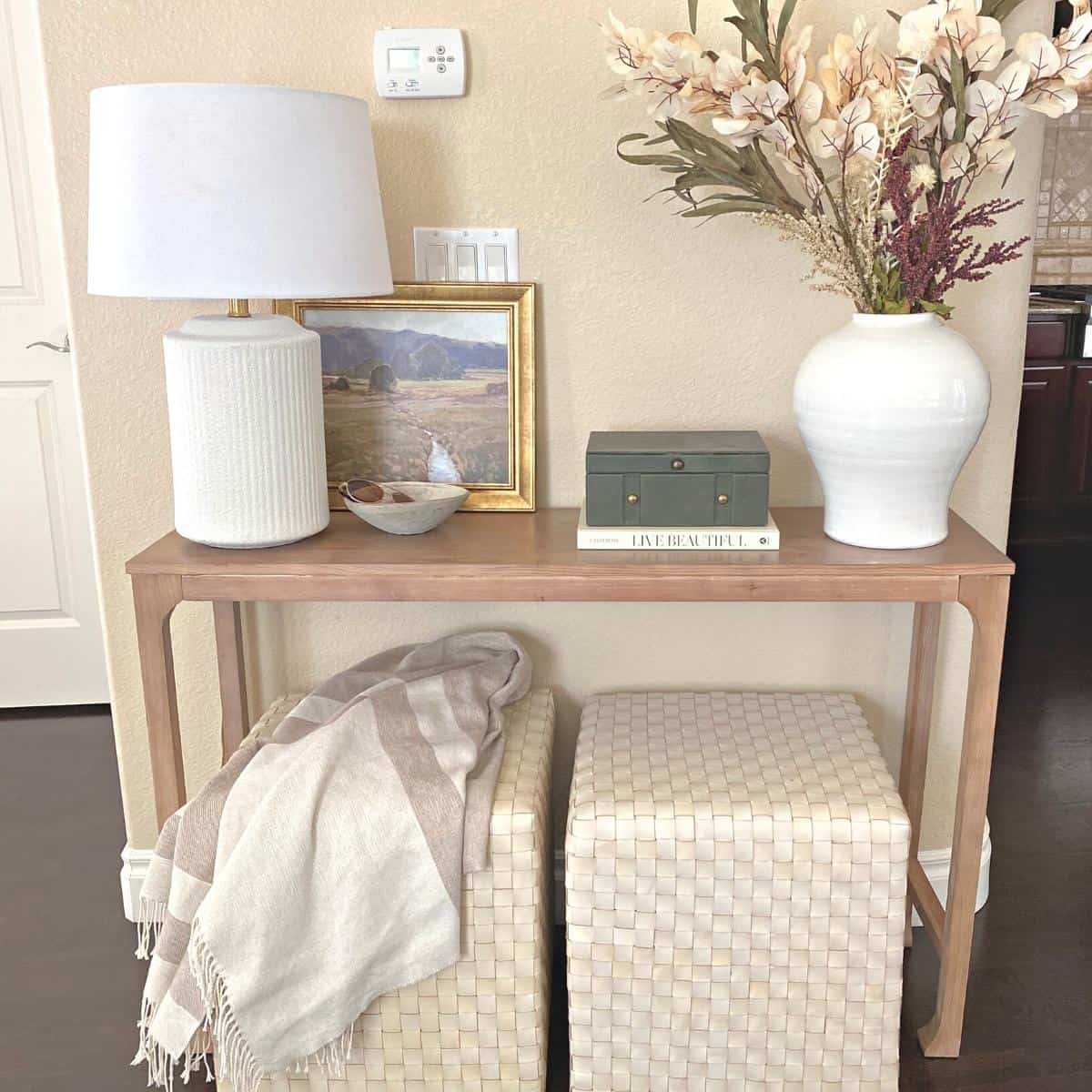 Use Coffee Table Books to Decorate for Fall
My love of pretty coffee table books as home decor is not uncommon.
I found this gorgeous interior design book at HomeGoods. Removing the dust covered revealed the striking deep green cover underneath.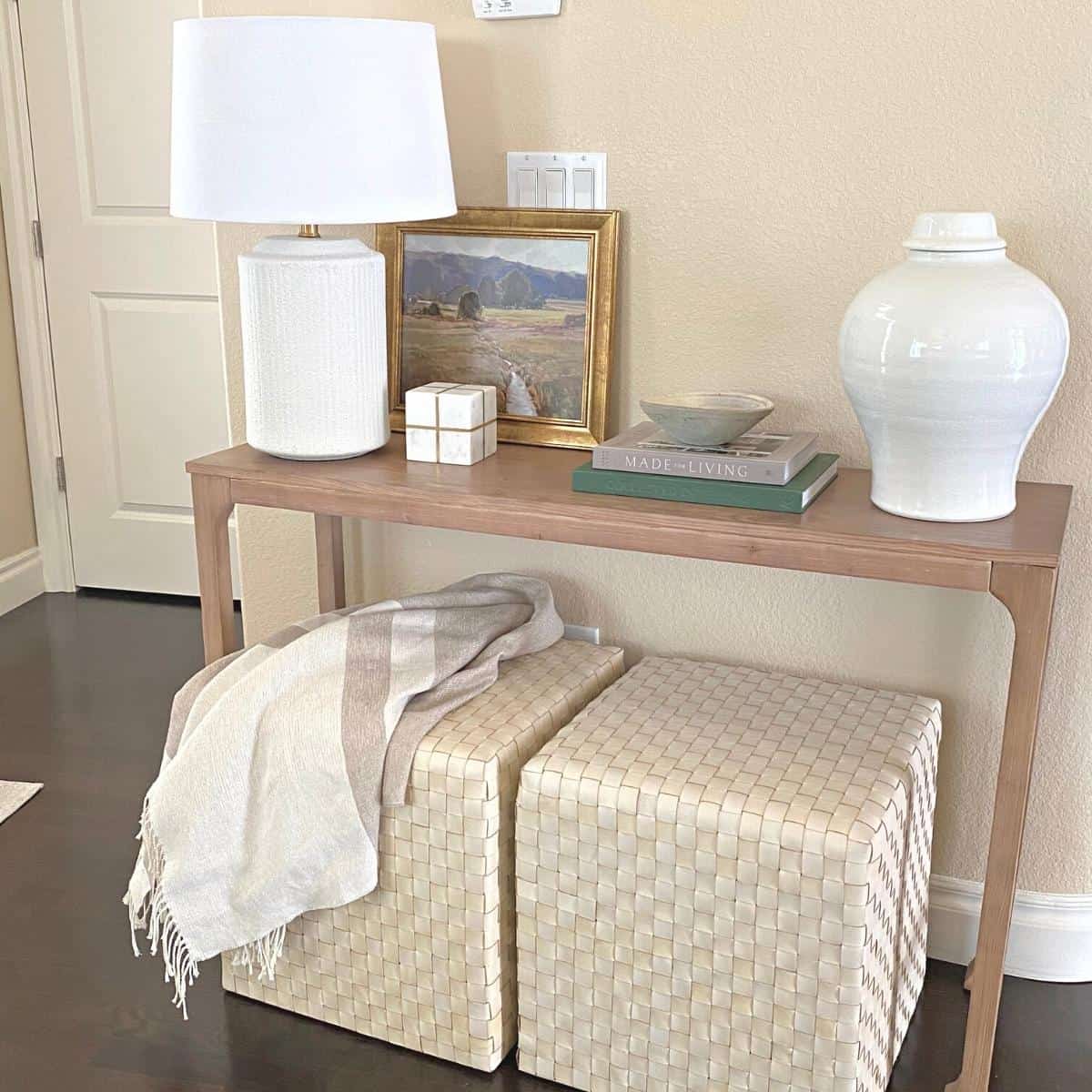 Use coffee table books for fall decorating ideas. For instance, change out creams and whites for grays, deep reds and various shades of green.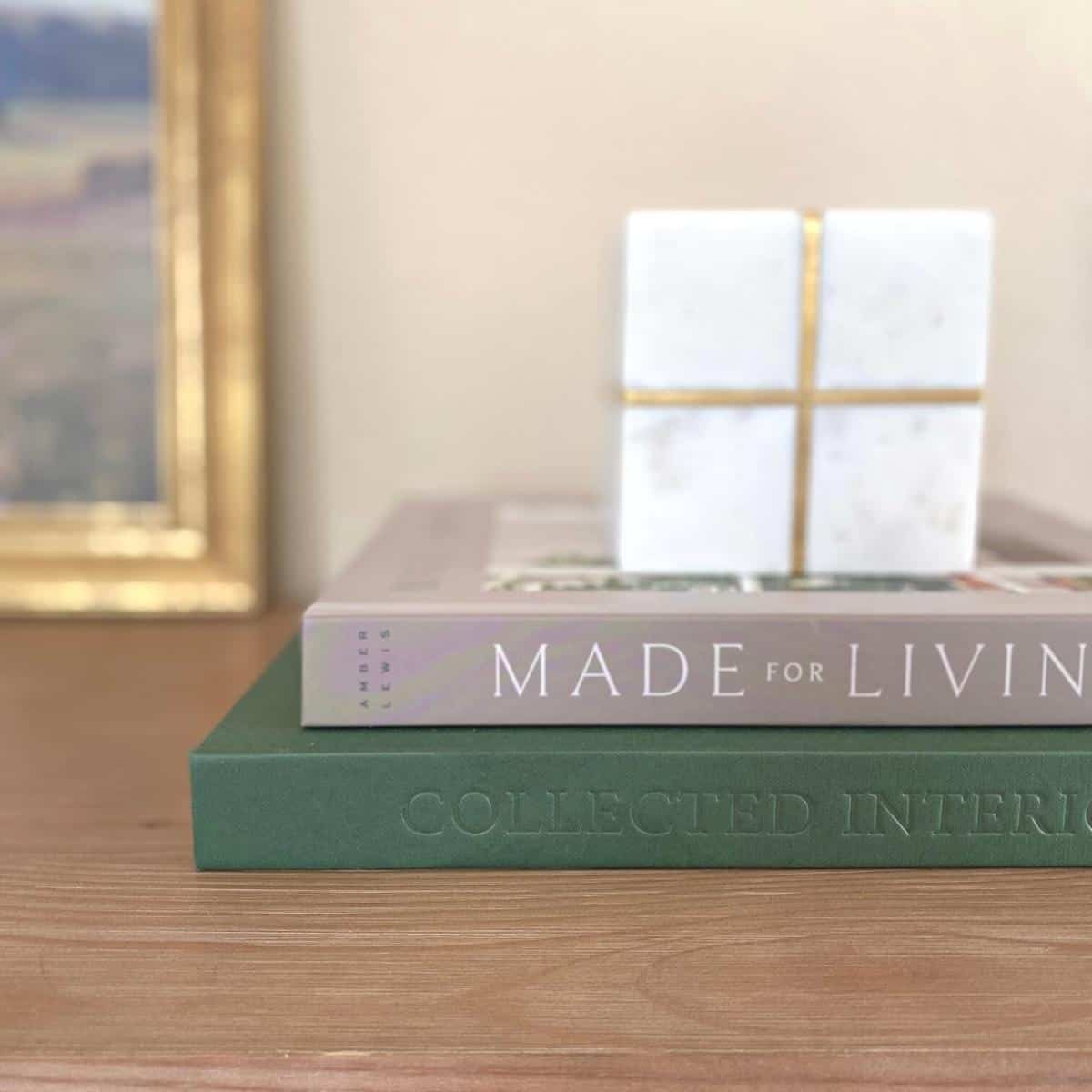 Fall Decor Ideas for Console Table Styling
I've talked before about how to style a console table to create a welcoming entry to your home.
A quick way to bring in fall decor ideas is to simply re-style your console table for fall. Do you have a light colored vase on your console? Use a dark brown or black vase instead.
On my console table, I like to style stacked boxes, such as these rattan boxes or this set of wide grid bone boxes. For this fall decorating idea, I brought in a deep, leaf green velvet covered box. Atop a book, the subtle texture, combined with the deep green color, pops.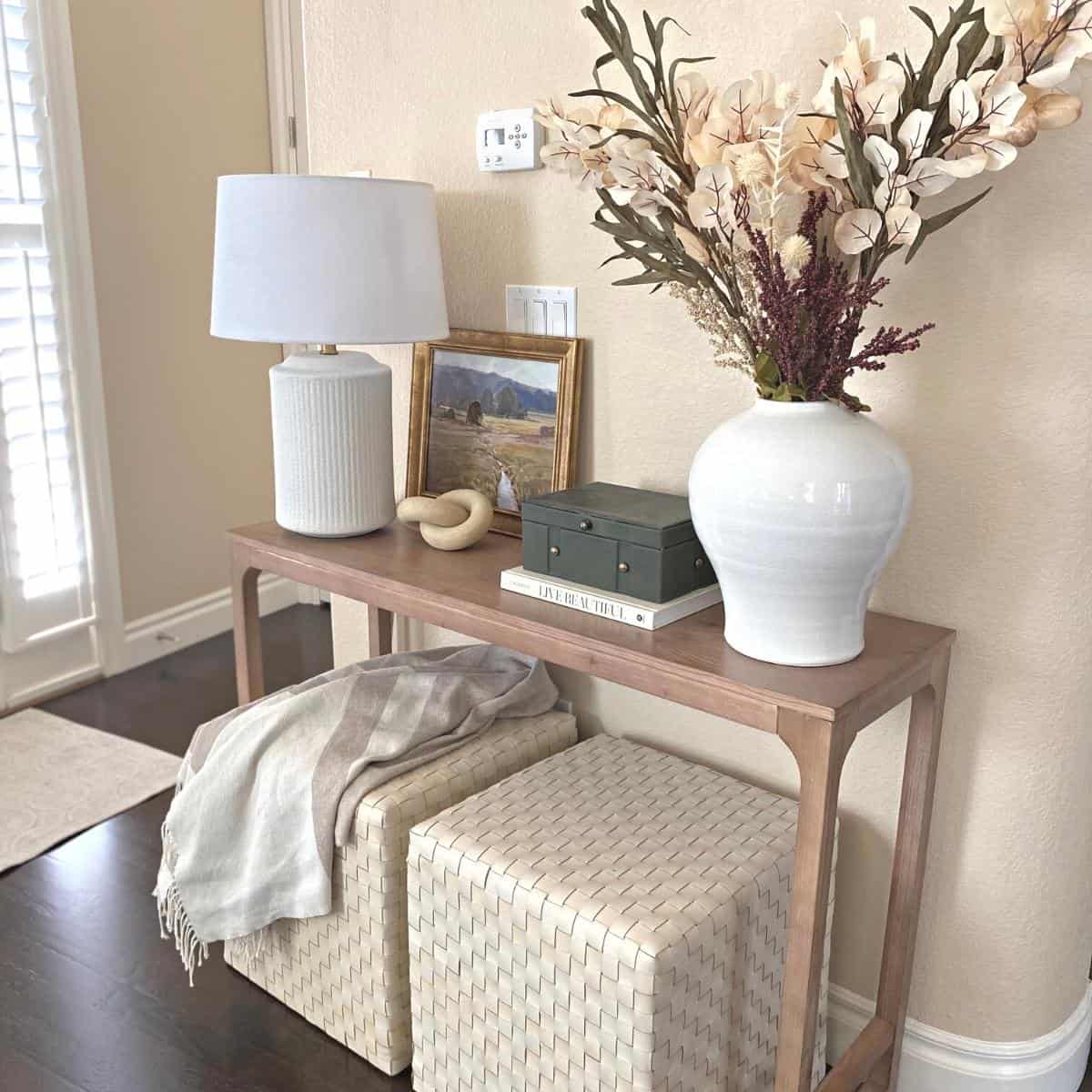 Next to the fall floral stems, the console table takes on the feeling of fall. The brass knot on top amps up the fall decor style even more.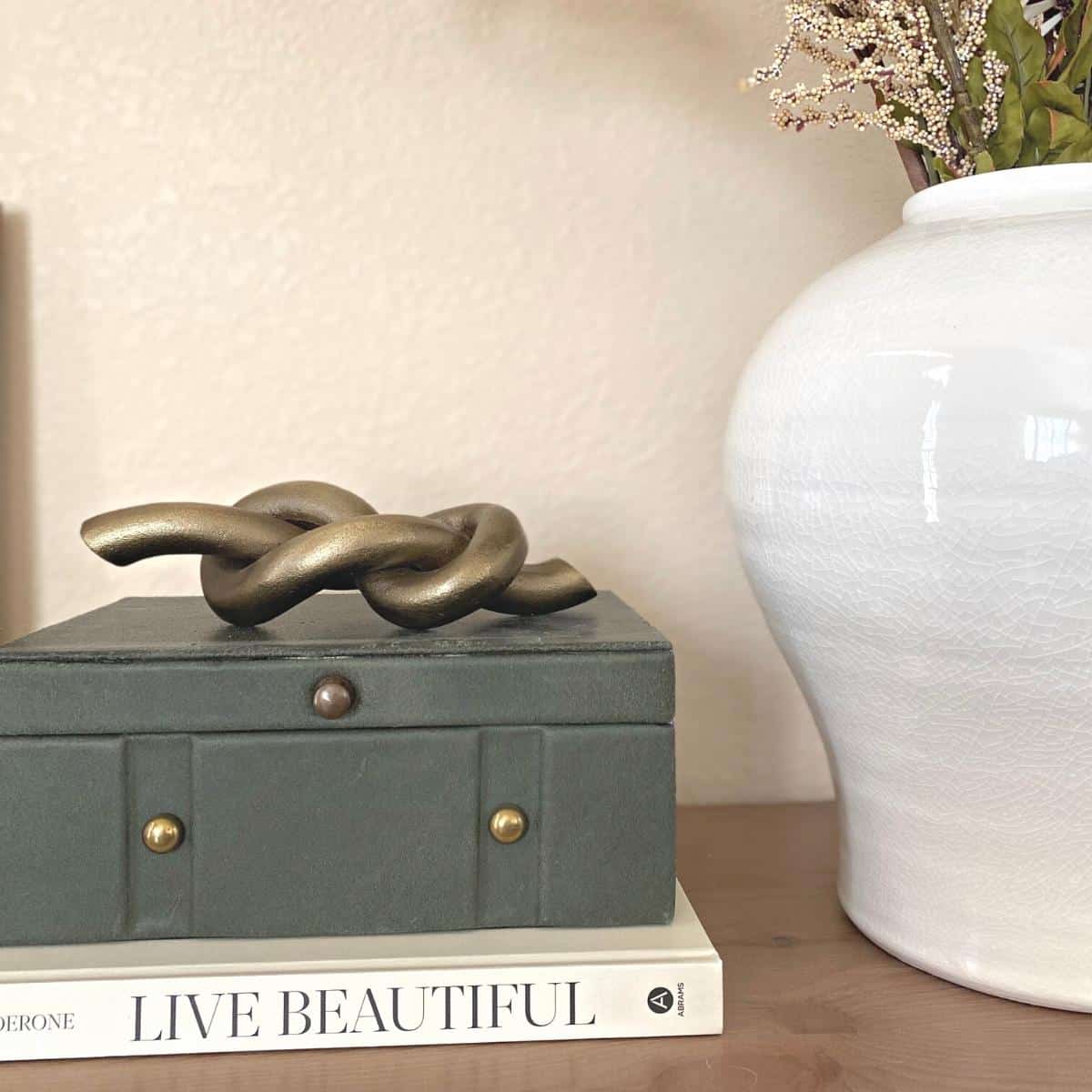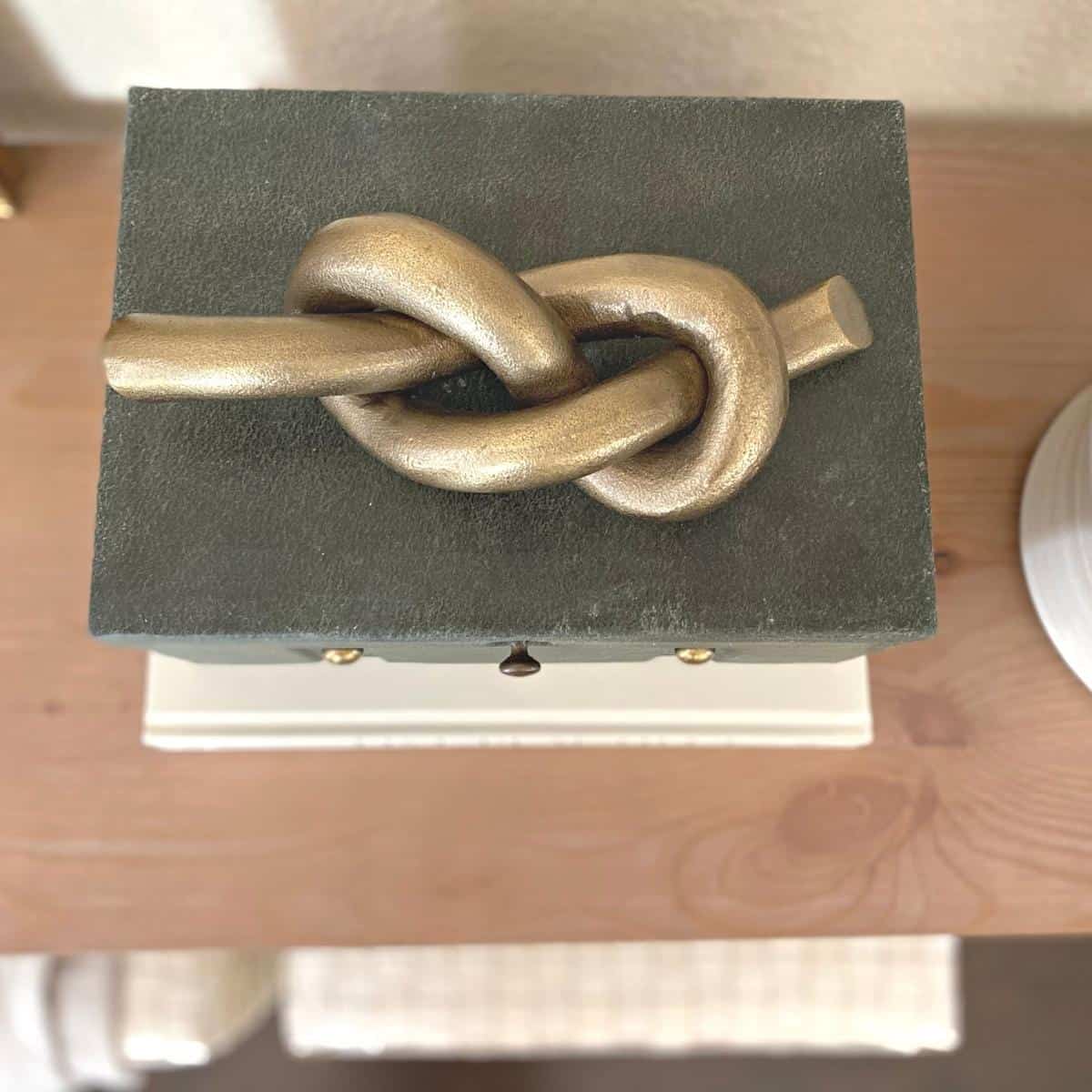 Other fall decorating ideas for your console table include bringing in additional home decor pieces.
Tip: See what fall-like decor you can pull from around your home before running out to the store to buy additional decor.
Here, I took a marble and brass square block decor piece and displayed it next to the lamp on our console.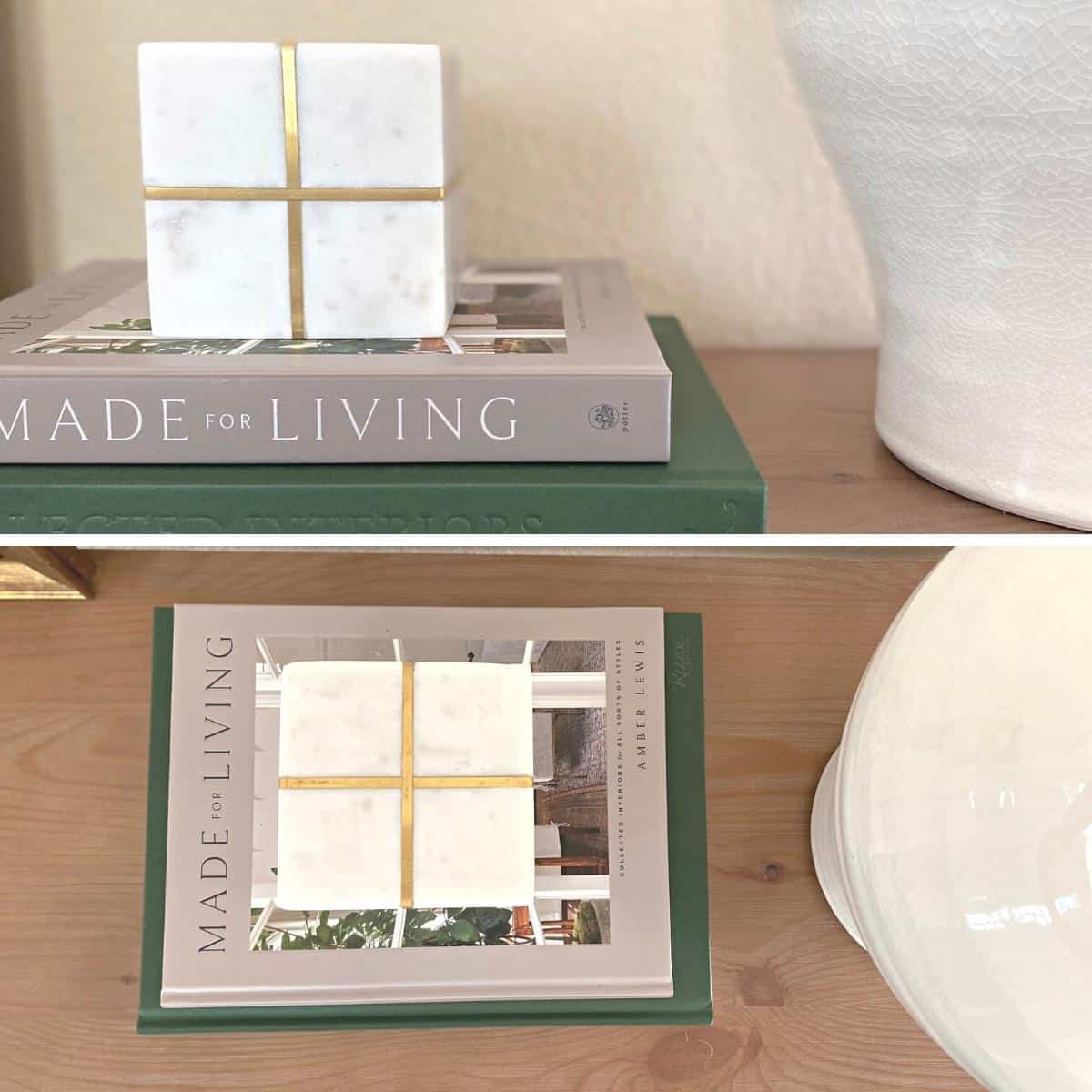 It even looks beautiful styled on top of these pretty coffee table books. You can find the Made for Living book on the Amber Lewis Shoppe online, though I found mine at HomeGoods locally.
Decorate Your Coffee Table or Ottoman for Fall
Don't overlook your coffee table or ottoman for fall decorating ideas.
From books to bowls, be sure to decorate your coffee table for fall. Use the same color palette of fall hues in your styling.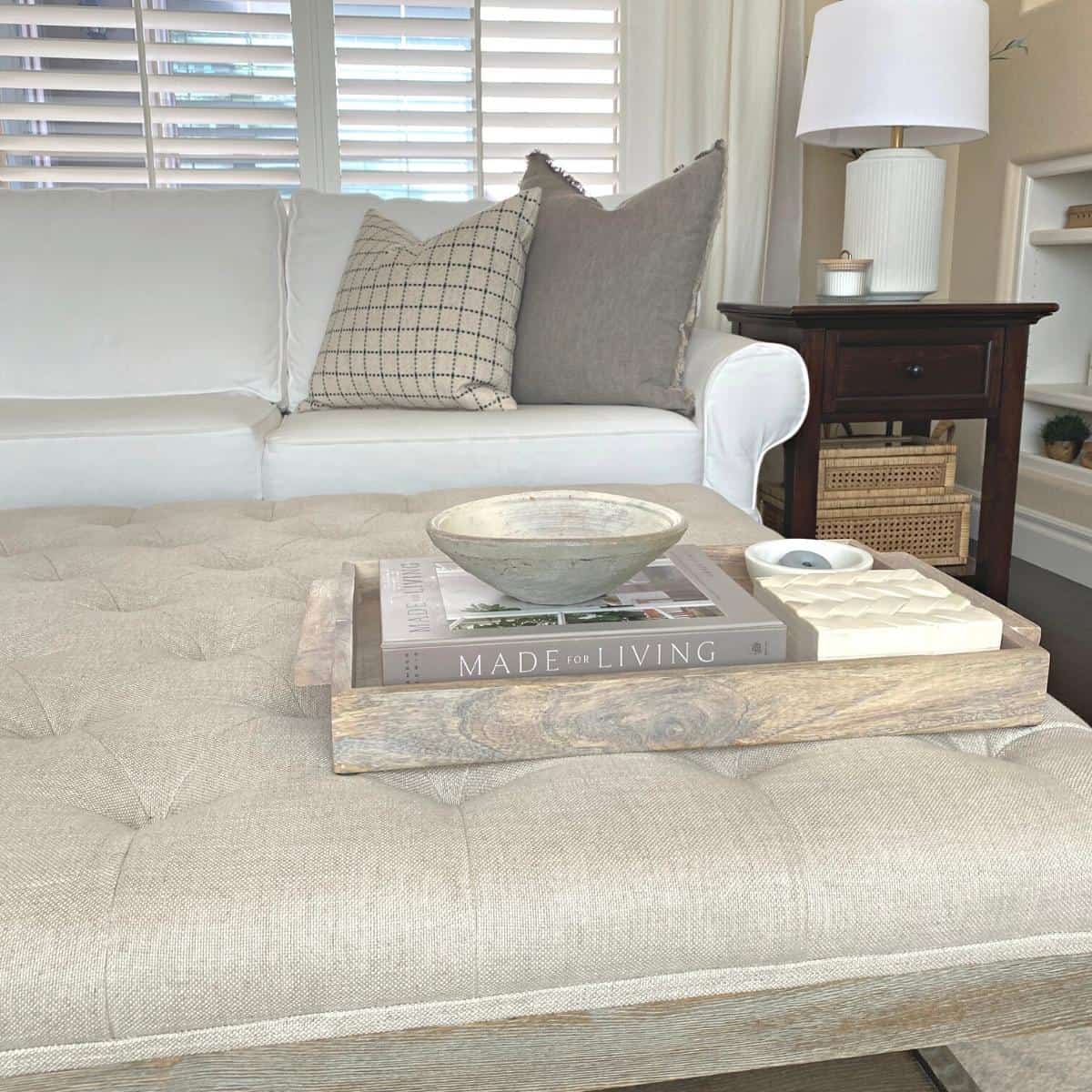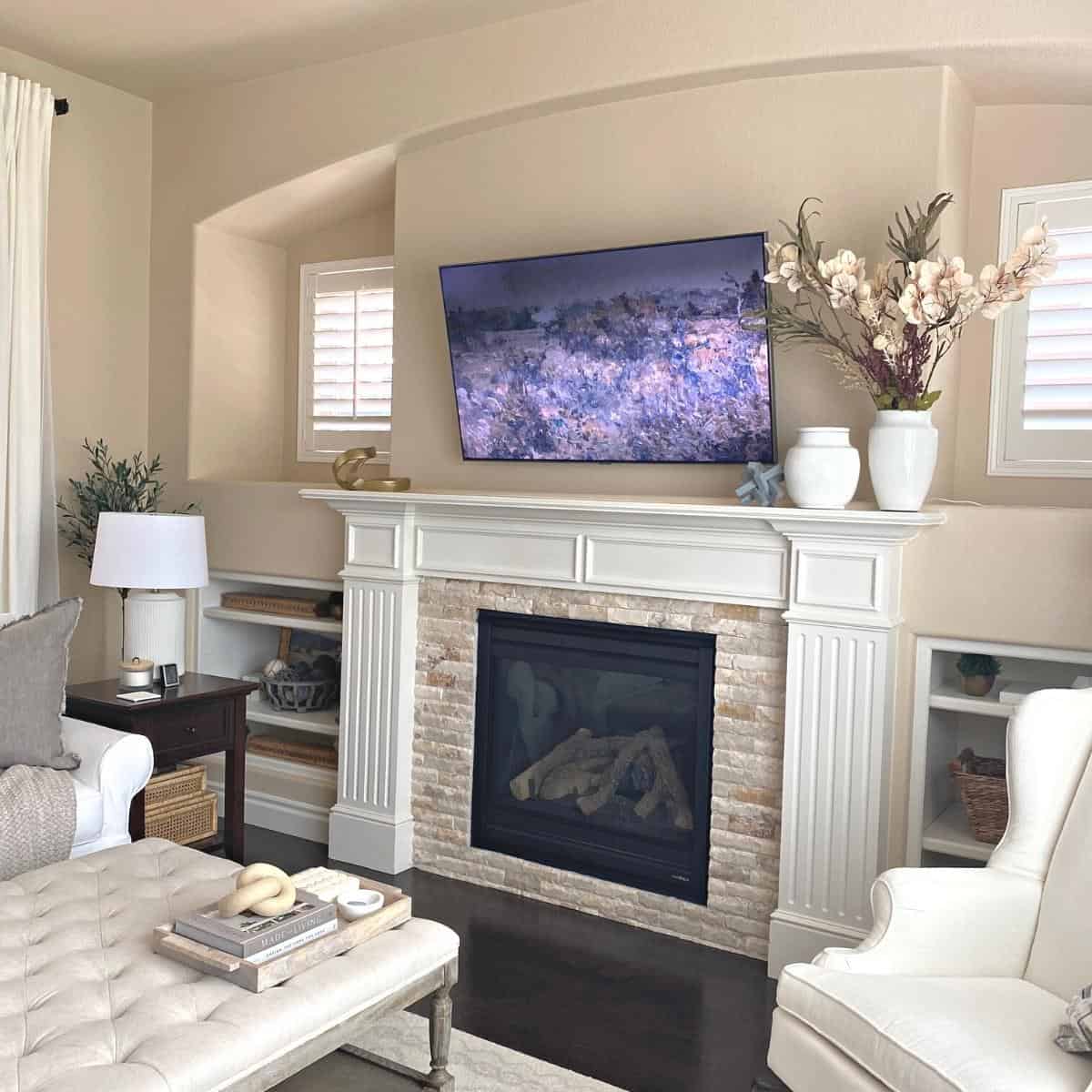 To contain decor on your coffee table, a large tray works wonders. AtHome and Brooke & Lou each carry a nice assortment of trays.
You can keep a cohesive look by picking three to no more than five colors across the decor pieces. Or, consider tone-on-tone, maintaining variations of one color. For instance, creams and whites or blacks and browns. Not only will this elevate your design, it will give your eyes a break as you take it all in.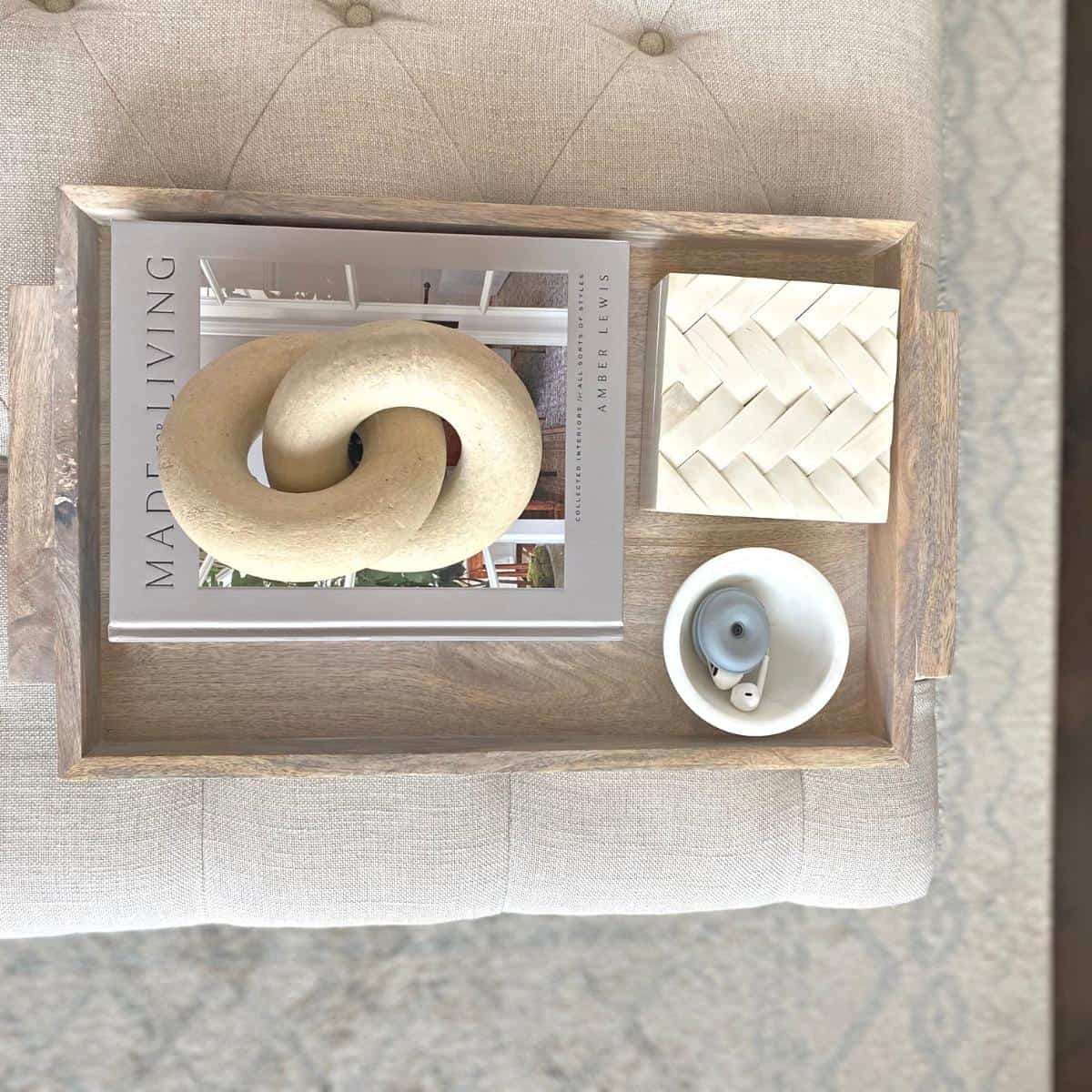 What fall decorating ideas do you have?