We are embarking on a new project at our home to update my home office space. There are so many potential home office design ideas I've been dreaming of over the years. Now, it's time to pull out all the stops to make my small home office design come to life!
Seeing as how this will be a fairly lengthy process, this will be a series of posts covering the whole project, including the home office design, plans, installation, and reveal.
You can follow along as I take my small home office space, where I spend a good portion of my day, and turn it into the home office of my dreams. (And maybe yours, too!)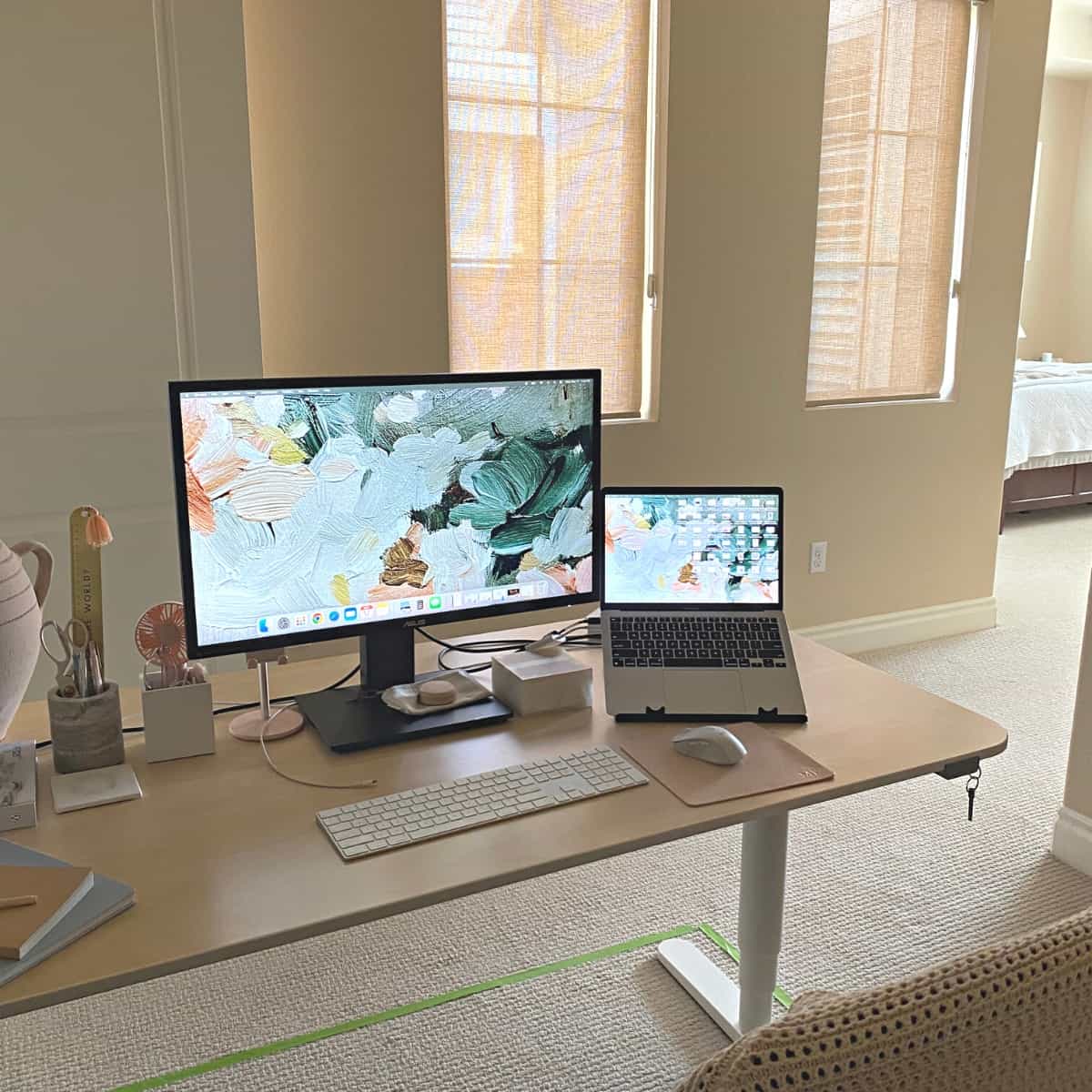 Ever since we bought our home, I have longed to transform every square inch into our forever dream home. I pictured built-ins in the den on the first floor, with additional built-ins in our primary retreat, or otherwise known as my home office space.
Spending as much time as I have in the space has helped me plan out what will really make the space functional but beautiful at the same time. I also have a sense of home office layout ideas by scouring inspiration across magazines, books and online sources, as you may be doing right now.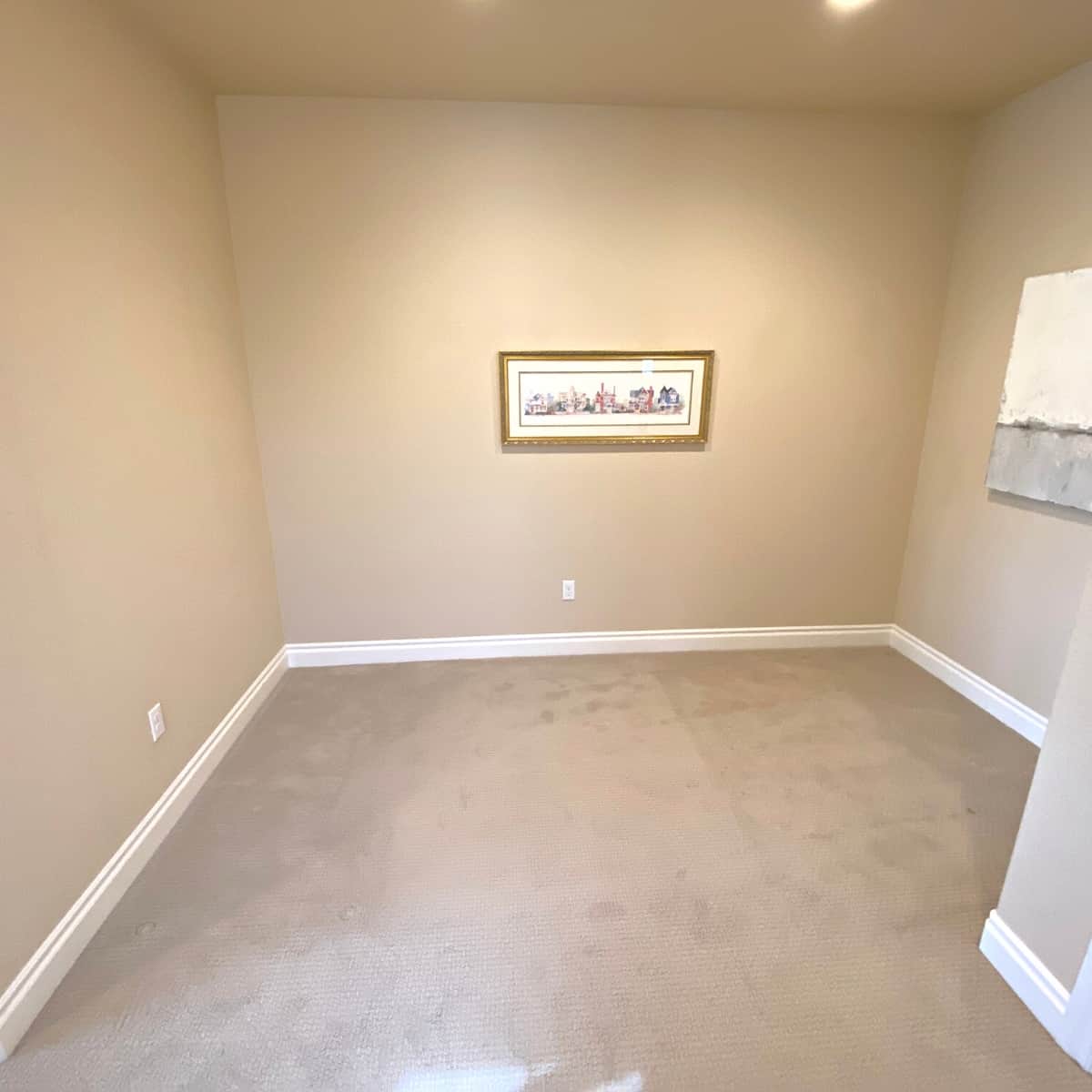 Current Home Office Space
My home office space is small and was actually referred to as the primary retreat in the marketing brochures when our house was built. Throughout our community, I've seen many people use this space as a sitting area or as a wet bar area, as the model home did.
The founding buyers could choose to have this space built as an extension of the primary closet on the other side of the wall. Meaning, it would be enclosed and no longer an open space room or retreat.
Personally, I love having this space to use as an office or sitting area. Since the primary closet is already a large walk-in, we wouldn't need the additional closet space.
As I mentioned, it is a small open room, measuring approximately 11 feet x 6 feet. There is a recessed area that I refer to as an alcove to the right when you walk in. Three windows line the wall across from the space.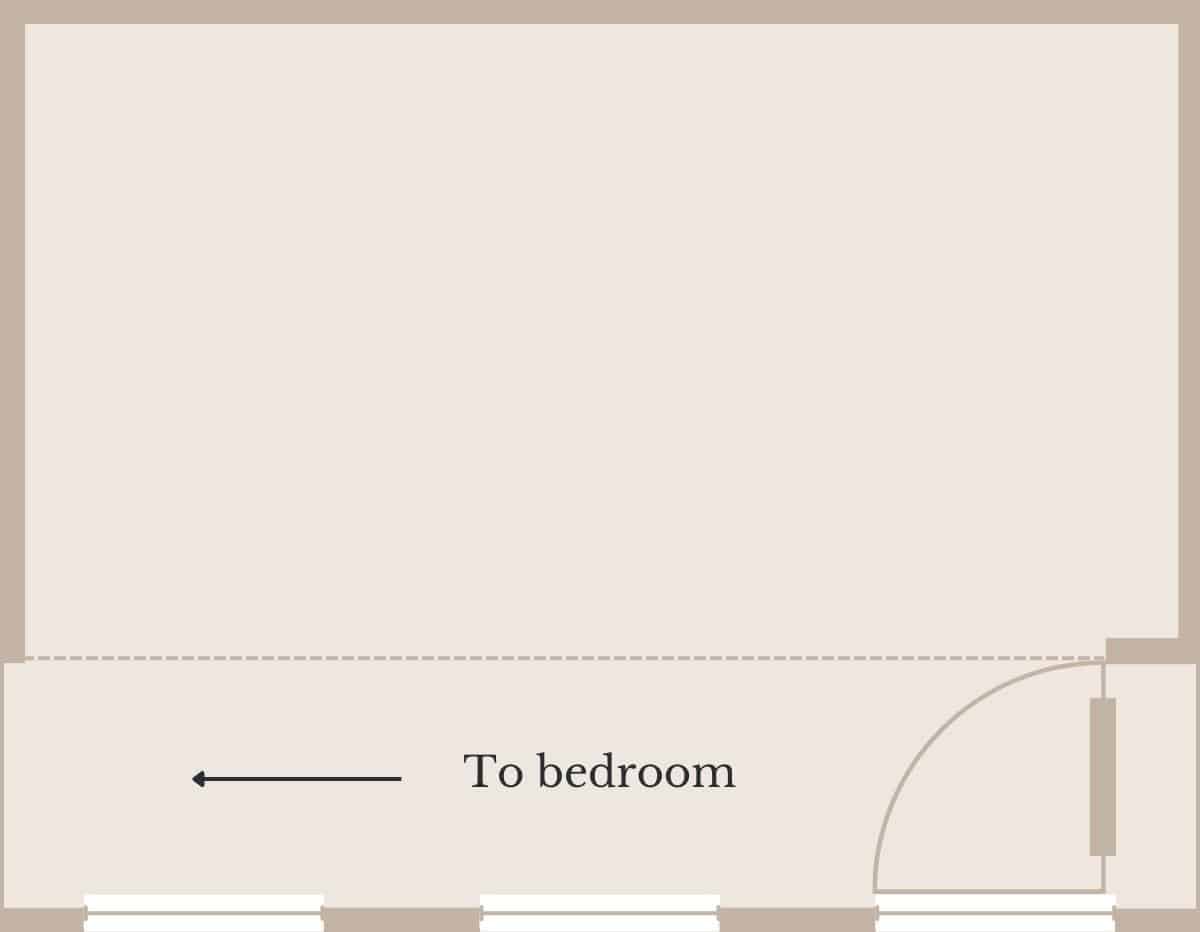 There is a fairly large antique buffet in the alcove area. It's recessed into the space when you walk in by a little over 3 feet. I use this piece of furniture as storage for a combination of office supplies and home decor. At the time of writing this, I am actually giving it to a friend, since it will not be part of the updated home office design idea I have in mind. (Ignore the tape on the floor and walls, as I was still planning the built-ins.)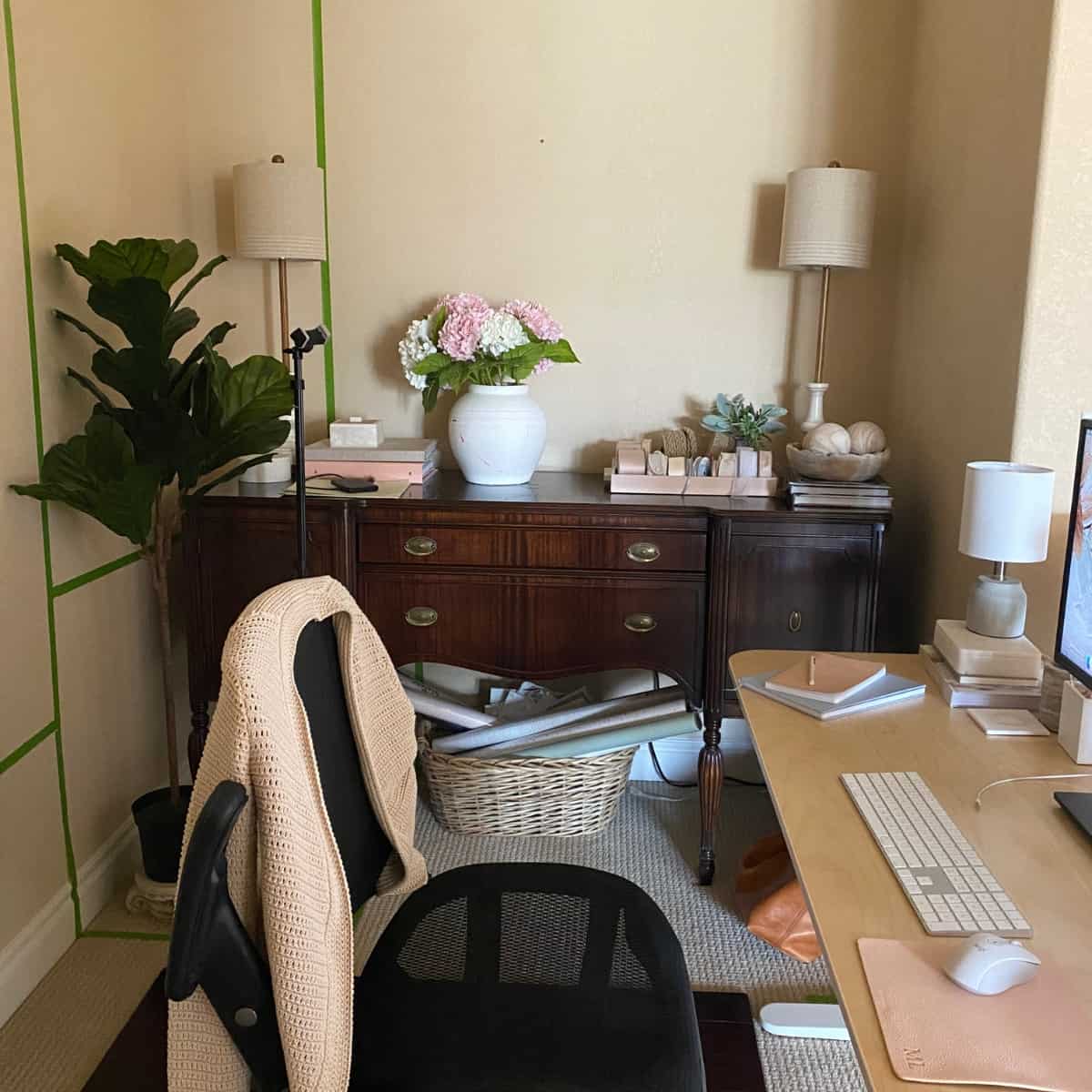 I recently moved my desk to be floating in the space as we plan out built-ins (more on that later). Before, the desk was up against the wall at the exact opposite side of the room from the buffet, which worked fine. It has been a refreshing change to move things around.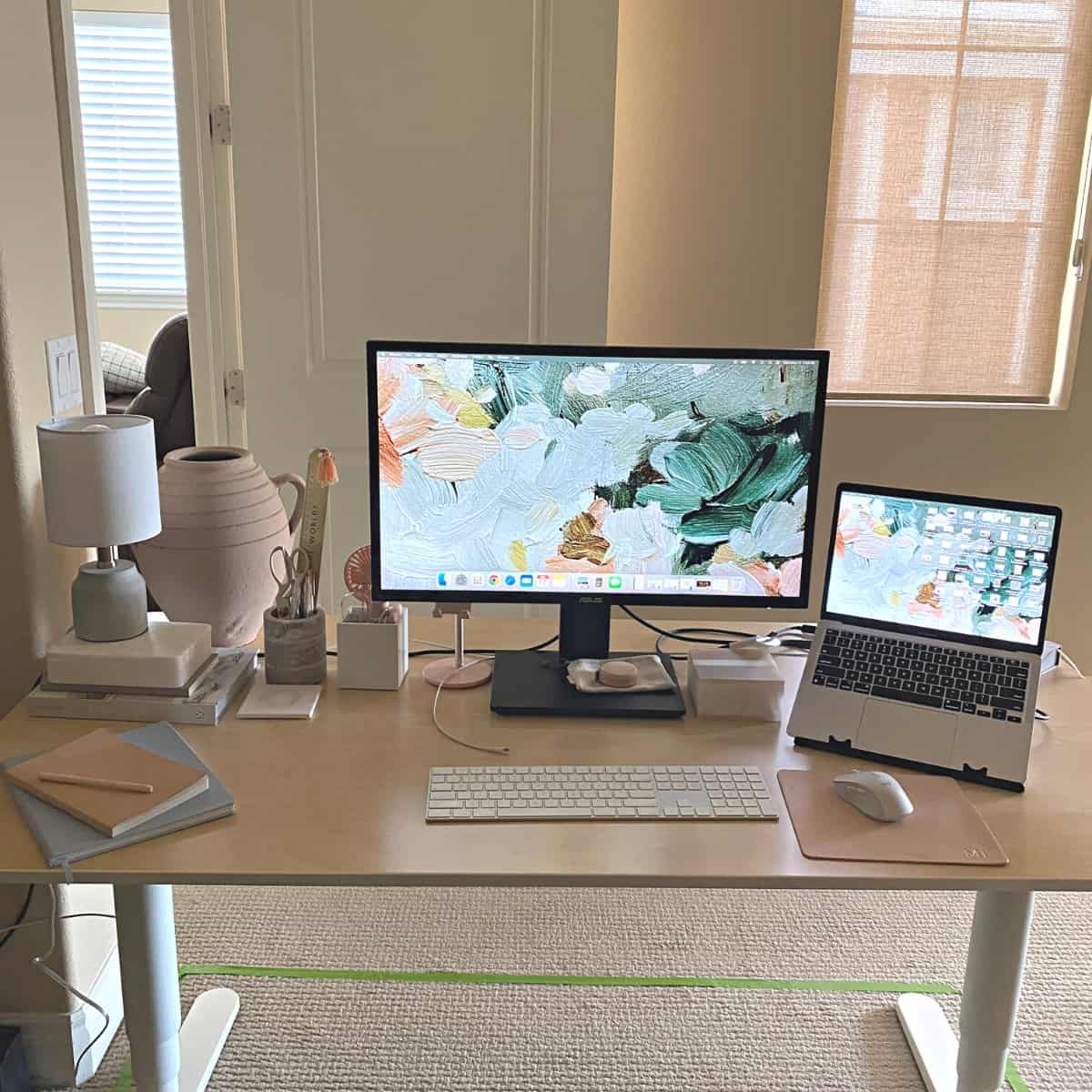 Goals for My Home Office
We had planned to renovate a few years after buying, but the pandemic quickly changed that. Here we are five years later, we haven't done any work and it will probably be another year or two before we tackle a whole house renovation.
In the meantime, as I've shifted careers to this small media business you see before you, I need a more functional space to make all the creative things happen.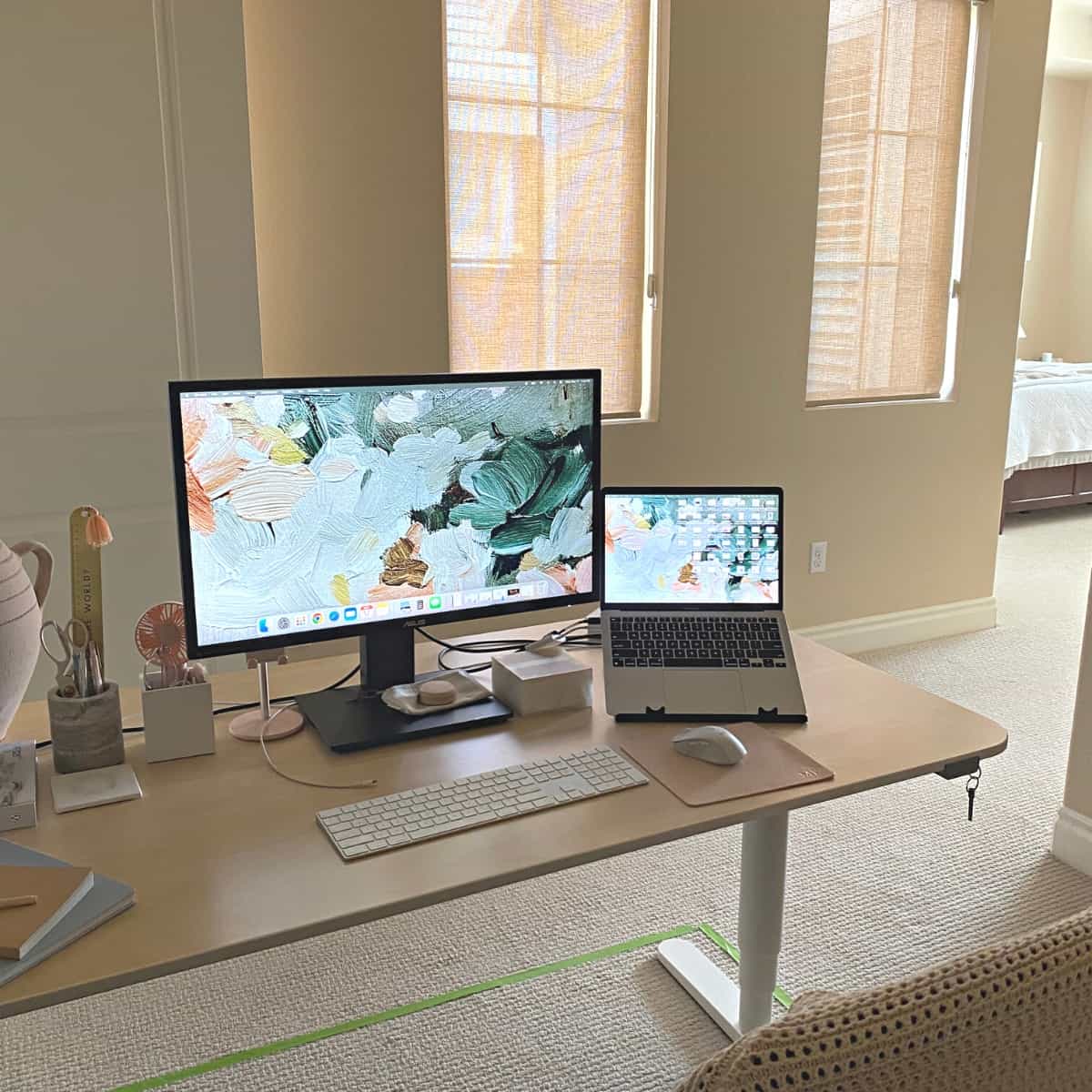 Taking the time to think (and daydream) about how I want my home office to look, feel and function is an activity I find to be immensely enjoyable. I love gorgeous, heart achingly beautiful spaces, but there are times when design needs to also be functional. My office is one of those times.
So, the practical INTJ in me put together a list of must-haves.
Home Office Must Haves:
Built-in storage—a mixture of shelves, drawers and doors—for office supplies and styling decor
Cozy built-in bench with cushion for reading (and daydreaming, of course) and long drawer storage underneath
Smaller desk with one or two drawers
Office chair that is comfortable as well as stylish
Pretty rug
Sconces (battery operated, not hardwired) for wall between bookcases, above the bench
Place for operational printer behind closed cabinet doors
Wall moulding, such as picture frame
My current desk is not really mine at all. We bought an Ikea sit-stand desk for my husband not long after we moved in. When both our corporate jobs were moved to work from home in early 2020 due to the pandemic, I suddenly needed a home office space with a desk. It solved our problem at the time, but the desk is too large for me and definitely too large for the space.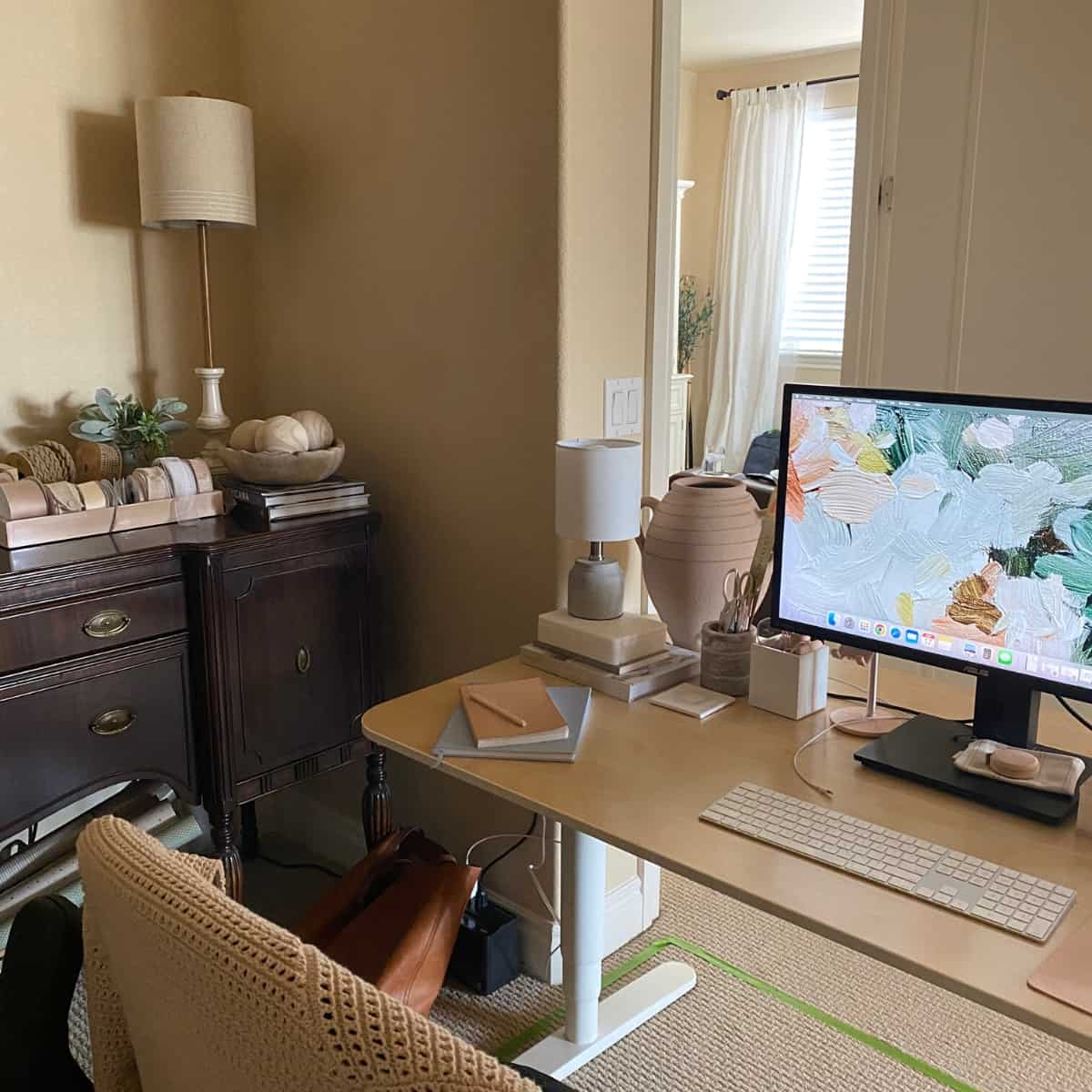 In the end, I want my small home office to offer a space that I can't wait to work in every day. It should feel cozy, inviting and serve as a space for me to be creative.
Built-ins Plans
I love built-ins. I always knew they would be in every single one of the many home office design ideas I've been dreaming of. In a home office, you can create extra storage—open as well as closed—to house office supplies, bulky printers and display decor that makes you happy to go to work each day.
Built-ins also add character to a space, especially in newer homes. (Wall moulding adds interest and character too. If it were up to me, I would drip every wall in our home in moulding.)
Seeing as how my office space is small, I needed to maximize not just the floor space, but utilize as much of the vertical wall space at the same time.
I had envisioned built-in bookcases in the tiny alcove space in my office for quite some time, but it just seemed too small for a bench while also limiting to very short shelves. I thought having built-ins on the longer, main wall would take up too much depth in the room for it to function as an office and not just a sitting area.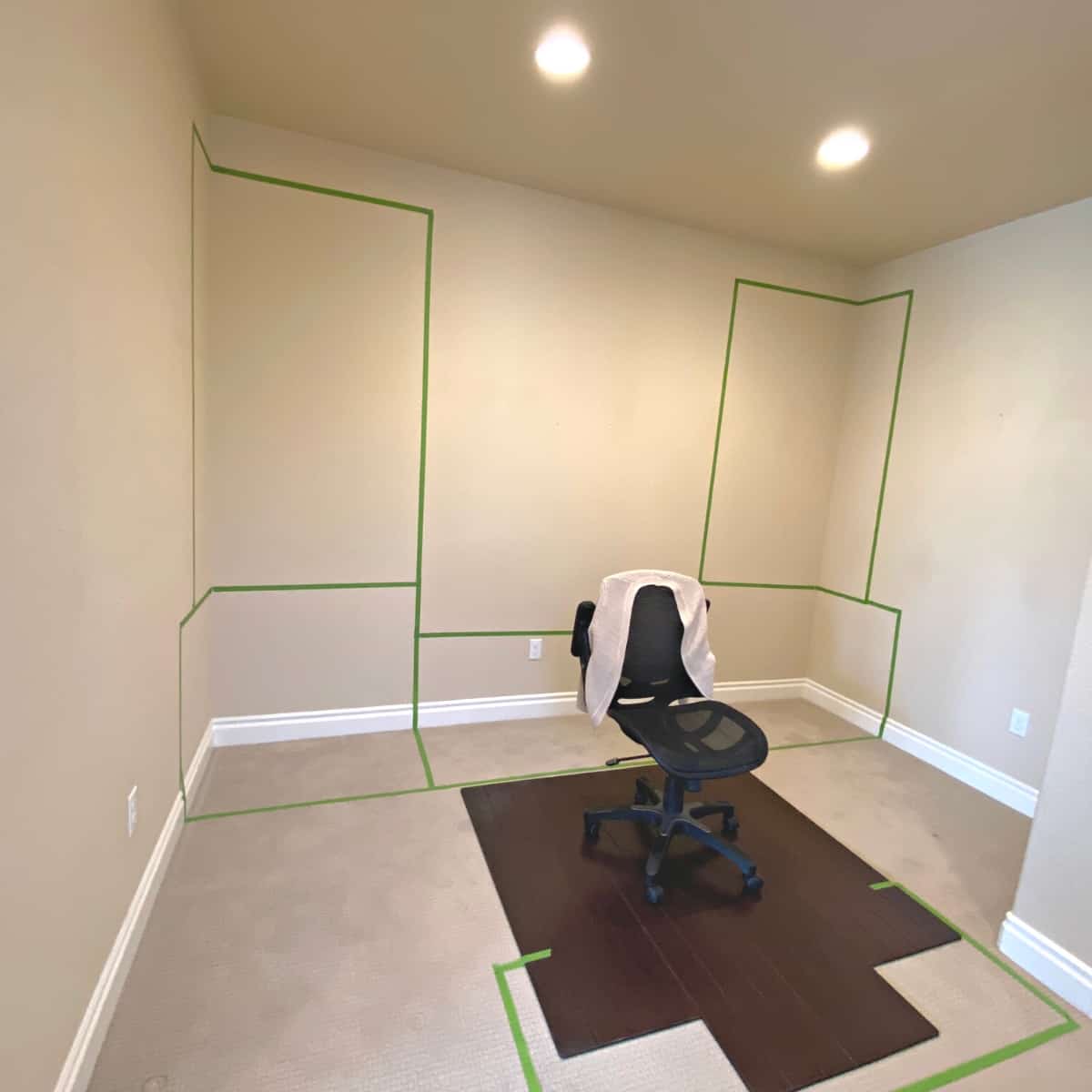 Whenever I pictured spending time in the finished space, I really had my heart set on a cozy cushioned bench, flanked by bookcases with closed storage and open storage, sconces for ambiance (and, let's face it, beauty), shelves decorated with beautiful finds, and so much more. So, after emptying the room and taping off the various elements to reflect the true size and scale of built-ins with a smaller, reasonably sized desk, we were onto something. This. Could. Work.
I almost cried at the sight of the tape on the floor and walls (not to be dramatic, because I'm far from it). It was as if a little bit of my dream had come to life.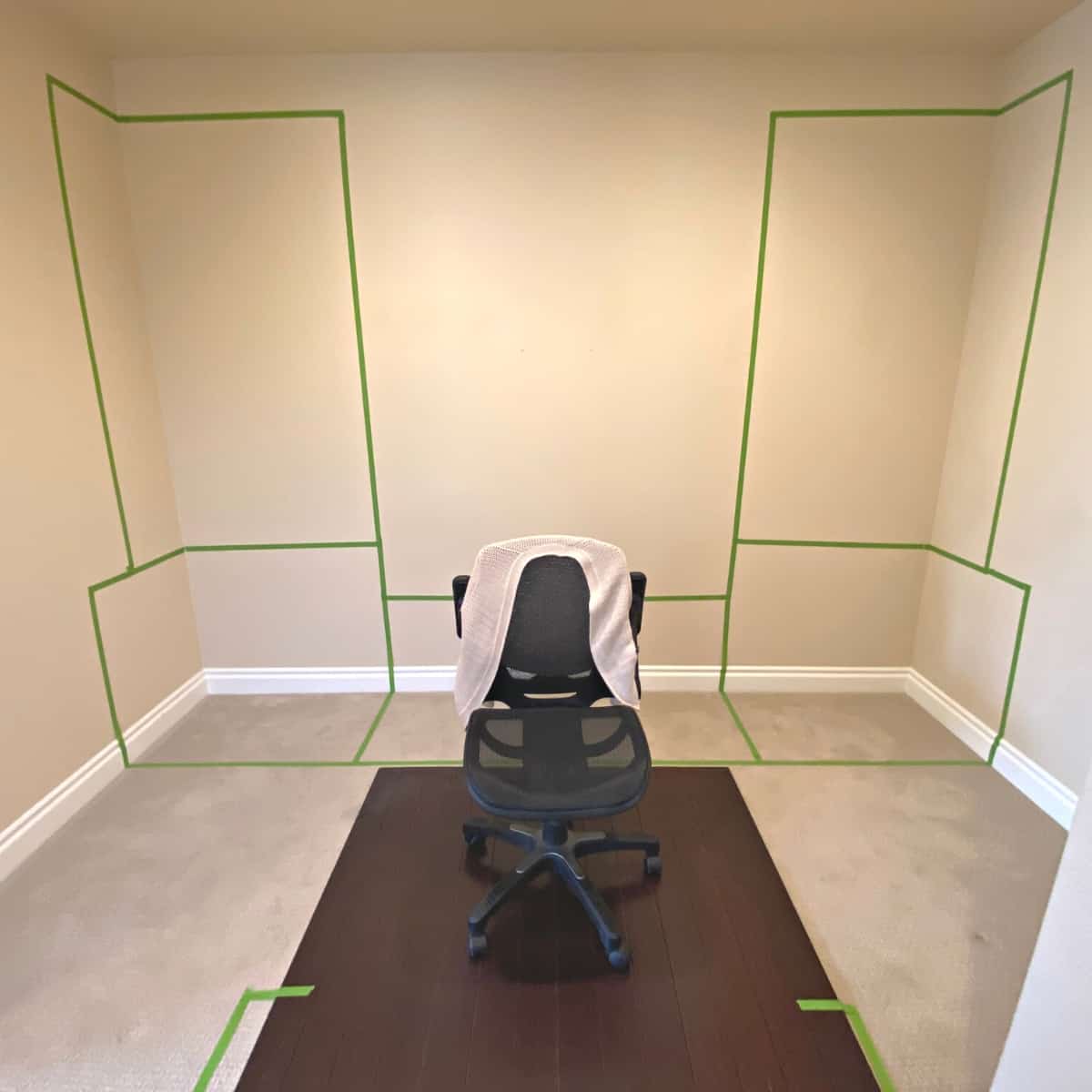 Possible Home Office Layouts
Home office design ideas don't have to be only for large spaces. I'm sure you've seen a reach-in closet turned into a workspace or a kitchen nook used as an office. While small, my office could be configured in a number of potential home office layouts.
Layout #1: Desk at Side Wall
A small desk, not more than 4 feet in width, could be placed at the side wall, perpendicular to the built-ins. It's where my desk was before I moved it to be floating in the room.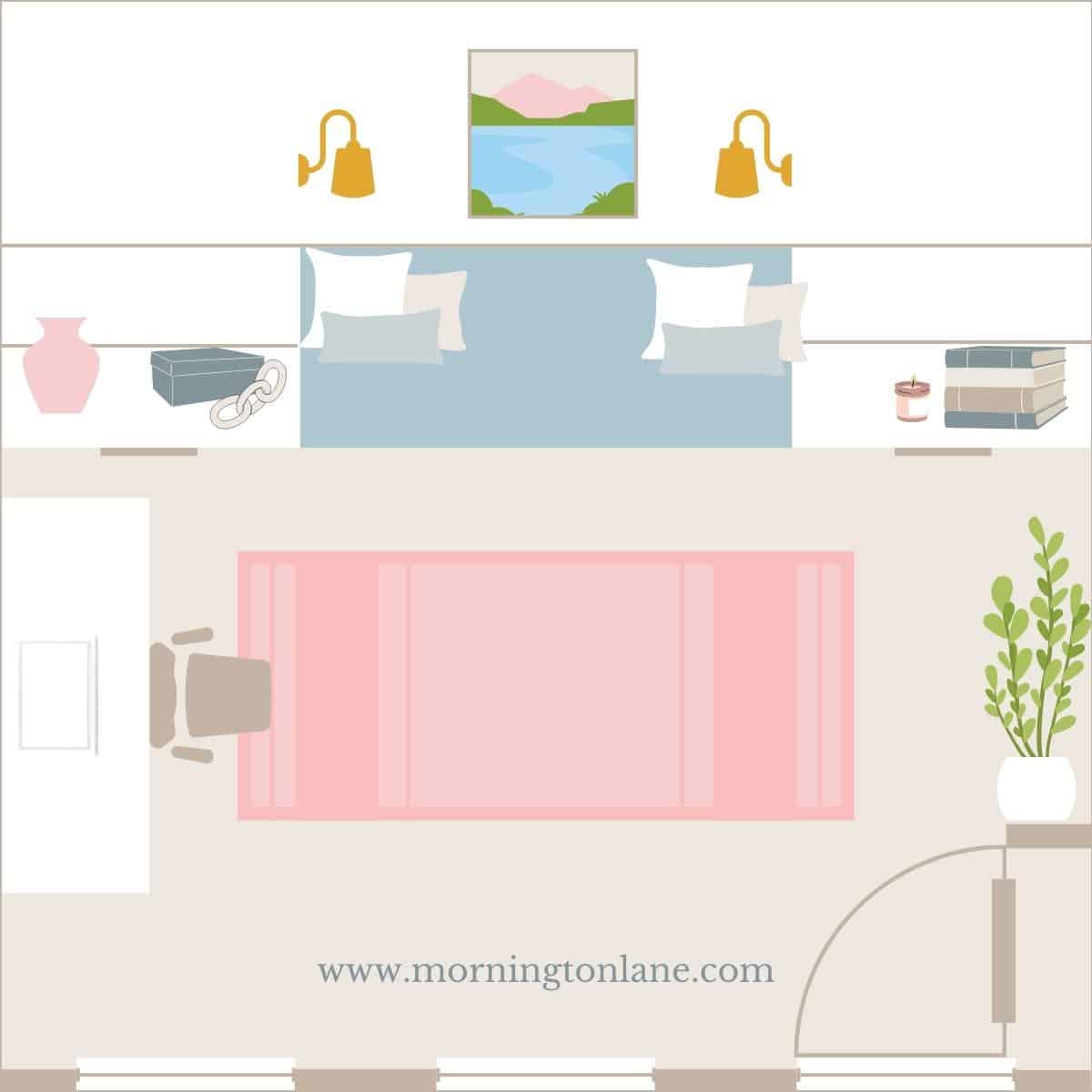 A major drawback of this configuration is the lower cabinet with doors will be mostly inaccessible. It's not a deal-breaker, but it's not ideal.
Layout #2: Floating Desk
Floating a desk in the room enables all cabinets, drawers and doors to be completely accessible at all times. Upon walking into our primary suite, it also feels more like a true office space.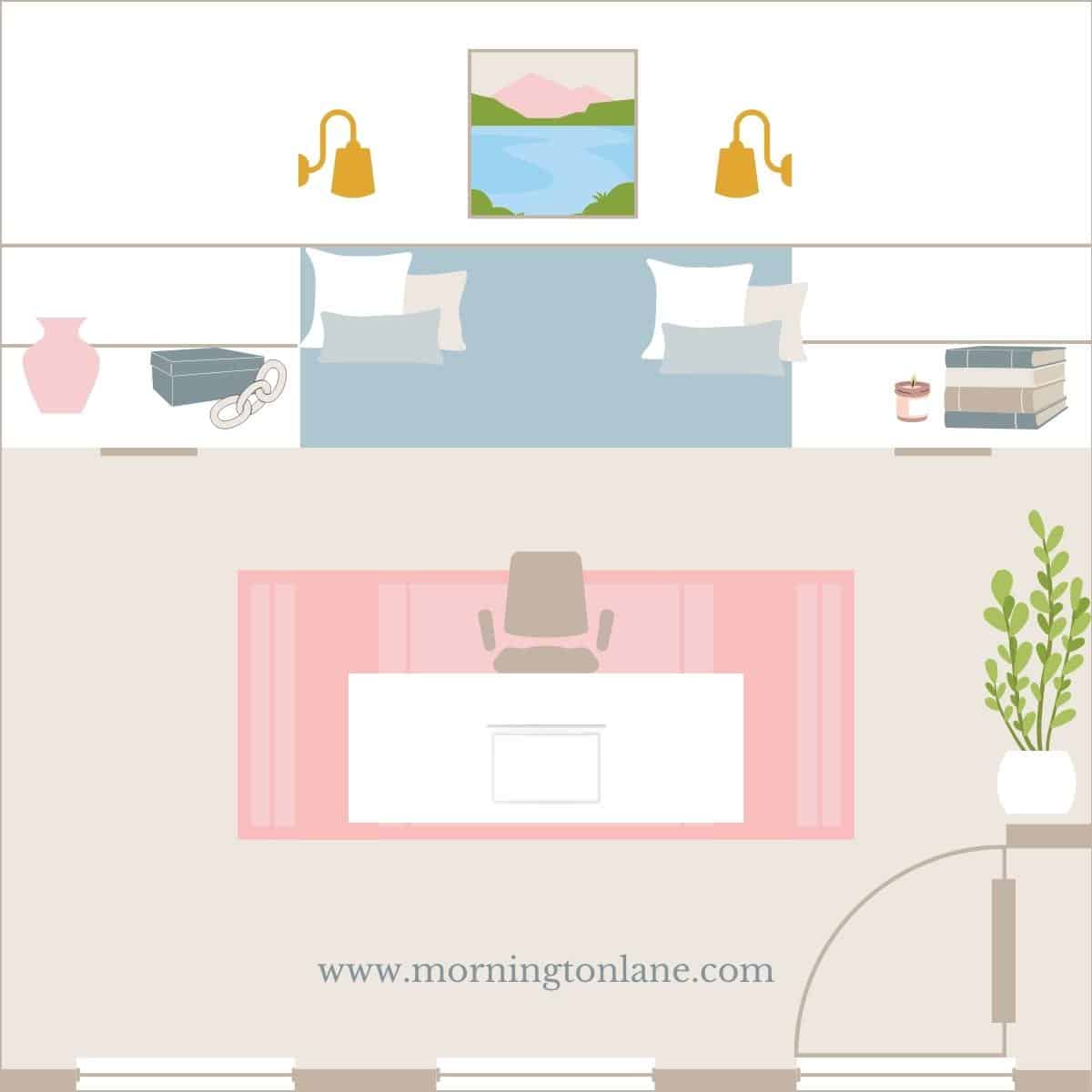 Of all the layouts, this is my favorite. If I need something from inside the built-ins, I just spin my chair around. The best part is the view. Sitting at my desk, I can see outside from multiple windows—four to be exact.
Layout #3: Corner Desk
In the alcove, I could place a small corner desk.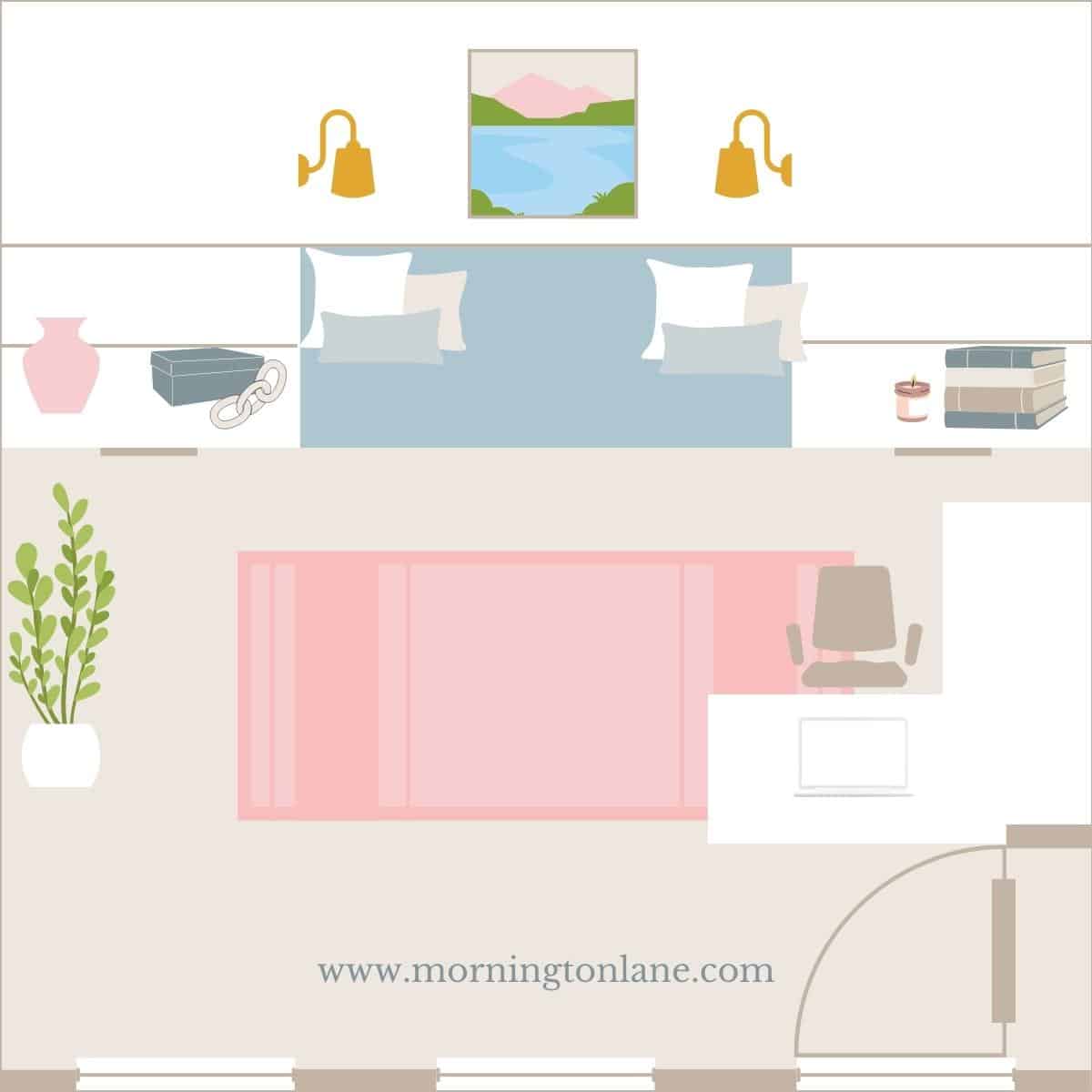 There are too many issues to list them here. Suffice to say, I think it's uninspiring and creates a lot of unused space in the middle of the room.
At this point, I decided to float a desk in the room. I can always change it, though I feel it is the most functional, efficient use of the space. When I'm done styling everything, I just know it will be beautiful, enabling high productivity, creativity and overall happiness.
Inspiration for a Small Home Office
Our style could be described as transitional organic English-French inspired with a hint of coastal. We do not like overly traditional, nor too modern, hence transitional. English countryside Cotswolds meets French provincial.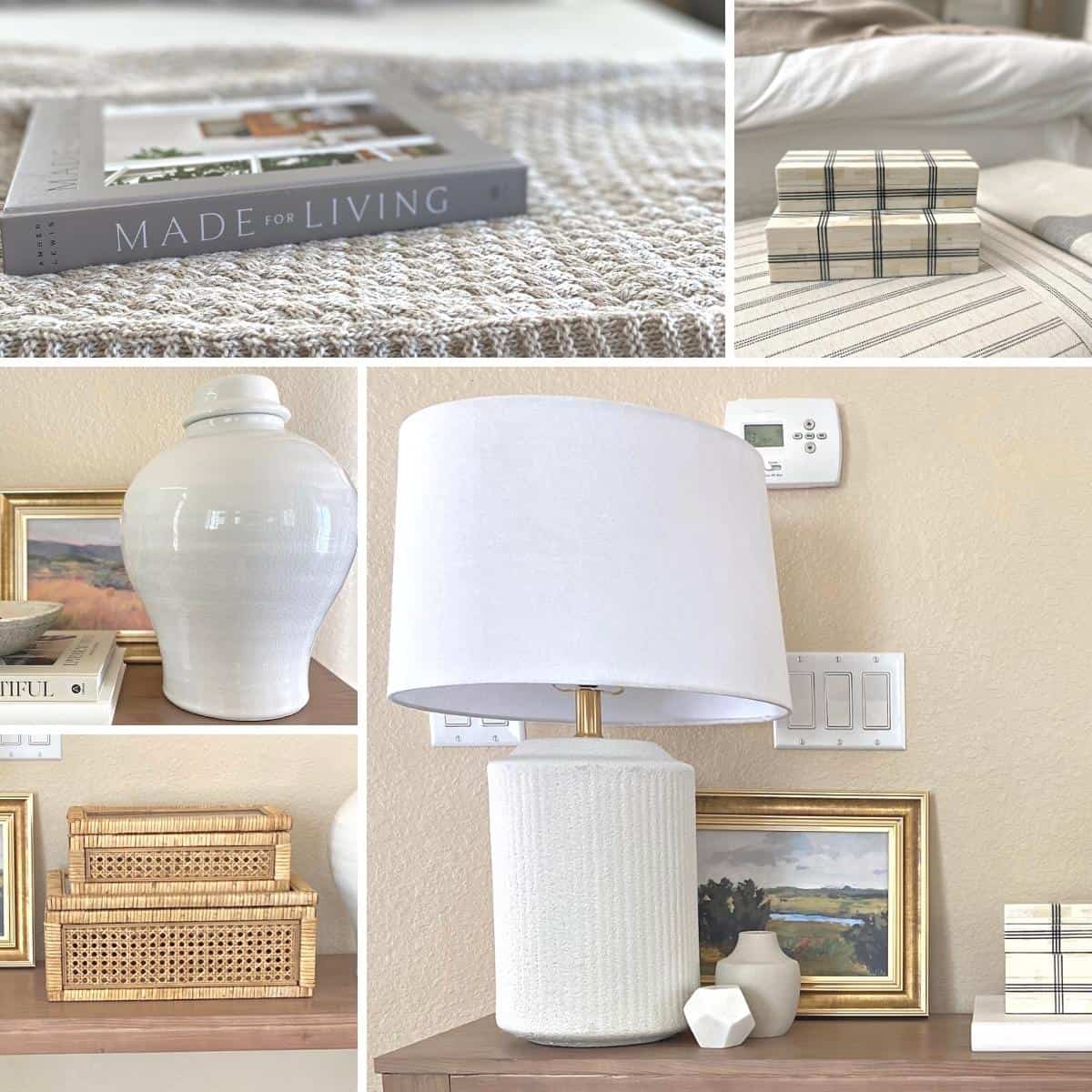 Bria Hammel Interiors: One of my favorite interior design firms, Bria Hammel Interiors, can do no wrong in my eyes. Her style is very similar to ours. Many of my home office ideas spring from her designs. You have to check out the Winnetka project office. Filled with light, as well as gorgeous light grey built-ins, who wouldn't want to work there? Her Holly Road project includes a soft white window seat bench with built in bookcases. And the Modern Tudor project has another must-see office space, complete with plaid wallpaper.
Studio McGee: Studio McGee, another favorite design house, consistently elevates every design they undertake. Natural, organic elements and transitional styling are similar to our aesthetic. Simply reading their blog on favorite home office designs gave me a few other ideas.
Kelley Nan: In searching for my own home office inspiration, I came across Kelley Nan's home office which is another one of my favorites. She added beautiful, creamy white built-ins to her space.
Timeline for the Office Project
I started this post revealing this will be a series around my home office project. It has been determined that, given design complexity and quality desired, custom built-ins are my best option which takes time.
So, the timeline is yet to be solidified, but I expect around mid-July everything will be complete. I'll share updates at each phase of the project and many (many) styling and decorating posts thereafter. I can't wait to share it all with you to give you some home office design ideas for your own project.
Looking for more?
Read How to Style Your Console Table Like a Pro or all about Pretty Coffee Table Books for Styling.